If you're going to eat every meal at the Four Seasons Lion Palace's restaurants in St. Petersburg or the likes of C.D.L. Restaurant in Moscow, your money is not going to last long. Sure, these places serve quality food in only money can buy ambience but to experience the real Russia we got out and tried the Soviet-style canteen food in Troitskiy Propeckt St. Petersburg.
Stolovayas or canteen-style restaurants were ubiquitous during the Soviet era.  According to our Russian-speaking tour leader Erik, these restaurants serve the most affordable food in Russia. These were mostly no frill places that serve uninspiring food in a sterile environment. With the changes in the past decade many stolovayas are like the Korean delis of New York City. You get a variation of food with international flair at a higher price.
To get to one that is more authentic you have to go to where the masses go, away from touristic areas where you absolutely have to speak in Russian and only cash transactions are accepted. There are three stolovayas near Azimut Hotel on the way to the Technology Institute Metro station. We found one five minutes walking distance from Azimut Hotel. Apparently that was the most affordable.
Inside the small stolovaya were four round tables, a fridge filled with cold bottled drinks facing the glass door and a lady with a scarf in her hair behind the glass counter waiting to serve. The glass counter had all the warm food in deep metal trays and on top of the glass counter were plates of fish and salads covered in clear plastic wraps.
I pointed to whatever I thought I might like without asking any questions because I had to do it fast- there were people behind me. Locals occupied three of the tables. That left us with just one tiny table by the glass wall facing the street. The four of us, and Erik, the tour leader took the empty space with our trays of cold and warm food. Total cost for four people was $20 when the ruble was 38 rubles to $1.
Even after traveling to over 40 countries and trying out local hangout places I am still cautious as to what I put in my mouth. My stolovaya, canteen-style restaurant experience on Troitskiy Propeckt St. Petersburg was just as satisfying as the meals at The Four Seasons Lion Palace St. Petersburg.
Without fail in every restaurant I had pirozhki. These are buns filled either with meat, cabbage, potatoes or mushrooms. They come in all shapes and sizes. I think The Tea Lounge at the Four Seasons had the best cabbage pirozhki.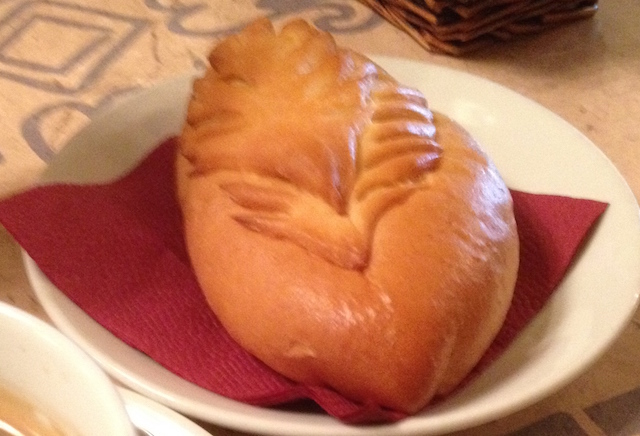 Another Russian food we had at almost every meal was blini, the Russian pancakes. Russian pancakes were served with red (orange) caviar and sour cream on the side. I'm not a caviar grader but it sure felt good to be eating the black and red/orange caviar served at The Tea Lounge. Each had a unique fishy flavor. I heard the black caviar is more expensive than the orange.
My husband likes the Borsch soup. This beet and beef-based soup is in every restaurant that serves traditional Russian food including Ivanoff on Nevsky Propeckt St. Petersburg. His Borsch soup came with bits of potatoes and cabbage.
Another two types of soup he had were shchi soup with lots of cabbage and a few pieces of meat and okroshka soup. Okroshka soup was a cold milky looking cucumber soup topped with lots of cut fresh dill and pieces of floating carrots.
On a cold autumn day in Russia, a beef stew with potatoes, carrots and barley served inside a red claypot was heartwarming and homely for any home sick traveler.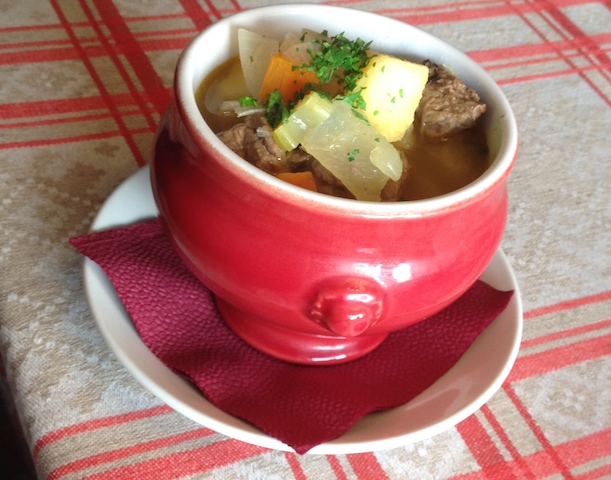 Dumplings are not only served in China, Hong Kong, Japan, Korea and the US Chinatowns, they are in Russia too. These are pelmeni, wheat-flour dumplings stuffed with meat and served with sour cream. Or dumplings with tiny tart red berries…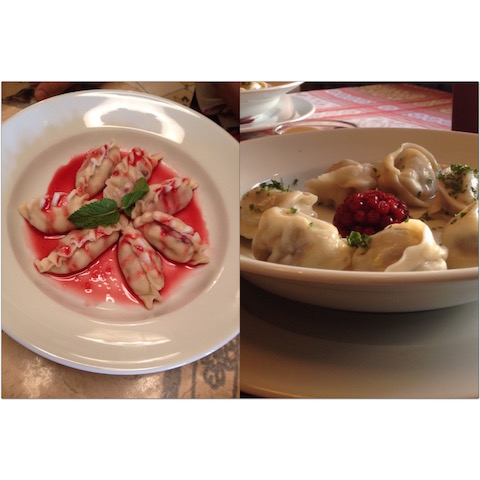 Don't forget to try the beet salad and Olivier Salad (stolichny salad). We had a variation of these salads and here are two I remembered to photograph.
When we got to Moscow there was more variations of food compared to St. Petersburg. The large population of Central Asians in Moscow provided a variety of kebabs, grilled meat and hot dogs at different price range.
The kebabs and barbecue lamb in Izmailova Market near Izmailovo Gamma-Delta Hotel Complex had the best that money can buy. When you are at this large flea market just follow the smell of barbecue meat and you will find at least five friendly groups of vendors standing near their grills welcoming you to check them out. In front of the vendors were a crowd of diners eating at the covered benches and rectangular tables. You would have to sit with strangers if you want to try out the less than $5 barbecue lamb.
For fast food and affordable eats check out the shish kebab or shashlyk and hotdogs stands and shops around Moscow.
When you are tired of all the authentic food and need a break, you can always try the game meat or fish serve at the Okhotnichya Izba St. Petersburg. Besides the traditional Russian food, this 'hunting lodge' served game meat and wild mushrooms.
Okhotnichya Izba St. Petersburg was only a 10-minute walk from Azimut Hotel where we stayed for two nights. Inside this unusual restaurants are stuffed bear, elk, deer and other wild animals. It may not appeal to some or to me in particular. Here I had my salmon salad with sesame seeds, a very fusion dish without the gamey stuff.
I barely touched the surface of Russian cuisine. These are just some of the foods and places we went to and experienced during our journey in the European part of Russia. I'm forever grateful to the people who graciously served us while we were there. Do you have a favorite Russian food? Please share.