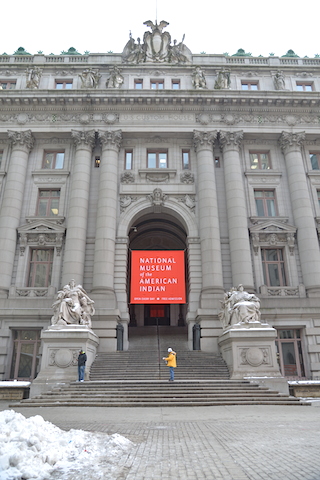 A few feet from the charging bull sculpture is the neo-classical Beaux Arts U.S. Custom House on Bowling Green and Broadway. This seven-story steel-framed building has four monumental female limestone sculptures representing the Americas, Asia, Europe and Africa.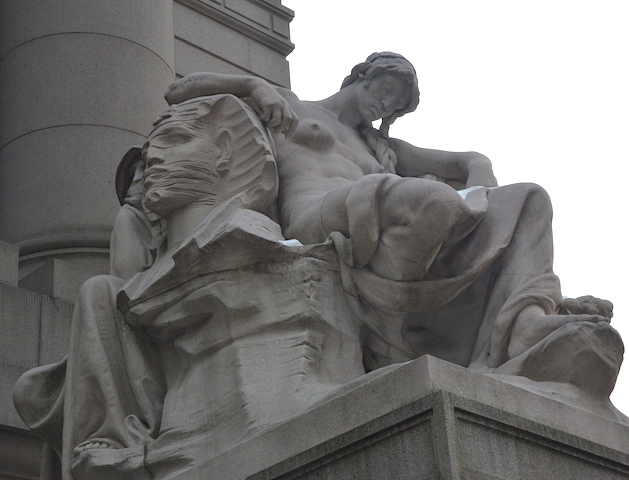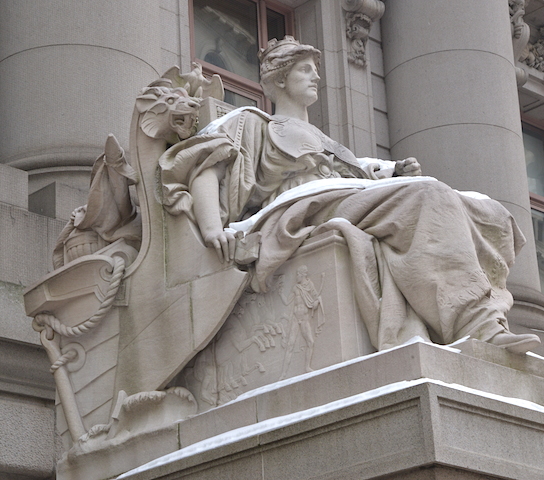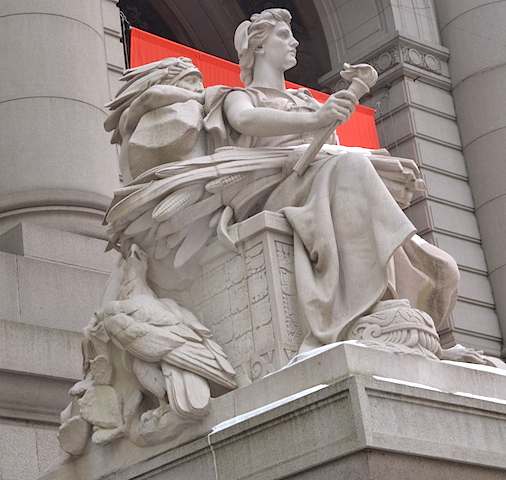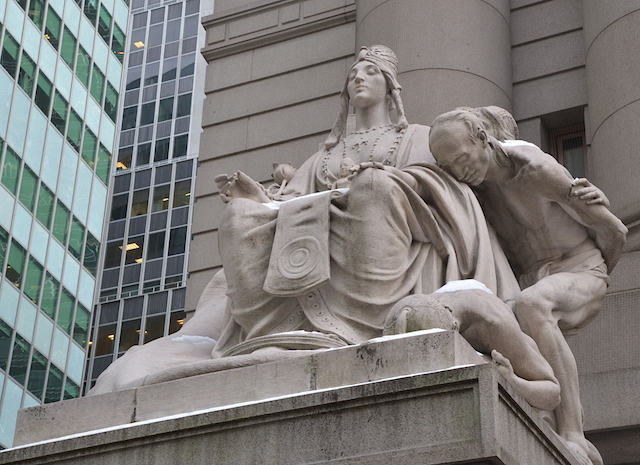 Each sculpture by Daniel Chester French tells a story of the land it represents. In the middle of the Alexander Hamilton U.S. Custom House is a grand staircase leading to a majestic hall. In the great hall are two curved staircases, one at each end with decorative bronze railings.
Custom Houses are usually built to face the harbor but the Alexander Hamilton Custom House was intentionally designed to face the city. Right in the middle of the building is a three-story oval rotunda. The tile and plaster-domed ceiling of the rotunda is the work of Spanish engineer Raphael Guastavino.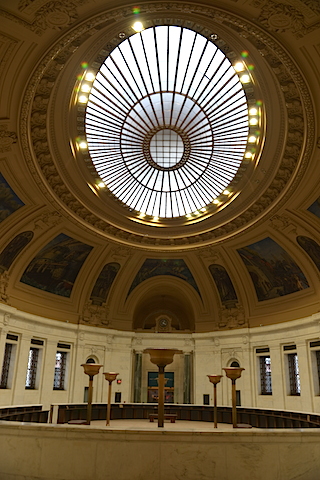 There are a few ceremonial spaces in the building and a must see if you are visiting is the Collector's Office. Tiffany Studios designed the oak panels on the wall and ceiling. Throughout the room are nautical motifs like shells, dolphins, tridents, ships' wheels and prows. According to the guide, snails were part of the design because snails represented "slowness"- and the government was getting into the habit of being late in paying their bills. Alas, late payments!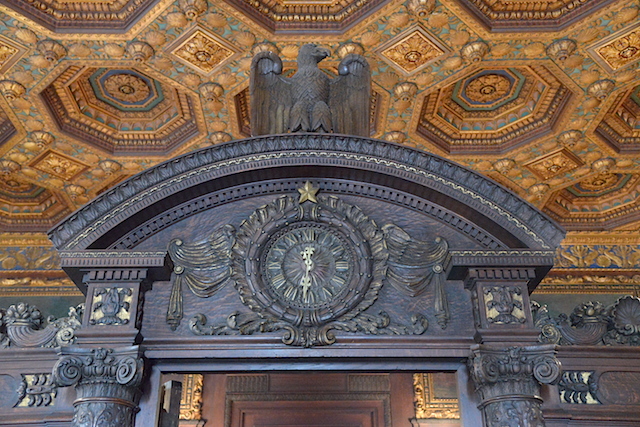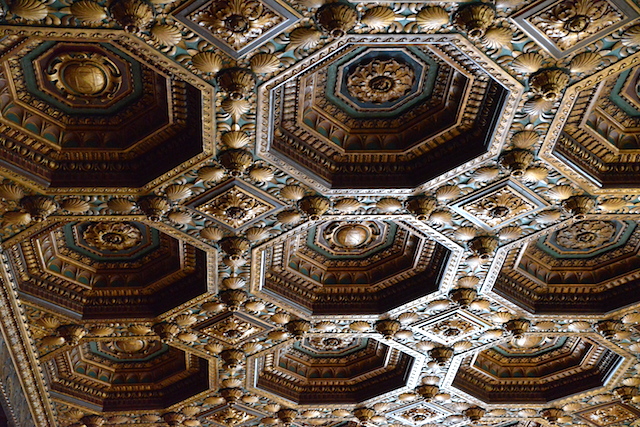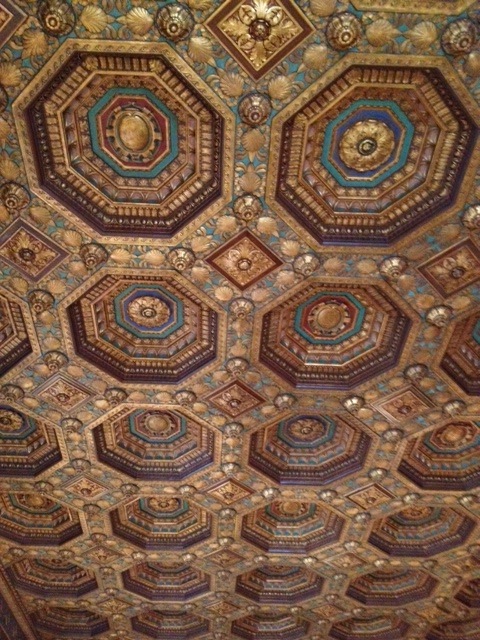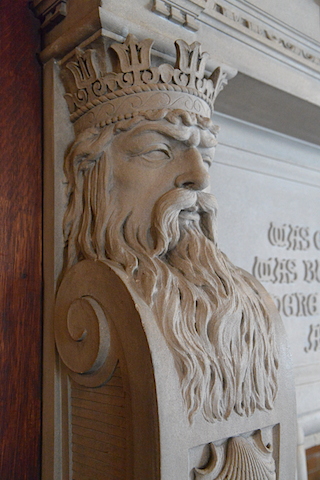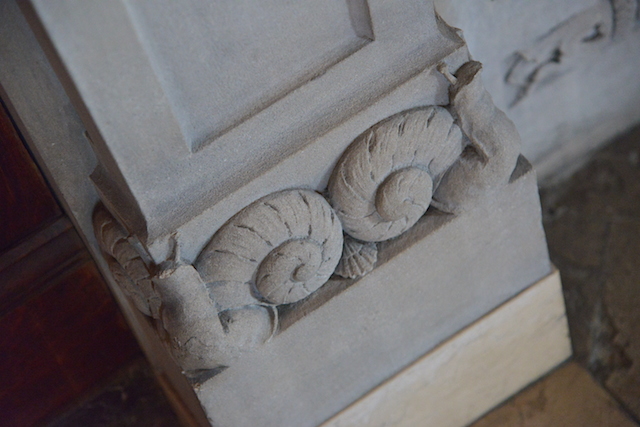 The Custom House was listed in the National Register of Historic Places and was designated a National Historic Landmark in 1976. Since 1994 the Custom House is the National Museum of the American Indian.
The museum is divided into three areas with contemporary art by Native American artist George Morrison and an extensive collection of Native American arts and artifacts with over 825,000 items representing 12,000 years of history and 1,200 indigenous cultures throughout the Americas.
Here are some that I captured on my iPhone.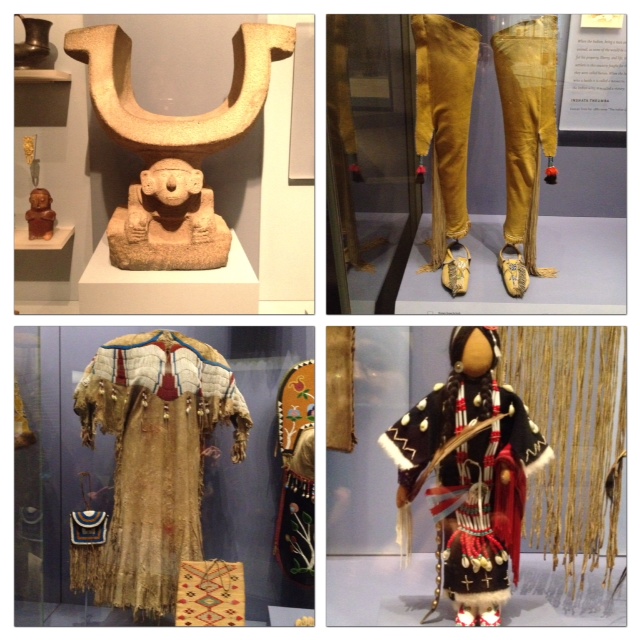 I highly recommend the Alexander Hamilton Custom House tour at 3 p.m. where the guide will show you the locked Collector's Office with its ornate woodwork by Tiffany Studios. The artifacts in the museum is worth a trip as well.
More information on the Custom House and Museum.
Admission is free.
Free daily tour of the building is at 3 p.m.