I went to Bariloche in autumn (spring in North America) when there were not many tourists and I stayed at an AirBnB apartment by the lake for half its usual price. Its beauty surpasses many of the other tourist destinations in Argentina. Here are just some of the photos I took:
1. Ski lift to Cerro Campanario
Located just 18 km (11 miles) from the city center, Cerro Campanario is easy to get to. Take bus #20 that runs along Avenida Bustillo to and from the city center to Puerto Panuelo and Llao Llao. Ask the bus driver to stop at the entrance of Cerro Campanario if you don't know the exact location.
When you are there, purchase your ski lift tickets from the ticket booth and enjoy the ride up.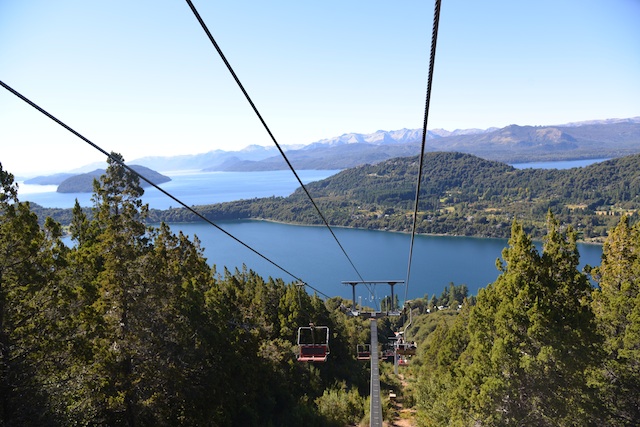 2. Views from Cerro Campanario
Cerro Campanario is 3,445 feet (1,050 meters) above sea level. National Geographic included views from Cerro Campanario as one of the "Top 10 Views in the World" and it's no surprise even in late fall in the Southern Hemisphere. Enjoy the views from the restaurant's outdoor or indoor areas, or just anywhere at the top of Cerro Campanario.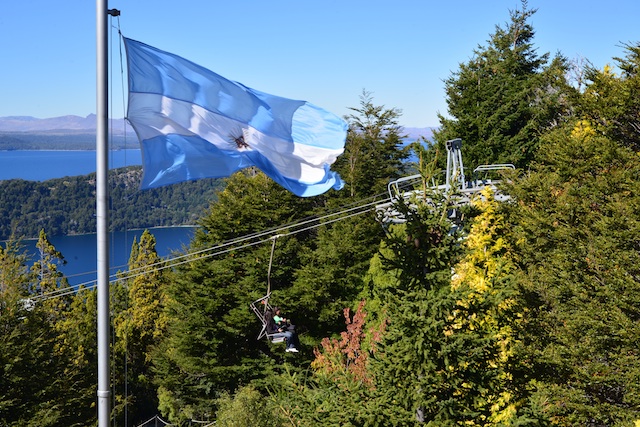 3. The biggest chocolate Easter egg in the world at Centro Civico Bariloche
Every year during Easter, Bariloche's chocolate makers make the biggest chocolate Easter egg in the world. A large tent was set up to protect the chocolate egg from direct sunlight and the heat.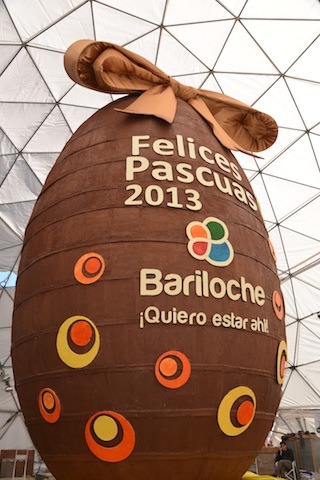 4. Saint Bernard dogs are the attraction at Centro Civico square in Bariloche
These huge dogs are accompanied by their owners. Their main purpose is to wait for tourists to photograph with the dog for a fee. Each of the Saint Bernard dogs has a small barrel tied on its neck, which according to some sources these barrels contain brandy. It all began when a 17-year-old painter, Edwin Landseer painted a Saint Bernard dog with an injured traveler in 1820. The painting is called Alpine Mastiffs Reanimating a Distressed Traveler.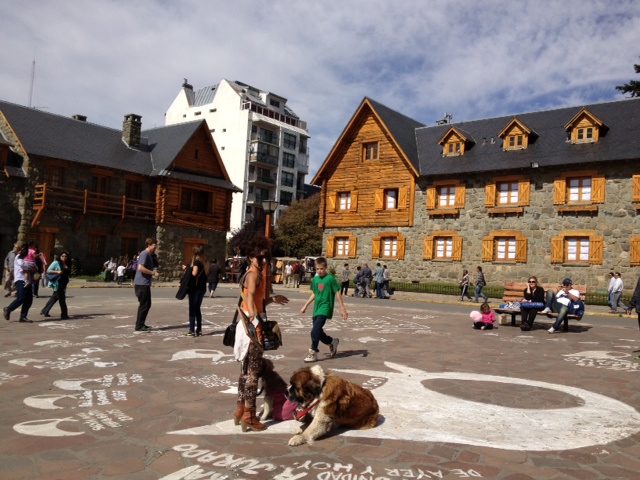 5. Wood carving event at Centro Civico square
There's always an event happening at the square. During my visit, it was a wood carving event where wood carvers were carving huge statues with their chainsaw, chisels, and chip carving knives.
6. Chocolate in Bariloche
Visit one of the many chocolate shops along Calle Mitre in Bariloche.
Chocolate manufacturing started in Bariloche in the mid-1900s when European settlers, mostly from Germany, Switzerland and Austria started making chocolate at home. After World War II, two Italian men and their family, Aldo Fenoglio and Benito Secco arrived separately in Bariloche. Fenoglio started the first chocolate making shop - Tronador Chocolate Factory in 1947, which was later named Fenoglio Chocolate. Secco also started his chocolate making shop in the same year and named it Chocolates del Turista. Both men had experience in the art of chocolate making in the Swiss-Italian Alps.
Today, chocolates are still handmade but most are mass produced in factories.
7. Views of the lakes, mountain ranges and snow-capped peaks from Llao Llao Hotel and Resort
Read an article about Llao Llao Hotel and Resort.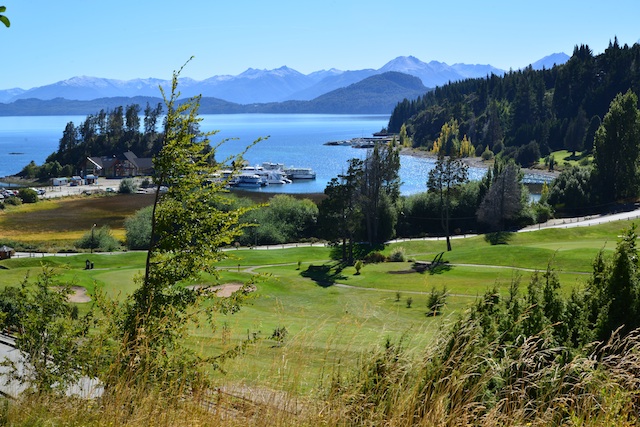 8. The apartment with a view
We stayed at an AirBnB apartment on Avenida Bustillo with access to Nahuel Huapi Lake.
Want to know where we stayed in Bariloche? I shared it in my eBook: South America: Apartments, Hotels, Hostels, Campsites. Get it at Amazon.com for $2.99. Get $30 off for your first stay in any AirBnB apartment.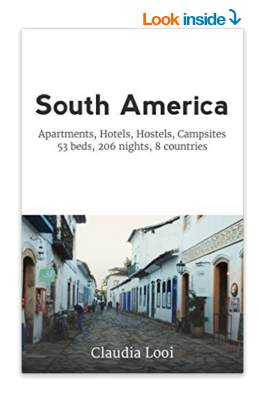 Note: This is an updated article. The original was published on April 23, 2013.