Guangzhou, formerly known as Canton is the capital of Guangdong Province in southern China. It takes less than three hours to travel by train from Guangzhou city center to Hong Kong.
For centuries, Guangzhou has been an important port city and gateway to China. Arab traders were among the first group of traders that came through Guangzhou during the Tang dynasty. And later followed by traders from India, the Middle East, and Europe including the British merchants.
This same port enabled the Chinese from the southern region of China to emigrate to the West, other Asian countries, and the Pacific Islands. That's the reason why in Chinatowns around the world you will find Cantonese food being served. In fact, Cantonese cuisine has been the only Chinese food that most westerners are exposed to.
Guangzhou is the birthplace of the world famous Cantonese cuisine. They are stir-fried, stewed, slow-cooked and steamed cooking methods with ingredients like garlic, onion, vinegar, ginger and or sugar. A variety of meat, vegetables, and fruits are used in Cantonese cuisine. Because of its warmer climate and proximity to the sea, Guangzhou's food uses a vast variety of seafood, fresh meat, and vegetables. Freshness and variety are the keys to making Cantonese cuisine. Even the fish they cook are kept alive until it is time to cook. I'm sure you have seen fish swimming in tanks in authentic Chinese restaurants in a Chinatown near you.
My recent trip to Guangzhou gave me a chance to compare the authenticity of Cantonese cuisine in Chinatowns with Cantonese cuisine's motherland - Guangzhou.
Dim Sum
When in Guangzhou you must try dim sum. Most people think dim sum originated in Hong Kong. Dim sum is a Cantonese cuisine, and it originated in Guangzhou. Without a doubt, Hong Kong has perfected the art of making and eating dim sum. These little delicacies served in small portions are steamed, fried or slow cooked. They served with a pot of tea in the morning till noon. Yum cha (drinking tea) is the process of eating these delicacies along with a choice of hot tea and shared among family and friends.
The locals recommended Guangzhou Restaurant on 2 Wencheng South Road dim sum. It has been operating continuously at the same location since 1935.  You won't regret it if you like freshly made dim sum. The restaurant did not have an English menu, and the servers spoke only Mandarin and Cantonese.
Our dim sum consisted of-
Congee with pork and century egg
Steamed shrimp rice rolls (cheong fun)
Slowed cooked chicken feet
Steamed pork buns Cantonese-style
Radish cake
Shrimp dumpling (har gow)
Steamed water chestnut cake
For yum cha, you need to pair the food with a hot pot of freshly brewed tea. We chose chrysanthemum tea. Chrysanthemum tea helps cool the body (the yin and yang of eating), boosts the immune system and helps with digestion, said the locals.
Roasted suckling pig and stir-fried flat noodles with beef for dinner
Guangzhou is filled with thousands of restaurants that fit any budget. Eating with the locals was our preferred method of travel. So for dinner, we ordered at YES Cuisine on Tianhe South, an 8-minute walk from Fraser Suites. Our apartment came equipped with a kitchen and fridge. Instead of eating at the crowded restaurant, we decided to pack the food and had dinner at the comfort of our apartment.
Cantonese cuisine is usually served with rice. We had the famous roasted suckling pig, soy sauce chicken, stir-fried vegetables and stir-fried flat noodles with beef.
Fusion breakfast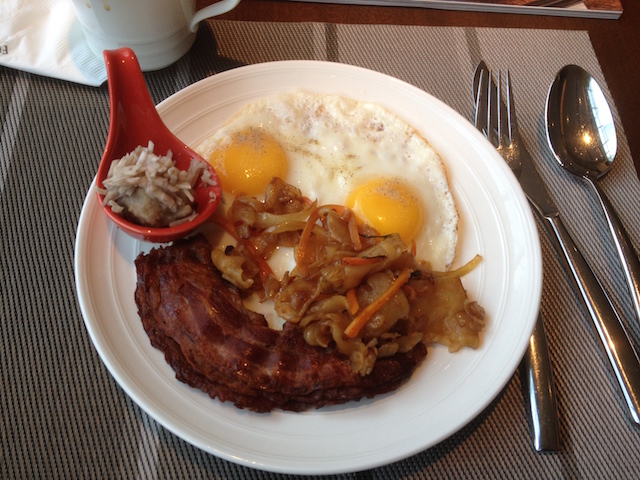 Buffet breakfast was included with our stay at the Fraser Suites. At least 30 items were on the buffet tables from cereals, bacon, and eggs to congee and fried noodles.
Economical takeout lunch
Rice noodle rolls are served all day throughout Guangzhou. You can find them in upscale restaurants, hole-in-the-wall restaurants, and food stalls. We found this variety (shown below) served with slow-cooked beef and radish for lunch.
The Cantonese steamed buns are different from those in Beijing and Shanghai. The Cantonese use barbecued pork instead of minced pork. In my opinion, the Cantonese steamed buns are tastier. The sweetened red bean steamed buns are also famous in Guangzhou. They are made smaller than the barbecued pork buns.
Another favorite Cantonese cuisine is the sweet red bean soup dessert (tong sui), usually served hot after a meal.
Wonton noodles soup
Some people prefer the dry version of wonton noodles. They serve it with clear soup in Guangzhou. A bowl of hot wonton noodle soup comes with seven to 10 minced meat wrapped in thin wonton skins, a few strands of vegetables and a choice of broad or thin egg noodles. Here was one I had with thin egg noodles.
Pig trotter and pan-fried flat noodles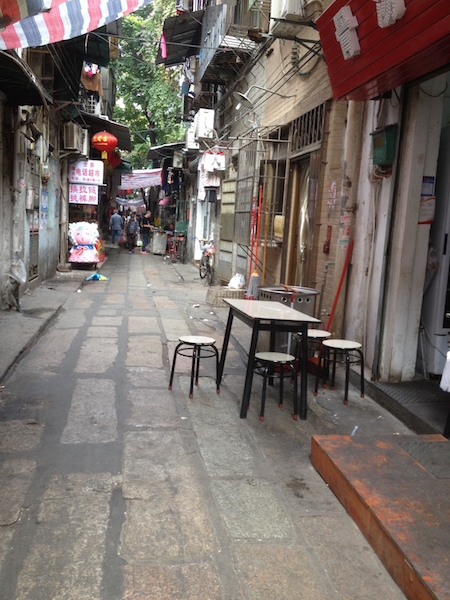 We went to a small street where the locals sat on stools by the side of the alley eating pig trotter made with vinegar, sugar, and ginger. Cantonese believed this dish helps women during postpartum to recover quickly from childbirth. Pork trotters are served in Chinatown, but not as authentic as these in Guangzhou. If so they would be out of business because of the unwashed pot.
The owner said they have been cooking with the same pot for over 20 years. Look at the burnt molasses on the outside of the black pot. I believe the pot was never washed. How can they wash it? They use the same sauce every time a new batch of clean cooked pig trotters and hard-boiled eggs are added along with more vinegar, sugar, and ginger. I like the pig trotter and hard-boiled egg soaked in the vinegar, sugar and ginger sauce.
Pan-fried flat noodles with beef are sold in Chinatown's restaurants throughout the United States. I realized pan fried noodles with beef served in New York City and San Francisco's Chinatown were just as good as the ones I had in Guangzhou.
Freshly made steamed rice rolls and pulled noodles
These steamed vegetables and meat rice rolls were freshly made in the restaurant on Tianhe Street. They practically had the system in place at the restaurant for fast and efficient delivery of the food from "scratch" to table in less than 10 minutes.
The first lady filled the metal containers with the flour mixture. The next lady in line poured the flour mixture to a white cloth on the steamer. In about a minute she scooped up the paper thin crepe, one at the time to a plate for the next lady. The third lady filled the paper thin crepe with vegetables and cooked meat and rolled it. Then placed it on the plate to be served immediately.
Likewise, the noodles were freshly pulled and cooked in the restaurant.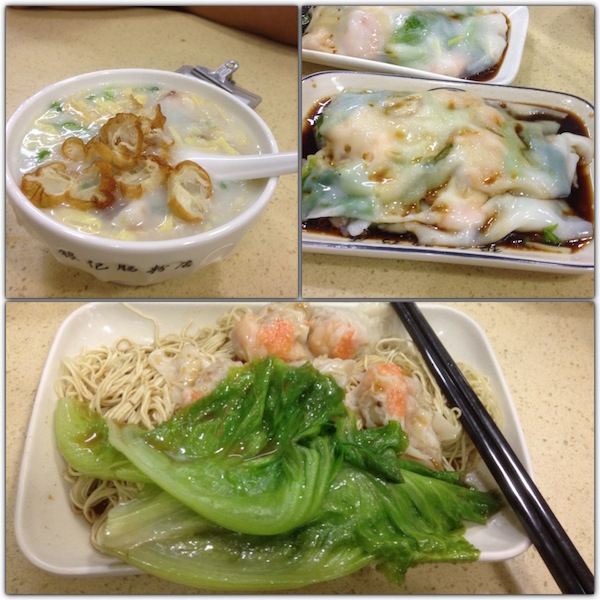 Roast duck and Stir-fried vegetables with chicken head
Cantonese style roast duck is different from Peking duck. Cantonese roast ducks are usually found hanging in Chinatown's restaurants. They are chopped with a cleaver in big pieces. It's an excellent dish for takeout purposes because you don't need to reheat roast duck and it is usually served at room temperature.
Take a look at the vegetable stir-fry dish that came with a chicken head. It didn't mention in the menu that we were getting chicken head.
Snacks
Guangdong province is suitable for planting tropical fruits like bananas. You can easily get a bunch of bananas for snacking from the vendors throughout the city for $1. Notice a vendor with her Chinese banana leaf and bamboo lattice hat?
Or visit a traditional pastry from Lian Xiang Lou Bakery on Shipu Road. Get the famous "wife cake" or lotus seed paste cake.
Another snack or dessert to try is the sweet almond tofu served with almond and jelly. Throughout Guangzhou, you will find snack bars selling Chinese desserts like the sweet red bean soup and puddings like the almond tofu.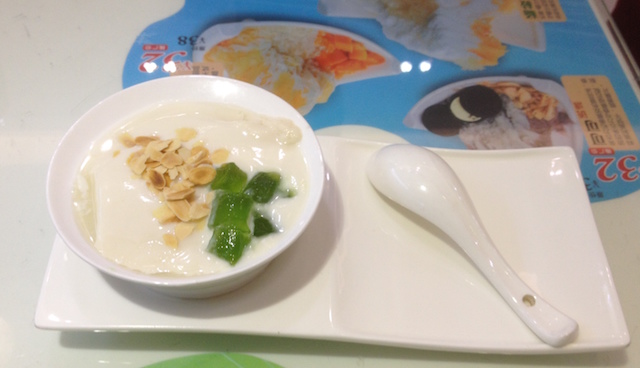 Guangzhou, just like Beijing and Shanghai, offers plenty of street foods at great variety and prices.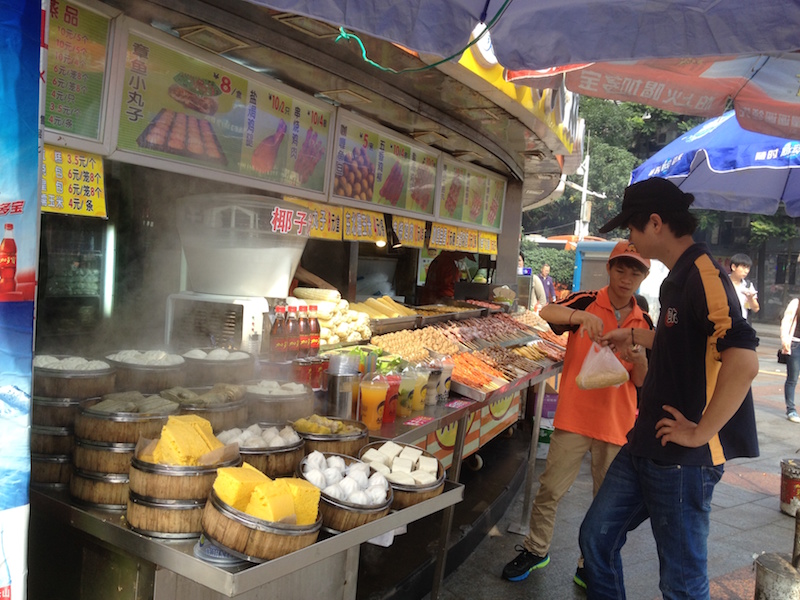 Afternoon tea
When you are done feasting on Cantonese cuisine and need a place to relax and enjoy a cup of tea or coffee, I suggest having afternoon tea at the Four Seasons Guangzhou. Afternoon tea at The Atrium Four Seasons Guangzhou offers a bird's eye view of foggy Guangzhou. For more information about an afternoon tea experience at The Atrium check out Bethany Looi's Afternoon Tea at the Four Seasons Guangzhou.
The food in Guangzhou was all the same as Chinese food in Chinatown New York City and San Francisco. That's because most earlier immigrant Chinese were from the Guangdong region in Southern China. Eating out in Guangzhou is relatively cheap if you dine where the locals dine. I did not hesitate to eat where the locals eat in Guangzhou because most Cantonese foods were freshly made.