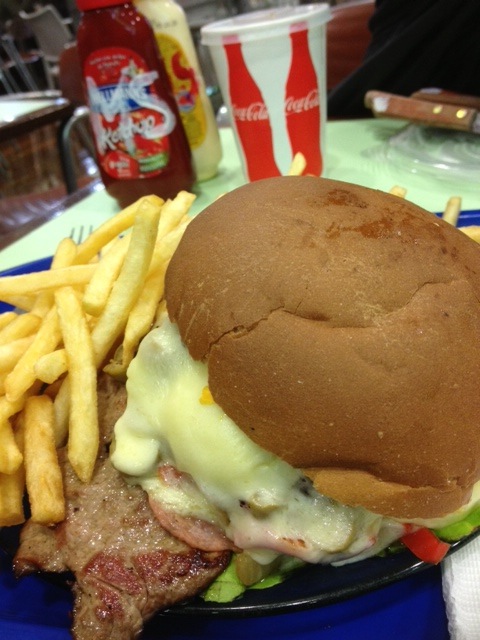 Chivito, Milanesa sandwich and Chivito al Plato are some Uruguayan fast foods. A chivito is a sandwich with tenderloin beef, lettuce, fried egg, mozzarella cheese, tomato and mayonnaise with french fries on the side.
If you prefer not to have the buns, get a chivito al plato. Chivito al plato has the same ingredients served on top of a heap of french fries in a plate. There are many variations of chivito and chivito al plato. Olives, ham, pickles, bacon and pineapple were added to some that we have tasted (see below):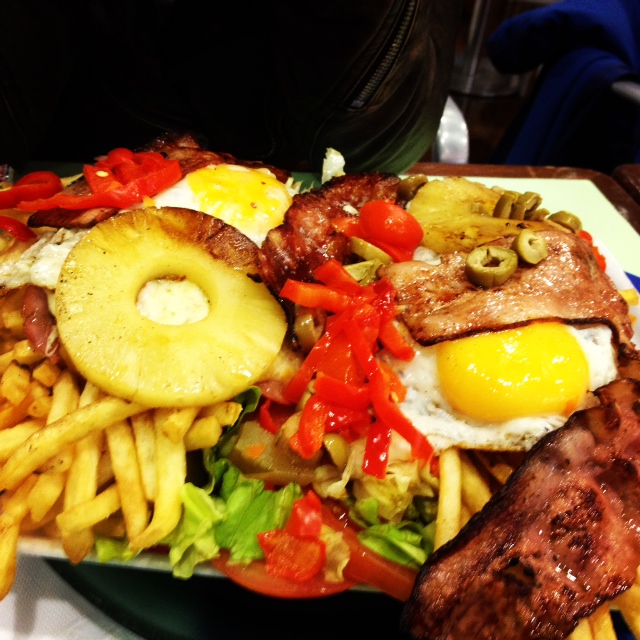 Milanesa sandwich is another type of sandwich popular in Uruguay. We found a tiny store that is always packed with lunchtime customers called MIO at 612 Rincon in Cuidad Vieja, Montevideo that sells a variety of sandwiches, chivitos, empanadas, salads, quiches and chicken nuggets. Our Milanesa sandwich cost 150 Uruguayan pesos for two (about US$8). The beef in Milanesa sandwiches are breaded and deep fried. Definitely not a healthy diet!
Another version of Milanesa is called milanesa napolitana served on an open faced sandwich with ham, lettuce, mozzarella cheese and tomatoes.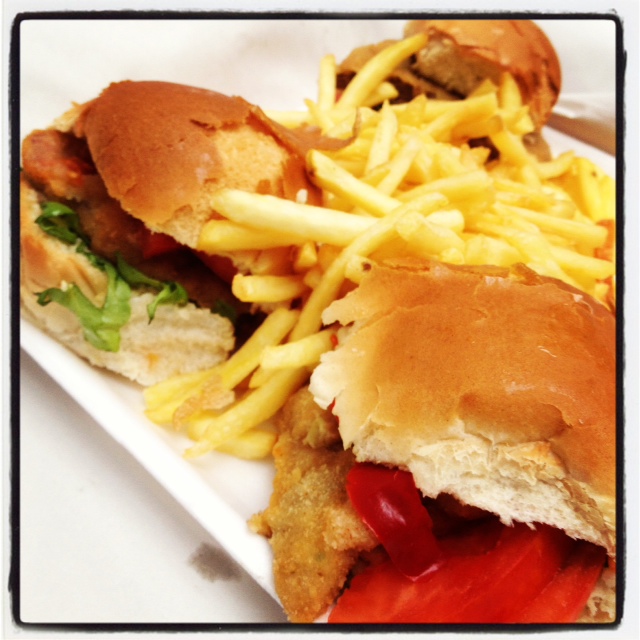 Mio is a typical Montevideo small eatery where the locals either sit on stools to have a quick bite or take out. They deliver to local offices around the area. It is not a fancy place and the menu is in Spanish. Orders were taken only in Spanish.
Here is my Vine 6 second video of the place:

To eat like a local is cheap and it gave us a glimpse into the life of the locals. My experience in Mio let me into the world of office workers in Cuidad Vieja. I was able to find out what they have for lunch, how much an average lunch cost and when lunchtime began. I visited the place two days in a row at the same time and saw the same people ordering their lunch.
Here is another version of the chivito with olives and ham. I had this in Guappa Restaurant, Punta del Este. This is the most expensive chivito I had in Uruguay. How about 320 pesos for one (about US$16)? The truth is, Mio makes better sandwiches than Guappa Restaurant. One costs a fraction of the price. Guappa Restaurant serves mainly tourists and Mio serves the locals.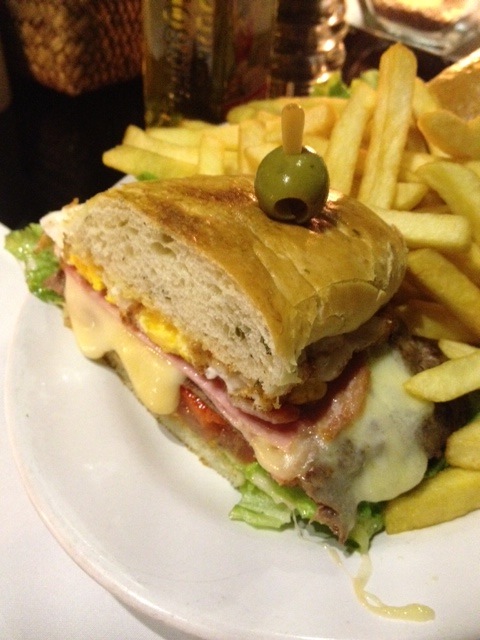 Do you eat like a local when you travel? Let us know. Please comment below.