As I admired the latte art and the mallarco served in front of me, Carmen pointed to the ceiling, saying, "In the days when there was no air-conditioning, the houses in San Juan kept cool with the help of the hole on top of the front door for cross ventilation."
I was with Carmen for a food walking tour in Old San Juan. My husband and I joined the 3-hour afternoon tour with Carmen and Juan, her assistant. Not only did I get an ample amount of food to savor, I learned about Puerto Rican food and drinks and heard juicy stories about Old San Juan.
A good tour guide can bring out an overlooked item, like a hole on top of the front door of an old building, to help tourists like me understand the architecture, history, and culture of Puerto Rico. Local led food tours like the ones by Carmen with Flavors of San Juan Food and Cultures Tours go beyond facts. She touched on almost everything about Puerto Rico, from the current economic problems to where to buy an authentic pilon.
It is impossible to capture the essence of Old San Juan over 450 years of history by just visiting forts, churches, and the colorful historic buildings. Because Puerto Rico's culinary tradition spans centuries and combines Taino, Spanish and African cultures, recipes and ingredients, according to SeePuertoRico.
As I ate and walked, I discovered that every flavor is a piece to the puzzle of Puerto Rico's history and culture. I went beyond Starbucks and Subway to places I would have missed if I had ventured out on my own. If you are looking for a food walking tour that combines culture and history, look no further, come with on a food tour through photos here:
First Stop: Coffee and mallorca
An introduction to the specialty coffee grown in Puerto Rico accompanied by mallorca, Puerto Rico's famous bread, was a perfect first stop on a rainy afternoon.
Aromas Coffee Shop's cafe con leche without sugar had a hint of sweetness and was genuinely good to the last drop. They use Arabica coffee from Adjuntas, one of the coffee regions of Cordillera Central. The cafe con leche paired perfectly with grilled ham and cheese mallorca sandwich.
Mallorcas are puffy sweet buns sold all over Puerto Rico. They are sliced in half, buttered and flattened in a griddle, commonly used as the buns for grilled ham and cheese sandwiches. Before serving, confectioners' sugar is sprinkled over the top of the mallorca, creating a sweet and savory sandwich that is unique to Puerto Rico.
For more information about Aroma Coffee Shop and cafes in Old San Juan read Discover the Best Coffee Shops in Old San Juan.
Second Stop: Popsicles
Just a short walk from Aromas Coffee Shop was Señor Paleta. Señor Paleta sold popsicles in various flavors which were either milk or fruit-based. The line can be long when cruisers drop by in the afternoon. There were no seats inside the store but across the street were shaded benches with views of the bay. It is the Bastion de las Palmas de San Jose, a scenic lookout point and part of the defensive walls of Old San Juan.
Third Stop: Alcapurria and Ceviche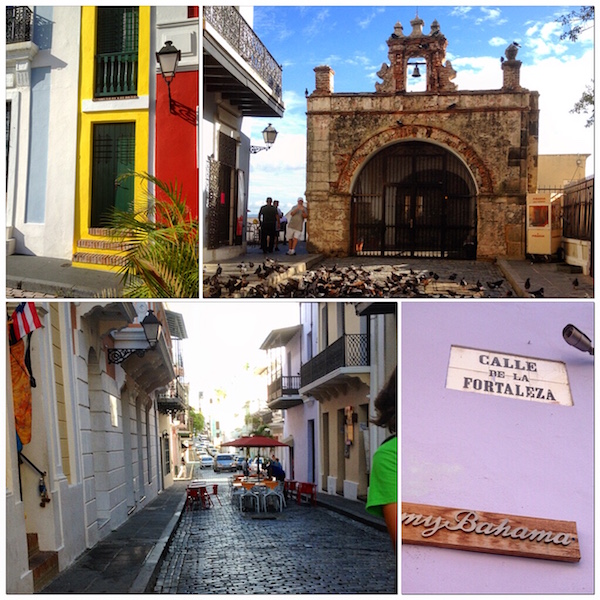 The third stop, Cafe El Punto was located on Calle de la Fortaleza, Old San Juan's main shopping street. To get to the cafe, we passed by La Casa Estrecha, the narrowest house in Puerto Rico (the yellow and green building shown above), Capilla del Santo Cristo (Chapel of Christ the Savior) built from 1753 to 1780 on top of the city walls, and a narrow cobbled street.
Alcapurria and ceviche were served at Cafe El Punto. Alcapurrias are fried taro and green banana fritters stuffed with meat. It tasted best when dipped in Puerto Rican hot sauce - pique. Puerto Rico has their own version of ceviche, shown below.
Fourth Stop: Mofongo
The fourth stop required us to do some work before eating. We were to mash fried plantain in a pilon. A pilon is a Puerto Rican wooden mortar and pestle. The Taino Indians used it for grinding herbs, medicine, and fruits. Today, it is a popular Puerto Rican souvenir and an important tool for making mofongo.
Mofongo is must-try Puerto Rican traditional dish. Its basic ingredients are green plantains, olive oil or melted butter, garlic, and salt. Meat like chicken, or fish is added along with a creole sauce (sofrito). Rice and beans are usually served on the side. Mofongo was created by the African plantation workers and was considered poor man's food. These days, it is no longer so. Mofongo is Puerto Rico's national dish. Chefs are competing with each other to create the best mofongo in the island.
At Rosa de Triana, the fourth stop, the wait staff offered sangria (extra charge) with the mofongo. Each participant was given the pilon and a portion of the fried plantains. We mashed the fried plantains and ate it with rice, salad and beans.
Rosa de Triana restaurant was located across the street from Hotel El Convento and the Cathedral. It was just a short walk from the city's oldest gate. During Spanish colonization, ships would stop by the gate and dropped off merchants and passengers who would then walk up the elevated road to the cathedral to pray.
Fifth Stop: Pina Colada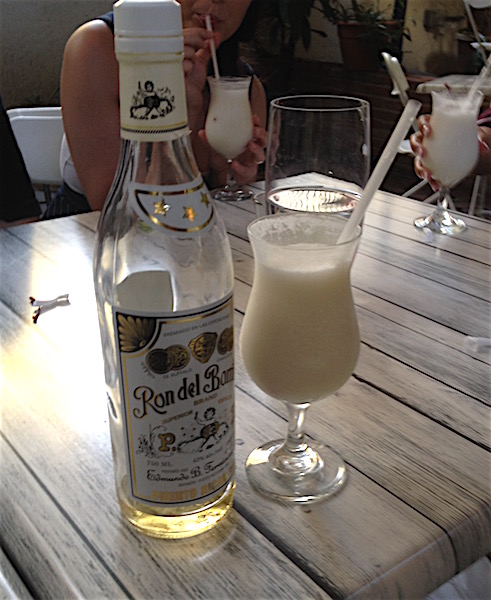 The fifth stop was at the courtyard of Rosa de Triana. There was a large door at the front made of ausubo, hardwood common in the Caribbean. The open air courtyard was decorated with planters. By the time we settled, the sun was going down - a perfect time for a strong pina colada or a virgin version.
Puerto Rican pina colada is made with the Ron del Barrilito local rum, Puerto Rico's oldest rum producing company. This special rum is not sold anywhere else in the world. It is aged eight to 10 years in recycled whiskey bottles from Tennessee. It costs about $21 per bottle.
Final Stop: Cheese Flan
By then our stomachs were filled to the brim. I was glad we were walking, but the short walks to the six stops did not burn all the calories I had accumulated during the fun-filled three-hour tour.
While walking, Carmen told a story of the blue cobblestone streets and how to tell the difference between the original cobblestones (adoquines) and the newer ones.
The tour ended with a cheese flan (flan de queso) at Vaca Brava.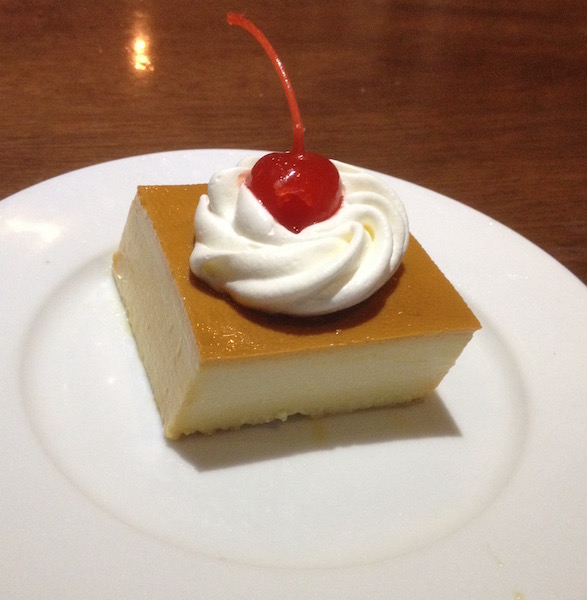 The Flavors of San Juan food walking tour was a little over three hours. Though we walked from place to place, the distances between places were not far and we walked at a leisurely pace. It's best to wear good walking shoes if you plan to take a walking tour.
I recommend joining a food and culture walking tour with Flavors of San Juan at the beginning of your vacation in Puerto Rico. You'll get first-hand dining and travel tips from the professional local guides, which may be better than any guidebooks or websites.
To find out more about this tour and other tours visit Flavors of San Juan Food and Culture Tours.
Note: Our tour was provided by Flavors of San Juan. Opinions are our own.