Many first-time visitors, myself included, aren't aware of the Chilean cuisine in Puerto Natales when they first arrive. There isn't much written about Puerto Natales' food scene online or in travel magazines. So when we met a couple from Colorado who had just visited Puerto Natales during a tour at Concha y Toro Santiago, guess what I did. I asked the most important question: "Do you have any recommendations for places to eat in Puerto Nateles?" In unison, they said, "You have to go to Afrigonia!"
In Puerto Natales, you'll find that most restaurants serve lamb and seafood. Puerto Natales was founded in 1911 as an important center for exporting wool and lamb's meat in Chile. German and English immigrants moved to Patagonia to farm until the end of the 1970s. These days, wool and meat production are being replaced by tourism. Today, due to Puerto Natales' past, the people of Puerto Natales still favor lamb, eating it more than other meats. We ate plenty of lamb during our stay.
If you want to visit a former abattoir, you must go to The Singular. It is a museum, hotel and restaurant. Meat and wool were processed there for 70 years when Puerto Natales was an agrarian region. The Singular's restaurant has received rave reviews on Trip Advisor. We didn't get the chance to dine there, but you may want to check it out if you have the time.
Here are four places to dine in Puerto Natales:
Afrigonia
Afrigonia is an African-Patagonian fusion restaurant in Puerto Natales. You can find wall decor, napkin rings, serving plates, salt and pepper holders and figurines from Africa. The menu had dishes like mbelele, jaso and malindi. Mbelele was lamb sweetbread with caramelized onion on sweet potato. Jaso was squid, scallops and prawns sauteed in wine with parsley and the chef's special spices. Malindi was salmon ceviche in lemon, coconut milk, spices and mango. You can find spicy shrimp curry and seafood masala among the many innovative and original dishes.
The rack of lamb was absolutely perfect. The owner and chef, Kamal Nawaz, concocted his signature sauce and transformed a normal rack of lamb into an unforgettable dish. Lamb is a must-try food in Puerto Natales (if you are not a vegan), and especially in Afrigonia.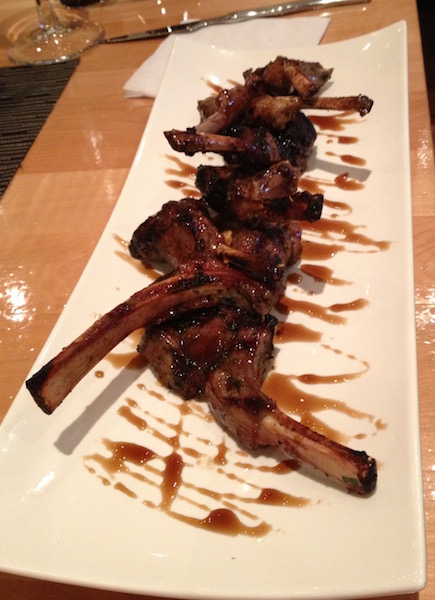 It isn't cheap eating in Afrigonia, but it is worth it. You pay for the ambiance, quality food and the extraordinary African and Patagonian food fusion.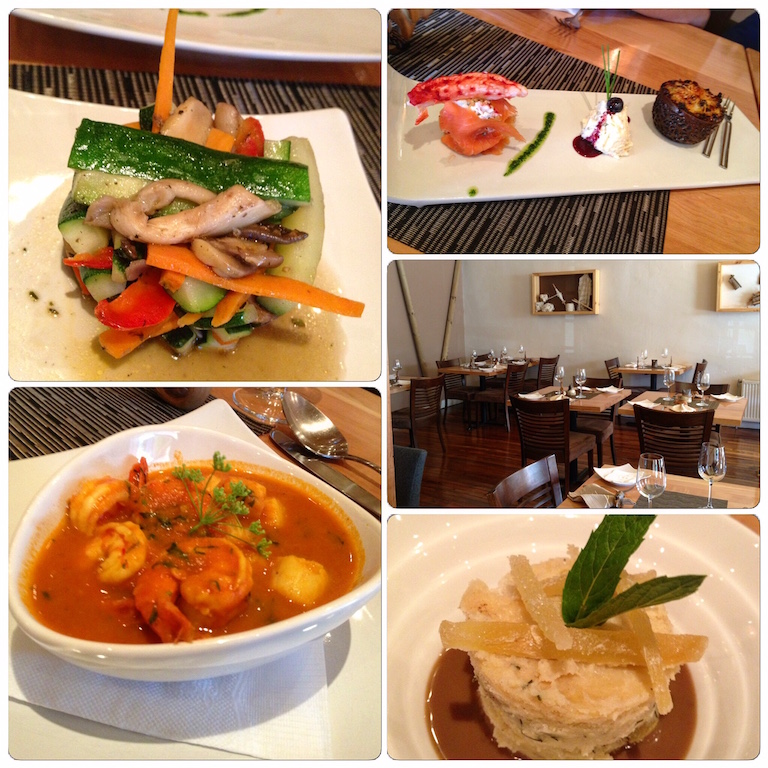 I sat down with Afrigonia's owner Kamal Nawaz when I was in Puerto Natales. He is an honest, hard-working and humble man. My husband and I called him the "Triple H" man after chatting with him. All the dishes in the restaurant are thought out by him. He did not read any recipe books, nor did he go to a culinary school. Mr. Nawaz started cooking when he was a teen. Cooking is his passion. While we were conversing, he told us his plans to start another Afrigonia in Africa. His plans and vision came to fruition when he opened Afrigonia in Kitwe, Zambia.
Location: Eberhard #323, Puerto Natales. Afrigonia closes briefly between 3-5 pm every day.
El Bote
At El Bote, our lunch consisted of Patagonian lamb, reinata fish, sea bass and Milanese Napolitano. These are popular Chilean dishes. Chile has plenty of reinata fish. The total cost for this meal was $46 including bottled water. I would consider El Bote a cheap place to eat in Puerto Natales. El Bote is a family restaurant. Most guests were locals while we were there.
Location: 380 Bulnes, Puerto Natales, Chile.
Cormoran de las Rochas
Recommended by one of the hotel staff, this old establishment is on the second floor of a quiet building. As we walked upstairs, we noticed the restaurant was completely empty. It was 7:30 pm and we expected the restaurant to be full of diners. Were we at the wrong establishment? Did walk into an unpopular knockoff? It turned out a little later the restaurant filled up; it is not unusual for Patagonians to eat late, just like their neighbors in Argentina.
Cormoran de las Rochas had a long wine list and the waitstaff was well-dressed. None spoke English. The restaurant had a beautiful view of the lake and mountains. We managed to catch the sunset while waiting for our meal. By 9 pm, as we were finishing our dinner, the restaurant began to fill up. The locals started coming at around 8:30 pm.
Though we had a hard time communicating, the great service helped break the barrier of communication.
At Cormoran we had pulpo a la parrilla (octopus) for appetizer and a house wine called Quintay Cabernet. For entrée, we had Merluza Austral (Patagonian Toothfish), Pierna de cordero (leg of lamb), Garron de cordero (lamb) and Chuletilla de cordero (another type of lamb).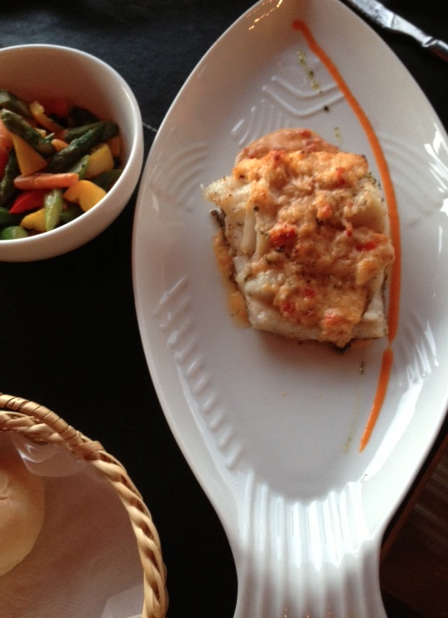 "When in Patagonia, eat lamb." As you can see, we ate a lot of lamb, especially in Cormoran. The price per entree ranges from 6,400 to 8,000 Chilean pesos. The octopus was 4,500 pesos. I would consider Cormoran's prices at mid-range. We were feasting with a bottle of wine and paid 48,900 Chilean pesos in total (about $105) not including tips.
For dessert, we had pavlova de frutillas and strudel manzana.
Location:  Miguel Sanchez 72, Puerto Natales
Enoo Restaurant in Weskar Patagonian Lodge
We stayed at Weskar Patagonian Lodge for 5 nights and spent two nights dining at the Enoo Restaurant. Enoo has a menu of the day, which changes daily. On our first night, we tried guanaco meat. I thought the meat was quite gamey and tough, but my son and husband liked it a lot. I settled for pumpkin soup with bread and my daughter had 'green potatoes' and salmon.
Enoo made one of the best Pisco Sours I had in Chile. Make sure you try one.
Location: Weskar Patagonian Lodge, Huerto 274-B, Puerto Natales
We love to eat and travel. How about you? Have you been to any of these restaurants? If you have been, would you recommend any of these restaurants to your friends and family? Let me know.
Note: This is an updated version of the article written on April 3, 2013.