To me, Torres del Paine National Park is a magical place. The awe-inspiring variation in its landscape is all contained in 561,000 acres (227,000 hectares) of preserved land. See the jaw-dropping mountains of Patagonia, glaciers, pure glacial lakes, thunderous waterfalls, pre-Andean shrubs, vertical granite needles, the Andean desert, jagged peaks of Cuernos del Paine, and deciduous forests. Animals roam freely and a variety of indigenous animals, like guanacos, are visible in some areas. Count it your lucky day if you see the rare Andean deer (huemul).
As a geography enthusiast, a person inspired by the world map and topography, Torres del Paine National Park's map marked with green, blue, brown, white and grey areas came alive in front of my eyes, as the tour guide pointed to the lakes, mountains and vertical granite needles.
I didn't hike the W circuit or do anything strenuous while visiting Torres del Paine. I took the easy route by joining a guided tour with Julian, a Patagonian mate-sipping tour guide. The day before our tour, we walked around Puerto Natales' main streets in search of a tour to Torres del Paine. The tourist town is filled with tour companies, outdoor gear retailers and hostels. Without any prior research, we booked the tour with the first tour company we visited.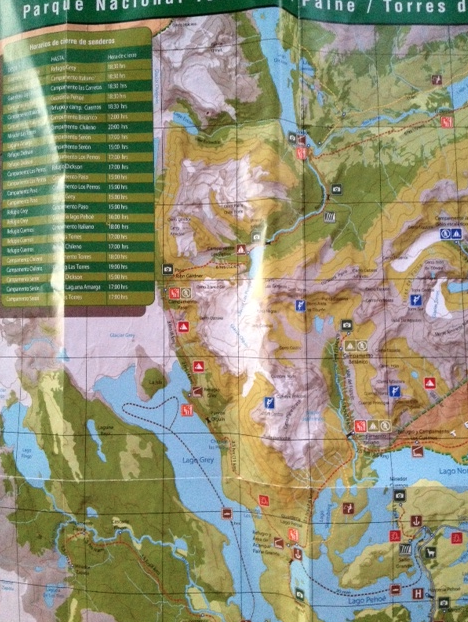 The tour agent gave us a few basic instructions in his broken English: You must wear good shoes and layered clothing. Be prepared for unpredictable weather. Torres del Paine can have four seasons in one day. You will experience different microclimates. Expect bright sunshine, freezing temperatures and heavy rain within a few minutes apart.
Paine Massif or Cordillera del Paine is Torres del Paine's top attraction. We were driven to a few different locations to view this independent mountain system. In between sipping his mate (a type of tea popular in Uruguay and Argentina served in a special cup with a straw, usually refilled with hot water and shared among friends from the same cup), Julian, the tour guide, spoke through the microphone explaining the formation of the 12 million year old Paine Massif. Sedimentary rocks are at the highest part of the Cordillera del Paine and the base is made of granite. These massive rock formations had been moulded by glaciers over time.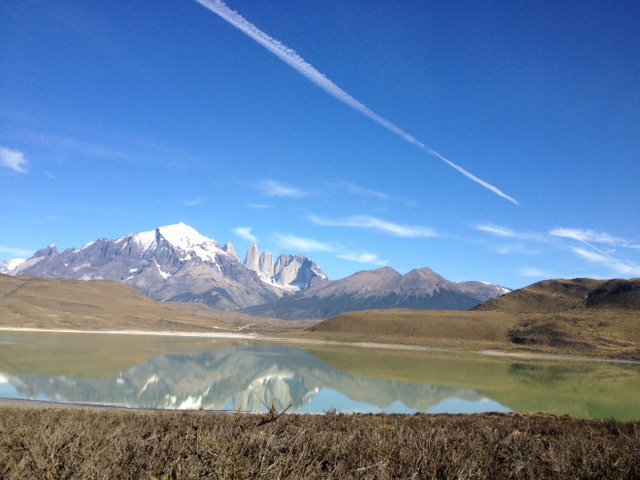 We stopped to look at the reflection in a lake of Paine Massif, walked to a platform to observe the waterfalls, pre-Andean shrubs, Magellanic deciduous forest, Patagonian steppes, Andean desert, and groups of guanacos walking down the valley. Huge parts of the park were scorched by fire because of the act of one irresponsible tourist in 2011. About 40,000 acres of land were affected. It may take another 50 years for the native plants to mature.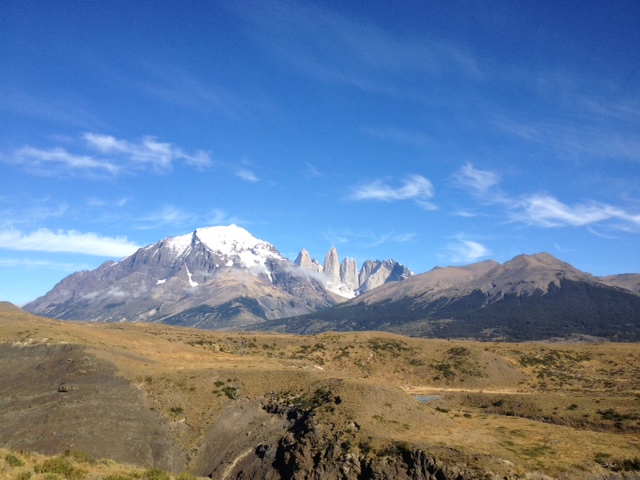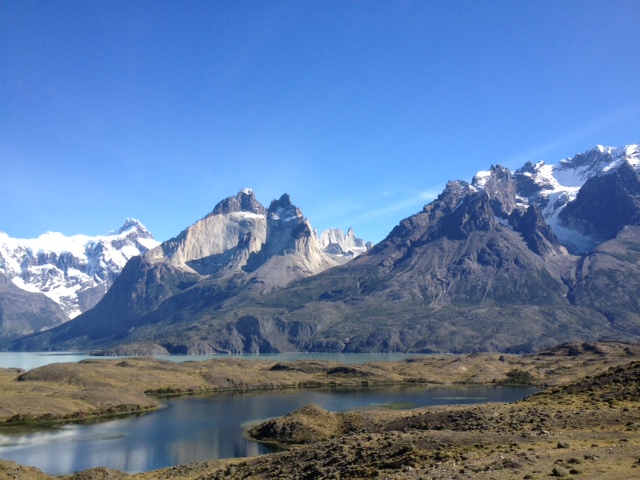 Pumas, guanacos, foxes, condors, huemules, flamingoes, swans and nandu still roam in Torres del Paine though some of these species are endangered. Before Torres del Paine was declared as a national park, parts of the area were inhabited lands, where gauchos raised their sheep and tended their land. Most of the estancias are gone and cleared land are still visible in parts of the Park. On our tour, we were lucky to see a baby puma sleeping under a bush.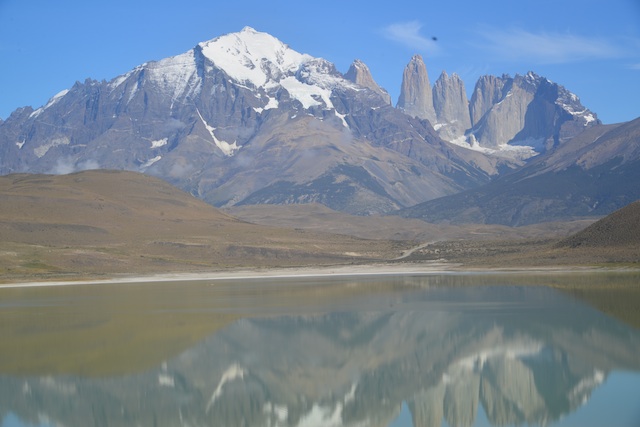 Hotels and camping sites are available inside Torres del Paine Park. Here is one by the lake which I think I would enjoy.
A typical Torres del Paine guided tour includes a stop at Milodon Cave before heading to see Lago Sarmiento to get the first view of Paine Massif, then onto other parts surrounding Paine Massif. Lago Pehoe, Cascada and Lago Grey are the other stops. Lago Grey and Glacier is another astounding spot in the Park.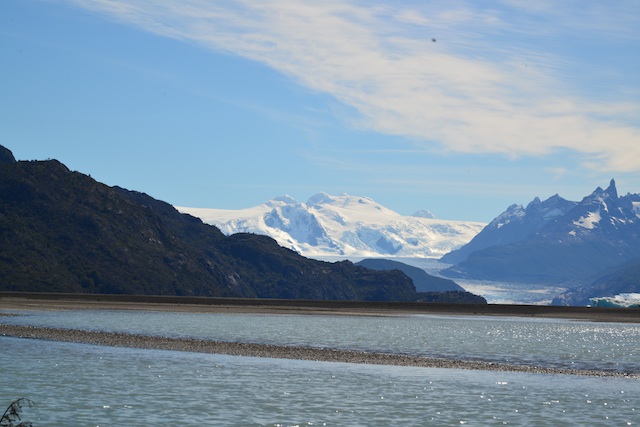 On our drive back to the hotel in Puerto Natales, I vowed to return to Torres del Paine after our trip around the world. I only saw the highlights from a comfortable tour bus. I think the next time I'll hike the W circuit. Seeing the burnt landscape and touching the scorched scrubs pained me. Nature has its way to talk to us. We need to preserve this land for the future generations. Once it is gone it will be hard to rebuild.
Note: The original article was written on March 30, 2013. This is an updated version.
Want to know where we stay in Puerto Natales? It's inside this eBook (just $2.99 per eBook)...