In some destinations, I ate because I had to. Puerto Varas was different. I would have eaten from sunrise to sunset if I had a chance. I thought about food all day when in Puerto Varas. I had a long list of "must-eat" food and drinks. I couldn't check everything off my list, even after my seven-day stay with three meals per day.
My "must-eat" food list came from a student we met from Puerto Varas while on a day trip from Puerto Natales to Perito Merino. Daniel was a student in Santiago but was born and raised in Puerto Varas. He told us where to stay, what to eat, and what to drink while in Puerto Varas. He even told us where to board the local bus to Frutillar and Puerto Octay.
Although we ate in many cafes and restaurants, I decided to show you my five favorite places to eat in Puerto Varas, Chile:
1. Tratoria de Carusso
Location: San Bernardo 318, Puerto Varas
The first time we went to Tratoria de Carusso at 7:30 pm, Mr. Carusso was standing outside his restaurant. He was just looking out and we thought the restaurant was closed. We asked if it was opened and Mr. Carusso quickly opened the sliding door and let us in. He walked to the kitchen and out came his assistant ushering us to a table by the window. No one was in the restaurant because in Puerto Varas dinner usually starts after 8 pm. The eight tables inside were empty. We were the first guests for the night.
The restaurant was decorated with Venetian carnival mask prints. The sliding door leading to the dining room had an old German cowbell. Tratoria de Carusso is a popular local restaurant. We would have missed this restaurant if it were not in Daniel's list.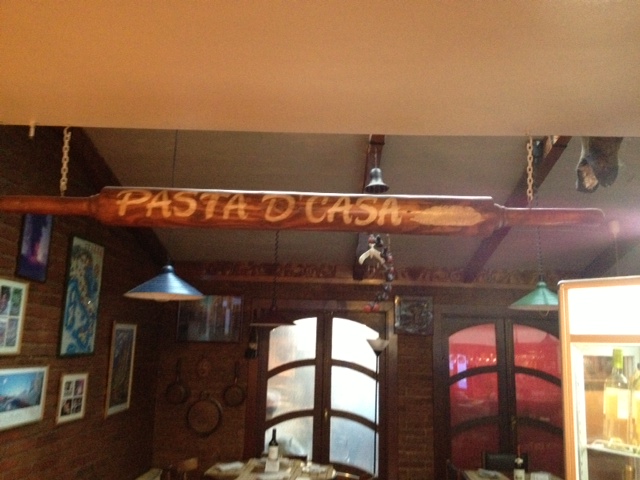 Our dinner consisted of the chef's homemade gnocchi and ravioli. Both dishes were so authentic that they reminded us of the gnocchi and ravioli we had in Siena, Italy. Each pasta dish costs an average of 5,000 Chilean pesos at the restaurant.
The complimentary bread basket came with Mr. Caruso's special pebre. Pebre is common in all restaurants in Chile. Each restaurant has their own special pebre recipe. Pebre or Chilean salsa usually consists of garlic, onion, cilantro, aji chili pepper and olive oil. Mr. Caruso's had an Italian touch, probably with lots of olive oil, oregano, and parsley.
If you dining there, you must try the pisco sour which costs only 2,500 Chilean pesos.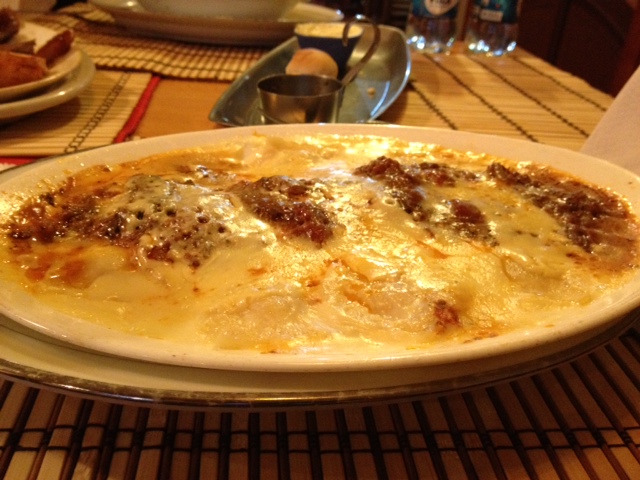 There was no Wi-Fi in di Carusso. Don't miss this restaurant if you like Italian food.
2. Cafe Danes
Location: Del Salvador 441, Puerto Varas
Danes was a nice place for lunch. The food was great but the service, not that much. It was a very busy restaurant. Try the menu del dia (menu of the day). Menu del dia was available from Monday to Saturday. The menu del dia when we visited was avocado with chicken, lean beef loin served with vegetables and fries. The dessert was just an ice cream. It costs 4,950 Chilean pesos.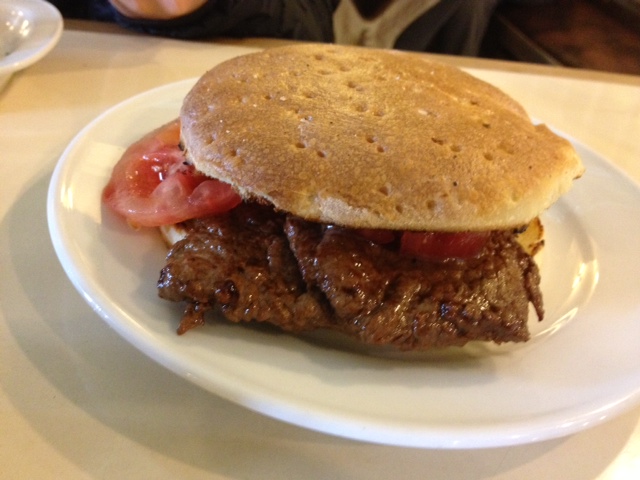 Pastel de choclos, a traditional Chilean dish of meat topped with a creamy sweet corn is a dish to try in Cafe Danes. (Cost: 4,950 pesos). The tomato sandwich served on flatbread was 3,600 pesos. We saw a man sitting next to us eating patties of raw ground beef called crudos served with lemon slices. Apparently, it was a specialty in the restaurant too. (Cost: 2,700 pesos).
Cafe Danes was filled with locals and a few travelers. Cafe Danes has a take-out menu at the front of the store. There are a variety of empanadas, cakes, bread and cookies on display. We also bought the cakes (kuchen) and empanadas.
There was Wi-Fi in Danes. Danes was a great place to discover what the locals eat.
3. Cafe Mamusia
Location: San Jose 316, Town Center, Puerto Varas
We were the only tourists in the restaurant during lunch time one Sunday. Mamusia had a short walkway with a chocolate store on the left of the restaurant and the main dining room on the right. Daniel said Cafe Mamusia is Pichanga, another Puerto Varas specialty. None of the wait staff spoke English. It was a little challenging to order other food besides Pichanga. It helps to know at least one dish to get prior to eating in Cafe Mamusia.
Cafe Mamusia'spichanga was prepared almost the same as Valparaiso's chorrillana. It is a huge dish filled with French fries, onions, sliced beef, eggs, and peppers.
There was no Wi-Fi in Cafe Mamusia.
4. Caffe El Barista
Walker Martinez 211, Puerto Varas
Caffe El Barista was the best place for hot chocolate in Puerto Varas. We liked the ambiance and the friendly service. You have the option of indoor or outdoor dining areas in Caffe El Barista. The music was quite loud when we visited at about 8 pm for dessert and hot chocolate. The photo below shows my son's favorite, submarino. Submarino is a hot milk served with a few squares of dark chocolate on the side. "You submerge the bar of chocolate into the hot milk, stir, and drink!"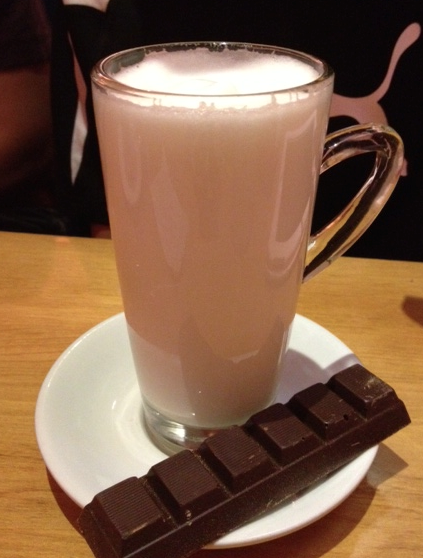 Free Wi-Fi was available at Caffe El Barista.
5. Cassis
Location: San Juan 431 esquina San Jose, Puerto Varas
From Hotel Licarayan where we stayed, we could see Cassis. We had only one meal here but had coffee four times during our week long stay in Puerto Varas. Best place for French onion soup, coffee, ice cream and dessert. My French onion soup had crispy cheese on top, which was a little different from the usual French onion soup I have in the US.
There are outdoor and indoor seats in Cassis. You get to view Lake Llanquihue if you sit outside. Cassis' location was ideal for relaxing with a cup of coffee and for people watching. It was a busy place and service was just so-so.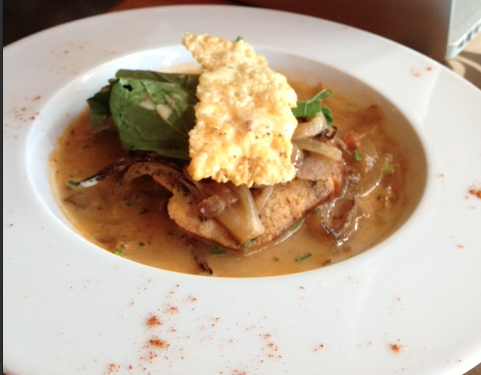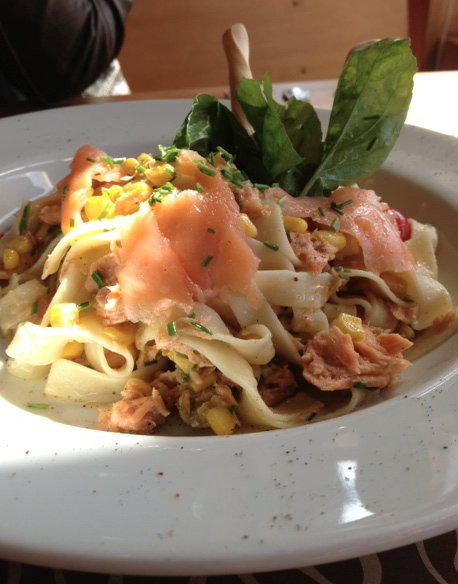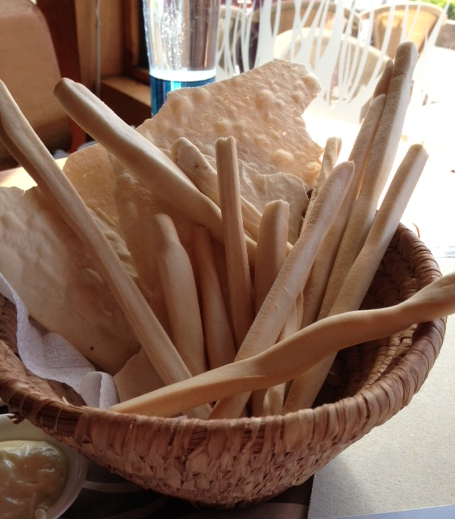 The French onion soup was part of my menu del dia (menu of the day) order. The afternoon meal or menu del dia usually includes a soup or salad, a main dish, and a dessert. At Cassis for 7,500 Chilean pesos we had soup, salmon and pasta, dessert and a cup of espresso.
Wi-Fi was available at Cassis.
Our dining experience in Puerto Varas would have been different without Daniel's recommendation.
About Puerto Varas and Lake District of Chile
Puerto Varas is the largest city in the Lake District of Chile. It is the gateway to many outdoor adventures and lake cruises in the Lake District. It is Chile's top ski destination. The Lake District is one of the most beautiful districts in Chile. There are glacial lakes, snow-capped volcanoes, national parks, fertile farmlands and dense forests.
Puerto Varas is a picturesque city. On clear days, we saw Osorno and Calbuco volcanoes from the shore of Lake Llanquihue near Hotel Licarayan.
The Iglesia del Sagrado Corazon de Jesus was built in 1915, based on the Marienkirche of the Black Forest in Germany.
The church was just a short uphill walk from downtown Puerto Varas. To get a view of the church, the volcanoes, and lake as seen in most postcards in Puerto Varas, we walked to Cerro Calvario.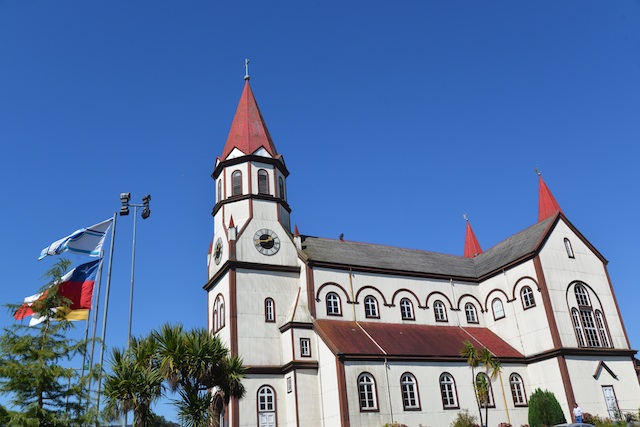 On a late afternoon, Cerro Calvario was deserted. The trees were overgrown which made the view of the church, volcanoes and lake a little different from that on the postcards. Take a look at what we captured: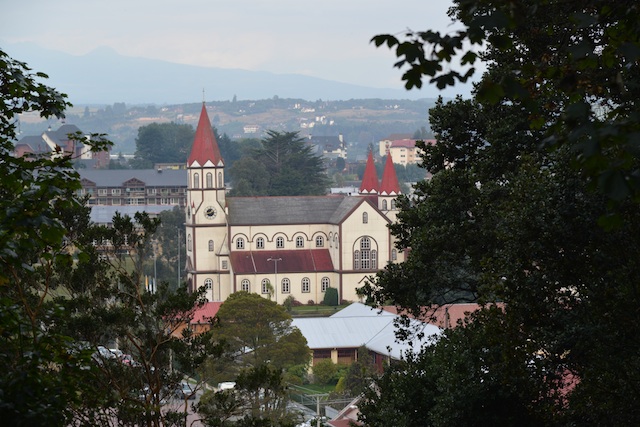 Puerto Varas is Chile's best region for gourmet food, cheese, sausages and kuchen (German cakes). German influence is eminent in Puerto Varas. Even the beer tasted better in Puerto Varas, especially the honey beer.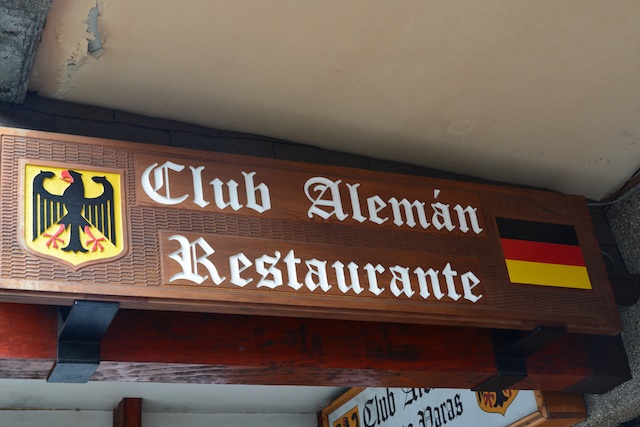 Where we stayed
We stayed at the Hotel Licarayan in downtown Puerto Varas. It is located across the street from Lake Llanquihue with views of the volcanoes. Hotel Licarayan still maintained its old-world charm. Each morning the ladies in white aprons and blue dresses served us complimentary breakfast. We used proper plates, cups, saucers, and cutleries with the hotel's name inscribed on them. Old furniture and decor were found throughout the hotel.
Kuchen (the German word for cake) were served every morning with our coffee and toast. We had breakfast with views of the lake and volcanoes every morning.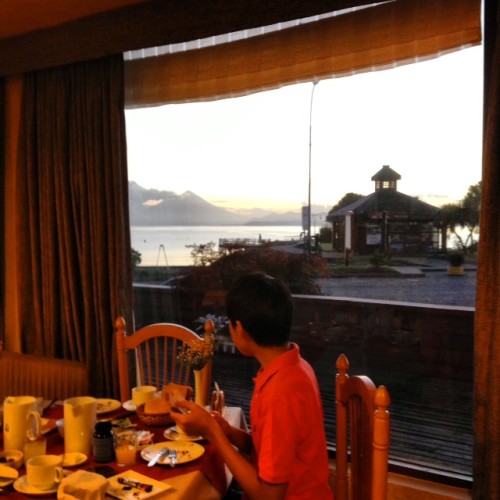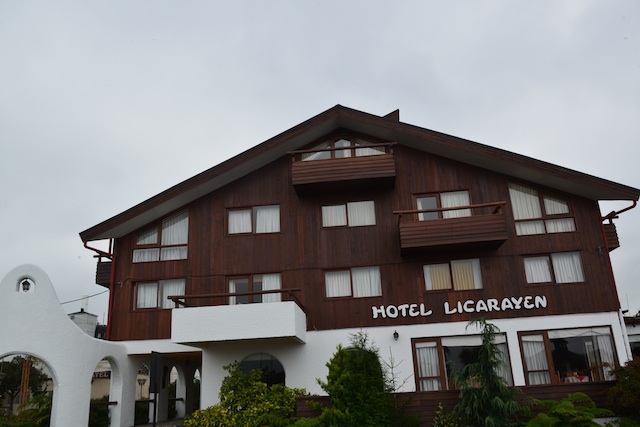 Hotel Licarayen was a recommended by Daniel, a student from Puerto Varas that we met on a tour to Perito Moreno Glacier. Without his recommendation, we would not have found this conveniently located hotel. The price per night for four people including breakfast was $125.
Want more on accommodation in other parts of Chile and South America? Get my South American Accommodation eBook, available at Amazon.com for $2.99.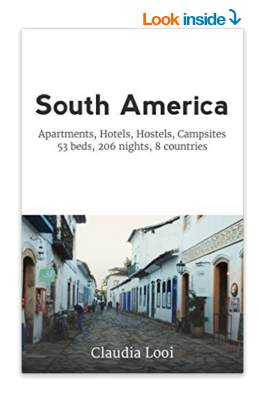 Note: The original article was written on  April 13, 2013. This is an updated version.