After four days in Prague, our 18-day European girls getaway trip continues. The second segment includes Krakow, Bratislava, and Budapest. If you missed the first segment of the journey, please head over to Prague Girls Getaway Itinerary.
On the second leg, we spent only five nights, hardly enough to dive deep in three countries. At least we get to visit Auschwitz-Birkenau and Wieliczka Salt Mine when in Krakow. We also had a change in the itinerary. Being flexible is essential when traveling with a group of four. Instead of spending three nights in Budapest, we forwent one of the nights (already paid) and added Bratislava, the capital city of Slovakia.
Table of Contents
---
Overnight train Prague to Krakow
After researching the many options of getting from Prague to Krakow, my sisters and I decided to take the overnight train 443 from Praha Hlavni train station to Krakow Glowny train station. The train leaves Prague at 11:09 pm and arrives in Krakow at 7:00 am the next day.
Train tickets are cheaper if you buy them in Prague or online at Czech Transport. For a hassle-free reservation, I went for the more expensive way - I bought the tickets from RailEurope.com and had the tickets sent to my home in New York. The total price for 4 second class, one-way tickets was $390. These were reserved seats in a 6-person couchette. We shared the couchette with a mom and son from Ostrava, Czech Republic, a city just nine miles from the Polish border.
Day 1
Krakow
The station was quite empty when we arrived right after 7 am. We took a cab from the train station to Kazimierz, the historic Jewish quarter in Krakow. We had a 2-bedroom apartment on the second floor in the old square for two nights.
Kazimierz was an independent town founded by King Kazimierz in 1335. It became a Jewish quarter in the 15th century when the Jews were expelled from Krakow and moved to Kazimierz. They built a wall to separate the Jews from the other citizens, and by World War II there were around 60,000 Jewish Poles lived in Kazimierz. Today, Kazimierz is a thriving part of Krakow, with burgeoning coffee, bar and dining scene. Its cobbled streets, old walls, synagogues, and museums reminded us of the rich history and pain felt by the people that had long gone.
Some interesting places to visit in Kazimierz:
Jewish Museum, located within the 15th-century Old Synagogue
Izaak's Museum, have imposing frescos from the 17th-century
Ethnographic Museum, at Kazimierz Old Town Hall, see costumes and regional crafts
Corpus Christi Church, a baroque church
Breakfast at Zenit in Kazimierz
For a healthy and refreshing start in Krakow, the lady in the apartment recommended Zenit, which is about a 20-minute walk from the apartment. Zenit is in the heart of Kazimierz, the Old Jewish quarter. We love the modern decor, artwork by local artists displayed on the wall, the friendliness of the place, most of all the food and coffee. Zenit offers vegetarian-friendly and high-quality breakfast at a very affordable price.
Wawel Hill and Wawel Castle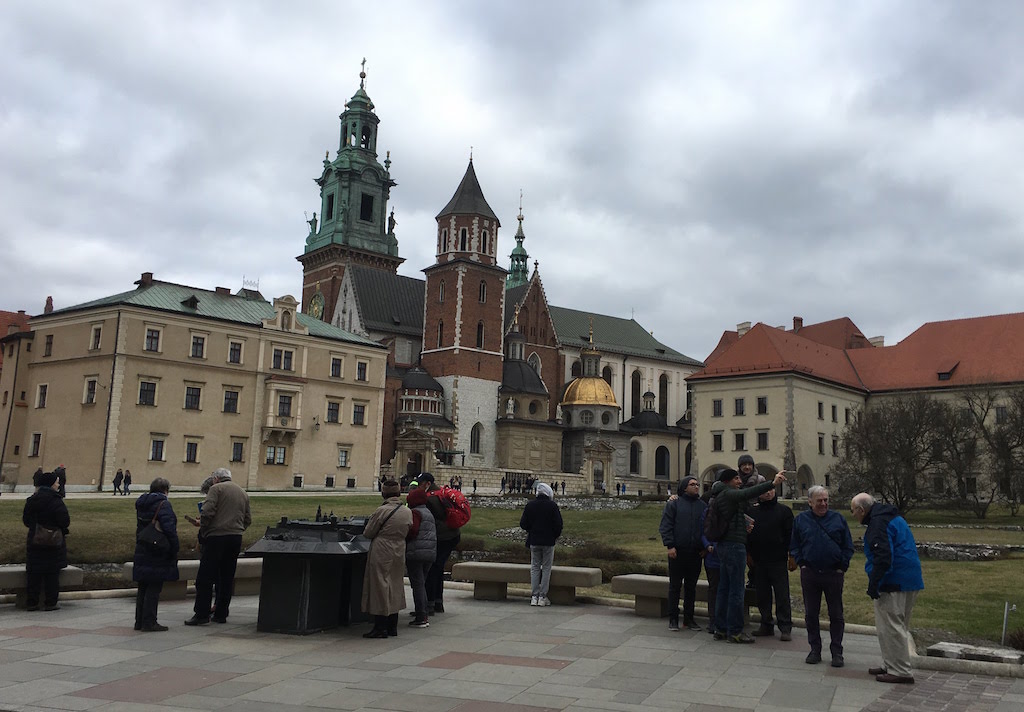 On the south of the Old Town is Wawel Hill and the castle can be seen from a distance. Wawel Castle is an important Polish landmark and a must-see when visiting Krakow. This favorite tourist spot has several attractions. You need a separate ticket to visit some of these sites:
Wawel Cathedral
Cathedral Museum
Royal Tombs
Sigismund Chapel
bell tower
State Rooms
Royal Private Apartments
Dragon's Den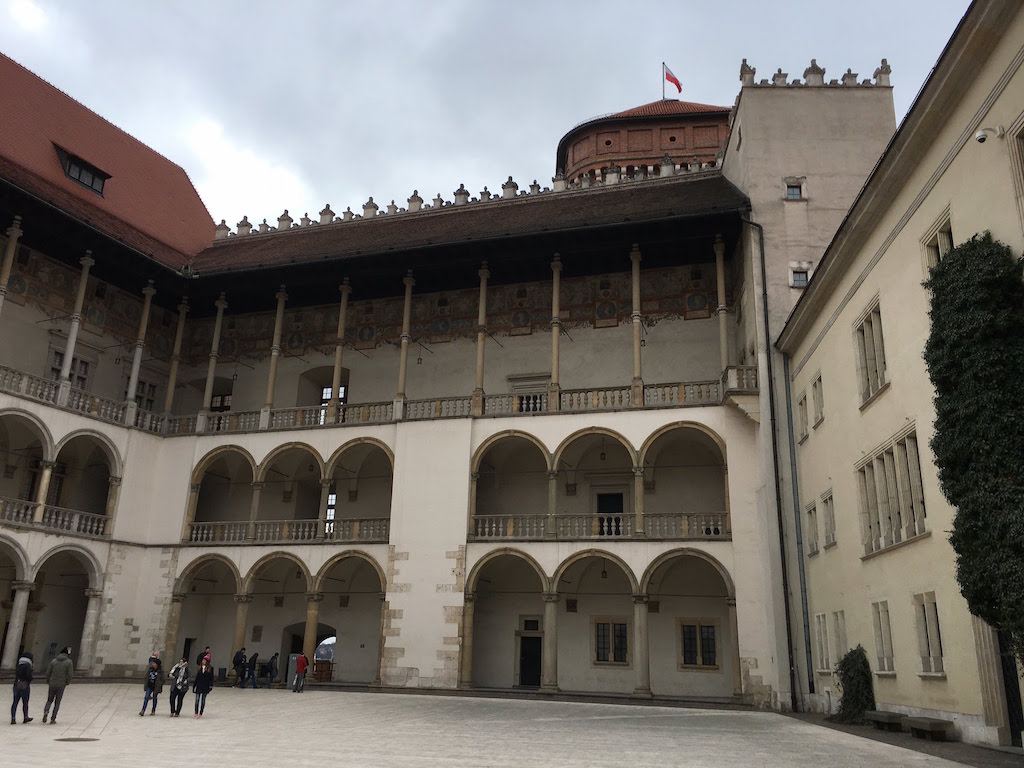 Old Town Krakow
It was around 30 degrees Fahrenheit when we arrived in Krakow on a spring morning. The temperature didn't get any warmer by mid-afternoon either. From Wawel Hill, we walked to Old Town's Grodzka Street, part of the royal route and one of the oldest streets in Krakow. This pedestrian-only street has horse-carriages and women vendors selling obwarzanek krakowski - braided, boiled and sprinkled with salt, sesame seeds ring-shaped bread.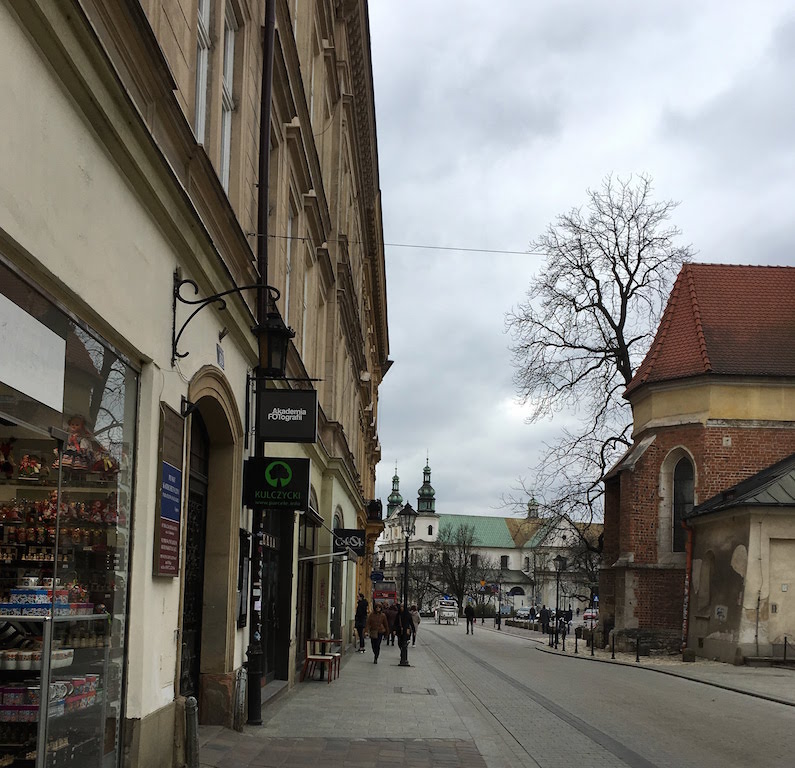 Rynek Glowny
The main market square Rynek Glowny is Europe's largest medieval town square. The town square was filled with pigeons even on a cold day. Men were playing musical instruments and vendors selling flowers. If you're there, you can have a meal outdoor as well.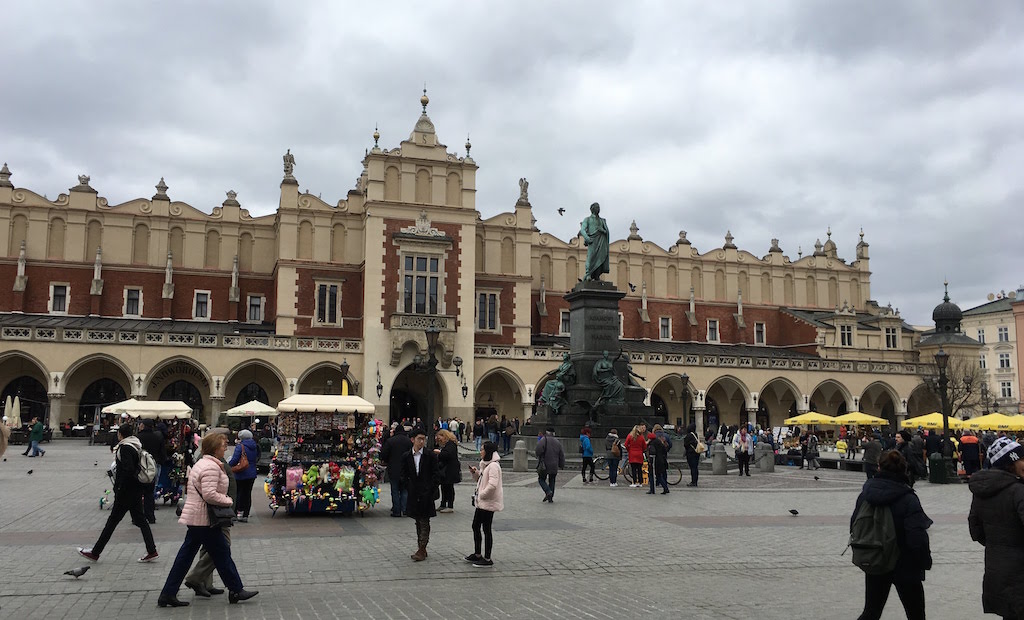 Cloth Hall
Located at the square is the 16th-century Renaissance building known as Cloth Hall. It houses a large souvenir market. Underneath the souvenir market is the Rynek Underground, which we didn't visit.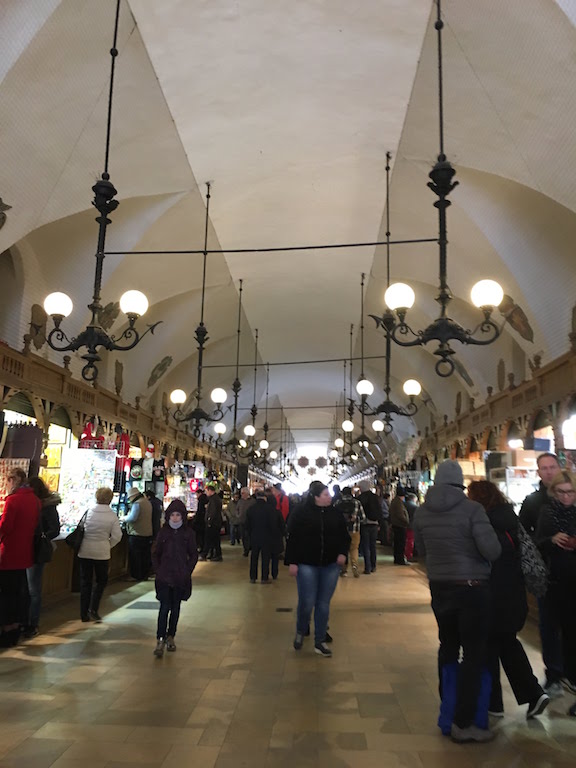 Other places to visit in Old Town (we didn't make it to any of these places):
St. Mary's Church
Florian Gate
Czartoryski Museum
Schindler's Factory
Jewish dinner with live music at Restauracja AWIW
Kazimierz has a large selection of Jewish and traditional Polish cuisine. We had a light dinner at AWIW Restaurant, a restaurant in the little square next to the Old Synagogue. There are outdoor and indoor seats. The outdoor covered seating areas were full, so we opted for the indoor seats.
At AWIW we had the Polish kreplacy (fried pierogi with liver, apple, and onion) and Jewish paste mix served with pita bread. Jewish live music was provided by a violinist, flutist, and accordionist.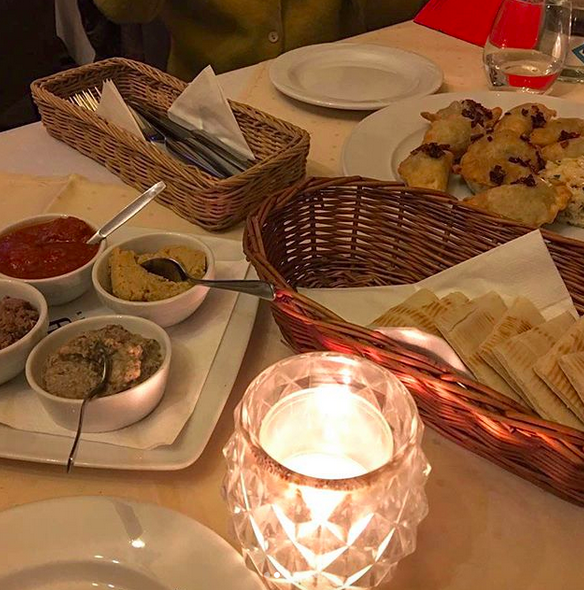 Day 2
Auschwitz-Birkenau and Wieliczka Salt Mine
On this segment of the journey, I'll let my photos tell the story of Auschwitz-Birkenau and Wieliczka Salt Mine. It was a somber affair - like I was at a funeral. I recommend you read Victor Frankl's book, Man's Search for Meaning.
Auschwitz-Birkenau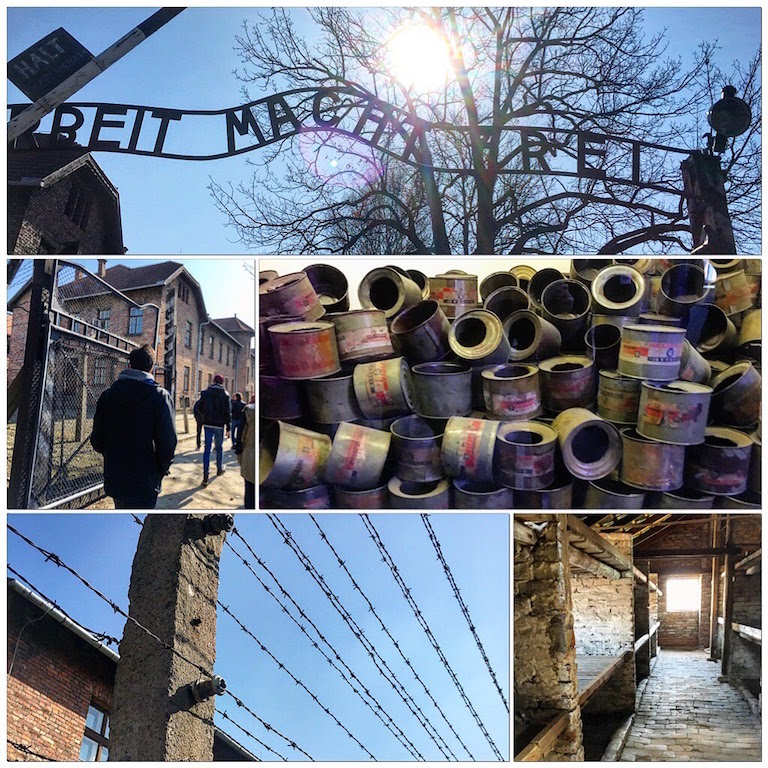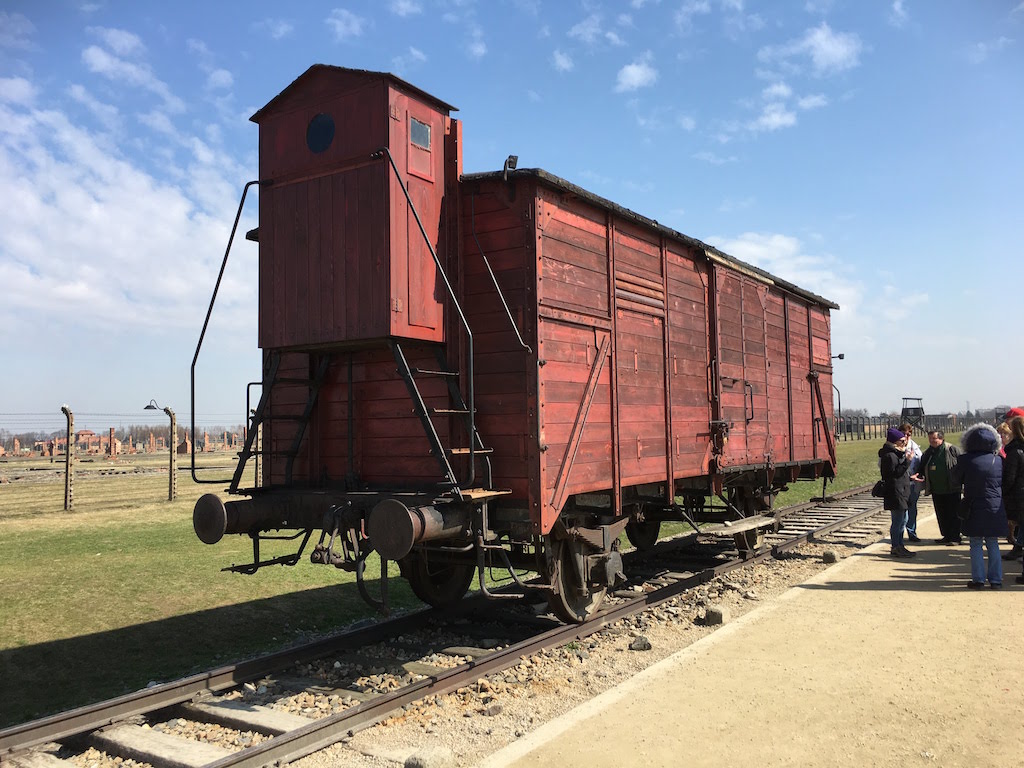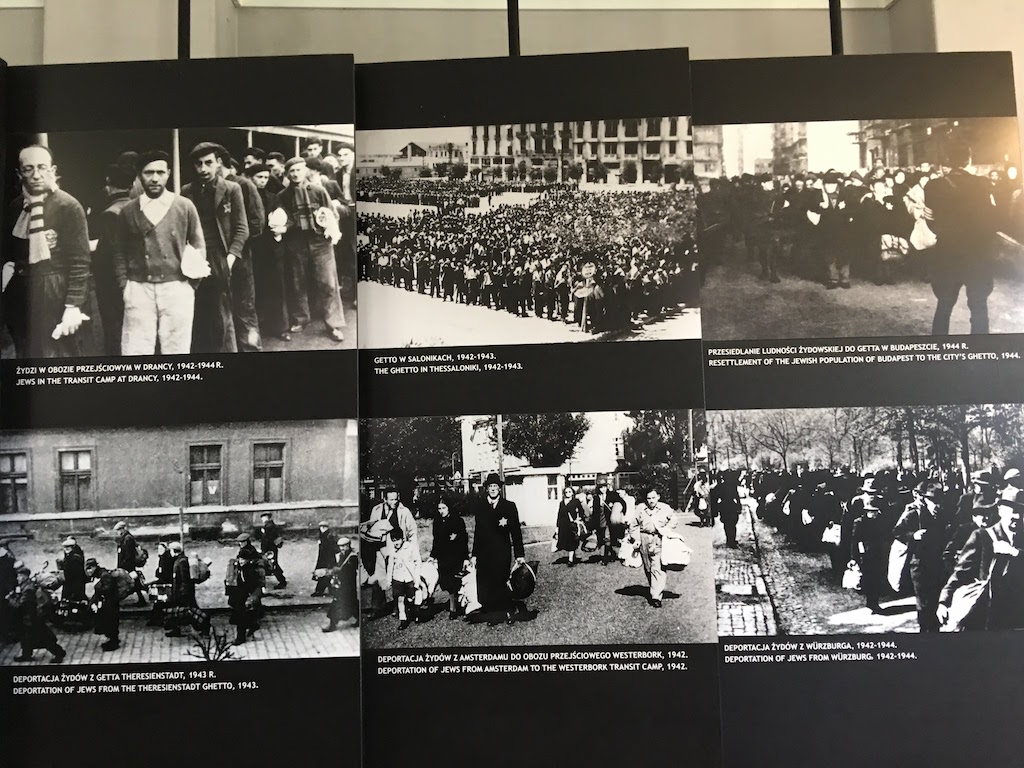 Wieliczka Salt Mine
Salt mining started in Wieliczka Salt Mine during the Middle Ages and stopped in 2007. Inside this underground world is a series of stairs and tunnels, covering around 1.25 miles that millions of visitors walk pass per year. Every inch of this underground world is salt or carved out of salt. The main attraction is the Chapel of St Kinga, located over 300 feet below ground.
It's a UNESCO Cultural and Natural Heritage Site and Poland's most popular tourist attraction. You have to buy a special ticket to photograph the salt mine.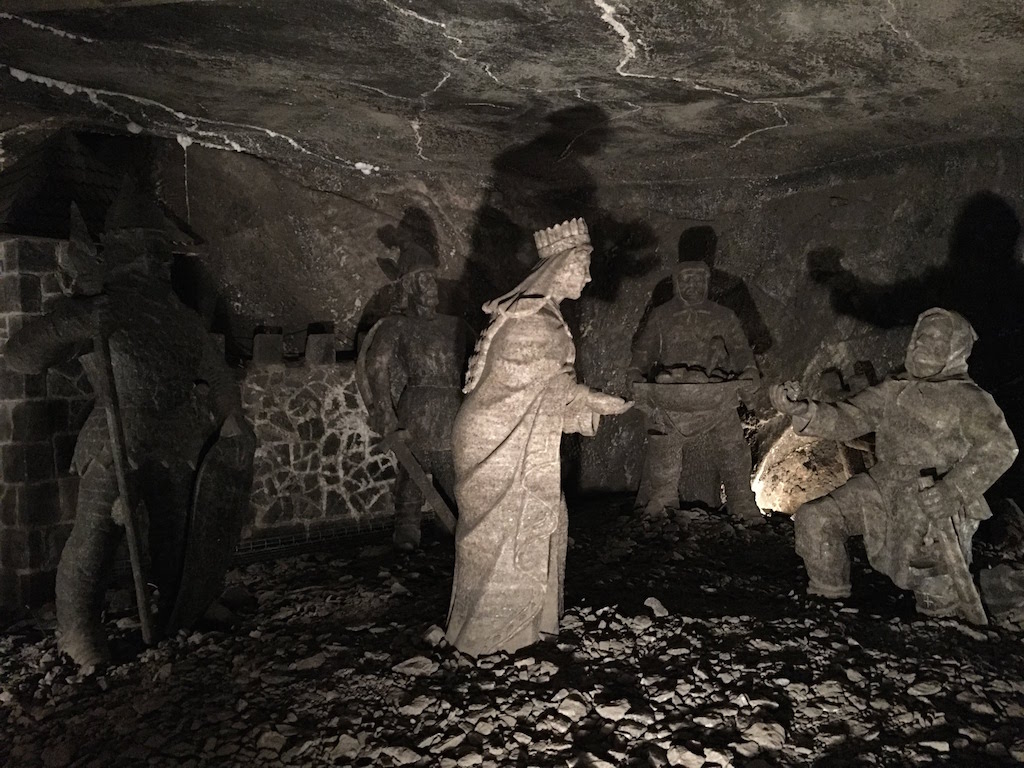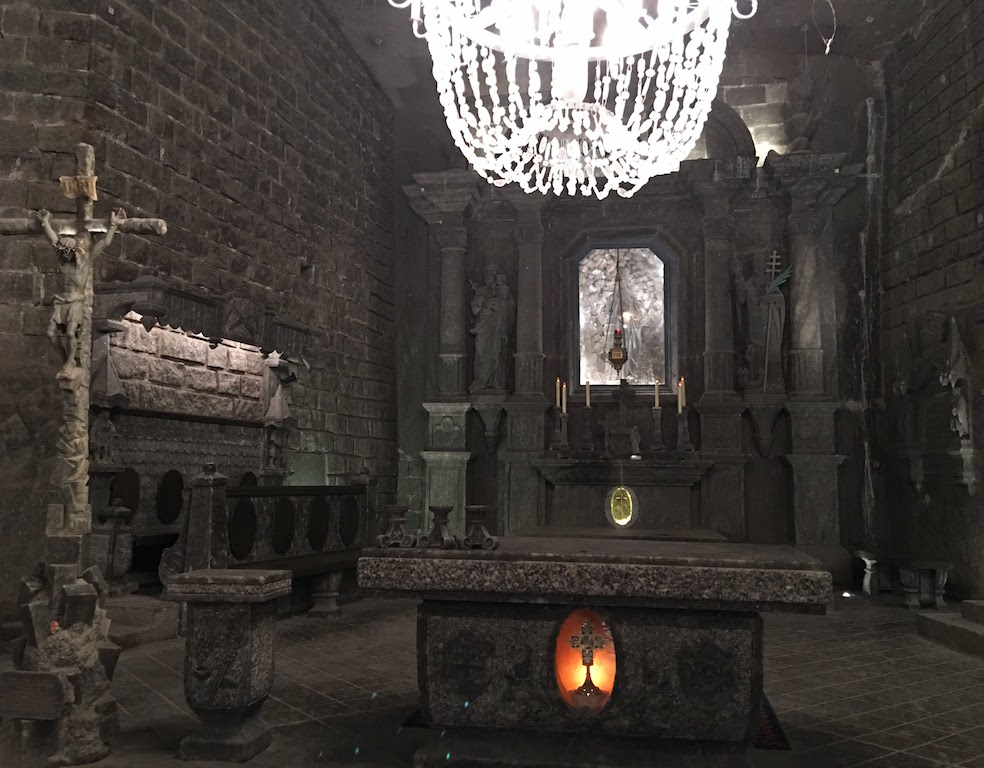 I reserved the full day Auschwitz-Birkenau and Wieliczka Salt Mine tour through Viator about two months before departure.

Dinner on the second night was at an Italian restaurant, about one block from the apartment.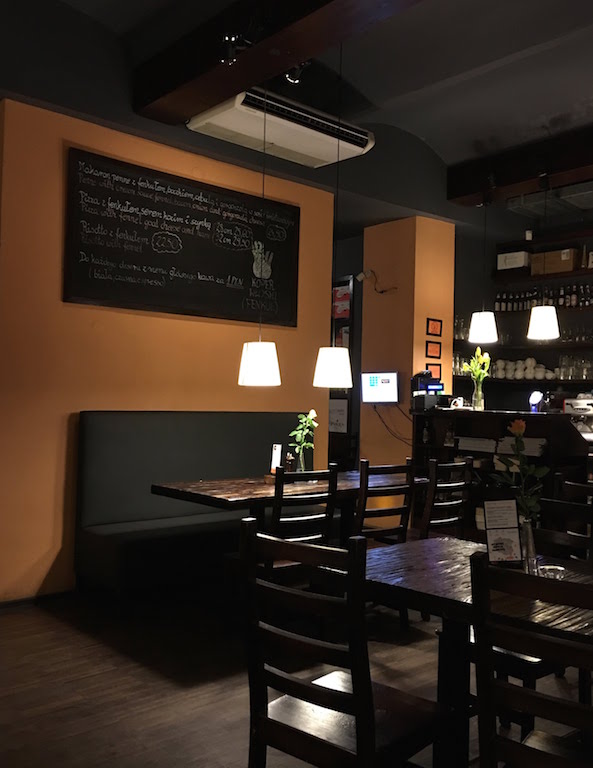 Day 3
From Krakow through Olomouc to Bratislava
For convenience and ease of travel, we hired a private driver with a minivan for a door-to-door transfer from Krakow to Bratislava. Distance between both cities is around 460 km (285 miles) and approximately five hours driving time. The drive was mostly on highways, through Katowice (Poland), Ostrava (Czech) and Brno (Czech) with a one-hour lunch stop in Olomouc (Czech).
We left at 8 am and had a quick stop at a gas station in Poland just before we crossed the border to the Czech Republic. Our driver said it's cheaper to get gasoline in Poland. That stop gave us an opportunity to see how a gas station and convenience store looks like outside of Krakow. I got a hot dog in a tiny bun and a cup of coffee.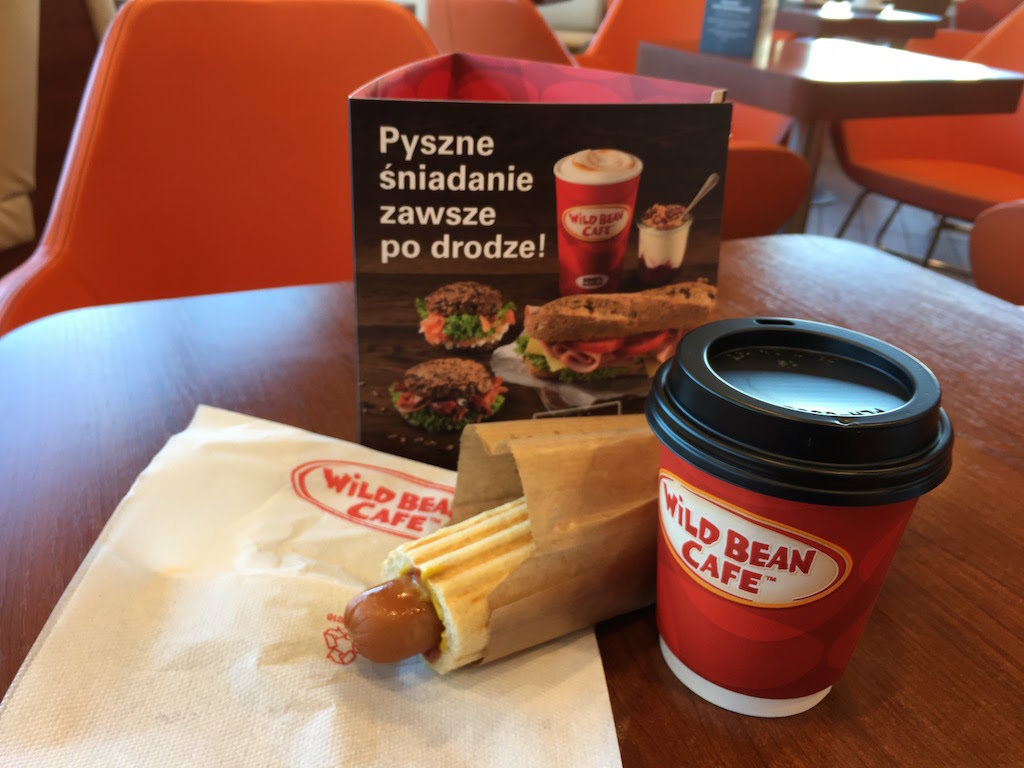 Olomouc
Olomouc is about 2.5 hours from Krakow. Founded in the 11th century, Olomouc was the capital of Morovia until the 17th century when Brno became the capital. With only about an hour to spare, I had the chance to visit Olomouc's Upper Square (Horni Namesti), saw the Holy Trinity Column, Orloj (the astronomical clock), checked a few side streets and had a quick coffee at Kavarna U Posty. We were fortunate to witness the clock chiming and the figurines performing at noon. It only happens once a day.
I booked the one-way transfer with Krakow Travel Time two months before departure. The price of 1450 PLN (340 Euro) for one way included:
Private minivan for your party only
Door-to-door transfer from hotel in Krakow to the hotel in Bratislava
English speaking driver and his assistance at all times
No luggage limit
Free one-hour break in Olomouc
All car costs, tolls, taxes, insurance
Hiring a private car and driver is inexpensive if you consider the time you save, the door-to-door service is so convenient and hassle-free. It was 85 Euro per person. There were four of us. Price may vary. Do check with Krakow Travel Time for their current rate.
Bratislava
By 2 pm we arrived at LOFT Hotel Bratislava to a complimentary drink and a basket full of peanuts at the hotel's beer pub/restaurant, FABRIKA. FABRIKA has an on-site beer brewery, over 200 wines, and a choice of rum and whiskey. We had all our meals in FABRIKA during the 24-hour visit to Bratislava.
FABRIKA
FABRIKA is a retro-industrial style beer pub located in LOFT Hotel Bratislava. Opened since December 2014, it has an on-site brewery, the food may not be the most authentic Slovak cuisine in Bratislava, but we loved it there. Take a look at some of the dishes we had for dinner.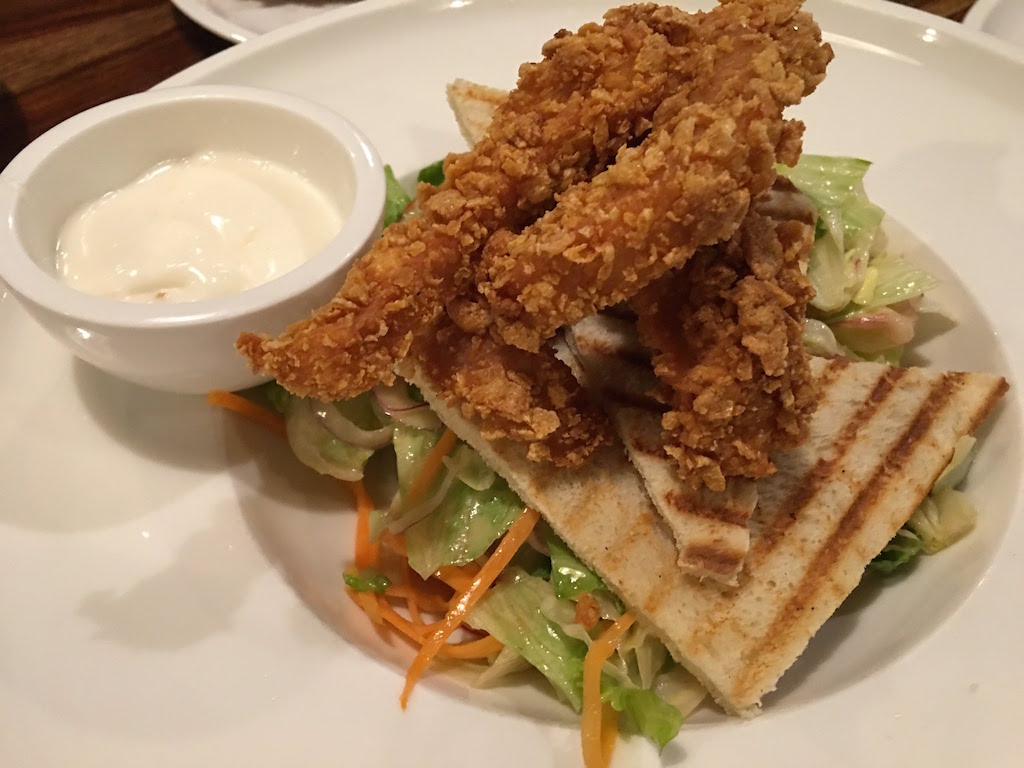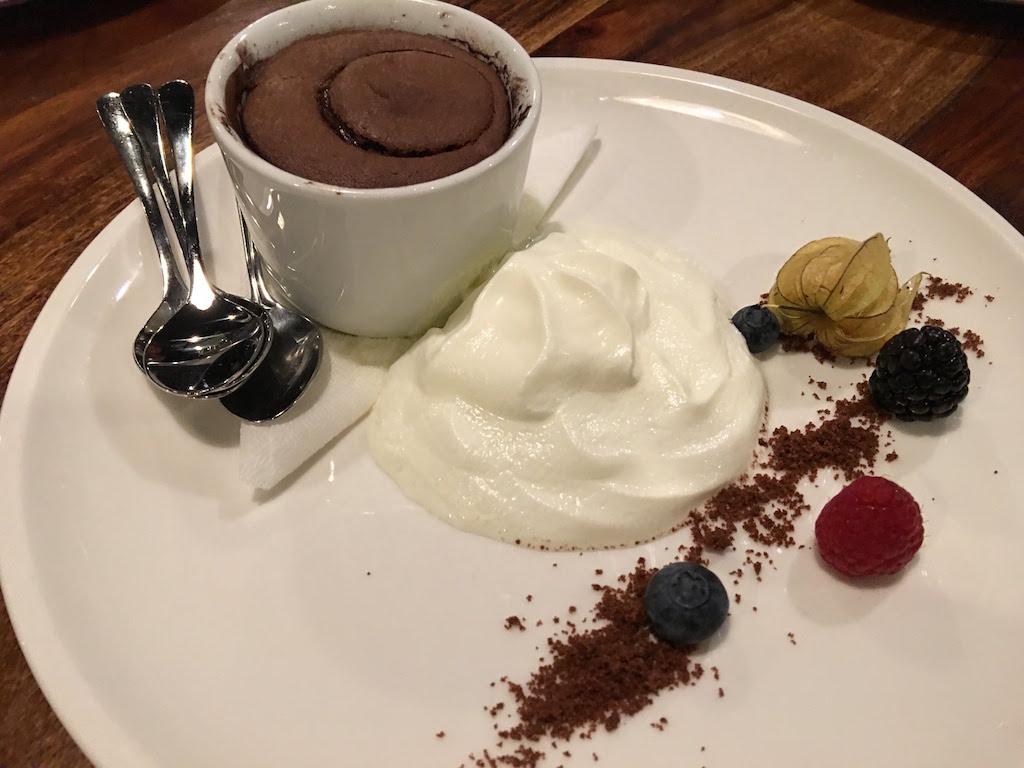 The buffet-style breakfast was by no means boring like many of the hotels we stayed at on this 18-day European trip. There were fruits, cold cuts, hot foods, pastries, a variety of bread, fruit spreads and butter, juices, tea, and coffee.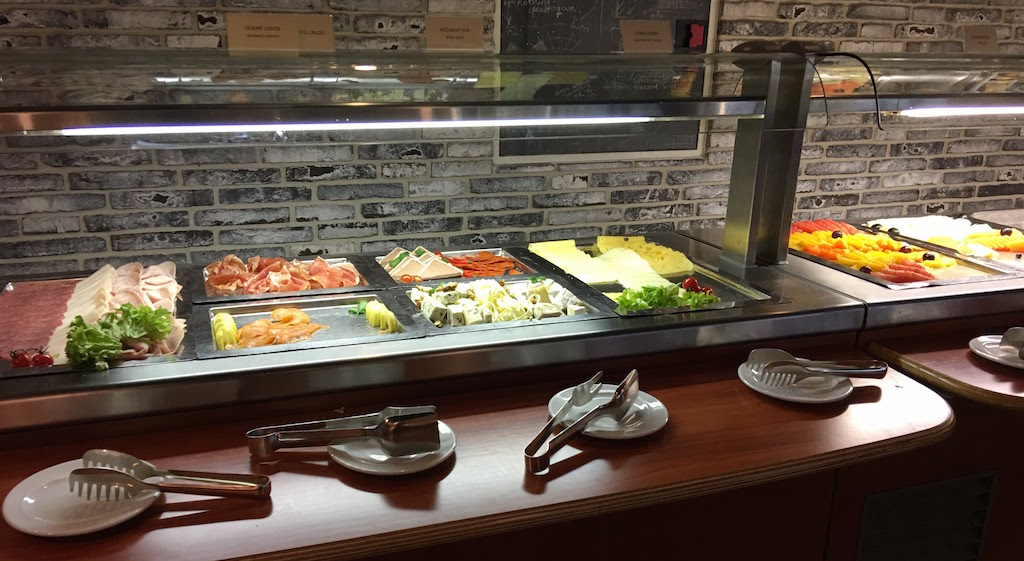 LOFT Hotel
For $180, we stayed for a night in a family room at the LOFT Hotel. The room has a modern look with windows on both walls, one overlooking the Presidential Palace gardens. The other opened towards the old townhouses of Bratislava. The LOFT is about a 20-minute walk from old town.
The staff is young and enthusiastic.  Overall, LOFT Hotel was comfortable, clean, and quiet. The mini-fridge was stocked with complimentary still and carbonated bottled mineral water.
Highlights of Bratislava
Bratislava Castle dominates the skyline of the capital city of Slovakia. Located on a hill, southwest of the Old Town, the original castle was destroyed by fire. What you see today was reconstructed in the 1950s.
During the 24-hour trip, we took a three-hour walking tour and a guided tour of Devin Castle. Here the highlights of the walking tour:
Quirky bronze sculptures in random places - on a bench, on the sidewalk, at a corner and everywhere in Old Town.
2. Old streets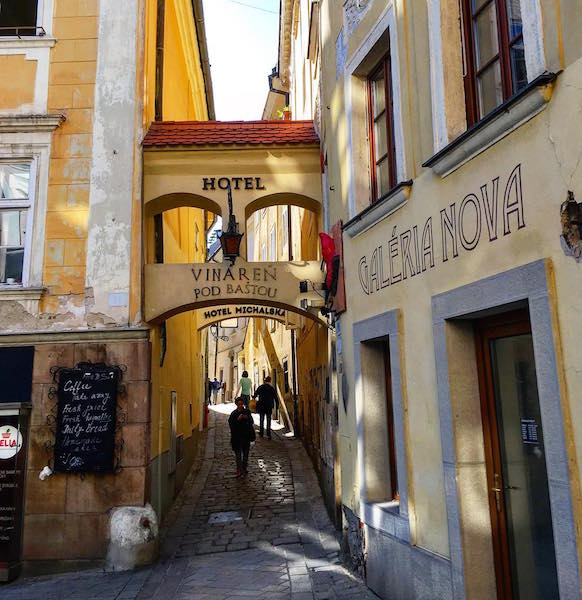 3. Churches - St Martin Cathedral and Blue Church
4. Unique architecture
5. Outdoor cafes and restaurants
Day 4
Bratislava to Budapest
On the fourth day, we hired a driver and a private car with Best Slovakia Tours for a private tour to Devin Castle and one-way, door-to-door transfer from Bratislava to Budapest, Hungary. The tour and transfer were pre-arranged about a month before our trip.
Devin Castle is a must-see when visiting Bratislava. Around 6 miles west of Bratislava city center, Devin Castle stands at 695 feet above ground, overlooking the confluence of Danube and Morava rivers. During the socialist era, citizens fled Slovakia by swimming across the river to Austria (Austria is just across the river). Many failed, and their names are written on the Gate of Freedom Memorial.
The park surrounding the castle has many bike and hiking trails. You can bike to Austria too from here.
It's only a two-hour drive from Bratislava to Budapest. On the way there, we saw Most SNP (commonly known as UFO Bridge) and Petrzalka, the massive housing development developed during the Socialist era.
Budapest
Budapest is a city by the Danube River with two banks, Buda (The Castle District,  hilly and on the western bank) and Pest (the flat land on the eastern bank). Our days were packed with lots of sightseeing in Krakow and Bratislava. Tired by now, we took it easy in Budapest and bought a two-day hop-on-hop-off pass with a free cruise on the Danube River.
It was warm and sunny in Budapest. First thing on our list was to grab a late lunch and cold drink at Anna Cafe Budapest. Then it was shopping, strolling along the river and taking an evening cruise on the Danube River.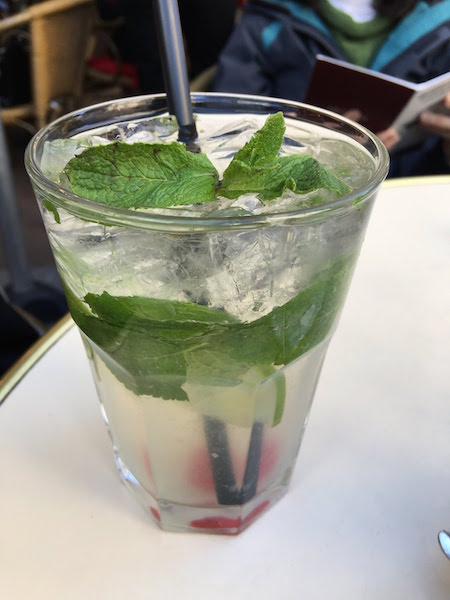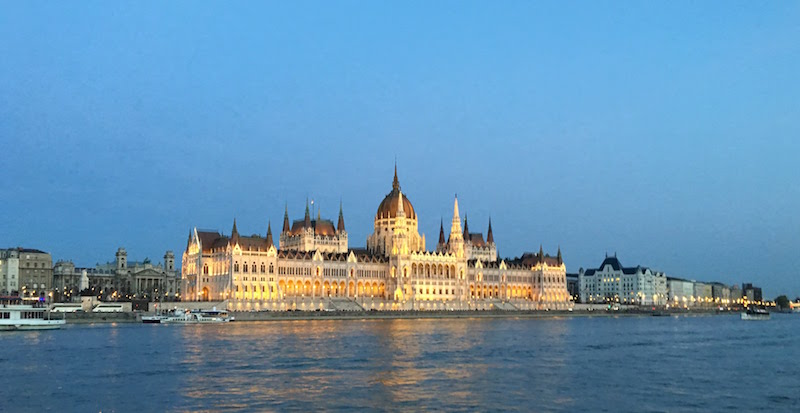 Day 5
Budapest
I'm not a big fan of hop-on-hop-off tour buses. The last time I hopped on one was in Buenos Aires in 2013. Here are some of the sights we saw on the hop-on-hop-off bus:
Read 9 Cafes in Europe for more information on New York Cafe.
If you have time, I recommend going to the thermal bath and swimming pools in Budapest.
Day 6
Budapest to Vienna
This is the 10th day (Day 6 from Krakow) of our 18-day European trip. It's time to leave Budapest for Vienna. Go to Girls Getaway in Prague article if you haven't read the first segment of our tour.
We bought second-class train tickets online through OBB (Austrian trains) for our ride from Budapest to Vienna. The four tickets were 88 Euro. The train left Budapest at 8:40 am and arrived in Vienna at 11:21 am.
Come back for the next segment of our trip, Vienna, Salzburg, Luzern, and Liechtenstein.