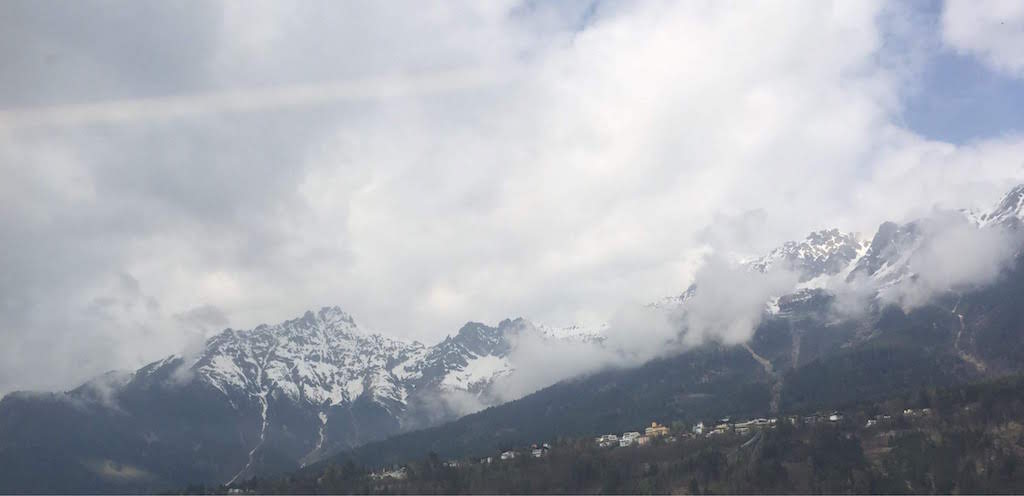 On the last leg of our 18-day girls getaway, we ventured into the heart of Europe. We took in the sights and sounds of Vienna and Salzburg, the birthplace of Mozart and The Sound of Music. Then we headed to Lucerne and Liechtenstein. For seven days, we walked in the footsteps of musical giants, visited concert halls, museums, the home of a composer and local neighborhoods.
If you have not read the first two parts of our trip, please check out:
Krakow, Bratislava and Budapest Tour Itinerary
TABLE OF CONTENTS
Day 1 - Vienna
The OBB Austrian train arrived in Vienna at 11:21 am from Budapest. Taxis were available outside the Vienna Central station. We took one to Pension Neuer Markt, an old Viennese hotel in the heart of the city. Located close to Kärntnerstrasse, a shopping street, and St. Stephen's Cathedral, Pension Neuer Markt was the best choice for a one night stay.
The first activity on the list after an early check-in was a walk to the Vienna State Opera House. The atmosphere outside the opera house was a little intimidating. Aggressive men dressed like Mozart carrying binders offered concert tickets to every tourist. They don't take no for an answer, and one of them shouted obscene words after we didn't purchase tickets from him. The opera house was lovely, but the unpleasant scene forced us to walk away and return to the hotel.
Short on time, with just 24-hours, we did everything that was on our list. That included trying out coffee melange, apple strudel and the famous sacher torte (Viennese chocolate cake), checking out the shops and cafes on Kärntnerstrasse Shopping Street, attending a Mozart and Strauss concert and visiting St. Stephen's Cathedral.
Of course, when in Vienna you must spend time in a coffee house, but which one do you visit? We read about the iconic Cafe Mozart and Cafe Central but ended up elsewhere because of the baked goods. Konditorei Heiner is one of the best places for baked goods in Vienna. It occupies two floors and is a place to experience the old Viennese cafe culture. I had coffee melange; an espresso topped with frothy steamed milk. We shared the sacher torte and an apple strudel.
In the evening, we attended a Strauss and Mozart concert at Kursalon Wien (Vienna), a music hall once used by Johann Strauss Jr. There's a golden statue of Strauss, the Waltz King, in the gardens next to Kursalon.
The category A tickets (choose from category A, B, C, and VIP) which we bought from the hotel reception gave us second-row seats, behind the VIPs. It wasn't a concert in a grand scale or at an opulent Viennese palace, but it did offer the authentic sound of Vienna featuring opera singers, ballet dancers, and a variety of musical performances celebrating Mozart and Strauss, the most important composers during the Habsburg era.
Pension Neuer Markt Hotel
I recommend Pension Neuer Markt hotel for the unbeatable location and the affordable price. Our quad room at Pension Neuer Markt faced the square, giving us a place to view the cafes and square at night and early in the morning without the need to get out of bed. There's a grocery store on the ground floor of the building.
Use Hotels Combined to find the best rates at Pension Neuer Markt. Hotels Combined provides deals from Booking.com, Hotels.com, Travelocity, Priceline.com and several others, all on the same page, making it easy for you and I to decide on which booking sites to reserve the rooms. Check it out:
For smart savings, you can buy the Vienna 1, 2, 3 or 6 day pass to gain free entry to over 60 attractions, hop-on hop-off on six routes (unlimited rides), get fast-track entry at attractions, and a guidebook for planning your trip.
If you like currywurst, bratwurst, weisswurst or knackwurst, you must try them in Vienna. Forget about those Viennese sausages in tiny tin cans. These are 100% better. These sausages were flavorful, juicy, meaty, and firm, unlike those in the can that are slimy and soft. Get the sausages at a kiosk throughout Vienna.
Day 2 - Salzburg
The OBB Austrian train left Vienna at 1:04 pm and arrived in Salzburg at 3:30 pm.
It is inexpensive to get the ticket directly on OBB's website. Each ticket was 19 Euros.
Salzburg is known for The Sound of Music, Baroque architecture and was the birthplace of musical icon Mozart. Salzburg was a delightful city to visit even though we had an awful experience at the hotel we stayed for two nights. Things happen when you travel. Not every hotel or tour will turn out as anticipated. At the hotel, I had my first encounter with racial discrimination while traveling.
To learn about the city, you must walk around Altstadt, Old Town Salzburg, a UNESCO world heritage site. Salzburg's magnificent mountainous backdrop and Hohensalzburg Fortress are visible from almost every corner of the city. We explored Linzer Gasse and Getreidegasse, an old pedestrian street with ornamental guild signs in front of shops, hotels, and restaurants. Mozart's birthplace, a three-level museum is a must if you're a classical music enthusiast. Mozart and his family lived on the third floor of the yellow house on Getreidegasse.
Day 3 - The Sound of Music Tour
Did you know that over 70% of visitors visit Salzburg because of The Sound of Music?  The Original Sound of Music Tour by Panorama Tours took us to all the filming locations in Salzburg. Our English tour guide was both entertaining and knowledgeable. We sang along to the ABC and do-re-mi songs from the original soundtrack for almost the entire four-hour journey.
Daily tours are available at 9 am and 2 pm. The journey started with a quick stop at Mirabell Gardens and ended there as well. These are the places we visited:
Leopoldskron Palace
We walked to the lake to view the rear of the palace and lakeside gardens, where the boating scene and Captain's backyard was filmed.
The gazebo
A replica of the gazebo built by 20th Century Fox is now at a public park in Schloss Hellbrunn public park.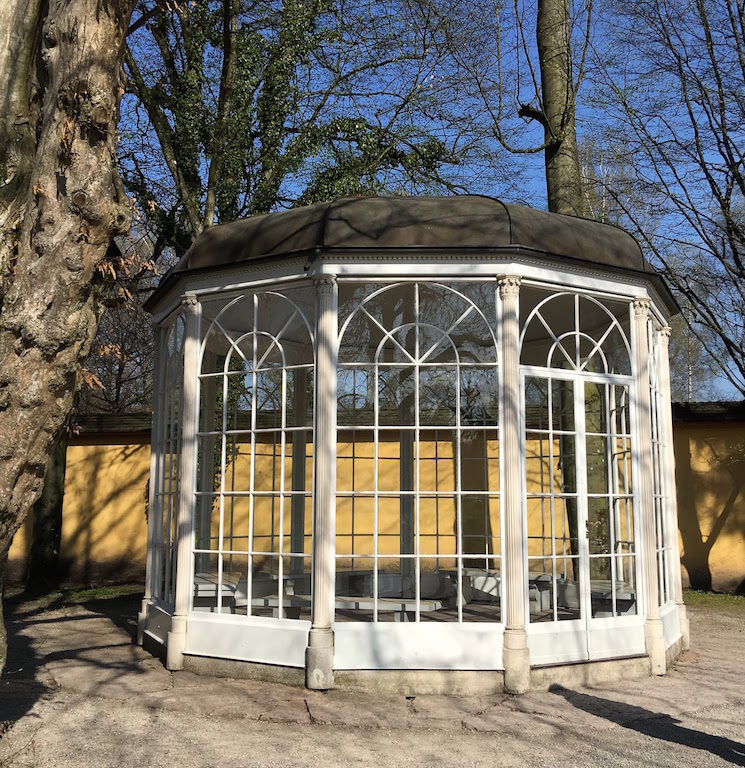 Nonnberg Abbey
We viewed Nonnberg Abbey from a distance and did not stop to visit. Nonnberg Abbey is a fully functioning abbey, and does not allow visitors. You can take the funicular up to the complex and visit the gardens and church. In real life, Maria and the Captain von Trapp married in the abbey.
Salzburg Lake District
I like this part of the tour where the verdant hillside and rugged mountain peaks where filmed.  We passed by Red Bull Energy Drink's headquarters at Lake Fuschl, a few small towns, and Lake Wolfgang.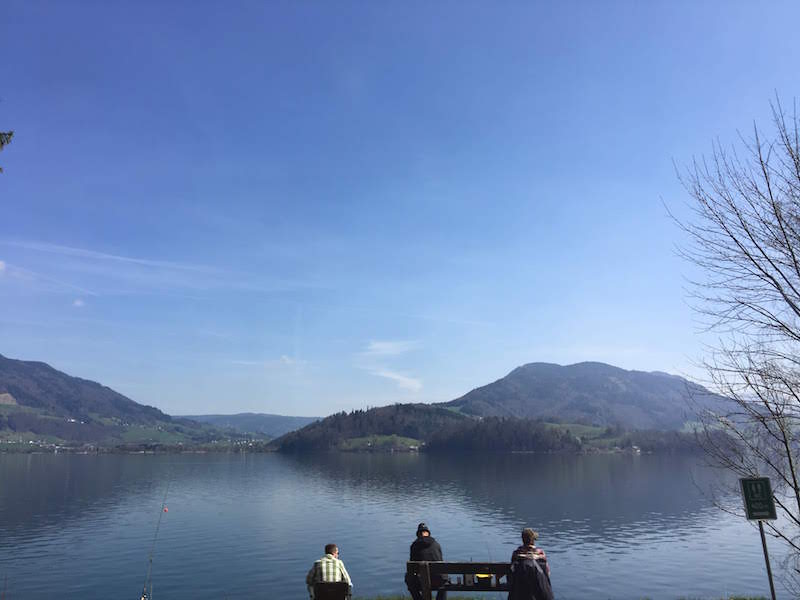 Mondsee
To get a taste of the Austrian Lake District, you must visit Mondsee. The Mondsee Cathedral was the location of the wedding scene.
Mirabell Palace Gardens
Mirabell Gardens, located next to the 17th-century palace was where Maria and the children sang do-re-mi around the Pegasus Fountain and the steps.
Buy your tour before you leave with Viator:

After the Sound of Music trip, we had time left to explore more in Salzburg. So we headed back to Getreidegasse to take a closer look at the guild signs and had a meal at Cafe Mozart.
Cafe Mozart, one of the oldest and most traditional coffeehouses in Salzburg is popular among locals. Located upstairs on Getreidegasse, you'll find traditional Austrian cuisine including sausages and their specialty dessert called Salzburger Nockerl. This dessert is made of whipped egg white, cranberries, and powdered sugar, and the shape represents the three mountains surrounding Salzburg - Monchsberg, Kapuzinerberg, and Reinberg.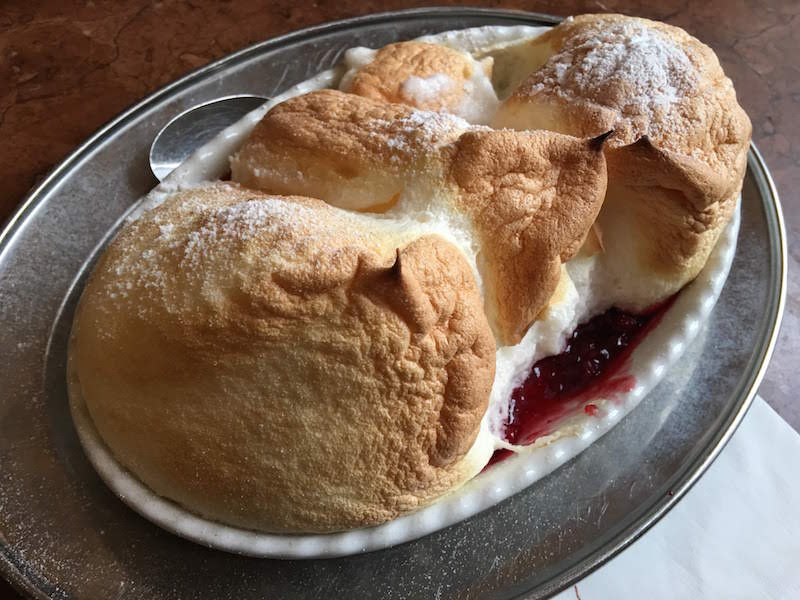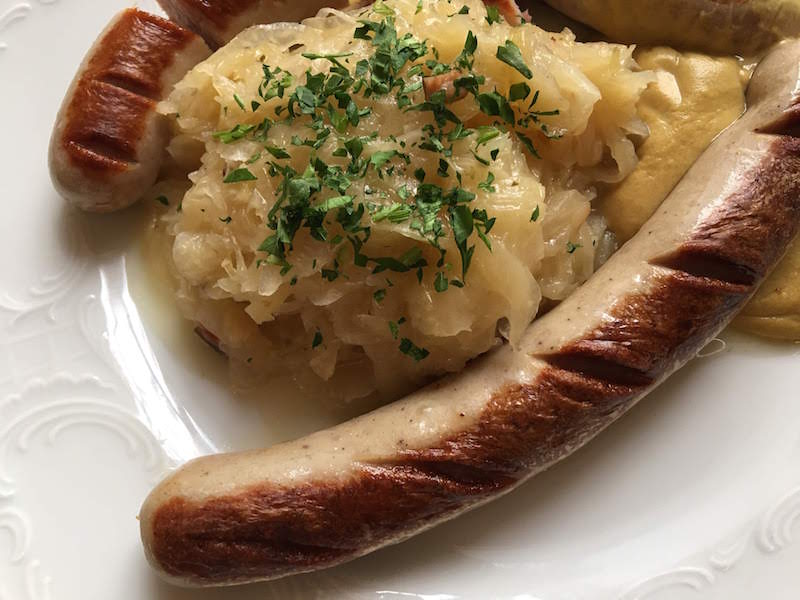 Then to Mozartplatz, Residenzplatz, Kapitalplatz and the footbridge, Mozartsteg, one of the locations for The Sound of Music film. Salzburg is a walkable city. With a map in hand and a comfortable pair of shoes, you can walk to all these places. But if you prefer a guided tour, I suggest taking the two-hour Salzburg historical walking tour.
If you're a numismatic coin collector and looking for a unique souvenir or gift to bring home, I suggest going to Haus der Antiquitaten Gunther Schwaighofer in Linzer Gasse.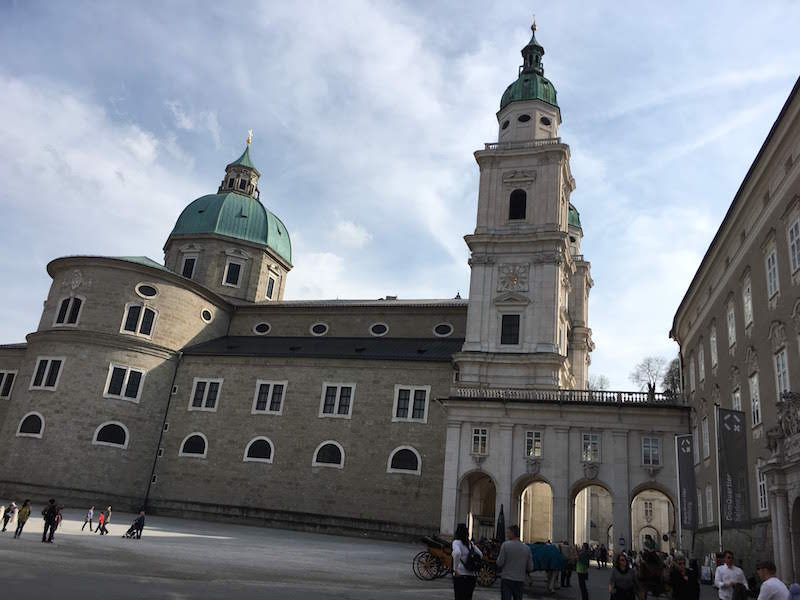 Day 4 - Lucerne
We had a few hours in the morning to explore before leaving for the train station to catch two trains to Lucerne, Switzerland. The route from Salzburg to Zurich was one of the most scenic of all the trains on this girls' getaway. The train left at 3:04 pm and we arrived in Lucerne at 6:25 pm.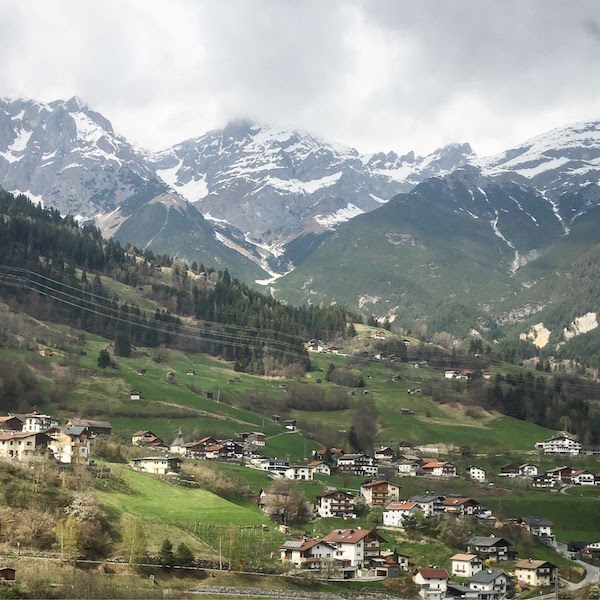 We stayed three nights at The Tourist Hotel in Lucerne, located in Old Town and across from the Reuss river. From the two-bedroom apartment on the top floor we get views of Pilatus mountain and the river. I recommend The Tourist Hotel if you're looking for an affordable hotel that is close to everything. Our party of four had the big room on the top floor which is actually an apartment with kitchen (not fully equipped), balcony and a dining area. This hotel shares its premise with a hospitality school. Our room was next to a few offices and we saw students around the area. It is a safe place and breakfast was included.
Note: For easy and smart hotel savings check out Hotels Combined.
Day 5 - Liechtenstein
My German friend from Tubingen joined us on this part of the trip. She drove to Lucerne and picked us up for a day trip to Vaduz, the capital of Liechtenstein.
Note: You must get the Swiss motorway vignette when driving on Swiss motorway. Get more information on MySwissAlps website.
The drive was under two hours from Lucerne to Vaduz. A road sign on highway E43 shows Vaduz, and we crossed the small bridge over the Rhine River and arrived in Liechtenstein. On arrival, our group of five ladies decided to visit Rohners, a grocery shop near the river, and possibly get our lunch before exploring Vaduz.
The stop at Rohners was the best experience on this trip. Imagine going to a grocery store and being able to choose the produce you like and get the sales attendant prepare lunch for you. We didn't know it was possible until we asked!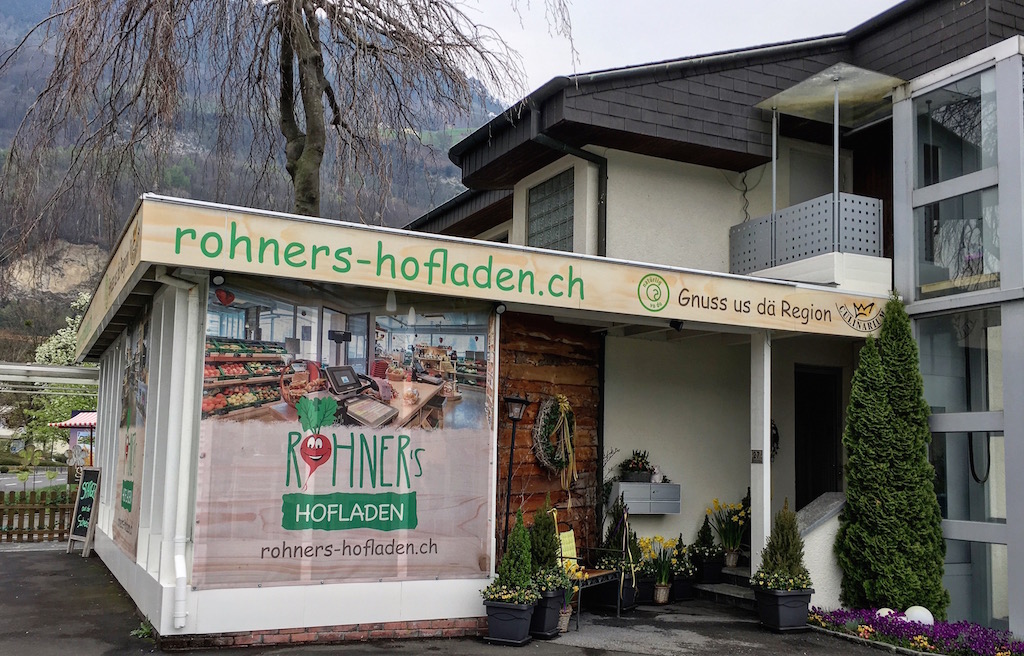 There were tables and chairs set up beautifully in a room inside. No guests were present when we arrived. We asked if they serve lunch and the sales attendant said they could cook for us. Just choose the fresh produce (no meat), pasta, sauces and they will prepare our lunch within an hour.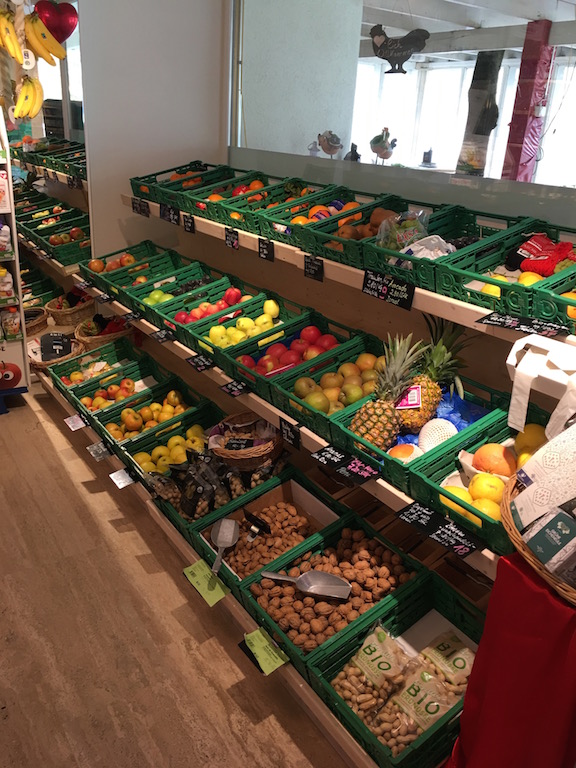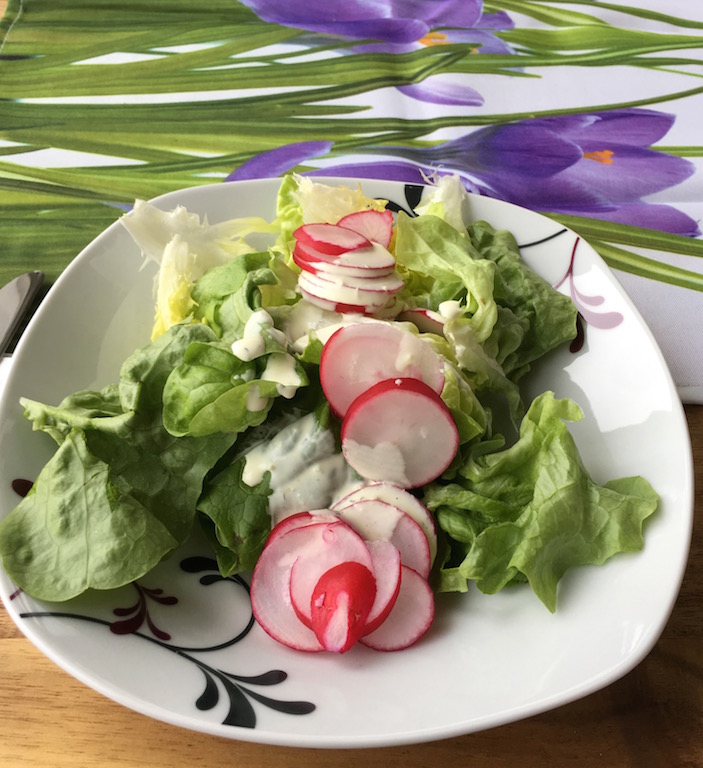 Note: The store is now permanently closed.
Set between the Alps and the Rhine river is the Principality of Liechtenstein. It has an area of around 62 square miles (160 square km) and a population of 38,000 people. Our visit included:
1. Hike up (about an hour) to the top of Vaduz Castle, the official residence of the Princely Family of Liechtenstein. The incumbent Prince Hans-Adam II grew up and still lives in the castle. Set at 374 feet (120 meters) above Vaduz, the walk up is not strenuous if you're fit. It offers a vantage point of Vaduz. You can drive up if walking uphill is not your thing.
2. Stroll along Stadtle, and enjoy the pedestrian zone between the government buildings and town hall. There are cafes, shops, banks and places where you can get souvenir passport stamps for 3 Swiss Francs. We didn't get our passports stamped, but we got fueled with coffee and dessert.
Note: Liechtenstein uses Swiss Francs.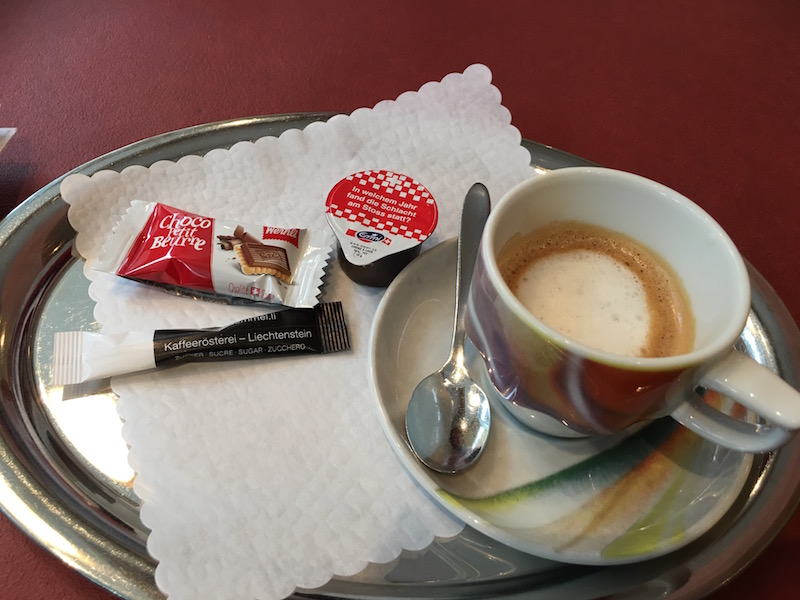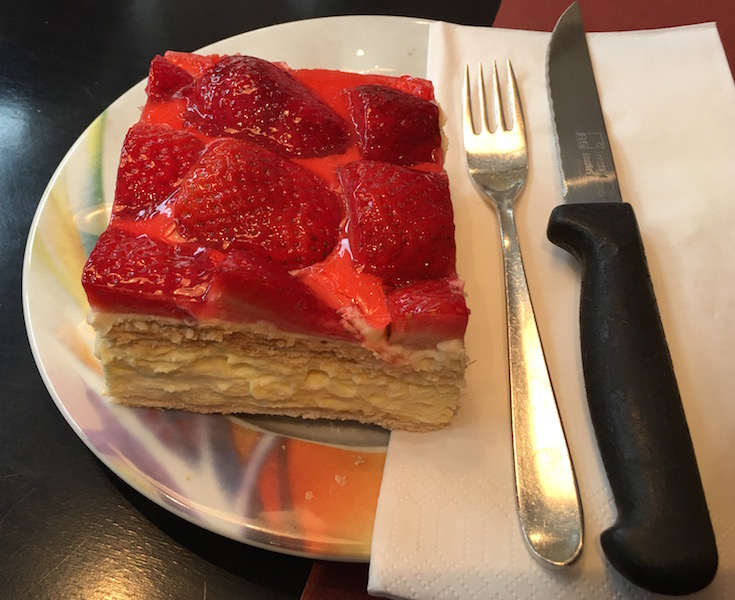 3. Walk along Mitteldorf to see traditional houses with gardens and vineyards. The most famous is the Rotes Haus (Red House).
4. Stumble upon quirky art in Vaduz. According to the tourism website,
Art in Liechtenstein is not monumental, obvious art designed to be displayed in the world's major cities. Instead, it is a game of hide and seek. It creeps up on you and surprises you in public places, between shops, at the entrance to a building or as part of the architecture. There is plenty of art to discover – just remember to keep your eyes open!
Here are two:
5. Take the Citytrain, a 35-minute ride through Stadtle if you prefer not to walk around. The train is available daily at 1 pm and 4:30 pm.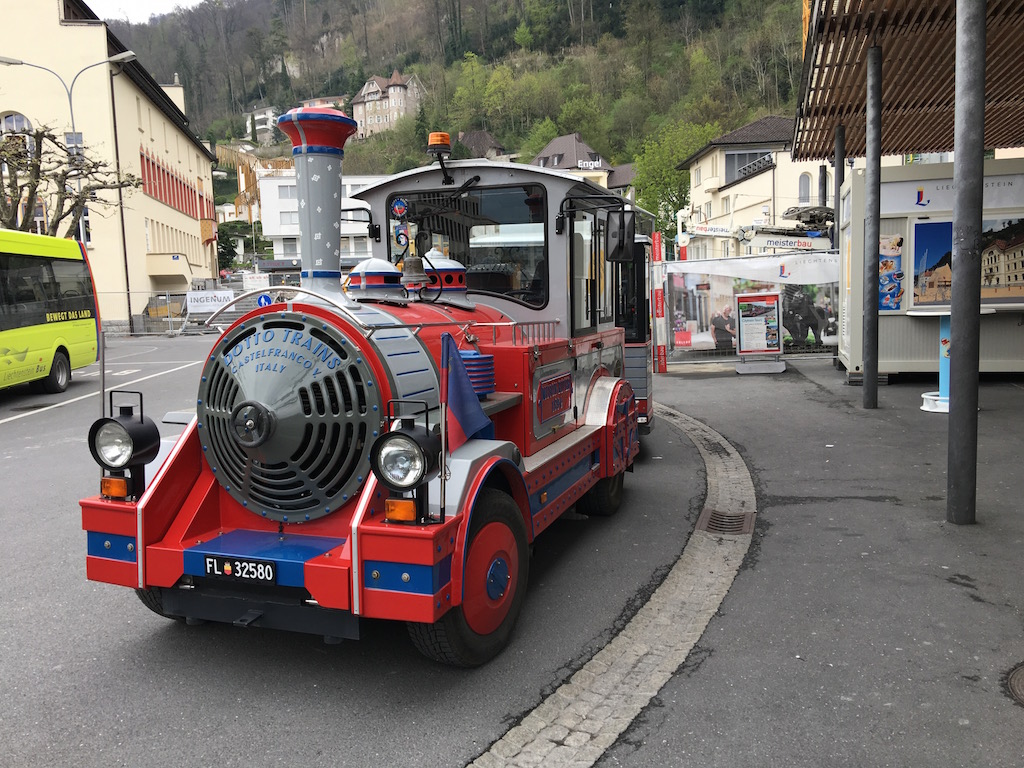 The drive back to Lucerne took a little longer. We took the time to enjoy the view and stop at Muhlehorn on the southern shores of Lake Walen (Walensee).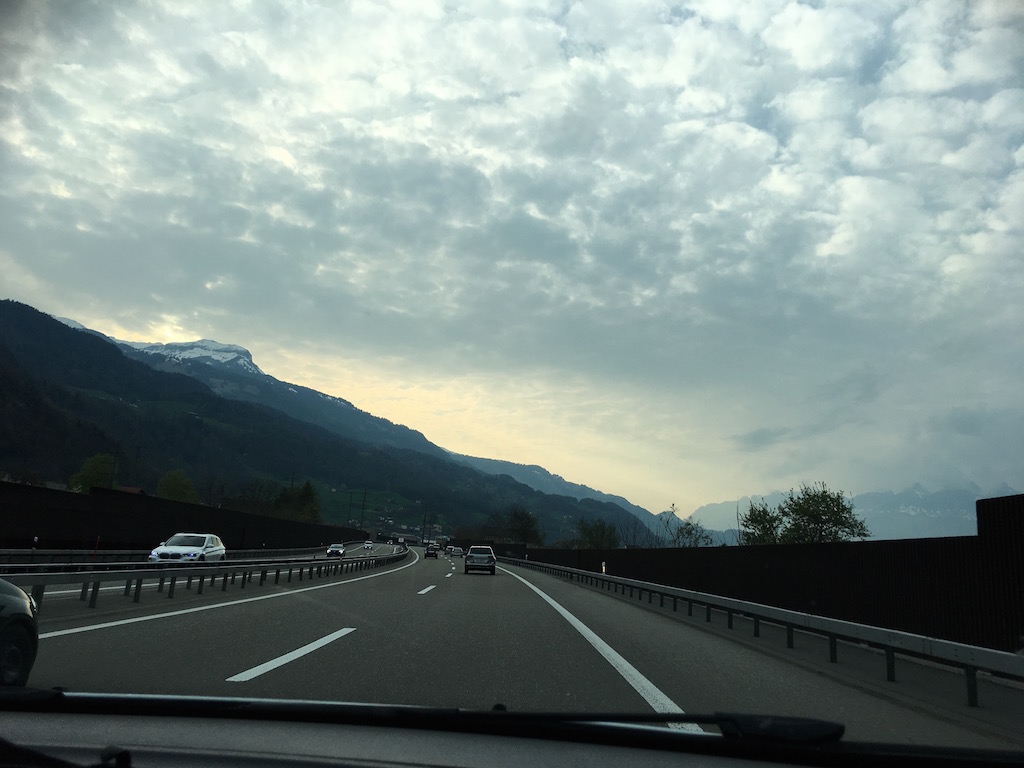 It's possible to visit Vaduz from Zurich (not Lucerne) even if you don't drive. Choose the Swiss Alps, Heidiland and Liechtenstein tour from Viator.

Or take day trips to Jungfraujoch (9.5 hours), and Interlaken ( 9.5 hours).
Day 6 - Lucerne
Time to shop for souvenirs, eat and check out some interesting places in Lucerne. Here are some of the things we did:
1. Try Swiss fondue - the hotel receptionist recommended Restaurant Fritschi in old town. It was not the best taste of Switzerland. I did't like the fondue but enjoyed the excellent service.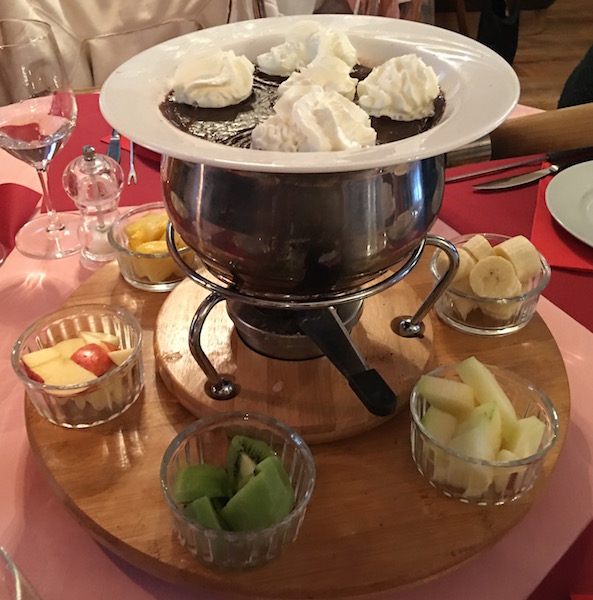 2. Walk on Chapel Bridge and see the gable paintings, some dates back to the 1300s. Built in 1333, almost totally destroyed by fire in 1993. The bridge's octagonal water tower was a watchtower in the 13th century, a jail and torture chamber in later years, now it's a landmark of Lucerne.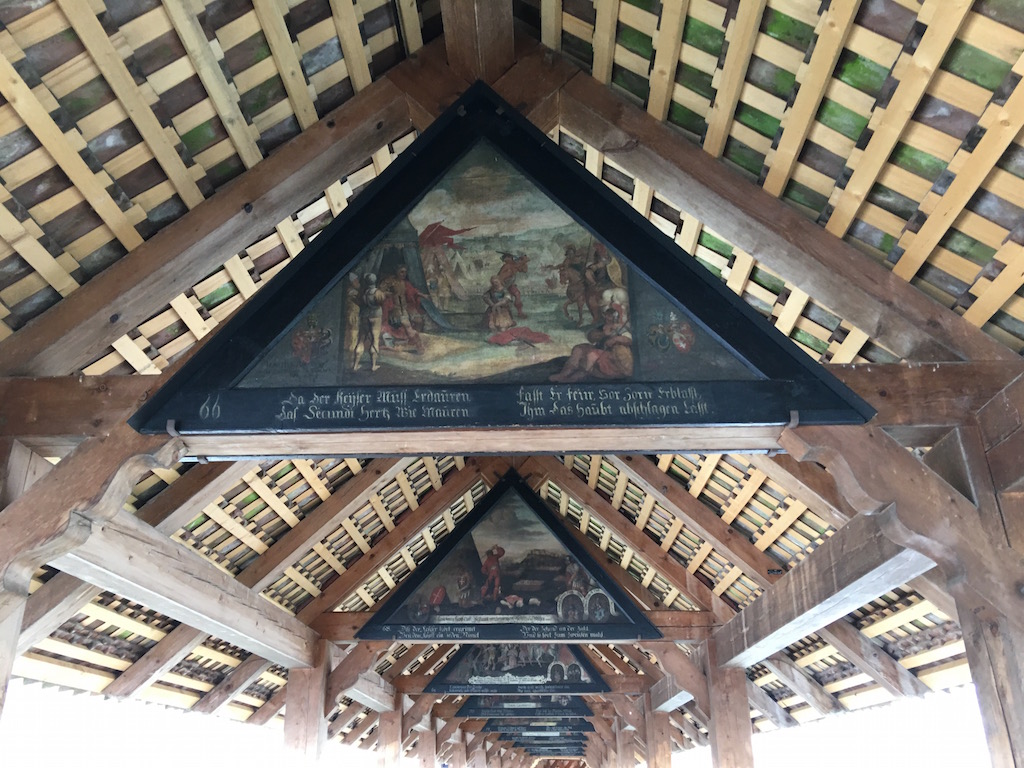 3. Visit the market by the river on Tuesday or Saturday morning for freshly baked bread and souvenir shopping. Check out the markets' schedule on Lucerne Tourism website.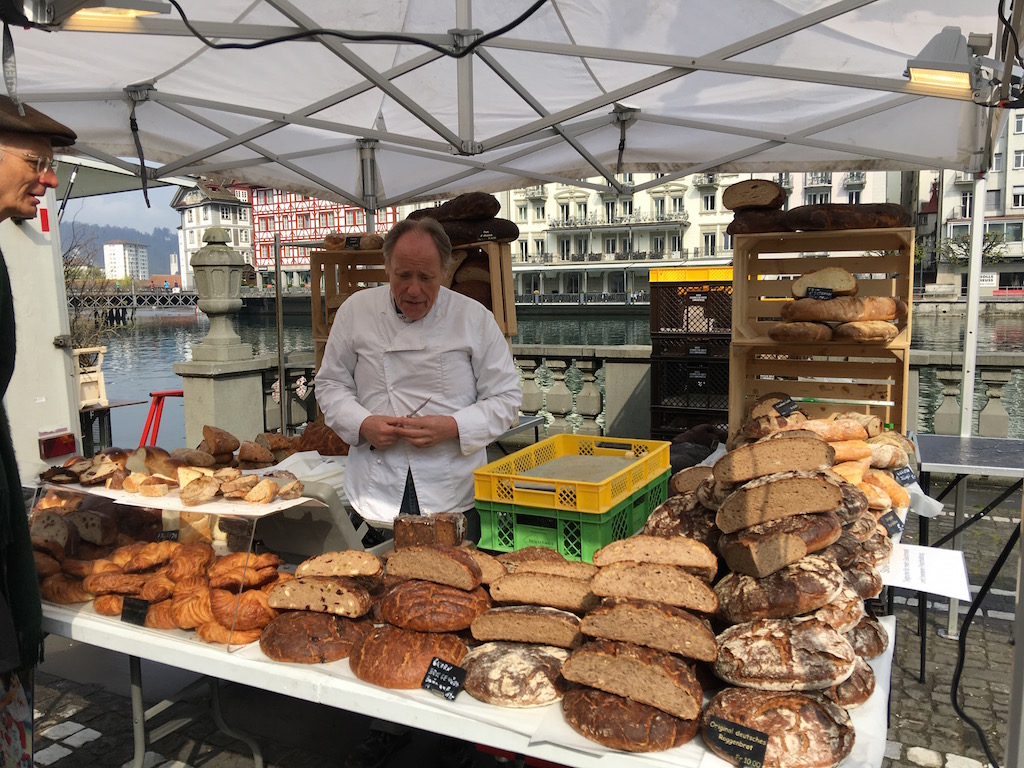 4.  Admire the Swiss architecture.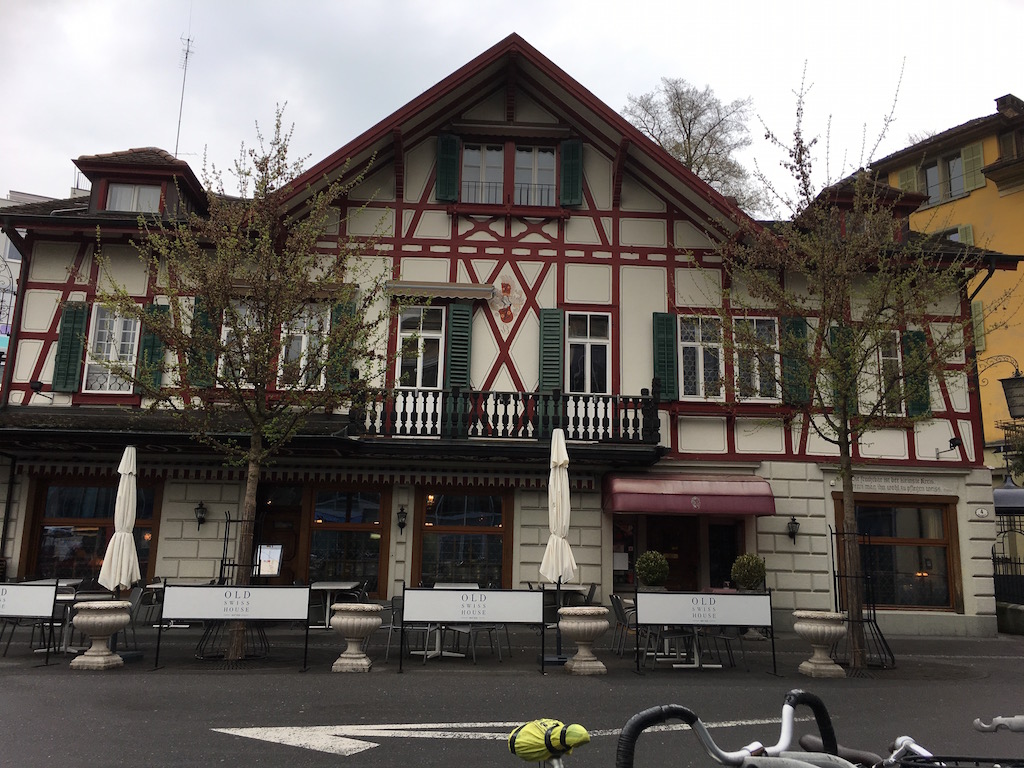 5. Visit the Lion Monument – the dying lion of Lucerne. This carving on a natural rock is to commemorate the Swiss heroes who sacrificed their lives at Tuileries Palace in Paris in 1792. It was created in 1820/21. Mark Twain commented after visiting the Lion Monument: the saddest and most moving piece of rock in the world.
The Lucerne Tourism board offers guided city walk daily from May to October, and on Wednesdays, Saturdays and Sundays from 9:45 am to 11:45 am from November to April. Meet at the Tourist Information Center at the train station. Price: CHF18 per person.
Day 7 - Home
The cab driver whom we hired on arrival in Lucerne took us to Zurich International Airport early in the morning. You can take the train from Lucerne to the airport as well.