Listyanka is not the place where you linger over meals or dig through choice goods. It is not exactly a place where you can soak up the sun and chat over a cup of coffee while people watching in a café. You can't even have a meaningful conversation with the locals if you don't speak Russian.
Yet, Listyanka stands out in my travel memory bank…
Listyanka is located 70km from Irkutsk, the city we disembarked from on the 3days/4nights train ride from Moscow. It is a one street town located by Lake Baikal, the biggest, deepest lake and the oldest geographical area in the world. Lake Baikal is a UNESCO World Heritage Site with over 1,500 different species of animals and plants and contains 1/5 (20%) of the world's fresh water.
It was here that I saw the cutest creature in the world, the nerpa seal also known as the Baikal seal at the Baikal Limnological Museum. These freshwater seals are torpedo shaped and chubby. They are earless creatures unique to Lake Baikal.
The marshrutka (minibus) is the main form of transportation on this one road town. These minibuses serve passengers between Listyanka and Irkutsk. We were advised to take one of these if we need a ride from one end of town to the other in Listyanka. We opted to walk instead. It was quite a walk from the center of town to Baikal Limnological Museum. The view was breathtaking and we did our own walking tour of the area.
Along the road that runs parallel to the shore are a few small grocery stores, souvenir shops, restaurants and travel agencies that are called tourist information centers.
The grocery store we visited had just a few basic items like bread, cookies, instant coffee, instant noodles, a few apples, local hot foods, beer and bottled water. It was not exactly a shoppers' paradise and most of the items were not within reach. You point to the items you want and the attendant would bring it to the register. You get the items after you pay. We bought bottled water, Russian soda and beer. We heard the beer pairs well with the local delicacy – omul.
Omul, the Siberian smoked fish is found in two of the open air markets and in the neighborhoods along the shore. I saw men and women smoking fish on old portable smoking equipment probably for own consumption. The open air markets and neighborhoods just outside the main center smelled like smoked fish.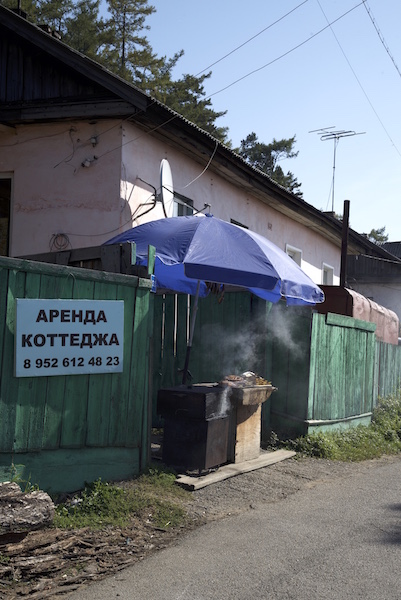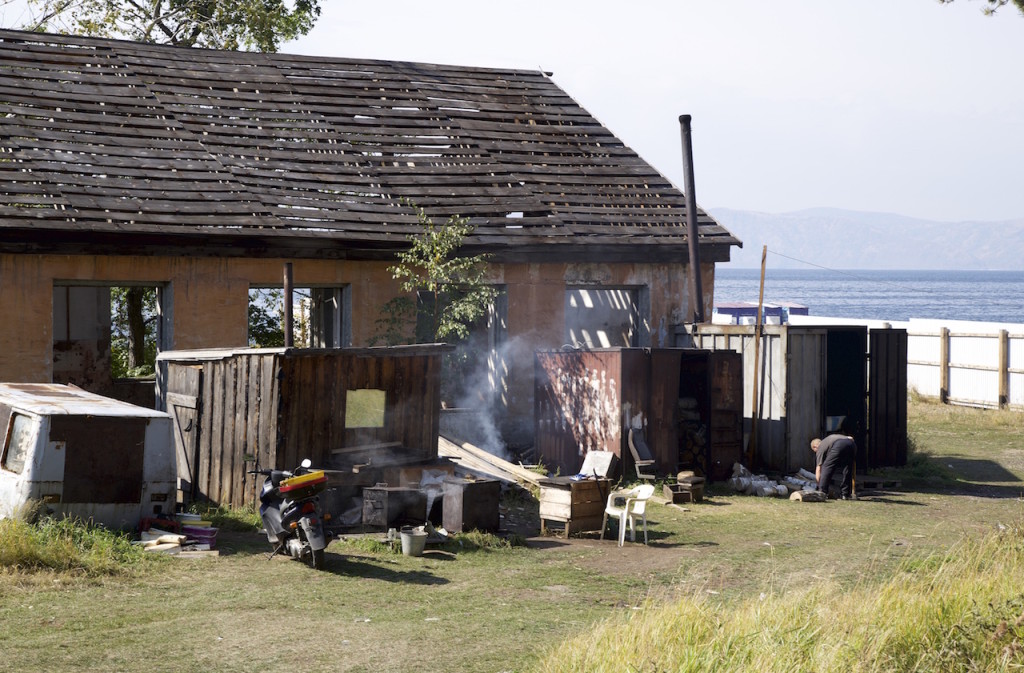 Compared to many open air markets in the world, Listyanka's were tiny, the least crowded and hardly oppressive except for one vendor who yelled. Thank God we didn't understand a word she said. She didn't like us to take photos of her omul but one lovely babouska invited us to take a photograph with her.
And it was a mutual benefit – I paid her, she smiled, we posed for a photo and bought lots of omul from her. We bought a cold-smoked and a hot-smoked omul. We went again the next day to stock up some local foods including omul for our train trip from Irkutsk to Ulaan Bataar.
I like omul, especially the cold-smoked (drier) omul. Besides omul, the open air market is surrounded by small restaurants operated by Central Asian vendors.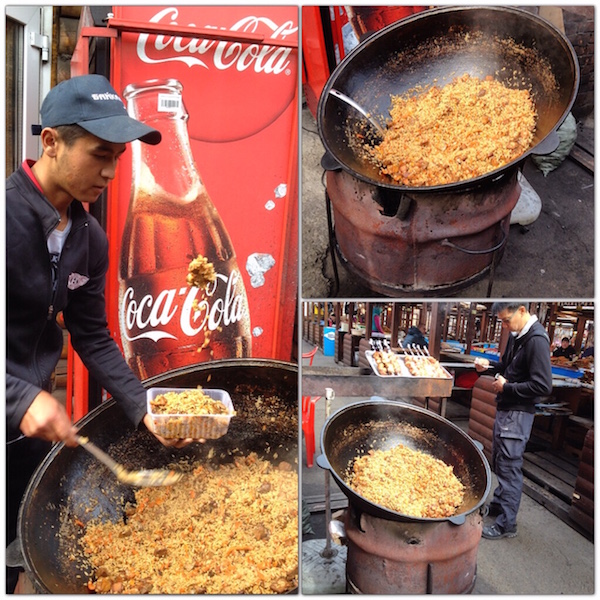 One was baking and selling tadzhik flat bread, a traditional Central Asian bread at the entrance of the open air market. He came with his traditional stove. My son managed to get a photograph with the vendor. Another was selling nuts and sweets from Central Asia.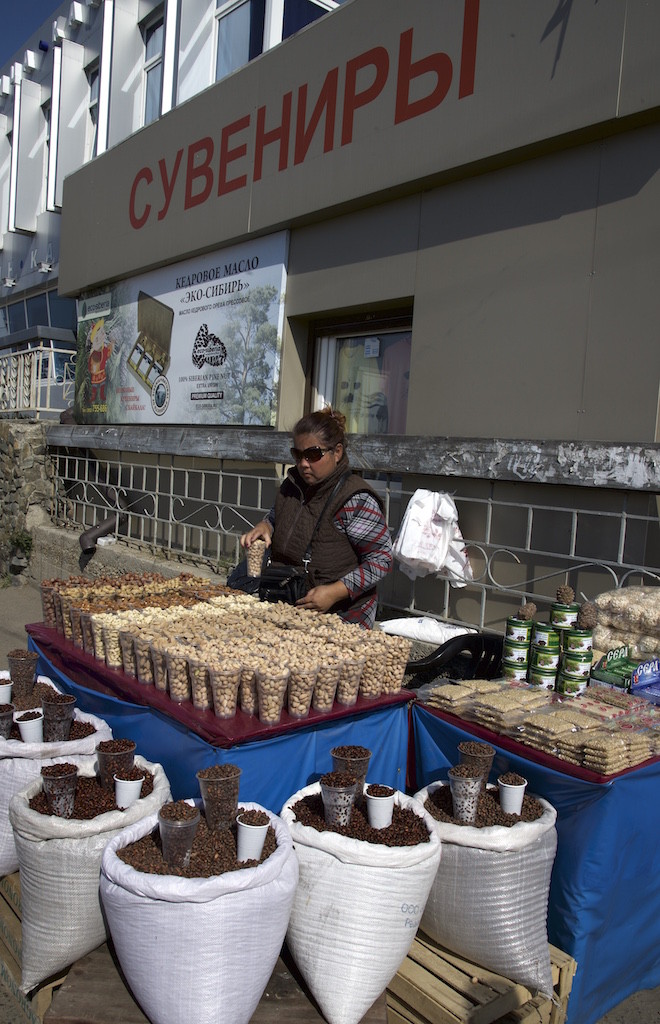 Listyanka has a few hotels on the main street facing Lake Baikal. Our pre-arranged accommodation was a homestay in Nikolai's house located on one of the small bumpy roads towards the hills opposite the lake. His house was perched on a slope of the hill and the upstairs rooms had access to a small patch on the higher ground.
I didn't expect to meet a host raised during the Soviet-era like Nikolai. He was a blonde-haired chatty man with characteristics of a real capitalist. His wife was a little reserved and spent time tending her garden while a maid ran around the two-story wooden house doing house chores and laundry. Nikolai was all smiles and happy when we arrived until my daughter stepped on his newly paved driveway. That's when his full smile became half a smile. But he was helpful.
Our room located upstairs offered an amazing view of the mountains and trees filled with yellow leaves – a sign of autumn. The door opens to a wraparound porch with a sitting area, pool and banya (Russian sauna).
Nikolai took pride in his banya. My husband was the only one among our family who opted to try the banya with Nikolai. Nikolai had him in the hot banya for 15 minutes and beating him with the dried birch tree leaves. It was supposed to beat off toxins and help with blood circulation. He and a group of guys from the other tour groups ran out and plunged into the cold pool of water. After a few minutes they went into the hot banya again.
A homestay was the best way to get to know the local neighborhood. The neighbor came over and invited us to her house. She is an elderly lady who had a glorious past as an established painter. She still maintains a studio despite her old age.
There's something about looking at old wooden houses accented with colorful shutters. None are like the cookie-cutter houses found in suburban Florida. It has character and a story behind each of the houses.