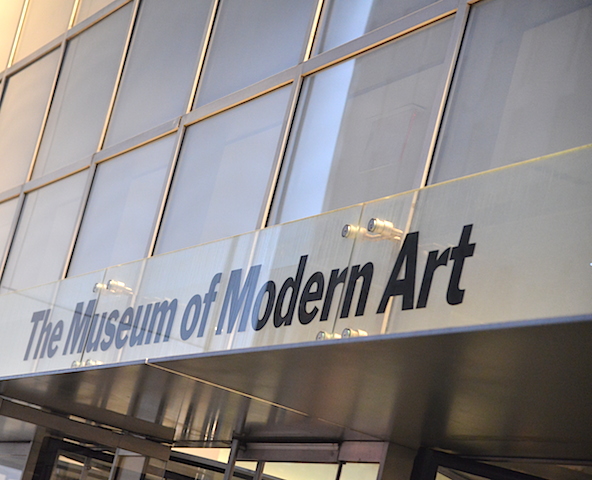 For a family of four, MOMA would cost us $100 and if we took our three friends with us, the total price would be $175. Fortunately every Friday from 4 to 8 pm the Museum of Modern Art is free for all because of sponsors like UNIQLO – that makes me want to visit that store and purchase something there to show my support and appreciation for our free admission.
Despite the rain and cold weather, the line was forming outside the museum by 3 pm. After that line, there was another line to check our umbrellas and bags. It was all worth it.
MOMA started out with eight prints and one drawing. Today it has over 150,000 paintings, sculptures, drawings, prints, photographs, architectural models and drawings and design objects, 22,000 films and four million film stills, 300,000 books and has works of more than 70,000 artists.
Obviously a three-hour visit would not cover everything the museum owns.
Below are photos of  some of the art I like. You are allowed to photograph everything in the museum. To me that was a fascination in itself. Where else can you photograph expensive and rare pieces of art?
It was here that we got to see some of the architectural models, drawings and designs by architect Frank Lloyd Wright who was the man behind Guggenheim Museum.
The organic design presentation of "The Honeycomb Vase made by bees" and Mind Kafon Wind-powered Deminer made of bamboo and biodegradable plastics are some of the pieces that are extraordinary to me.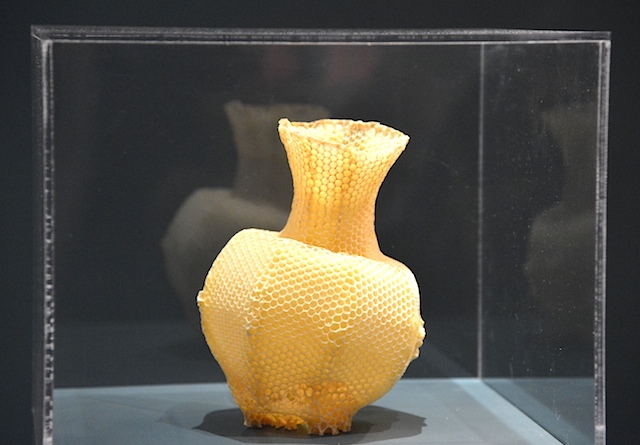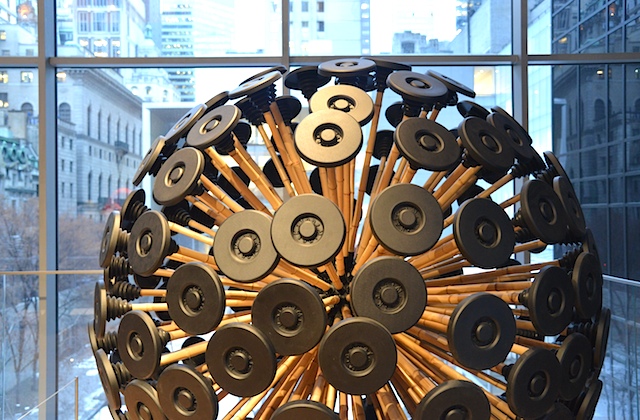 We have seen the works of Salvador Dali extensively at the Dali Museum in St. Petersburg Florida. His only piece in MOMA, Persistence of Memory shows the similarity of the works found in Florida of ants and melting clocks.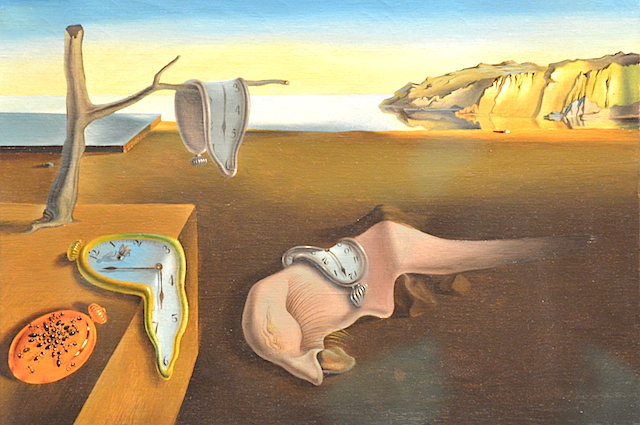 One not to be missed artwork is Andy Warhol's Gold Marilyn.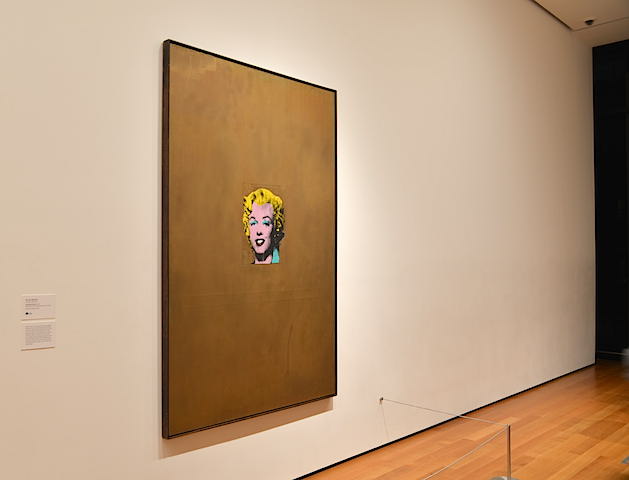 I joined the crowd to see Picasso's Les Demoiselles d'Avignon (1907) – definitely not my favorite! (Photo below, top right) I prefer his rival's work done two years later. Henri Matisse's Dance 1 (photo below bottom right).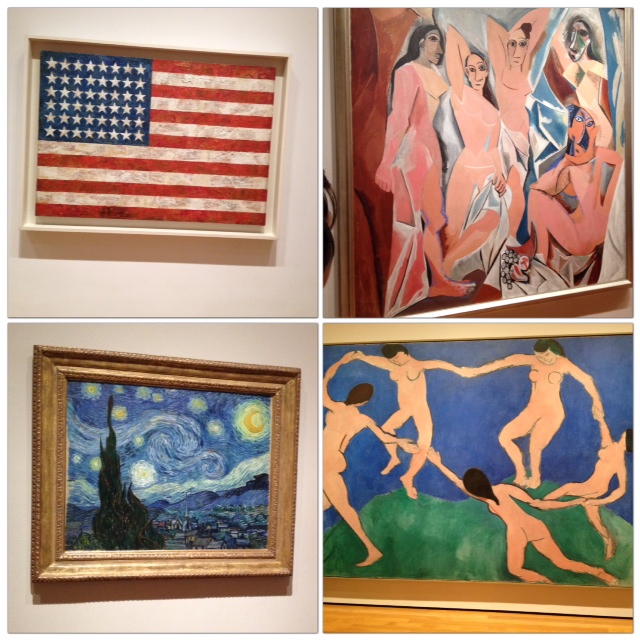 Van Gogh's Starry Night and other pieces were worth the visit to MOMA (photo above bottom left). According to the museum, Starry Night is a symbolic landscape full of movement, energy and light and was more of the artist's imagination than reality of his surroundings. My teens were given a project in the third grade where they had to draw the sky and flame-like cypress tree. Obviously that was one of the pieces they went for.
Van Gogh wrote to his brother about the inspiration behind his painting, "This morning I saw the country from my window a long time before sunrise, with nothing but the morning star, which looked very big."
Marcel Duchamp known as the father of modern art and his famous piece of art- Bicycle Wheel.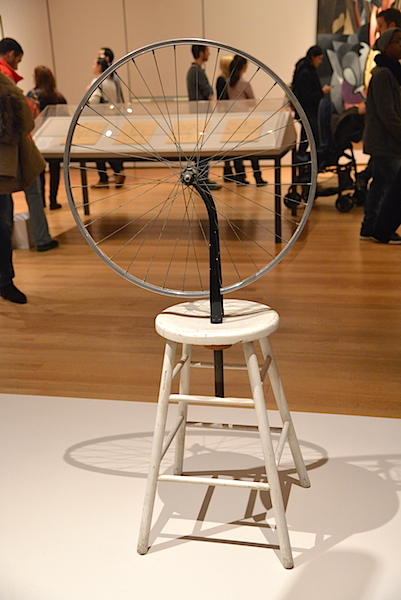 And American Jackson Pollock's Number 1A.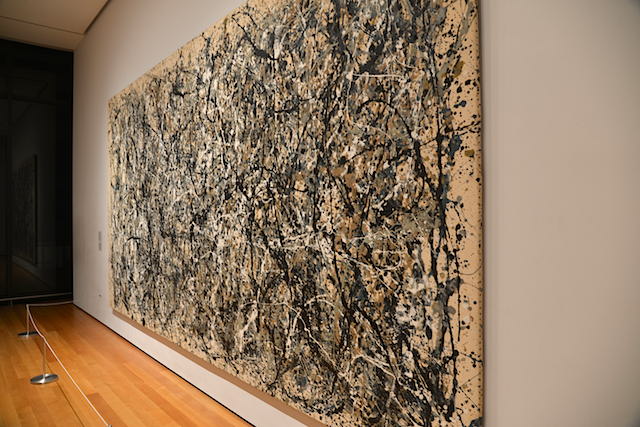 There is a section devoted to new women design (1890-1939). I didn't know the famous adjustable table was designed by a woman -Eileen Gray. In fact MOMA was started by three wealthy women in the late 1920s.
MOMA is one of the world's most visited museums and is definitely one of the must-sees in NYC.
Information: MOMA