I've never been served duck in the thousands of homes I've visited throughout my lifetime. I don't serve ducks either. The only person that serves me duck, even now if I visit her is my mother. To me duck is a significant dish. My mother only cooks duck on special occasions or only when my siblings and I make a special request.
Besides visiting the Great Wall and Hutong, the only food experience on my list was to eat authentic Peking duck. Peking duck originated in Beijing. It was an important dish served to the imperials for centuries in China.
Just like my mother's secret duck recipe was passed down for centuries from her mother-in-law (my late father's mother), Peking duck's history can be traced for centuries in Beijing. The only difference is my mother's duck is not world famous like Peking duck. Mother's duck only brings back memories of my childhood years. That's as far as it goes.
Both demand long cooking processes. Peking duck takes about six hours of preparation and cooking time. The duck is roasted and hang-dried.
Part of the fun of eating Peking duck at Quanjude Restaurant was the presentation. After we placed our orders, the server came with a pot of hot tea and small plate sweet sauce (like Hoisin sauce), white part of the scallions and thinly sliced cucumbers.
Next was a plate with pieces of crispy duck skin with all the fat under the skin removed. The skin was served with sugar.
We were supposed to eat the skin first while we waited for one of the chefs to carve the meat.
Sheila our tour guide reminded us to request for duck soup made from the remaining bones and body parts of the duck. She said instead of discarding the bones we could request for the bones to be made into a clear soup with scallion. Some people asked for deep fried duck bones.
After we had the skin, the server delivered the carved out meat and showed us how to wrap the meat, scallions, cucumber and sauce with the crepe. First he placed the thin crepe on the plate, he dipped one at a time, three pieces of thinly sliced duck meat in the sauce, placed them on the crepe, added a slice of scallion and a slice of cucumber. Then wrapped it up like a spring roll.
It looked easy when he did it. Ours didn't turn out quite as well as the way the server demonstrated.
Quanjude Restaurant has served millions of ducks since 1864. We were given a certificate with our consumed duck's serial number.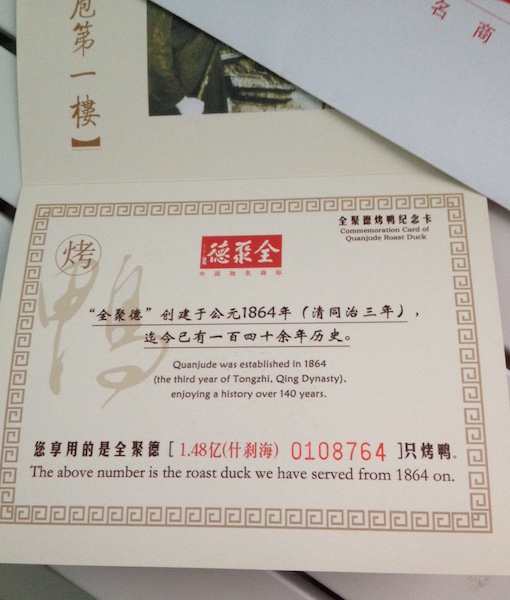 Besides Peking duck, Quanjude Restaurant served other authentic Chinese food like this tofu dish:
I highly recommend eating authentic Peking duck in Beijing at Quanjude Restaurant at Wangfujing Street. Wangfujing has interesting street food and souvenir shops.