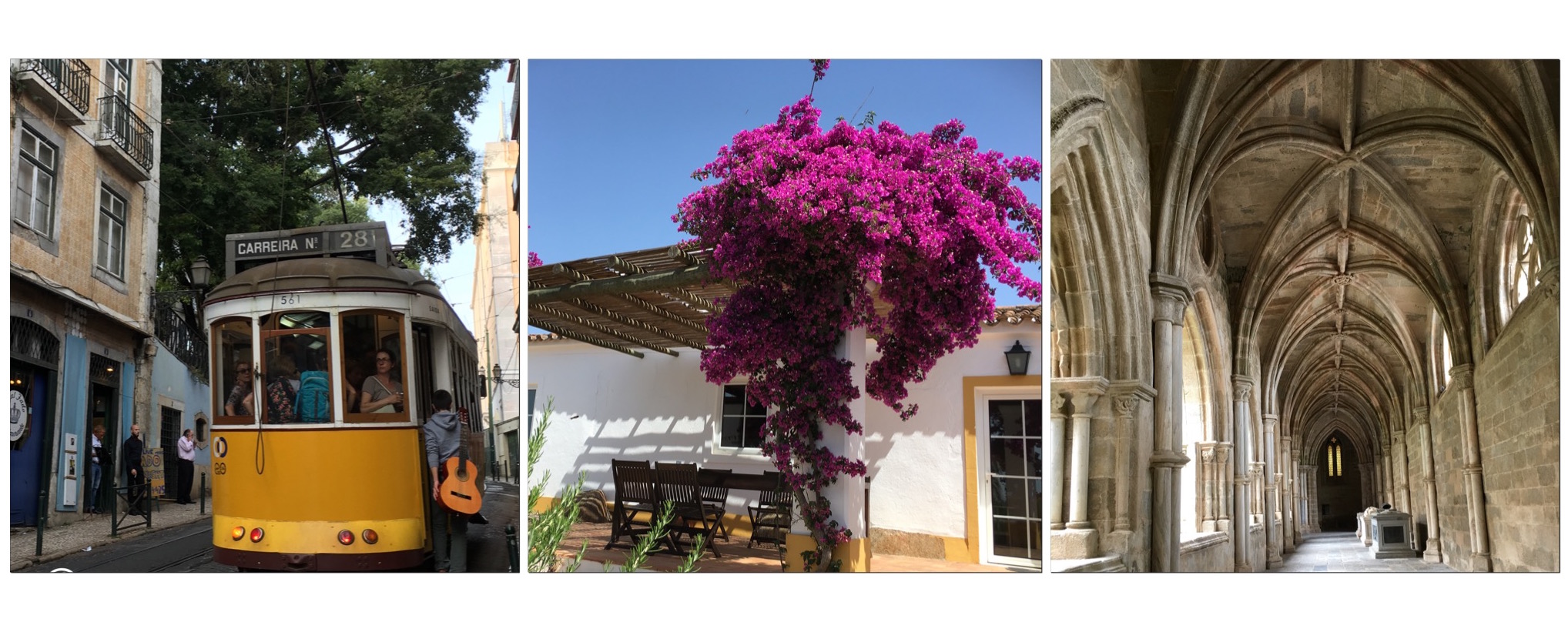 Planning a family vacation that caters to everyone's interests can be daunting.
This 12-day Portugal itinerary is an actual day by day plan we used. Our family of four has diverse interests: sports, food, history, agritourism, wine, coffee, and book. We managed to cover all of those areas during our 12-day trip.
Portugal
There has never been a better time to visit Portugal. From miles and miles of coastline to sun-drenched beaches, fertile valleys to magnificent architecture, exquisite wines to the heavenly pastries and seafood in its purest form, Portugal is worth a trip, even if you're there for just one thing – pastel de nata.
The old world charm still exists in Portugal.
If you're wondering what to do and how to plan a trip to Portugal, here's help - our 12-day Portugal itinerary, organized day by day, including where to stay, what to eat, tours, transportation between cities and flights.
Contents
Lisbon
 Alentejo
Lisbon, Sintra and Cascais
Porto
Lisbon
Day 1, Arrive in Lisbon
We arrived in Lisbon at 10 p.m. The driver was already waiting for us at the arrival hall when we walked out from the baggage claim area. I prefer arranging airport transfers in advance wherever I go. It's slightly more expensive, but more convenient than hailing a taxi, taking a local train or a shuttle bus.
The Airbnb host in Chiado, Lisbon, arranged the airport transfer for us. (More details on the Chiado neighborhood and our Airbnb under the where we stay section).
Day 2, Mouraria food tour, Chiado, and Baixa
Because of our late arrival and jet lag, we took it easy the next morning. Breakfast was at Padaria Portuguesa, a local bakery in the Chiado neighborhood recommended by the Airbnb host. After breakfast, we explored Chiado, a hilly area where we stayed for four nights. Then, we took the long flight of stairs on Calçada do Duque to Baixa, the rebuilt area of Lisbon.
Baixa was destroyed in 1775 by what is now known as the Great Lisbon Earthquake. There are three squares in Baixa. The biggest is Rossio Square with Dom Pedro IV's monument. Rossio train station is a five-minute walk away. Prior to traveling to Lisbon, I had read about Manteigaria Silva, an over 100-year-old cheese shop on Rua Dou Antao de Almada. It was only a five-minute walk from Rossio Square, so we stopped by and picked up cheese, pata negra cured ham (black cured pig or Iberico ham), bread and a bottle of green wine to savor at the apartment.
Taste of Lisboa, a four-hour Downtown-Mouraria Food and Cultural Walking Tour was one of the best activities we did in Lisbon. Don't miss this in-depth walking tour which includs 10 tastings of famous Portuguese food and drinks at various local shops and resturants. You'll also get to listen to stories of about fado (Portuguese folk music), the history of Mouraria and learn about Portuguese food culture.
The tour starts at 3 p.m. at Largo de São Domingos, a 5-minute walk from Rossio Square.
Our tasting stops and food and drinks for the tour included (the stops vary):
Manteigaria Silva – olive oil, corn bread, pata negra cured ham and red wine
O Buraco Snack – pasteis de Bacalhau (translates literally to "codfish cake") with creamy tomato rice and Vinho Verde (green wine)
Ze Dos Cornos - soup, bifana sandwich, three cheese with quince paste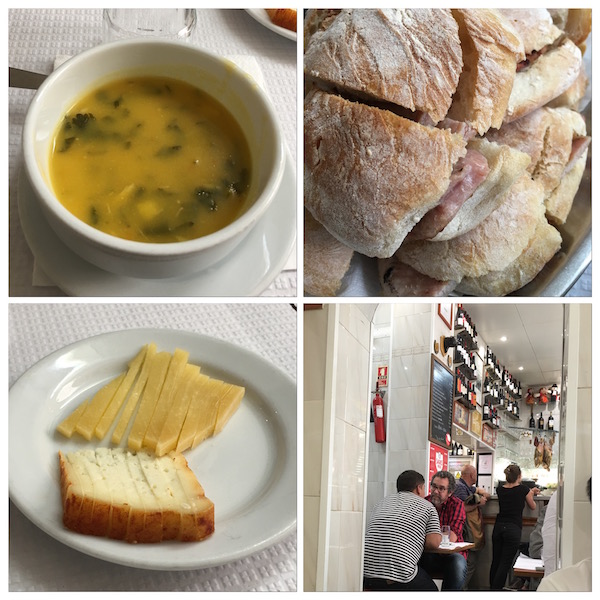 After Ze Dos Cornos, the tour guide led us into the heart of Mouraria's narrow alleys to where many famous Fado singers were born and raised. A wall with painted portraits of Fado singers featured Fernando Mauricio, Argentina Santos, Esmeralda Amoedo, and Amalia Rodrigues.
Taca Os Amigos da Severa (friends of Severa, the first Fado singer) – Ginjinha (cherry liqueur)
Jasmim da Mouraria – canned fish and vinaigrette carrots
Cantinho do Aziz – samosas and beer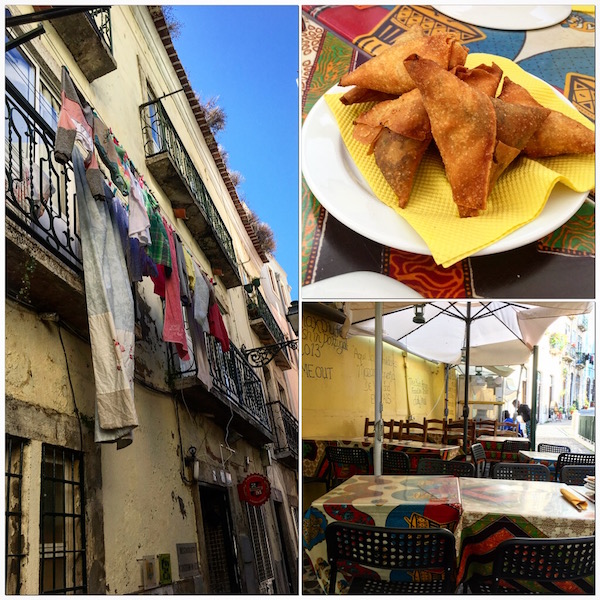 Confeitaria Nacional – pastel de nata and coffee
You can read more about Taste of Lisboa tour on CoffeeSphere.com (publishing in August 2017).
It was still bright at 7 p.m. after the food tour. If you're still full of energy like we were, then walk up the hill from Confeitaria Nacional towards Chiado to Bertrand Bookstore. Located on Rua Garrett, Chiado's shopping street, Bertrand is the oldest bookstore in the world that is still operational today. Inside were Portuguese books and a few English titles.
After Bertrand, I recommend walking up the street to another landmark, the historic Cafe A Brasileira. Since its opening in 1905, the cafe has been a popular meeting place for writers, intellectuals, and poets, although today, a large chunk of its patrons are tourists. Back in the day, they probably visited the bookstore before heading to the cafe. Outside the cafe is a bronze statue of Portugal's famous poet, Fernando Pessoa.
If you still have energy, head downhill on Rua Garrett to the Tagus River bank to view the 25 de Abril Bridge, which looks like the Golden Gate Bridge in San Francisco. Then walk back up to hilly Chiado and Barrio Alto, a neighborhood adjacent to Miradouro Sao Pedro de Alcantara. This miradouro (viewpoint) is one of the over 20 viewpoints in Lisbon. Enjoy Lisbon's sunset at Miradouro Sao Pedro de Alcantara. In Lisbon in late May, it only gets dark at around 10 p.m.
Note:
There was a lot of walking – at least five miles up and down the hills. The food tour was an easy walk, but we walked in the morning and in the evening too. If walking everywhere doesn't appeal to you, I suggest taking Tram 28 (the famous tourist tram route in Lisbon) or joining a live Fado tour:
Day 3, Sporting and Benfica stadium and museum tours, and Flytographer
The men in my family (husband and son) are soccer – or rather are 'football' – fans. We hired a private driver for six hours to take us to the two stadiums of Lisbon's top soccer clubs. He picked us up from the apartment and drove us to to Estádio José Alvalade, Sporting's Stadium and Estádio da Luz, Benfica's stadium. Stadium tours are a must if you're a football fan. Add the museum portion for a couple more euros if you want to learn more about the club's history. A typical stadium and museum tour includes visiting the stadium, the locker rooms (usually of the away team), press room and museum.
After the tours, we were dropped off at Graca, one of the oldest neighborhoods in Lisbon to meet up with a professional photographer from Flytographer. Visit their website for information about Flytographer.
We stopped at Mata Snack Bar for a quick bite before meeting the photographer at Graca viewpoint. I found Mata to be pleasant despite getting bad reviews on Trip Advisor. The outdoor seating with views of the old church and people walking up the hill made it an ideal place to sit and eat a light meal and drink a glass of vinho verde (green wine).
A session with a photographer from Flytographer in Graca and Alfama (old neighborhoods in Lisbon) gave us the opportunity to explore the Miradouro da Graca (one of the best viewpoints in Lisbon) and Alfama. Getting a professional photographer to capture family vacation memories was not only fun, but the photographer was also able to point us to buildings and corners we would not have noticed.
If soccer and casual photo shoots are not your thing, I suggest the following tour:
After visiting the ancient Moorish quarter of Alfama, we walked towards Praca do Comercio, to Arco da Rua Augusta and Lisbon's Black Horse Square by the Tagus River. On the pedestrian-only Rua Augusta,  you can find restaurants, outdoor cafes, shops and the typical Portuguese mosaic pavements. Here we stopped at Paul's for pastel de nata and drinks, but the main purpose was to use the bathroom.
Day 4, Belem
We hired the same driver for a 10:30 a.m. pick up, this time to Belem. Belem is home to the Presidential Palace, Jeronimos Monastery, Church of St. Francis, Pasties de Belem (bakery), Torre de Belem and Discoveries Monument (Padrao dos Descobrimentos). A trip to Lisbon is not complete without a half-day trip to Belem. These touristy places are often crowded.
It was here that the Portuguese explorers set sail and gave Portugal the connections to Asia, Africa, and South America. The driver was surprised to see that there was a road block a few meters from the Presidential Palace. He, a local, didn't know it was the monthly changing of the guards' parade in front of the palace. Started in 1910, this event happens every third Sunday of the month at 11 a.m. We saw guards in uniforms, guard dogs, and the brass band. As we walked towards Jeronimos Monastery, there were a group of cavalrymen on Lusitano horses marching towards the palace.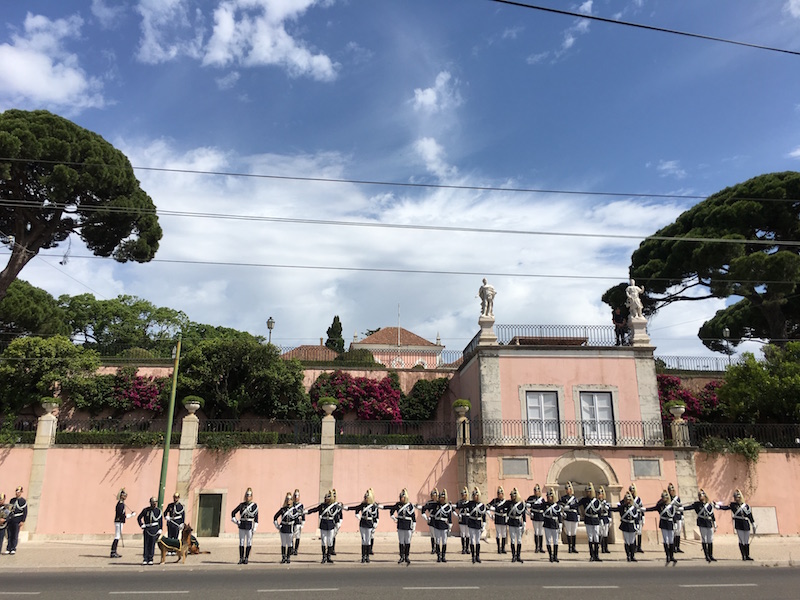 Don't miss it if you're in Lisbon on the third Sunday of the month.
Guided tours are available from major hotels throughout Lisbon. We, however, did our tour without a tour guide and waited in line to get into the church and another long line to buy tickets to visit the monastery. Tickets to the Monastery and Belem Tower are available at the monastery. Buying both tickets at the same time would save you the time of queuing in Belem Tower again. But if you prefer to skip-the-line join the Belem Walking Tour in Lisbon with Viator:
A must stop place is Pasties de Belem, one of the world's most well-known pastry shop. The line is usually long if you get the pastel to go. I recommend getting a seat inside the large pastry shop. We didn't have to wait at all.
Our dinner was at Bairro do Avillez's Pateo Restaurant in Chiado, a seafood and fish restaurant by Jose Avillez. You must make a reservation to dine in Pateo and Belcanto. Chef Avillez is one of Portugal's most renowned chefs. Currently, he has six restaurants in Lisbon and the most awarded, Belcanto, earned two Michelin stars.
Evora and Redondo (Algarve Region)
Day 5, Lisbon to Evora and Redondo
We had an early start with a pick up from the same car service company to Sete Rios Bus Station. Our bus from Lisbon to Evora departed on time at 9:30 a.m. Evora is a UNESCO World Heritage site with history dating back to the pre-Roman tribal times. After the Romans conquered it in 57 BC, they built a baths, a temple and a large wall around the city as it grew in importance. and Today, it's the capital city of the Alentejo Province in Portugal and is just one and a half hours from Lisbon by car.
On our arrival at 11 a.m., Nuno, the tour guide was already waiting for us at the bus station. We left our luggage in the trunk of his car parked at the bus station. It took us 10 minutes to walk to the walled city. The two and a half hour private walking tour started at Giraldo's Square. I had pre-arranged the tour with Evora Cultural Experience, a luxury local tour company.
The private tour with Nuno included Giraldo's Square, Roman Temple (Temple of Diana), Cathedral and Cloisters, St. Francis Church and Bones Chapel, an ancient Roman bath and wine tasting at Ervideira Wine Shop. Nuno is an archaeologist and an archaeological professor at a local university. I highly recommend a tour with Evora Cultural Experience. You pay after the tour, so no advance payment is necessary because they trust that you'll be there as planned.
Nuno recommended two of his favorite haunts for local food. Both were closed on Mondays. So lunch was at the touristy Giraldo Square, and it wasn't bad at all.
We were late for our next activity of the day, and the driver, Jose, from Herdade da Maroteira (I made a reservation for round trip transfers from the bus station to Herdade da Maroteira) was already waiting for over an hour. After a quick lunch, we left for Redondo, a tiny town famous for its whitewashed houses, traditional pottery, cork farms, and wineries.
Herdade da Maroteira is one of the largest cork farms in Portugal. We stayed in the Cork Lodge for two nights. Read more about Herdade da Maroteira and cork farm here (publishing soon).
Upon arrival, Jose took us to the local grocery shop to get two days supply of food for our stay at the Cork Lodge. There are no restaurants in the farm. I recommend Herdade da Maroteira if you like agro-tourism and staying close to nature.
Note: I purchased the bus tickets online through Rede Expressos' website. Reservation is usually opened one month in advance. Buying the tickets was easy. Tickets were in PDFs which I downloaded on my phone before I left for Portugal.
Day 6, Cork farm and cork harvesting
Vastly covered by cork farms, undulating plains, and now fast becoming the region for the best Portuguese wines, Alentejo is the least visited region in Portugal. We were there to see the cork farm and were lucky enough to witness cork harvesting. In fact, our stay in Redondo coincided with the annual seven to 10-day cork harvesting time at Herdade da Maroteira.
The six hour private tour with Jose, a guide in Herdade da Maroteira was worth every penny, even though it was sweltering sitting in an open top jeep for close to four hours of the six hours tour. The tour covered the cork farm, following the cork harvesters (also called cork strippers) in the farm, visiting dolmens (ancient, pre-Roman monuments), driving through wineries and lunch at a restaurant in Redondo.
Day 7, Evora to Lisbon
A morning at leisure was followed by a transfer back to Evora for our bus ride back to Lisbon, where we would spend two more nights.
Lisbon is the capital city of Portugal, located on the estuary of the Tagus River surrounded by seven low hills. You can trace its history to the Romans, the Moorish and the Great Discoveries period of the seafarers. Lisbon was an important trade center during the Great Discoveries period.
Alfama was the district we chose for the second half of our stay in Lisbon. We stayed in an apartment on the fifth floor of an old building inside St. Jorge's Castle. It offered sweeping views of the harbor, colorful houses, churches, hills, and narrow winding streets of Alfama.
To view the apartment, check out the listing on HotelCombined.com.


Day 8, Day trip to Sintra and Cascais
A last minute decision led us to Sintra and Cascais on our 8th day, which we originally planned to be a free day. After getting lost at an alley in Alfama, I asked a passerby for directions to Baixa and Rossio train station. She said, "follow me, I'm going to the train station, too. I work there!" She was an angel sent from heaven, giving us tips on how to get to Baixa quicker, why we should not head to the train station at 9 a.m. because of the crowd, why we should have breakfast in Nicola, and telling stories about jacaranda trees.
She was right about everything except Cafe Nicola. Cafe Nicola's history and the location are unmatched, however it's an establishment oriented towards tourists, so the food is overpriced and not great.
At Rossio train station there was a long line of tourists waiting to buy tickets over the counter and also at the ticket machines. The lines moved rather quickly and were worth the wait. We were on board the train by 11 a.m. It takes around 30 minutes to get to Sintra from Lisbon.
On arrival, there was a huge crowd at Sintra train station. With no agenda, we walked out of the train station and a lady in a green dress approached us with a tour flyer. She looked decent, and I had already decided to book a tour with her without her telling me what she was offering. She introduced herself as Katerina and brought us to her vehicle – an open top Toyota 4X4 – yes, another open top vehicle on a hot day!
Her partner Jose came along, and she introduced him as the guide for the day, and she was to be our driver. The four-hour private tour was indeed fun and was extended to six hours. It covered:
Viewpoints (Pena Palace and Moorish Castle)
Chalet & Garden of the Countess of Edla Park
Pena Palace
A short Sintra tour
Lunch stop at Cafe Christiana (a non-touristy restaurant)
A stop at Casa Piriquita for Sintra's famous pastry ( Pasteis da Cruz Alta)
Viewpoint from the luxurious Tivoli Palacio Hotel
Off the beaten track drive on the mountains from Sintra to Cabo da Roca (Cape Roca, the westernmost point in Europe)
Cascais coastal drive and drop off at Cascais Train station for Lisbon
I highly recommend Jose and Katerina, two young entrepreneurs trying to make it happen in Sintra. Follow them on Instagram and message them your tour request. Or if you don't like reserving last minute tours like what we did, you can pre-book your 8-hour Sintra tour:
Note: We were not impressed with Pena Palace (would give it a 2/5 star rating), and spent less than two hours inside this crowded newly painted colorful palace. The castle is too brightly colored and done up.
Before leaving by train from Cascais to Lisbon, we stopped at Santini gelato shop, recommended by Katerina and Jose. It takes around 30 minutes to get to Lisbon's Cais do Sodre train station from Cascais.
Porto
Day 9, Lisbon to Porto
In the morning, we strolled along St. Jorge's Castle wall, visiting shops and cafes before leaving for Porto from Sete Rios Bus Station. I recommend getting snacks like rissol de camarao (shrimp croquettes), pastel bacalhau (codfish pastry), and quiche to snack on at the bus station before the three and half hour trip to Porto.
We arrived in Porto at 3:30 p.m. Our 3-night stay was in a two-bedroom apartment in a 300-year-old row house at the heart of Porto's old town. First on the agenda was to see if we could book a tour of the Douro Valley. When I checked online two weeks before I left for Portugal, the tours were already fully booked. I was hoping there might be a chance to book a tour while in Porto. Unfortunately there were no tours.
If the Douro Valley is on your list of places to visit, don't leave it to chance like what I did. The full-day Douro Valley Tour from Porto I wanted to join:
When in Porto visit Livraria Lello, the oldest bookstore in Porto, considered one of the most beautiful bookstores in the world. Dating back to 1906 and featuring a blend of art nouveau and neo-Gothic architecture, Livraria Lello is said to have inspired J.K. Rowling's Hogwarts. You have to pay 4 Euro to get in, but you get your money back if you buy a book there. The crowd was overwhelming, but it was worth it!
We had time for afternoon tea, wine and cheese at the historic Majestic Cafe after the bookstore tour.
Day 10, Porto Stadium and Taylor's Port House
In Porto, we scheduled for our third soccer stadium visit in Portugal. This time to FC Porto's Estadio do Dragao. The stadium and museum tour covered the stadium, locker room, press room and museum. A must visit for anyone interested in FC Porto's history.
Some of the places in Porto we explored:
19th century Sao Bento train station
The old grocery stores on Rua Formosa
Douro riverfront (Ribeira)
Dom Luis I Bridge - a walk on the upper deck (for views) from Porto to Gaia for port tasting
Cable cars are available in Vila Nova de Gaia (also known as Gaia) to the port houses. On the way back to Porto from Gaia take the short 5-minute boat ride across the river.
You must visit at least one port house in Vila Nova de Gaia. We had an enjoyable experience at Taylor's – learning the history of the port wine and tasting at the tasting room. Make sure you walk to the restaurant for the views.
Dinner that night was at a hidden treasure called Adega Mercearia Bebe Se Mal, just a few steps from the apartment. This restaurant has only six tables, packed with locals and tourists when we first arrived. We waited over 45 minutes to get a table. All the dishes were prepared from scratch. I loved the authenticity, the food was inexpensive, and the host was super-friendly.
Day 11, Porto at leisure
We decided to use our 11th day as a free day to explore Porto.
It was a day to indulge in more Francesinha – Porto's most famous sandwich with melted cheese on top. The apartment host recommended Cafe Santiago for Francesinha. However, it was closed on Sundays. We were more than happy to eat at Santa Francesinha, a 2-minute walk from Cafe Santiago.
Note: Most stores and restaurants are closed on Sundays in Porto.
Day 12, Leaving for Amsterdam
After breakfast, we left for Porto International Airport for our TAP Portugal flight to Amsterdam.

Where we stayed
Airbnb Chiado 2-bedroom apartment with views and convenient location. Not recommended if you can't walk up the stairs (to the 5th floor).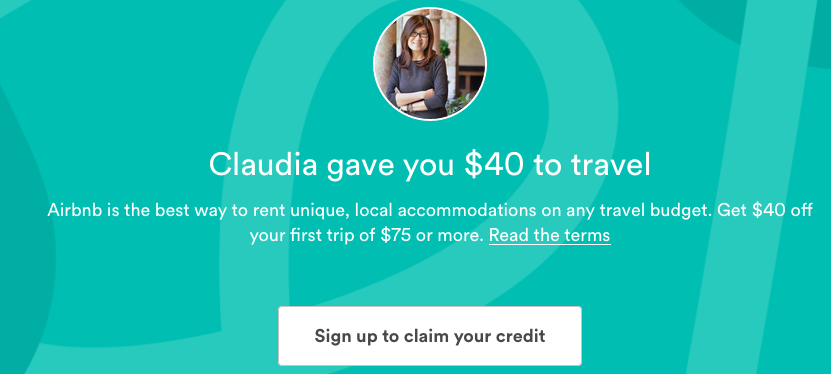 Cork Lodge at Herdade da Maroteira, 7170-120 Redondo, Portugal. Book directly with Herdade da Maroteira or through HotelsCombined. Search for "Herdade da Maroteira".
2-bedroom apartment within the walls St. Jorge Castle – Breathing Lisbon Apartments. I do not recommend the 1-bedroom apartment on the first floor. The room has no outside windows and no views. But I highly recommend the 2-bedroom apartment on the fifth floor if you don't mind walking up the stairs for the best views of Lisbon. Book through HotelsCombined and search for "Breathing Lisbon Apartments".
B-Places 2-bedroom apartment in Porto. Recommended if you like accommodations close to restaurants and walking distance from all main historical attractions. Book through HotelsCombined, search for "B Places".
Flights
We flew with Aer Lingus to Lisbon via Dublin, TAP Portugal from Porto to Amsterdam and Aer Lingus from Amsterdam to New York via Dublin. I bought open jaw tickets with Aer Lingus and separate tickets for Porto to Amsterdam directly with TAP Portugal. We had a 10-hour stopover in Dublin and a two night stay in Amsterdam, for a total two-week-long family vacation. There were 3 and 6-hour stopover options in Dublin as well. I chose the 10-hour stopover so we could take a short tour of Dublin.
Note: All the tours and accommodations listed in this article are not sponsored by any hotels or tour companies. These are all my unbiased recommendations.

Affiliate: Viator tours and HotelsCombined are affiliate links meaning I get paid a little commission if you choose to book with Viator and HotelsCombined.
Pin now, read later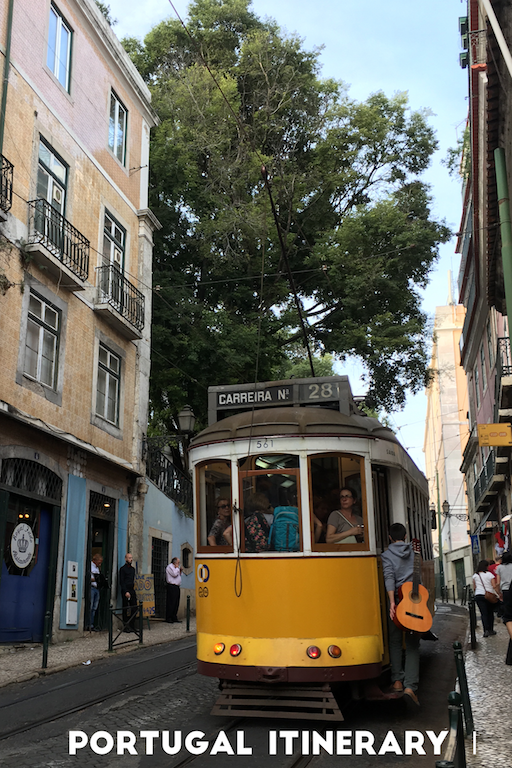 Have a question? Need help planning your Portugal trip? Send me an email [info [at] travelwritingpro [dot] com] Get this itinerary in PDF form here.