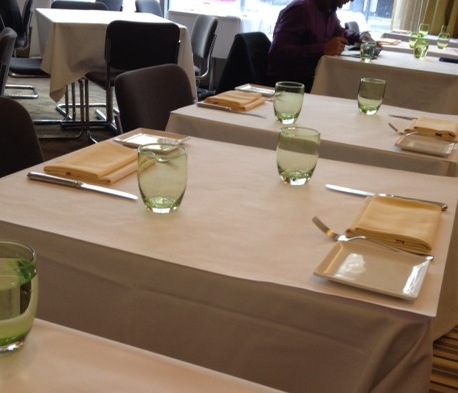 Award winning Chef Daniel Boulud runs several restaurants in New York City including a three Michelin star restaurant Daniel, which is also ranked eighth among Restaurant Magazine's "World's 50 Best Restaurants." While searching for a restaurant near Lincoln Center for lunch, we found his other restaurant, Boulud Sud.
Boulud Sud serves Mediterranean-inspired dishes with a fusion of flavors from Southern France and the North Africa regions. A three-course prix fixe lunch was a perfect way for us to add on different food experiences in New York City. The restaurant's kitchen is visible from the dining room. The interior design is bright and simple. It was fun to see John Quinones from ABC 20/20 seated across from us… that's New York City. You'll never know who sits across, in front or behind you.
Boulud Sud's complimentary crusty bread and olive bread served with garlic and rosemary flavored extra virgin olive oil was a great start to a delicious meal.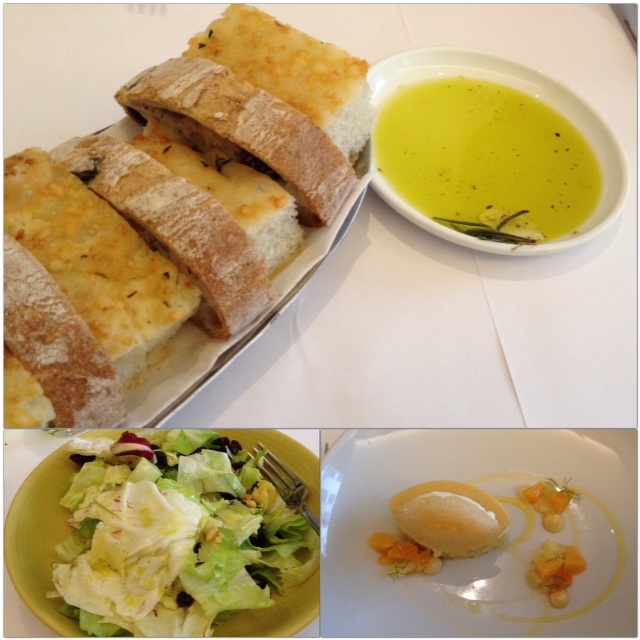 We were given three choices for an appetizer, entrée, and dessert. The Mediterranean mezze appetizer of spicy Moroccan hummus, herb falafel and babaganoush was the best among the three appetizers. If you like soup try the green soup- potato leek soup made with watercress pesto, Parmesan and focaccia crouton. I like the light salad with a citrusy dressing of escarole, radicchio, pine nuts, capers, raisins and citron vinaigrette (photo above).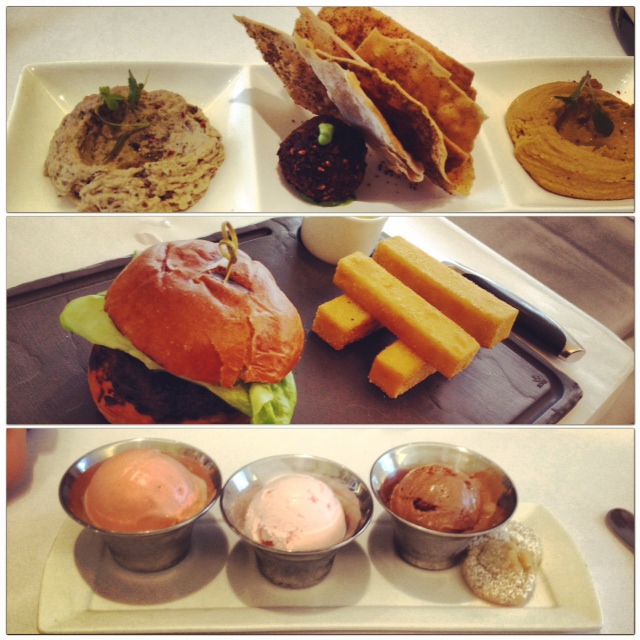 For the entrées we had seared diver scallop salad with arugula, fennel and orange and Boulud Sud's famous Harissa spiced lamb burger made with eggplant, tzatziki, and Chickpea Panisse. Both dishes were light, non-greasy and flavorful. The portion was good, and I did not feel like I had overeaten.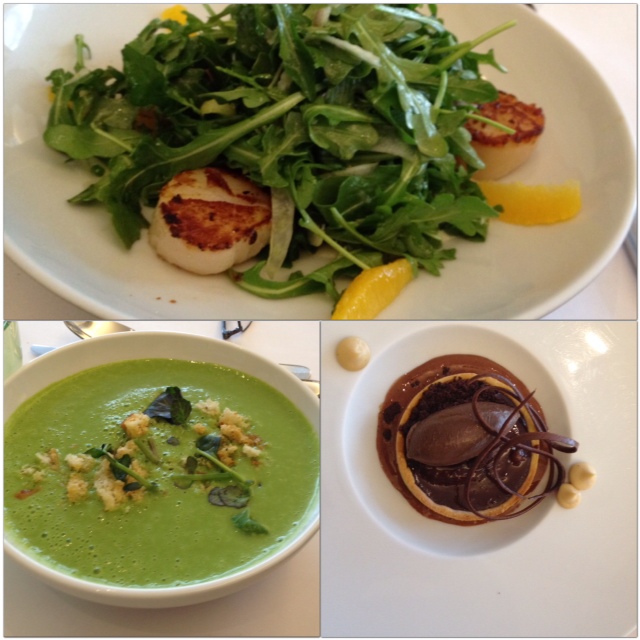 For dessert, there was Le Calisson, which is olive oil biscuit, burnt orange Crémeux, almond cream and buttermilk gelato, warm chocolate tart of espresso foam, dulcey anise Crémeux and cocoa sorbet, or Housemade crèmes glacees which are the chef's daily ice cream selections.
The names of the dishes sound fanciful – indeed they were delicious. The servers were attentive and courteous.
A prix fixe lunch at Boulud Sud is $29 per person. For more information go to their website at http://www.bouludsud.com/
Try Boulud Sud if you are at Lincoln Center.
Location: 20 West 64th Street (Between Broadway & Central Park West) New York, NY 10023