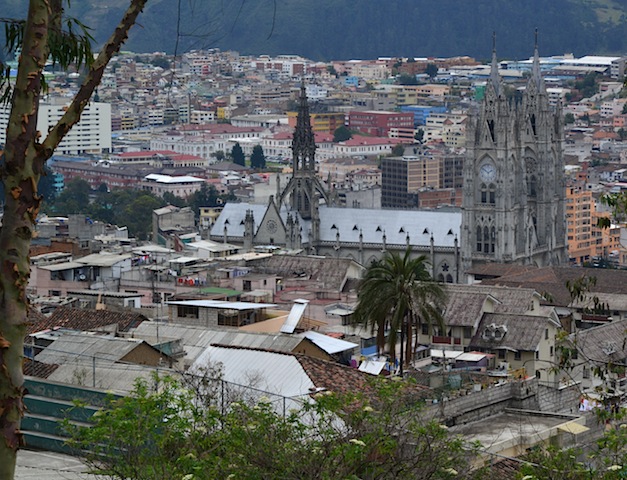 Sometimes dreams and plans need some adjustments along the way. That was what we did as we sat at the kitchen table in Cuenca deciding on our travel plans… Should we stay for another month in Ecuador or leave and take on a short term assignment in New York? After lots of discussions we decided to change our flight from Quito to Miami and paid a penalty of $1200 for changing four tickets and stayed two nights in Quito instead of one month.
Our experiences in South America were more than we had ever dreamed of. Initially it was just four countries and we made it to eight in eight months. Most of the traveling was done slowly and independently except on an overland tour with Tucan Travel's overland truck for 46 days from Rio de Janeiro to Lima - coast to coast, through mountains, desserts, valleys, coastlines, jungles and cities. There's no denying that after eight months, all the sights and sounds were beginning to look the same and normal. That's when we needed to evaluate and 'pull the plug'...I didn't want that to happen. Nothing is to be taken for granted, for life is too short to make each day just another day when millions are just dreaming of taking a trip to South America.
In Quito we traveled like a tourist, hired a personal guide for a day and saw a few historical and important attractions in the city that was selected as the first world heritage site by UNESCO.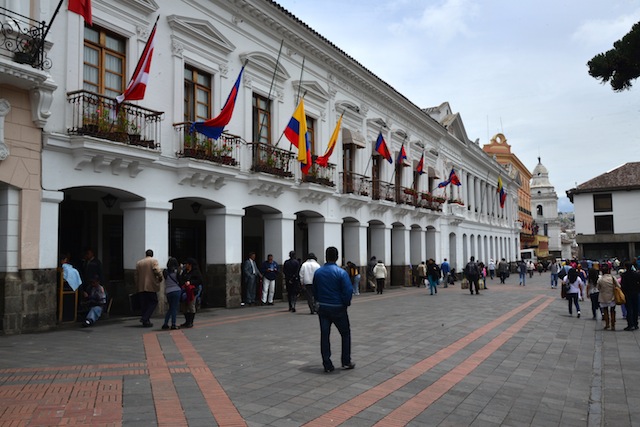 Antonio Reascos, our guide is one of the best we have found in South America. He is a guide that is truly passionate about his profession and knows and protects the integrity of the city. The sign at the Iglesia de la Compania (Church of La Compania) strictly warned tourists not to photograph inside. Many tourists were taking photos despite the warning and Antonio stopped them even though he was not their guide.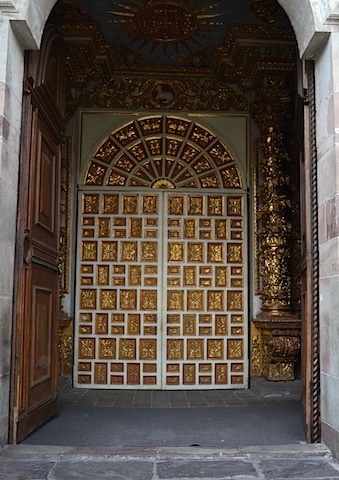 Iglesia de la Compania literally took my breath away. Every space on the wall is covered with a gold leaf design. It is also called The Church of the Society of Jesus of Quito. It took about 160 years, from 1605 to 1765 to build and decorate this work of art.
The partition wall is fully carved in cedarwood and has Solomonic columns decorated with grape clusters. Above it is the church's choir with a 1,104-pipe organ from the United States and façade of the church are carved on volcanic gray stone. Every space in the sanctuary is covered with engraved motives of angels, archangels, biblical symbols and flowers.
Antonio pointed out the importance of Mariana of Jesus; being recognized Ecuadorian first saint, a woman and her remains are located at the church's main altar.
Skilled Ecuadorian artists, gilders, artisans and laborers worked on the church using 23-karat gold leaf. It is hard to believe the amount of gold invested inside this building. Some of the other attractions inside were the room with paintings of Hernando de la Cruz, Nicolas Javier Goribar, Bernardo de Legarda, Alejandro Salas and the anonymous hands from the School of Quito. (Information taken from the brochure given at the door of the church)
Iglesia de la Compania de Jesus in my opinion has the most magnificent interior design out of at least 20 of the colonial churches I have visited in South America. Entrance fee is $3 per person.
Information: www.fundacioniglesiadelacompania.org.ec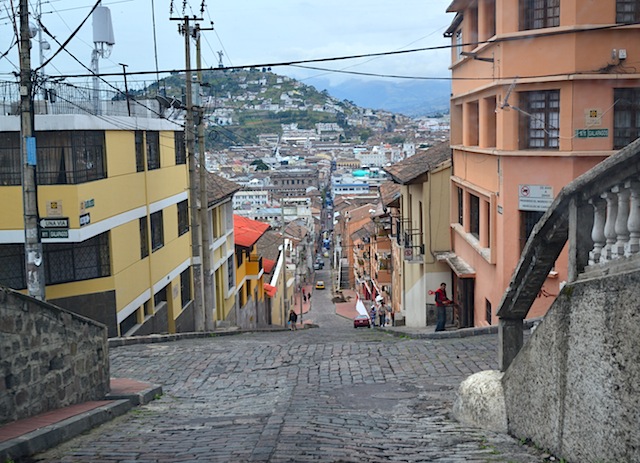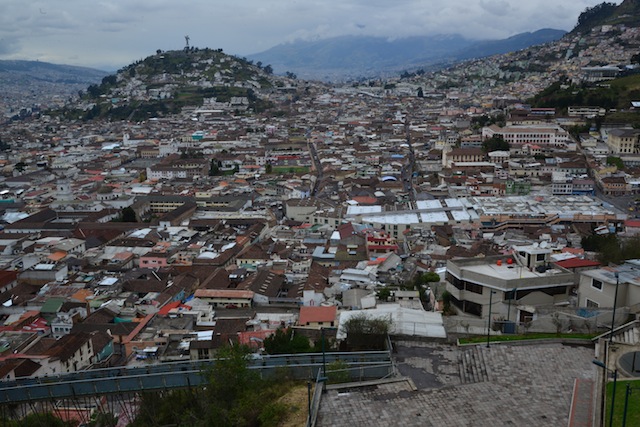 For a good lookout point, Antonio took us to the hills of San Juan. It was a steep ride up narrow cobblestone streets. It is not the 'official' lookout points for most tourists. Antonio said he has discovered San Juan to be better than El Panecillo, the hill that has a 148 feet statue of the winged virgin with a serpent at her feet. She towers above everything on the hill, being the guard of the city of Quito.
Most historic Quito tours begin at Independence Plaza where the Presidential Palace, Cathedral and restaurants and hotels are located like the Plaza Grande. The Presidential Palace had a line forming on the south side of the building. We took a peek at the inside. Two uniform guards stood not so still at the entrance to the palace.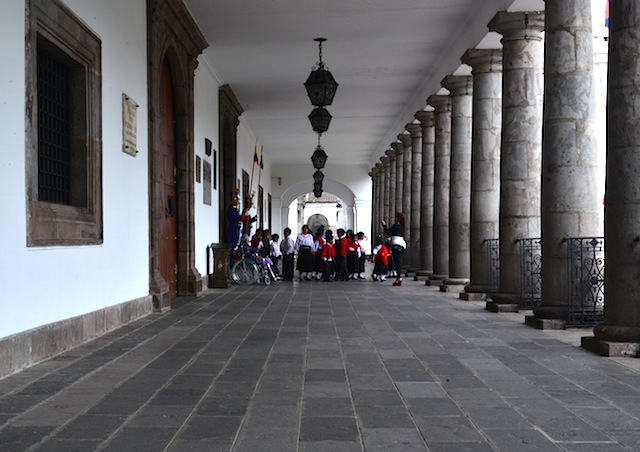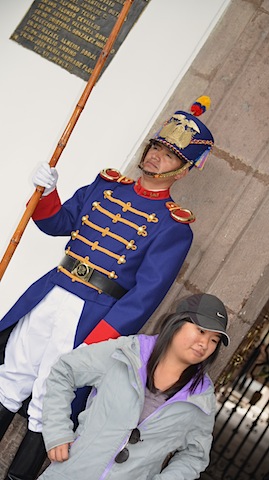 One block away is Plaza San Francisco. The church was closed during our visit.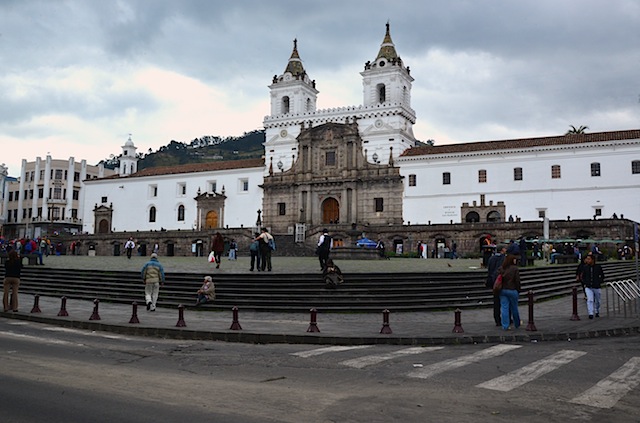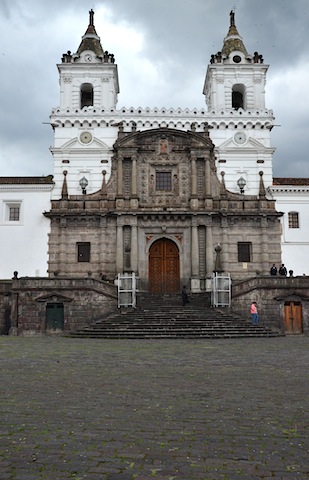 To complete our tour of Quito, we added Museo Intinan and the official La Mitad de Mundo.
Quito is the second highest capital city in the world, surrounded by more than 20 volcanic mountains and very rich in culture and history. It was awarded 2013 South America's Leading Destination by World Travel Awards.
It was the best city to end our travels in South America for eight months, which we originally planned for nine months. What did we do after traveling eight months and running out of steam?
1.    We evaluated our original needs and plans.
2.    We researched and made necessary changes.
3.    ACTED ON IT!
Thanks for following me in the last eight months through South America. If you are new here, please say hello by writing a note below. Or stay in touch each week through my newsletters.