Where you stay matters when visiting Buenos Aires. Your perception of the place will depend on your accommodation. When I walked out of the BuqueBus ferry station, my driver had a cardboard sign with my name written on it. He swept us off from the crowd in the tinted, air-conditioned 7-seater van straight to Four Seasons Buenos Aires.
I had no contact with the 'outside world' and the cab drivers. Everything was safe, comfortable, and secure. Buenos Aires had a real magic and sophistication when we stayed at Four Seasons Buenos Aires in Recoleta. Our rooms had sought after views of the obelisk and the widest avenue in the world - 9 de Julio Avenue.
The sophistication disappeared when we began our journey in two separate taxis from Four Seasons Buenos Aires to an AirBnB apartment in San Telmo. Our party of six needed two taxis. So my husband took my son and my sister in the second taxi, while I set off with my mother and daughter in the first. I had plotted the route on my map and had a rough idea of which street to take. My instinct told me he was taking us for a ride using a different path. When we arrived at the apartment, my husband had already arrived.
Don't get me wrong. Buenos Aires is worth a visit. It should be on everyone's travel bucket list. But before you start planning and packing, you need to know what's best for you and your comfort level. I don't have any regrets staying at Four Seasons Buenos Aires and the old apartment building with potential fire hazards in San Telmo.
I saw both sides of Buenos Aires - the Buenos Aires for a luxury traveler and the Buenos Aires for those who want to immerse into the local culture. I've chosen both because of these reasons - to be pampered and to live in luxury and to live like a local - both in one destination.
Four Seasons Buenos Aires and Recoleta
Part new and part old, Four Seasons Buenos Aires consists of the new tower and a 20th-century French-style mansion. The hotel is ideally located in the heart of La Recoleta, an upscale part of Buenos Aires. It is walking distance to The Obelisk, Teatro Colon, upscale shops and restaurants, and Recoleta Cemetery. Recoleta Cemetery is the final resting place of famous Argentinian like Evita Peron and 18 Argentinian presidents.
Restaurants at Four Seasons Buenos Aires were designed with the gourmands in mind. One such is Elena. Elena is a two-story courtyard room with a spiral staircase that leads to the balcony level dining room. It's the place to dine in style and try Argentinian beef like dry aged beef. Dry aged beef is tender and buttery. Dry aged is a technique where meat stays for about four to six weeks in a 33 degrees Fahrenheit facility. It must have constant air flow and be mended by a skilled butcher.
The rooms are large, and while there was a constant flow of traffic outside, our rooms on the 11th floor were quiet. We had double beds and an extra bed in each of the rooms for the six of us. Each room had complimentary bottled water, magazines, a flat screen TV in the main area and another in the bathroom, an iPod/iPhone pod, and free WiFi.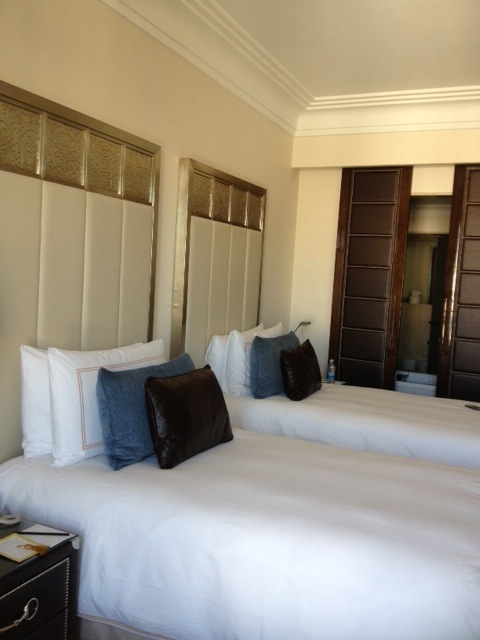 San Telmo apartments and San Telmo
After staying in the Recoleta area, my first impression of San Telmo was that the buildings were dirty, old, and some were in the state of decay. Walking back to the apartment after dinner on the first night in San Telmo, just a few steps from the flat's front door were homeless families sleeping on the sidewalk with their worldly possessions in plastic bags. A toddler, about two years old stood there and blew his toy trumpet while his dad slept. It was 10 p.m. at Paseo Colon.
San Telmo, the oldest neighborhood of Buenos Aires is home to tango parlors, colonial buildings, antique shops, artists, dancers, cafes, restaurants, cobblestone streets, and the famous Sunday Feria de San Telmo, Buenos Aires Sunday flea market. It's like a carnival every Sunday in San Telmo.
San Telmo was the first Spanish settlement in 1536 and is a place in Buenos Aires that exudes culture without having to impose on it. Calle Defensa and Plaza Dorrego are streets you must visit to get a feel of San Telmo's vibe. It gets better on Sundays when singers, dancers, performers, food vendors, artisans, antique dealers and local crowds and tourists fill the cobblestone streets and market squares.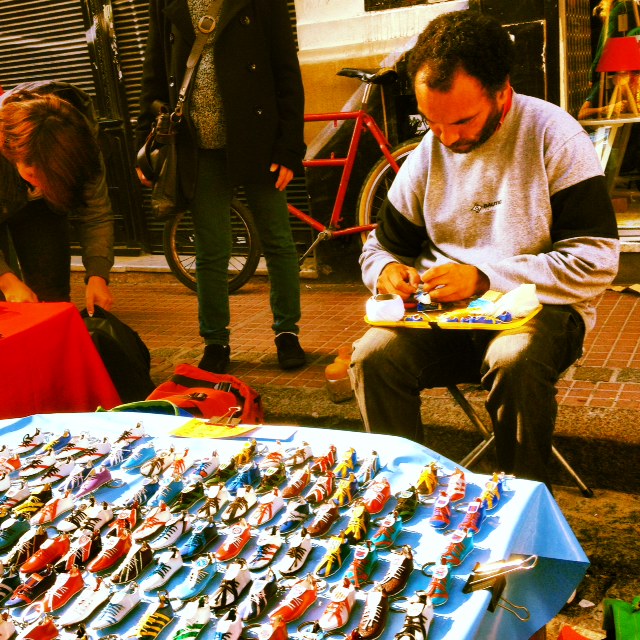 We rented two AirBnB apartments for the six of us at an apartment building on Paseo Colon. Before making the reservation we couldn't decide between the apartments in San Telmo (working-class) and another in Palermo Viejo (trendy), on a tree-lined street.
The San Telmo apartment gave us an experience we wouldn't have had if we stayed only at Four Seasons Buenos Aires. The Century-Old building had an old caged-like elevator and a flimsy walkway from the main area to the apartment. One of the rented apartments was a three-level loft with access to a private rooftop seating area. Having an apartment with such layout is rare.
Though we had rented two apartments, the six of us ended up staying in just one because the other felt strange and eerie. Something strange lives in that two-bedroom apartment, and that's a story for another time. Our neighbors were not tourists. They were long-term dwellers.
It was a five-minute walk to Plaza Dorrego, San Telmo's main square, a 25-minute walk to Florida Road (the main shopping area), Casa Rosada (Pink Presidential Palace), and Plaza de Mayo. And just a five-minute walk to El Viejo Almacen Tango house.
Tango in San Telmo
San Telmo and La Boca (a neighborhood next to San Telmo) are the barrios for tango. The origin of tango dates back to the 19th century in the working-class suburbs of San Telmo and La Boca. Male immigrants from Italy and other parts of Europe gathered and danced with each other since most of the women were still back in their homeland.
It soon evolved to include Cuban habanera, African candombe, milonga and Italian music. Tango is not just about the dance. It is the music, songs, and poetry. Guitar and bandoneón (a type of accordion) are the most important instruments for tango. Years later, they now include piano, double bass, and violin.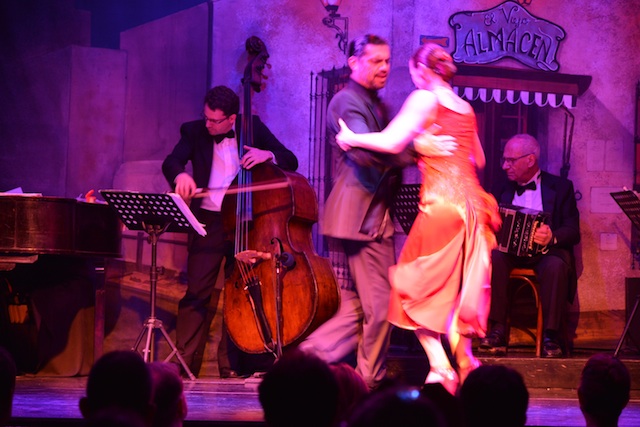 Tango shows in El Viejo Almacen start at 10 p.m. every night. Guests can choose to include a three-course dinner before the show. The restaurant is across the street from the historical tango house. The show includes one drink per person.
El Viejo Almacen is at Esquina Ave. Independencia y Balcarce in San Telmo. It cost US$50 per person without dinner. Free shuttle service is available to most hotels in Buenos Aires. You have four show and dinner options: a show with dinner, show without dinner, VIP dinner and show, and VIP show without dinner.
Website: viejoalmacen.com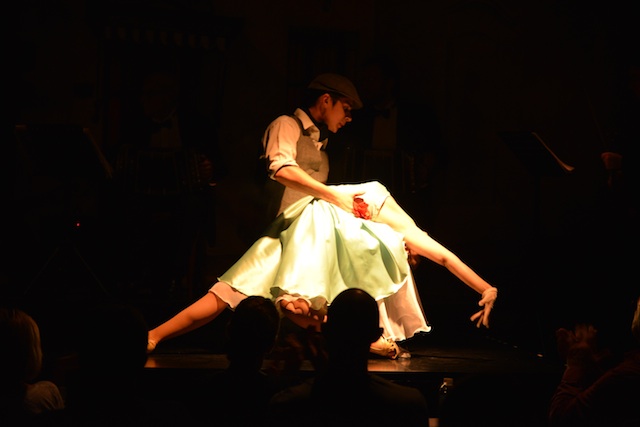 Visiting other barrios in Buenos Aires
Traffic in Buenos Aires can be horrific which we found out when we joined the hop-on-hop-off-bus passing by 25 attractions in this sprawling city. After two incidents with the local cab drivers, the hop-on-hop-off-buses were the best choice for a party of six. The stops include San Telmo, Caminito, Estadio Boca Juniors, Puerto Madero, Rio de la Plata, Plaza San Martin, and Recoleta. Each passenger was given a headset for ongoing commentary.
Here are some of the stops and scenes: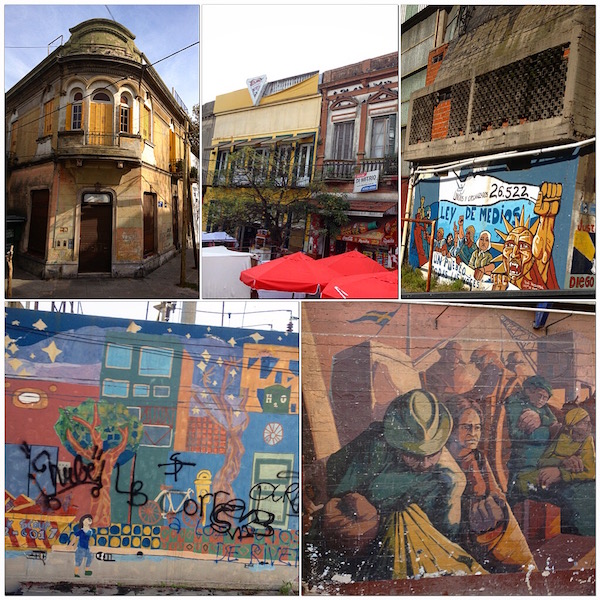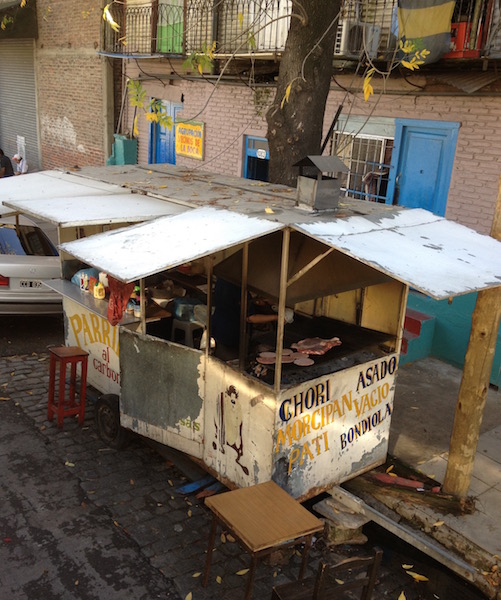 If you're deciding on where to stay when visiting Buenos Aires, I highly recommend Four Seasons Buenos Aires in the upscale Recoleta district. If you like an artsy neighborhood that is rich in history, find an apartment or hotel in San Telmo. For trendy places head over to Palermo.
Travel tips
1. Hop-on-hop-off-bus per ticket cost: 120 Argentinian pesos for 24 hours and 160 Argentinian pesos for 48 hours. Children between 4 to 12 pay 60 pesos (24 hours) and 80 pesos (48 hours). Free for children under three. For more information and schedule, visit their website at buenosairesbus.com
2. Precautions when visiting Buenos Aires: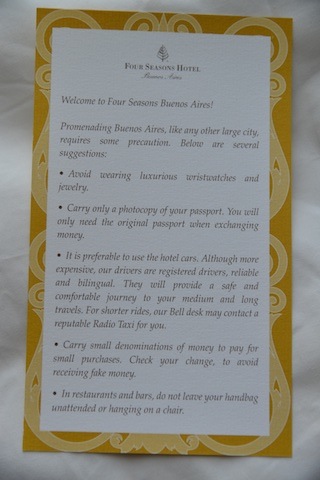 4. Look for the best hotels in Buenos Aires.
Updated article.