The road to Salta
Late on a Saturday afternoon in July, we arrived in Salta. This was after over 10 hours heading northwards, passing vast farmlands for the first quarter of the journey, followed by desert-like barren plains with sparsely distributed thorny scrubs. The open roads did not have any decent rest stops or toilets. Even if they had, we would rather have gone behind the scrubs than the toilets. This area is known as the Gran Chaco region of Argentina, a dry and very sparsely populated region with no amenities for tourists.
The day before, we had just left Encarnacion, a pretty city in the southeastern part of Paraguay. We crossed the International Bridge at Encarnacion to Posadas, Argentina. Posadas, a city with over a quarter of a million people, is just across the Parana River from Encarnacion. Posadas is in Argentina's Mesopotamia region where swamps and grasslands are aplenty. Cattle farming is important in this region. Our tour leader said if we were lucky we would have a chance to see a few gauchos (local cowboys) along the way.
The tour leader and driver warned, "Get ready to pitch your tent in the middle of nowhere tonight. There are no hotels here." Loaded with enough food for a few days, the only thing our tour truck needed was fuel. Our group of 13 had been taking turns cooking for over 12 days already. We knew we wouldn't be hungry en route, but we were uncertain about pitching our tents in the middle of nowhere.
At around 5 p.m. we arrived at a gas station. The tour leader and driver said, "Take your bags and tent. We will stay here for the night." So, we pitched our tents behind a gas station among Algarrobo trees (white carob trees). Not an ideal location, but that's the nature of an overland adventure tour. There were toilets, convenient food, and gas for the truck - all the bare necessities needed on a road trip. We were at the border of Mesopotamia and Gran Chaco regions of Argentina - practically a no man's land.
Salta
The Argentinian city of Salta is a lot similar to Bolivia and Peru, and vastly different from Buenos Aires, Argentina's European-influenced capital city, and Mendoza, the Malbec epicenter of Argentina. Established by the Spanish in 1582 at the foothills of the Andes in the Lerma Valley a few years before Buenos Aires, Salta has gorges, mountains and rock formations with mineral hues of orange, yellow, green and blue, ochre desert scattered with cacti, as well as green fields.
The historic city center is charming where colonial buildings and cathedrals integrate strikingly well with the existing Andean culture. Llamas, not horses, is the animal of choice for souvenir photo sessions on Av. San Martin, the main thoroughfare. Vendors are ready to let you photograph their prized possession for a fee. Every souvenir shop sells llama and alpaca inspired merchandise.
Salta is 3,780 feet above sea level and only 233 miles from Villazon, Bolivia's town bordering Argentina. While Mendoza is 796 miles and Buenos Aires is over 900 miles away. It was the city where we began our two-month exploration of the Andean highlands.
Salta Highlights
Cerro San Bernardo
You can either take the 1,070 steps or the teleferico (cable car) to the top of Cerro San Bernardo. Entrance to the cable car is at Avenues San Martin and Hipolito Yrigoyen. At the top are souvenir shops, cafes, children's playground, seasonal displays, a man-made waterfall, gardens and a variety of trees and plants.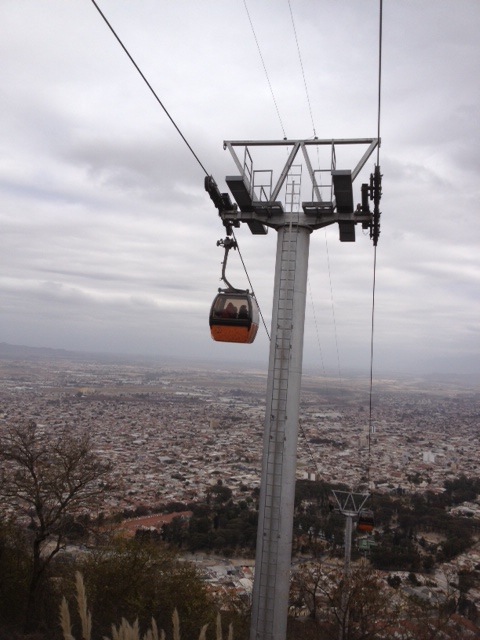 Iglesia San Francisco
The Church of San Francisco is the most recognizable building in Salta. Originally built in the 1600s, destroyed by fire and rebuilt in 1759 and a tower was added in 1882. It has the tallest church tower in South America.

Cathedral of Salta

Located at Salta's main square, Plaza 9 de Julio, Cathedral of Salta is an outstanding neo-classical cathedral. As you walk inside, your eyes will follow the geometric-patterned floor which somehow, when you stare at it for an extended period, will point you to the Baroque altar covered in gold, and onto the ornate ceiling with a central dome.
The Cathedral's prized possessions are the images of Jesus and Virgin Mary, brought from Spain in the late 1500s. A series of earthquakes threatened Salta in September 1692. In desperation, the people brought the images of Jesus and Virgin Mary out into the streets to appease with God. Suddenly, the tremors stopped. Ever since that day, Salta has been commemorating this special day on September 15 as La Virgen y El Senor del Milagro (The Virgin and the Lord of Miracle) day.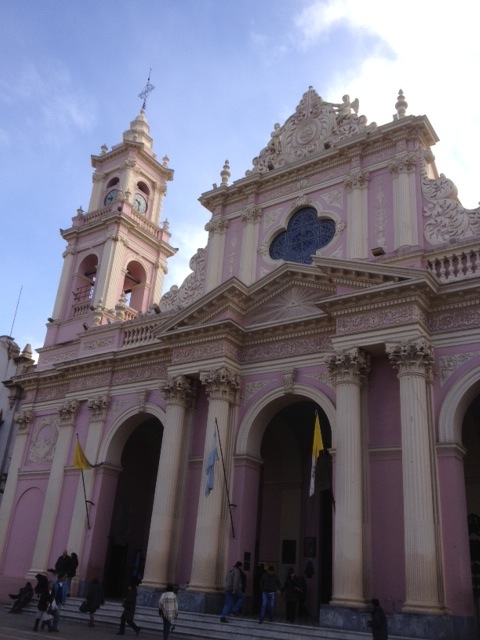 Plaza 9 de Julio
Salta's main square has hundreds of pigeons under the palm trees and around the central statue. There is an old gum tree, and plenty of benches where you can sit and people watch. It is close to cafes, restaurants, and souvenirs shops.
Sunday lunch with the locals at Los Gauchos
Sunday lunch is an important affair in Salta. Most restaurants were either closed for the day or packed with local families. We joined in with the crowd at Los Gauchos, a restaurant close to the cable car entrance at Hipolito Yrigoyen 24. They served big portions of regional cuisine and Argentinian steaks.
Take a look at our kebobs, Canelones con salsa Rossini and complimentary beans, bread, and aji.

Jovi Dos
This restaurant came highly recommended by our cab driver. The restaurant is about a 15-minute walk from Plaza 9 de Julio. Located directly in front of Plaza Martin Miguel de Guemes at Barcarce 601, Salta. For starters, the restaurant served complimentary marinated eggplants, white beans with bread and breadsticks.
Jovi Dos has a large dining room and several small dining rooms. It has an extensive list of local wine and menu offering pizza, fish, seafood, grilled meat, pasta and all types of empanadas.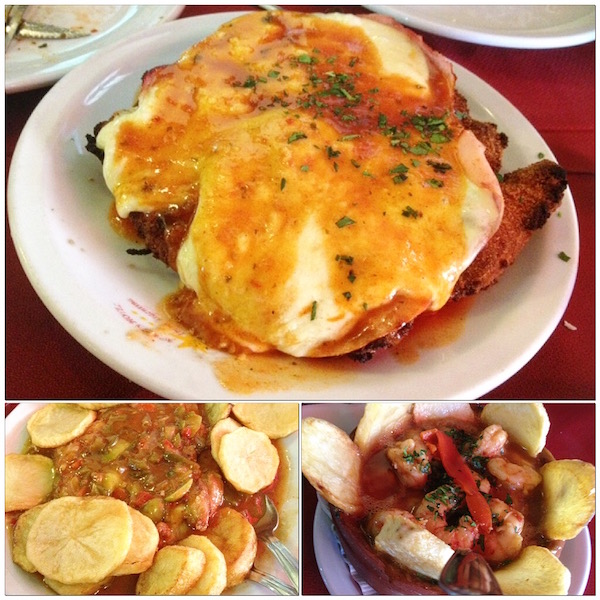 The artisanal market at Parque San Martin
Located at a 16th-century hacienda is the artisanal market. It houses hundreds of stores selling almost the same merchandise like alpaca and llama hats, sweatshirts, bags, scarves, and socks. Also available are coffee, baked goods, local foods and craft stores. The indigenous people mostly run the craft stores.
Going to Salta anytime soon?
Before you leave, grab a Lonely Planet Argentina guidebook or a DK Eyewitness Travel Guidebook.