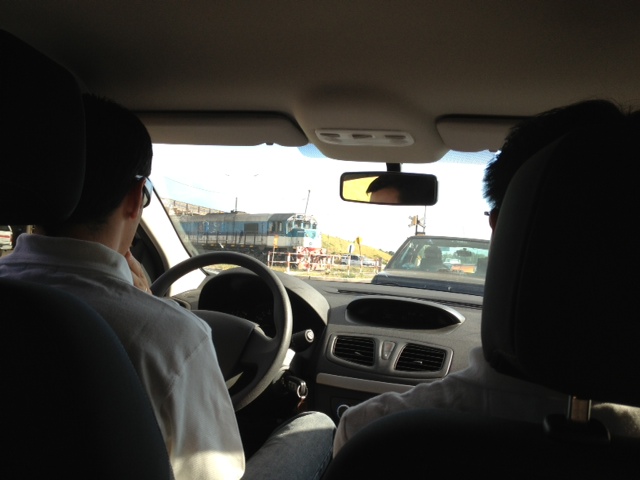 Looking for ways to get from Mendoza to Montevideo without flying?
Our plan was to take the long distance bus (over 800 miles) from Mendoza to Montevideo. When our tour guide in Mendoza offered a door-to-door service - we said yes immediately. Who wouldn't? He'd pick us up at the front door of the AirBnB apartment in Mendoza and drop us off at the AirBnB apartment in Montevideo.
Total cost: US$600 for four of us.
Now consider the price of a bus ticket. From Mendoza to Montevideo with EGA is $122 per person. The bus leaves from Terminal del Sol de Mendoza at 11:15 a.m. And arrives at Tres Cruces Bus Terminal in Montevideo at 9 a.m. the next day.
If we were to travel on an EGA bus, we would need to look for a cab to take us to the bus terminal in Mendoza. Likewise a cab from the bus terminal in Montevideo to the apartment. Another advantage was no hassle of lugging our bags from terminal to terminal. Added to that I didn't feel safe walking around Mendoza bus terminal.
There was a catch with the door-to-door car service. It was Cristobal, the driver's first attempt to cross the continent- from the west (Mendoza) to the east (Montevideo).
The road trip
With the bags loaded in the trunk, bottled water, and snacks loaded in the car, we hit the road at just after 6 a.m.
First, we crossed the arid land of the Central Andes region. After 160 miles we passed by San Luis, the first big town after Mendoza. Cristobal recommended a stopover in San Luis for our next trip. San Luis offers historical sites like the 19th-century cathedral, Plaza Pringles, and Plaza Independencia. San Luis is also the gateway to El Volcan, an area Argentinians go to for outdoor adventures.
Upon passing by two men selling coffee by the road from the trunk of their car, Cristobal suggested we take a stop. We bought coffee with milk served in a styrofoam cup for one peso.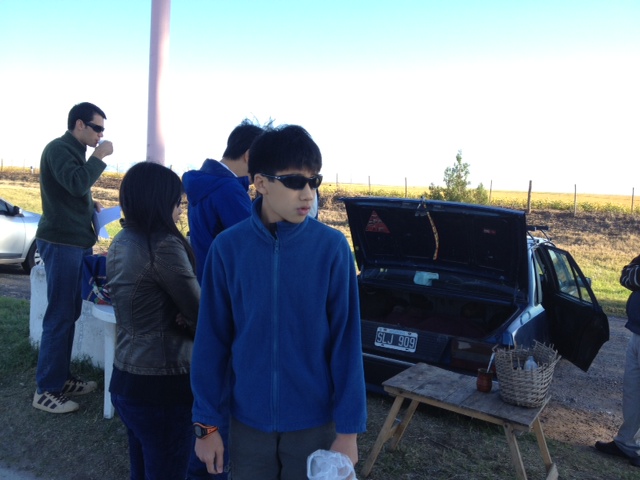 The landscape changed after San Luis. Small towns and farmlands were the highlights. It's the industrial and agricultural belt of Argentina. Here we saw  fields covered with grains and soy too. There were factories. Trucks loaded with goods were our two-lane highway companions.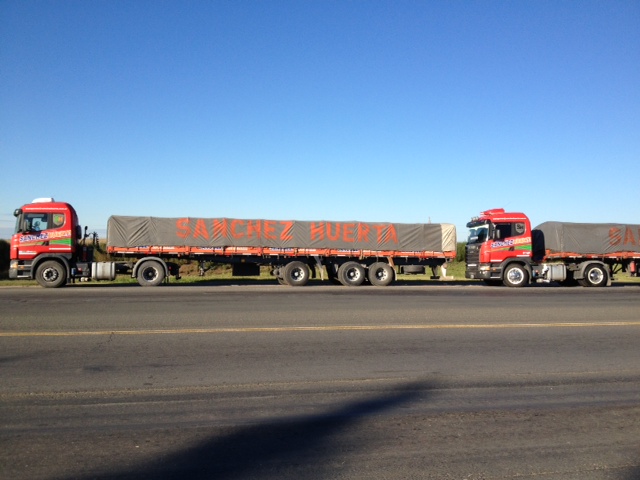 Mercedes, Rio Cuarto, and Villa Maria were some of the towns on this stretch of the road trip. Cristobal pointed out the famous soccer ball factory in Bell Ville, a small town near Rio Cuarto. If would you like an Argentinian made soccer ball, stop here and buy the soccer balls from the vendors along the road.
We were not just driving on highways. At times, Cristobal had to use local roads. He got lost after Villa Maria. Villa Maria is 95 miles from Cordoba, Argentina's second largest city. Though Cordoba was worth a stopover, we didn't do so. Instead, Cristobal continued with the journey towards Rosario.
Rosario is the third largest city in Argentina. We passed by the main road and got a glimpse of Messi's hometown. All Argentinians are proud of their soccer hero. "Lionel Messi wears the Argentinian number 10 jersey", said Cristobal.
Rosario has beautiful parks, old colonial buildings, and monuments. From the distance was the iconic Rosario-Victoria Bridge. There was road work which made it confusing especially with the lack of road signs. Cristobal missed the exit to the bridge twice.
After the bridge, the landscape changed. We were 12-hours into our journey and the sun was about to set. This part of the journey took us through wetland, rivers, farms, cows, and horses. Followed by rolling hills and more farms. There were no towns in sight for a while until we reached Gualeguay. We still had 270 miles to Montevideo.
Our goal was to reach Gualeguaychu as soon as possible because it meant we had almost arrived near the Argentinian-Uruguayan border. The problem was Cristobal did not know how to get to Gualeguaychu. Again, the road signs were confusing. We were driving around, lost for over two hours.
It was not easy to travel in the dark between Gualeguay and Gualeguaychu. We stopped at Gualeguay for coffee and to use spotty Wi-Fi. We were running late and had to inform the AirBnB host. I managed to get on my Skype phone to give Pierre in Montevideo a quick call.
At 11 p.m. we arrived at the Argentinian-Uruguayan border. No one was at the Argentinian side of the border. So we went over to the Uruguayan border control office - Puente Internacional Libertador Gral. San Martin. Men in green uniforms were drinking mate (tea shared among each other). It was a quiet night - no tourists. It was just us and Cristobal. There were no forms to fill. We just need our valid passports.
At 2 a.m., after 20 hours on the road, we arrived at the AirBnB apartment in Pocitos Montevideo. Here is Christobal. He slept in the apartment and left the next day.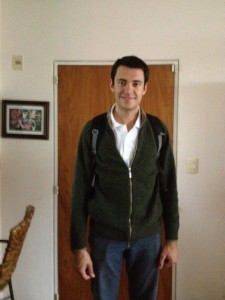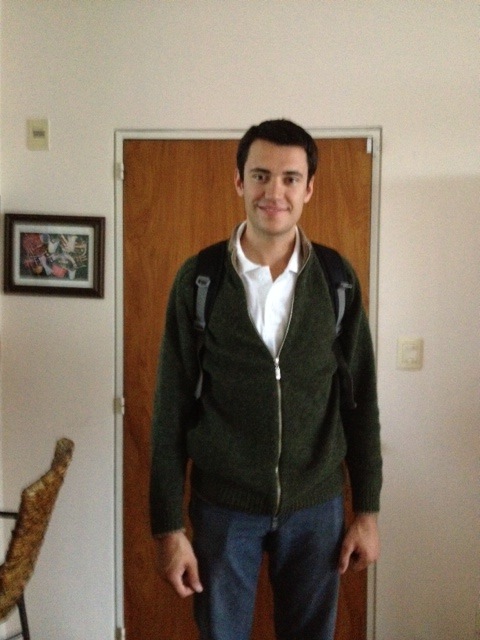 I recommend Cristobal for anyone looking for a tour guide or car service in Mendoza. He is sincere, considerate, honest, and friendly. He was careful on the road.
Cristobal Ortiz Maldonado's contact information:
Cristobal Ortiz Maldonado Tours and Transfers
Email: crischofer1984@gmail.com
+54-261-6859450 or 261-2202644
He speaks Spanish, English, and Portuguese.
Note: Prepare enough cash while you are on a road trip. There are 10 toll booths from Mendoza to Montevideo. All bathrooms are not free.
Need to know where we stayed in Argentina and Uruguay? Check out my eBook: South America: Apartments, Hotels, Hostels, Campsites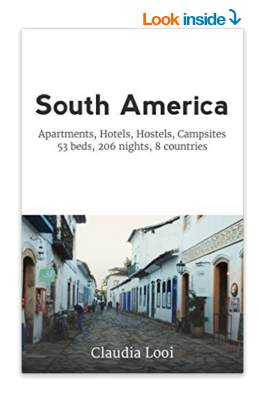 Note: This is an updated article. The original article was published on April 28, 2013.