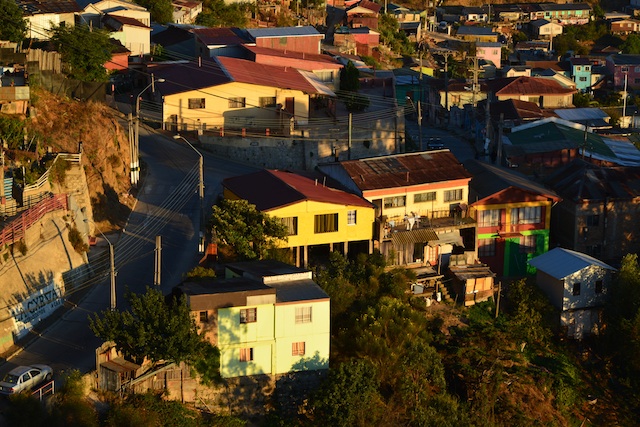 In Valparaiso, feeling out of breath is inevitable. Even if you're being chauffeured from door to door, you'll be breathless sitting in a vehicle that had to grind its way up a 30 percent slope to get to your apartment. The thought of the taxi losing control and rolling down the steep road was always on my mind every time we proceeded downhill and uphill. Valparaiso is a port city with a bay area but the majority of the neighborhoods are on hills, over 40 of them. The hills are densely populated and locals walk up and down the hills effortlessly.
8 Things to do in Valparaiso
1. Stay on the hills
No tourists were forming a beeline to visit the neighborhood where we stayed for five nights on Calle Carlos Lyon. There were just local folks, their pets, chicken, and roosters.  If you want to feel the heartbeat of Valparaiso, I suggest you stay in one of the less touristy hills, known locally as cerros.  As for us, the stay on the 14th floor of an Airbnb apartment gave us a feel of the people of Valparaiso, plus the best views of Valparaiso, Vina del Mar and beyond. The entire scene is dotted with brightly colored wooden houses, a delightful sight to behold.
2. Learn about the poverty surrounding the neighborhoods on the hills
On top of the hill where we were, wooden houses with sun-faded doors and shutters lined the steep streets. Some of these houses looked more like a shack with rusted and torn corrugated iron sidings. You won't find restaurants. The few stores had just a few food items on the shelves. Stairs and footpaths winding up the hill aren't painted like those in Cerro Alegre and Cerro Concepcion except for one close to Cerro Alegre. Some were very rundown with cracks and holes, unsafe especially when walking in the dark when the sun goes down.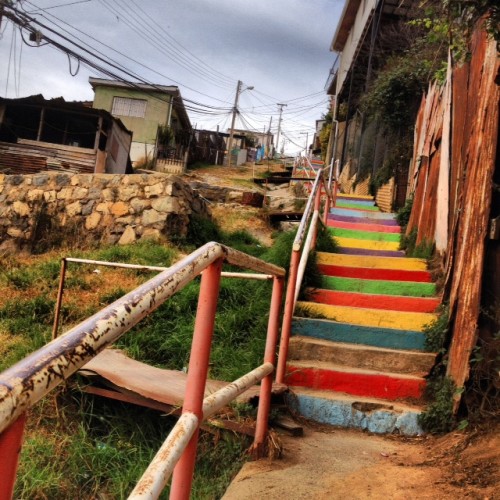 The apartment building where we were looked so out of place in the neighborhood. Fenced up, with 24-hour security, this cream-colored 'monster' is visible from Pablo Neruda's house - La Sebastiana. It was a safe haven, insulated from all the poverty that we witnessed in the neighborhood. Roosters from the neighbors inside the houses with corrugated metal roofs crow at the same time every morning. On the second day of our stay, a wildfire started and engulfed one of the neighborhoods and the dark smoke was visible from our apartment. Every once in a while the city faces challenges like wildfires.
3. Take the colectivo or walk down to Cerro Alegre and Cerro Conception
Colectivos are shared taxis that sit four passengers. They are cheap and have a set route, for example, colectivo number 40 was the one we took to our apartment from one of the side streets close to Plaza Sotomayor in downtown. Cerro Alegre, one of the lower hills close to Calle Carlos Lyon was only a 20-minute walk downhill. It links to the famous Cerro Conception. Both of these neighborhoods are walkable and not as steep.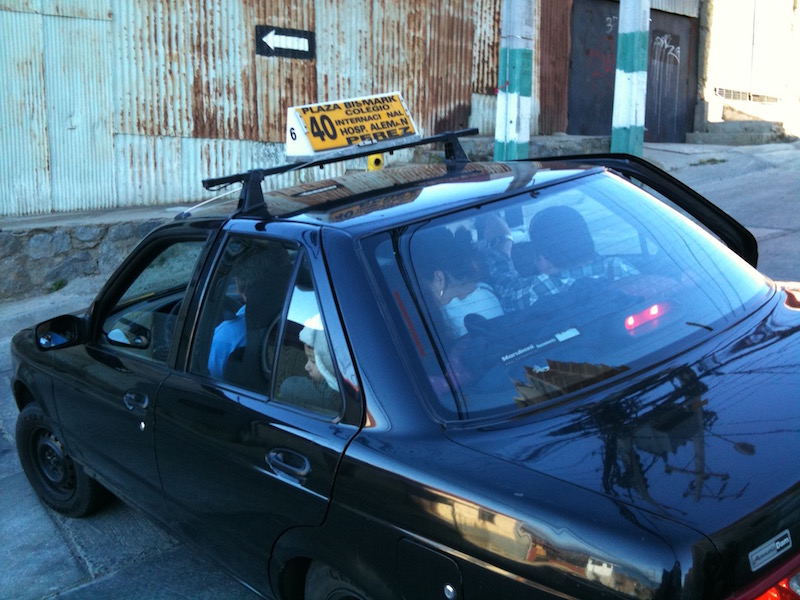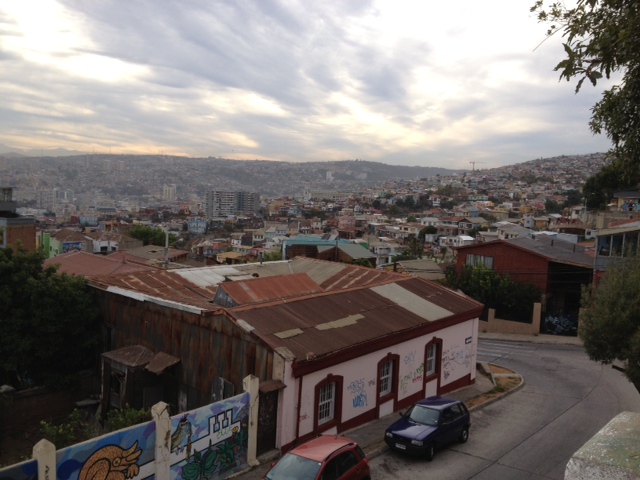 Hordes of tourists are either being dropped off by tour buses or holding a Lonely Planet guidebook walking on the alleys and cobbled streets of Cerro Alegre and Cerro Concepcion. There are trendy bars, restaurants and historic houses turned into museums, hotels and art galleries.
4. Take the antique funiculars
Valparaiso's first funicular or elevator was built in 1883. The Ascensor Concepcion climbs 226 feet at a 45-degree gradient. The ride cost 300 pesos and you pay at the upper station. It'll take you to the lower station and walking distance to Plaza Sotomayor and Muelle Prat - Valparaiso waterfront square and pier. Ascensor Reina Victoria (Queen Victoria funicular) built in 1902, climbs 130 feet at a 57-degree gradient. It has small cars that hold up to seven people. It was 100 pesos to ride on this short route.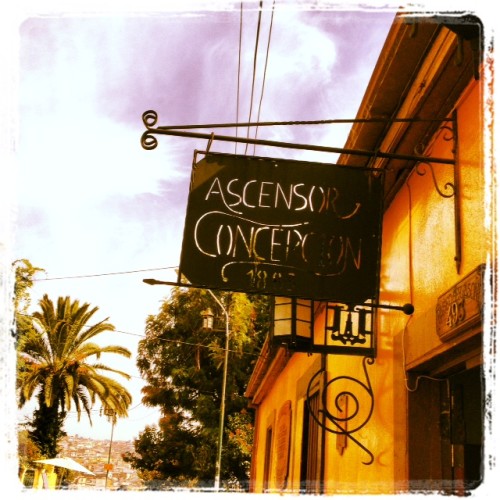 There are less than ten working funiculars in Valparaiso now. The funiculars set Valparaiso apart from many cities in South America. Added, the artwork Ascensor Artilleria in Cerro Artilleria brings out the artsiness of this port city. Ascensor Artilleria is by the port and the uphill station is by the Maritime Museum. Nobody should leave Valparaiso without taking Ascensor Artilleria to the Maritime Museum, the place where you'll get panoramic views of the surrounding hills dotted with colorful houses and the different shades of blue from the sky merging with the sea.
Cerro Artilleria is home to one of the most photographed Victorian cobalt-blue house. This house shows the "Britishness" of Valparaiso. The British played an important role in the expansion and growth in the mid-1800s to the early 1900s. The completion of the Panama Canal brought the "fall" of this important port city in South America. You can read more about it in A History of the British Presence in Chile: Bloody Mary to Charles Darwin and the Decline of the British Influence by W. Edmundson.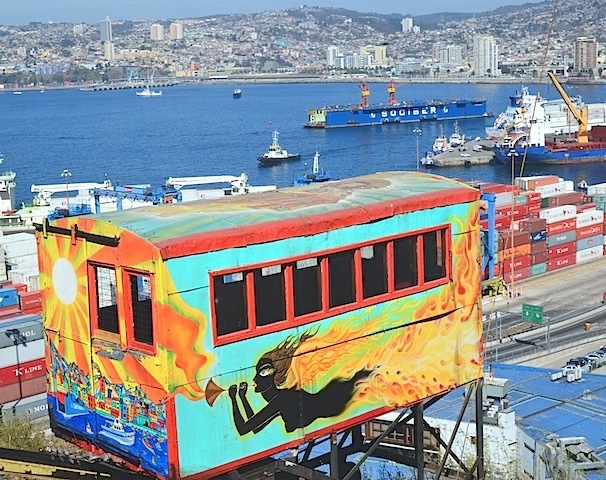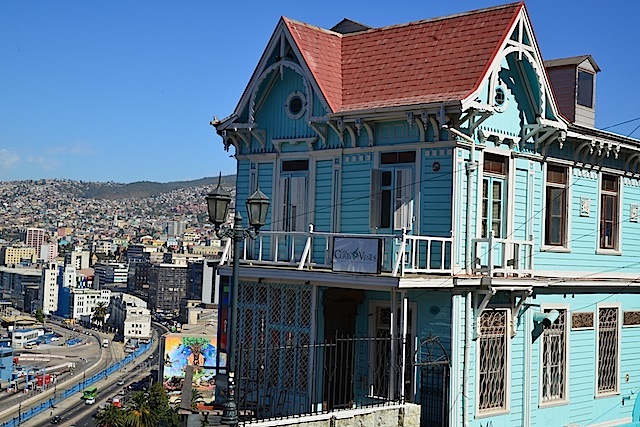 5. Explore street art
 Valparaiso is the modern art center of Chile. You can see the creativity of street artists all over the city - in the foothills, by the port, and on the hills, anywhere where an artist can express its frustration, aspiration and inspiration.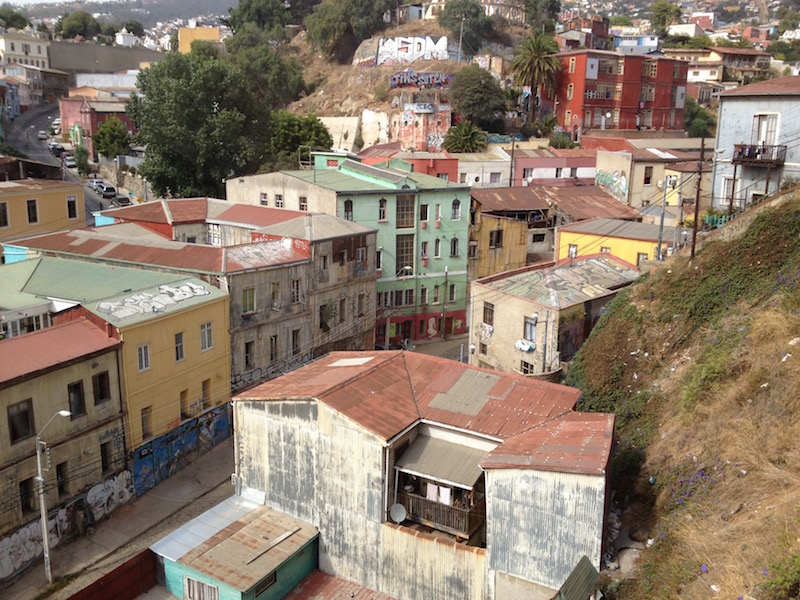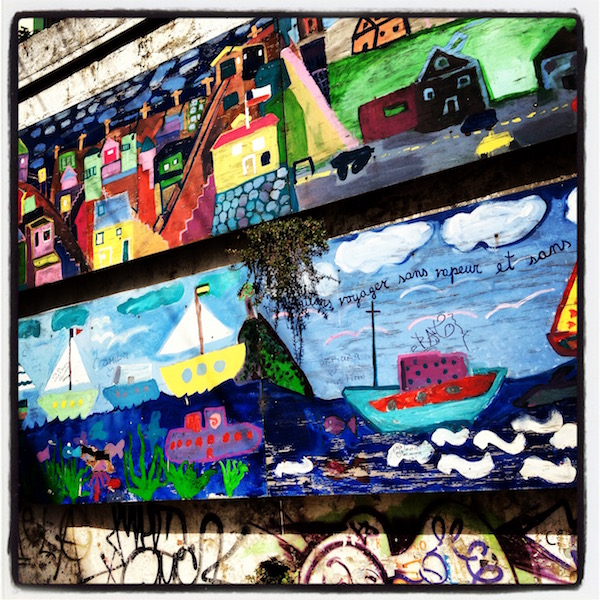 6. Walk the stairs
There's a reason why Valparaiso is called "the city with the most beautiful legs," said our tour guide Liliana. Climbing those steep stairs every day will keep you fit and leave you with gorgeous legs.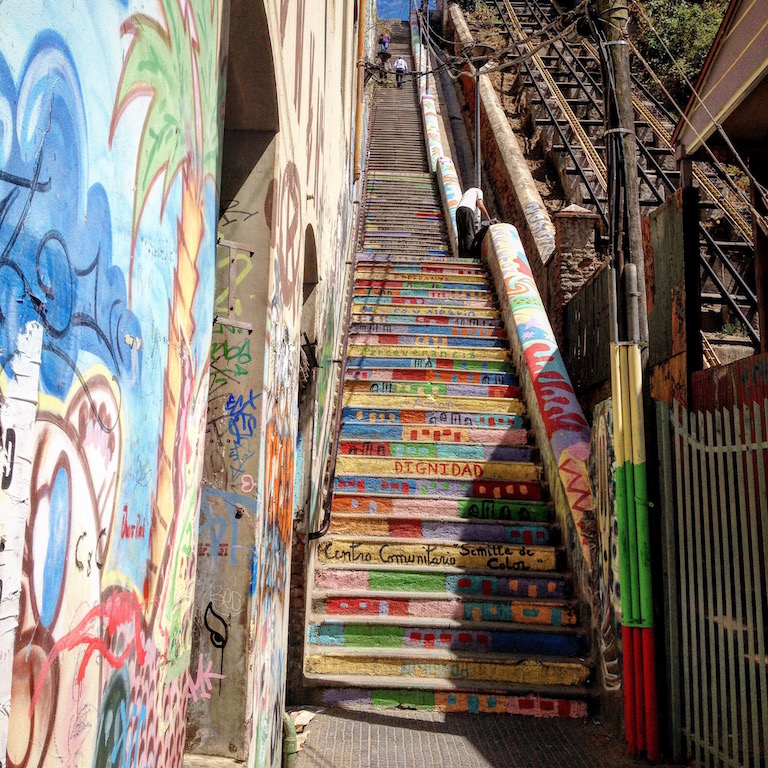 7. Go with the fishermen on a cruise around the harbor
For as little as 2,000 pesos ($3) per person, you can catch a ride on a fisherman's boat and cruise around the harbor. To do that, get to Muelle Prat, across the street from Plaza Sotomayor. These are by no means luxurious boats and they are not for everyone especially if you hate no frill boats. I thought it was quite fun sitting on an old fishing boat with mostly local tourists for 35 minutes. I feel there's always time for a luxurious cruise, but in Valparaiso it wasn't necessary.
The boat cruise along the Bahia de Valparaiso gave us another vantage point of the colorful hills, a close look at the sea lions that roam freely in the harbor and passed by the naval warships, vessel ships, fishing boats, and a passenger cruise ship.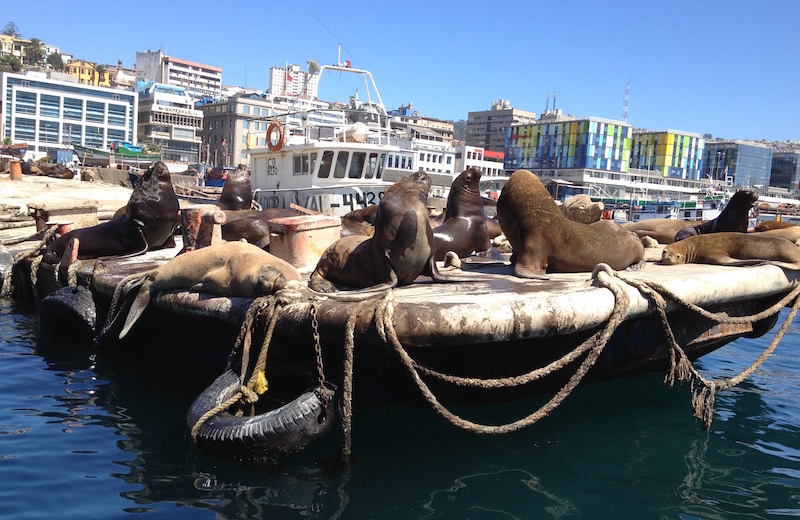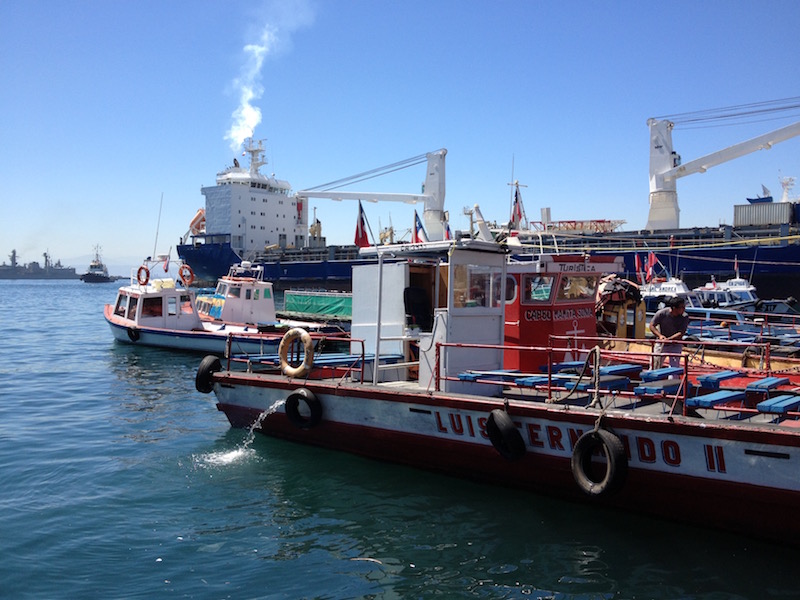 8. Eat chorrillana at J Cruz Restaurant
The top spot for chorrillana is at J Cruz, also called Casino Social J Cruz M. Chorrillana, a traditional Chilean dish of French fries topped with beef slices, eggs, and fried onions. Located at the end of a graffiti-filled narrow alley, J Cruz is a local haunt and only serves chorrillana. There are mixed reviews about J Cruz. It's a great place to get a taste of the quirky side of Valparaiso. You get the artsy culture from the walled graffiti inside and outside, old photos and antique knick knacks from floor to ceiling, and an overall museum- like and antique feel of a place.
A trip there will fill your stomach and your understanding of Valparaiso. Two plates of chorrillana - one plate for two to share and one for three to share were 19,000 pesos (about $30). Not bad for an experience of traditional Chilean food, cultural immersion and live traditional Chilean music on a Sunday afternoon.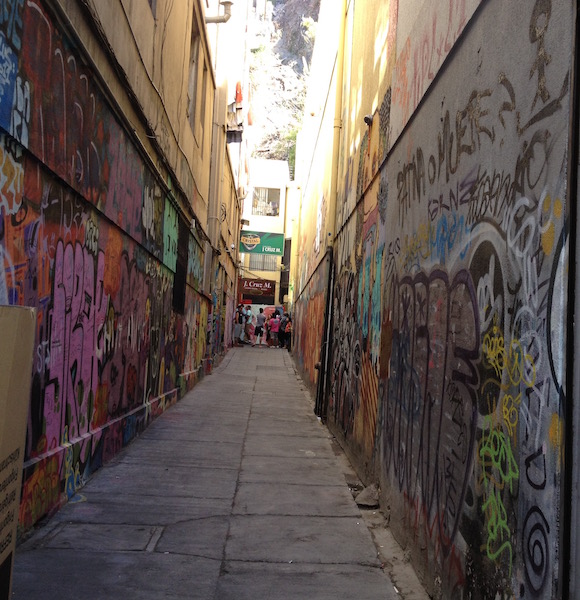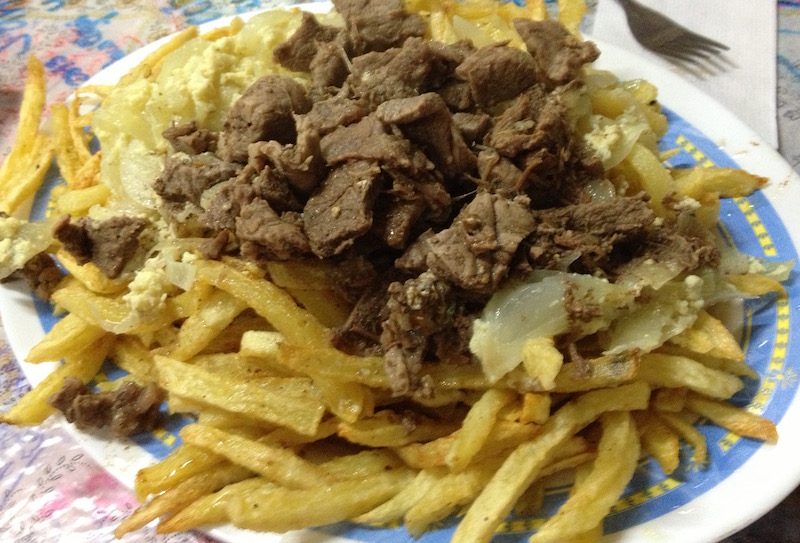 If you're there on a Sunday, take a walk at O'Higgins Square. The Sunday flea market offers one of a kind souvenirs like old typewriters, handmade bags, door knobs, books, old records and English figurines.
Valpo deserves more than a day trip. If possible stay for at least three nights. For a special guided tour, I recommend a private Valparaiso at night tour with dinner and boat ride.