I don't remember much of what I did in Seoul except for the food I ate. I was never hungry for my entire 10-day trip because my six traveling companions and I had only two agendas – eat street foods and drink coffee in the back streets and main streets of Seoul.
No matter where we went, from Myeong-dong to Insa-dong and Namdaemun to Hongdae, on streets packed with pedestrians there were food stalls manned by women or husband and wife teams except for one bundegi (silkworm larvae) stall guarded by a man and a sign that said "no photo."
We must have eaten every hour, stuffing ourselves with odeng, tteokbokki, cup chicken, Korean hot dogs and more.
Here are the photos of what we ate:
1. Gimbap
Gimbap (kimbap) or Korean rolls are just like Japanese sushi except wider in diameter. Gimbap are made from steamed rice with omelette, pickles, veggies and cucumbers rolled in seaweed.
2. Tteokbokki
Tteokbokki or topokki is the most popular street food in Seoul. These are cylindrical rice cakes stir-fried with red chili paste (gochu jang) and some stalls add fish cakes or meat to the tteokbokki. According to Koreanfood.net, topokki was first recorded in Siuijeonseo, a cookbook published in the late 19th century. They were made in the palace by mixing white rice cakes with beef sirloin, sesame oil, soy sauce, scallion, pine nuts, iwatake mushrooms and ground sesame. In the 1950s, Koreans started using red chili paste to make topokki and it gained popularity in the 1970s.
Today when you visit Seoul, you will find this cheap snack food with prices starting at 2,000 won (about $1.75). Photo below shows our favorite topokki stall located in Myeong-dong. This gentleman and his family have been setting up this huge tent for over 20 years. His topokki with fish cakes had tastier sauce; even the locals agreed.
3. Korean grilled meat (bulgogi) on skewers
4. Odeng or fish cakes
Odeng is one of my favorite Korean street foods. They are fish cakes on sticks boiled in broth. I prefer eating it without the broth.
5. Korean hot dogs
Korean hot dogs are sold on sticks. They come in many variations. A stick of hot dogs may consist of corn dogs, fried hot dogs, regular hot dogs or hot dogs covered with french fries.
6. Dried Squids and Octopus
The dried squids sold in Seoul are similar to those found in China, Singapore and Malaysia. They tasted similar as well.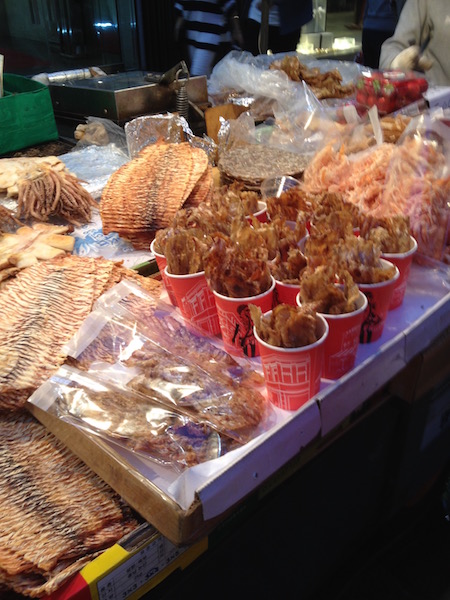 7. Egg bread
The egg bread or gyeran ppang is a unique Korean dessert. On top of a waffle like bread is a whole egg with the egg yolk slightly undercooked.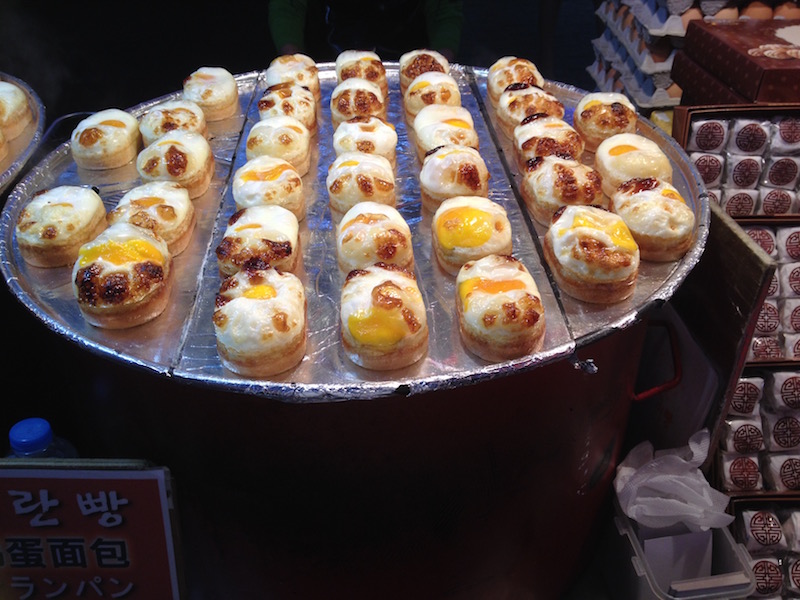 8. Hotteok
Hotteok or sweet pancakes filled with brown sugar and nuts.
9. Bungeoppang ice cream
Bungeoppang ice cream seems to be really popular in Seoul. They are fish-shaped waffles filled with ice cream.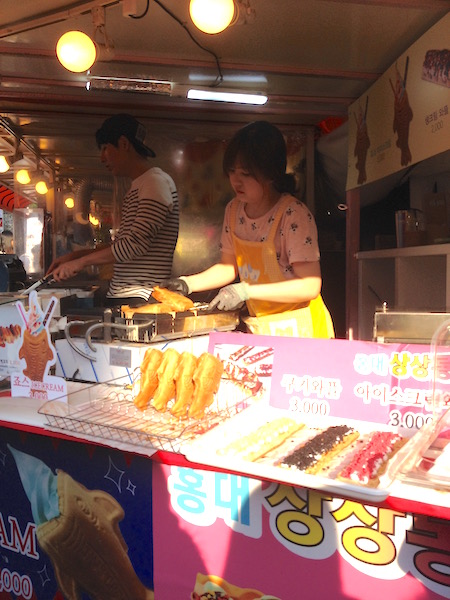 10. Twigim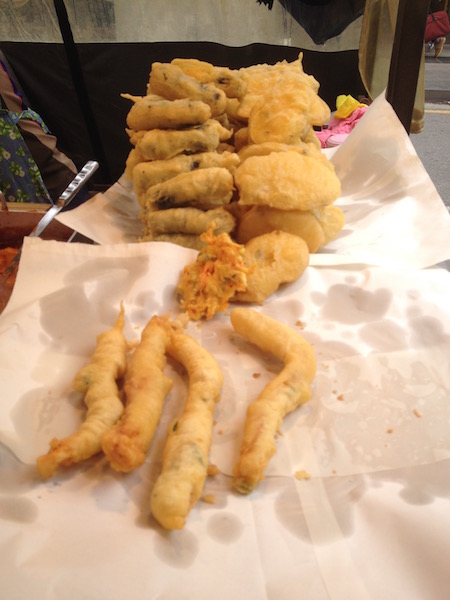 Twigim are deep fried Korean vegetables just like Japanese tempuras.
11. Cup Chicken
This is actually pop corn chicken fried with Korean spices served in paper cups. The mayo-like dressing added a new dimension to the taste of an otherwise regular fried pop corn chicken.
12. Korean tube ice cream
These were so popular that I had to wait for 10 minutes to get one just like everyone else.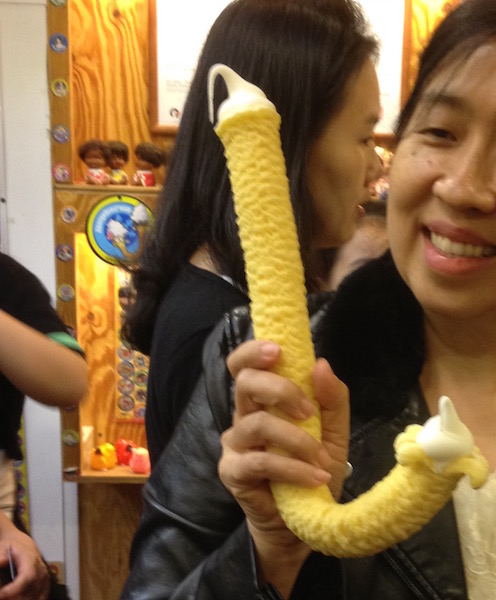 13. 12.5-inch (32 cm) soft ice cream
The longest soft ice cream I've ever seen.
14. Choco pies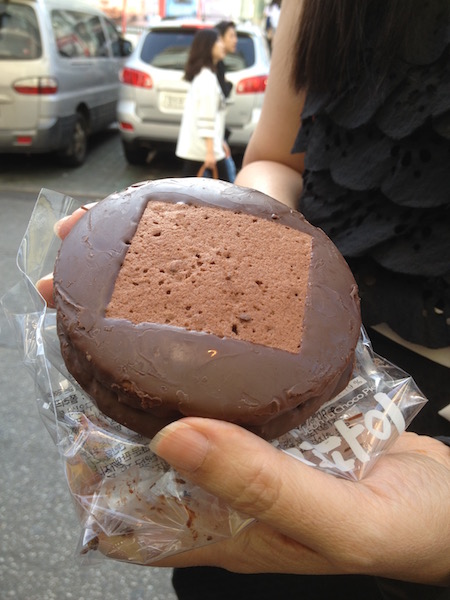 Koreans love their choco pies. This fresh choco pies sold in Hongdae tasted like the alfajores in Argentina and Uruguay.
15. Jjinppang mandu
Jjinppang mandu is the same as the Chinese steam buns.
Have you been to Seoul? What's your favorite street food? Let us know.