Hidden underground, in the heart of Moscow, are historical and architectural treasures of Russia. These are Soviet-era creations – the metro stations of Moscow.
Our guide Maria introduced these elaborate metro stations as "the palaces for the people." Built between 1937 and 1955, each station holds its own history and stories. Stalin had the idea of building beautiful underground spaces that the masses could enjoy. They would look like museums, art centers, concert halls, palaces and churches. Each would have a different theme. None would be alike.
The two-hour private tour was with a former Intourist tour guide named Maria. Maria lived in Moscow all her life and through the communist era of 60s to 90s. She has been a tour guide for more than 30 years. Being in her 60s, she moved rather quickly for her age. We traveled and crammed with Maria and other Muscovites on the metro to visit 10 different metro stations.
To Maria, every street, metro and building told a story. I couldn't keep up with her stories. I don't remember most of what she said because I was just thrilled being in Moscow.  Added to that, she spilled out so many Russian words and names, which to one who can't read Cyrillic, sounded so foreign and could be easily forgotten.
The metro tour was the first part of our all day tour of Moscow with Maria. Here are the stations we visited:
1. Komsomolskaya Metro Station is the most beautiful of them all. Painted yellow and decorated with chandeliers, gold leaves and semi precious stones, the station looks like a stately museum. And possibly decorated like a palace. I saw Komsomolskaya first, before the rest of the stations upon arrival in Moscow by train from St. Petersburg.
2. Revolution Square Metro Station (Ploshchad Revolyutsii) has marble arches and 72 bronze sculptures designed by Alexey Dushkin. The marble arches are flanked by the bronze sculptures. If you look closely you will see passersby touching the bronze dog's nose. Legend has it that good luck comes to those who touch the dog's nose.
3. Arbatskaya Metro Station served as a shelter during the Soviet-era. It is one of the largest and the deepest metro stations in Moscow.
4. Biblioteka Imeni Lenina Metro Station was built in 1935 and named after the Russian State Library. It is located near the library and has a big mosaic portrait of Lenin and yellow ceramic tiles on the track walls.
5. Kievskaya Metro Station was one of the first to be completed in Moscow. Named after the capital city of Ukraine by Kiev-born, Nikita Khruschev, Stalin's successor.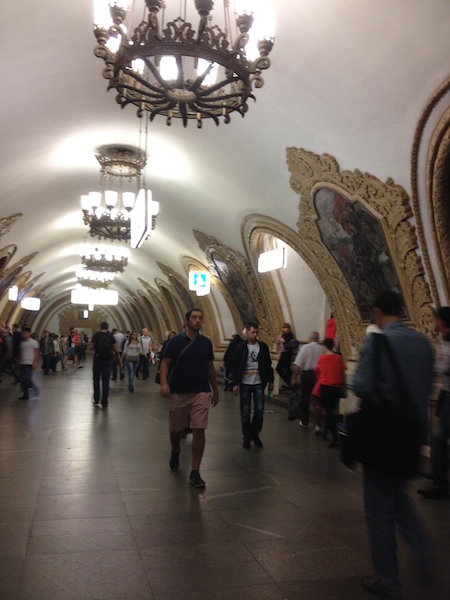 6. Novoslobodskaya Metro Station was built in 1952. It has 32 stained glass murals with brass borders.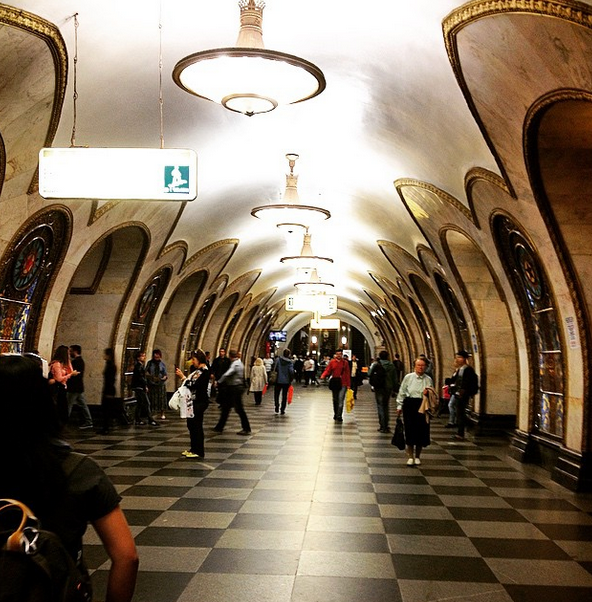 7. Kurskaya Metro Station was one of the first few to be built in Moscow in 1938. It has ceiling panels and artwork showing Soviet leadership, Soviet lifestyle and political power. It has a dome with patriotic slogans decorated with red stars representing the Soviet's World War II Hall of Fame. Kurskaya Metro Station is a must-visit station in Moscow.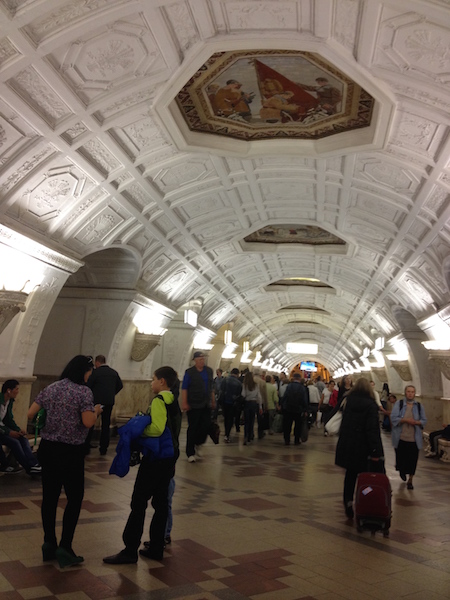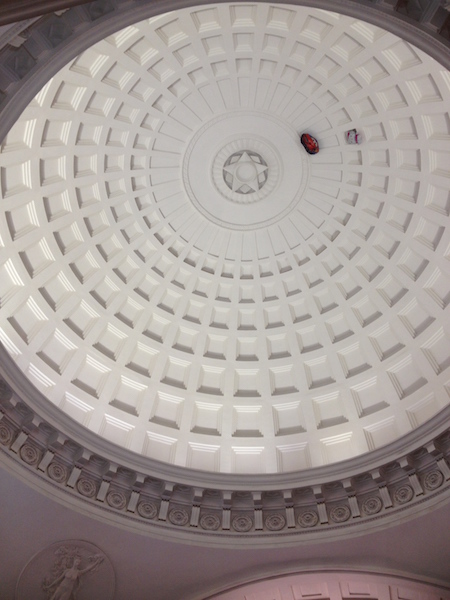 8. Mayakovskaya Metro Station built in 1938. It was named after Russian poet Vladmir Mayakovsky. This is one of the most beautiful metro stations in the world with 34 mosaics painted by Alexander Deyneka.
9. Belorusskaya Metro Station is named after the people of Belarus. In the picture below, there are statues of 3 members of the Partisan Resistance in Belarus during World War II. The statues were sculpted by Sergei Orlov, S. Rabinovich and I. Slonim.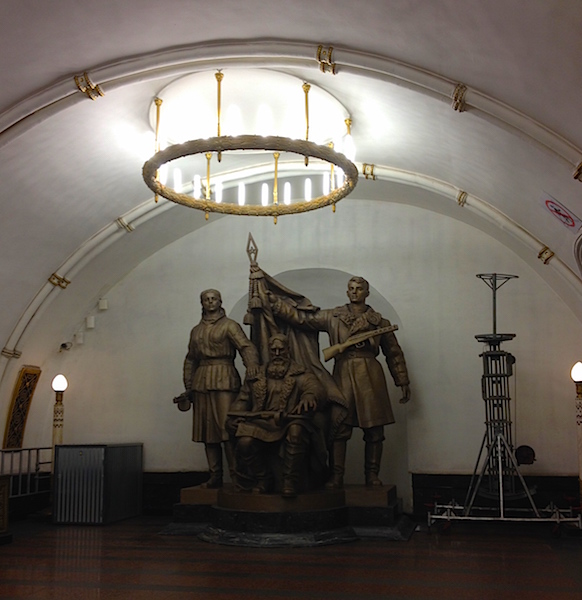 10. Teatralnaya Metro Station (Theatre Metro Station) is located near the Bolshoi Theatre.
Have you visited the Moscow Metro? Leave your comment below.