This was the last leg of our Trans Mongolian journey. We traveled from Moscow to Irkutsk, Irkutsk to Ulaan Bataar and Ulaan Bataar to Beijing. The total journey crossed over six time zones and a distance of around 4,735 miles.
We started from the megacity of Moscow in Europe through cities in east Russia, Ural Mountains to the Siberian villages, steppe land of southern Siberia and northern Mongolia, the Gobi Desert, northern China including the Great Wall on to Beijing.
Many are confused with Trans Mongolian and Trans Siberian Railways. The Trans Mongolian refers to trains that travel from Moscow to Beijing  (westbound and eastbound). The Trans Siberian refers to trains that go from Moscow to Vladivostok Russia and the opposite direction. There's another not so popular route called Trans Manchuria traveling from Moscow to Manchuria.
Regardless of which route you are taking, all long distance trains travel from Moscow with a stop at Irkutsk and vice versa. To be precise whether you are going to Vladivostok or Beijing, the trains 'split' in Ulan Ude. So you can potentially take any train that travels between Moscow and Irkutsk and connect with an available train to either Ulaan Bataar or Vladivostok in Irkutsk. Unless you are not stopping in any city and your intention is to take the six-day journey from Moscow to Beijing. Or the entire trip from Moscow to Vladivostok without stopovers.
There are daily trains between Moscow and Irkutsk. Only one on Tuesdays (night) will take you from Moscow to Beijing without the need to change trains. Train 4 from Moscow to Beijing and train 3 from Beijing to Moscow.
We took train number 80 from Moscow to Irkutsk. Train number 80 was heading to Manchuria. That would be the train to take if you were not breaking your journey and heading to Manchuria. We had a two night stay in Listyanka and picked up another train, train number 362 from Irkutsk to Ulaan Bataar.
Daily trains are available westbound and eastbound between Irkutsk and Ulaan Bataar. There are only two trains per week between Ulaan Bataar and Beijing. This article is about the Ulaan Bataar and Beijing part of the journey.
For Moscow to Irkutsk please read Part 1
For Irkutsk to Ulaan Bataar please read Part 2
The train from Ulaan Bataar and Beijing
This time we were on a Mongolian train number 24 heading for Beijing China, where all train attendants were Mongolians. The set up for our four-berth second-class cabin was the same as the Russian trains but the windows were closed making it impossible to get fresh air from outside.
The Mongolian samovar (hot water) tank was different. It looked more like a water cooler except you get only hot water. Mongolian trains have one extra room with a sink for washing utensils located next to the attendants' cabin.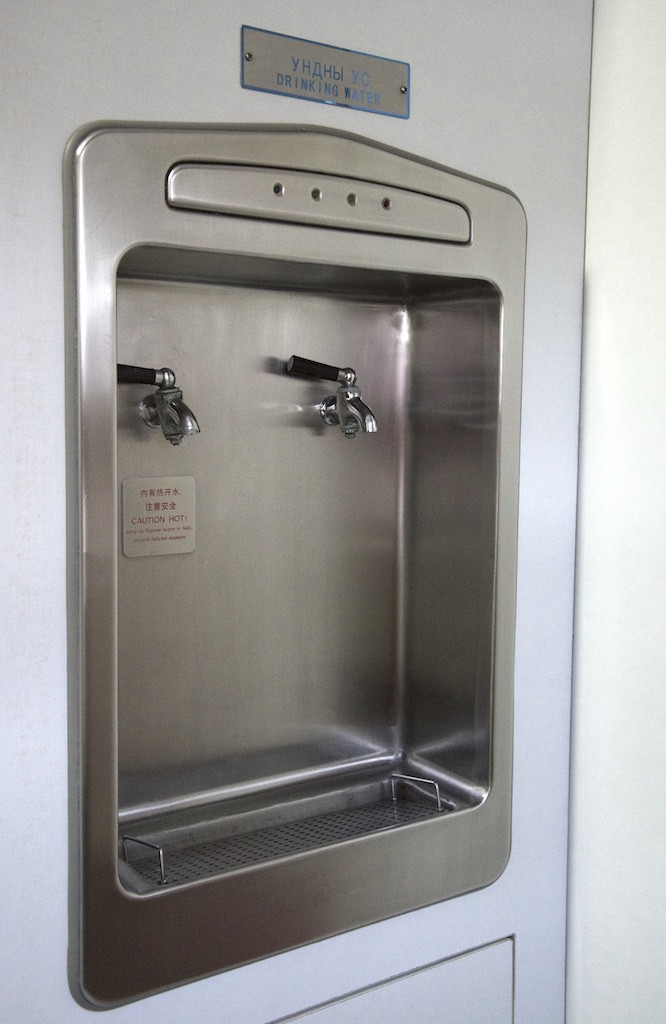 Our journey started at 7:15 am to the sound of music from a group of uniformed men and women on the platform next to the train. It looked like they were sending someone off. The majority of passengers in our car were Mongolians carrying boxes of instant noodles along with their bags of various sizes.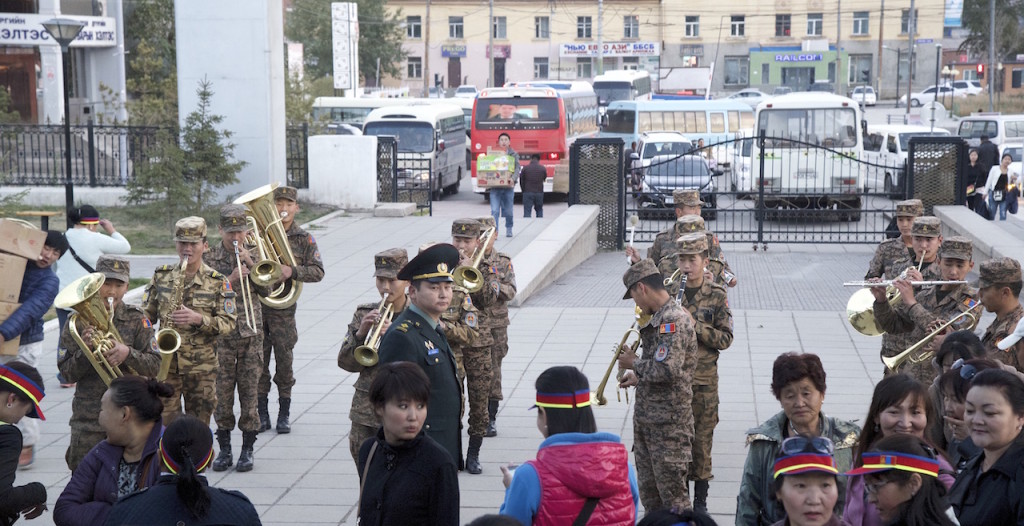 The scenery outside in Mongolia
Most of my photos didn't turn out good on this part of the journey. It was either raining or the sun was shining through and the reflection on the window made it difficult to have a good shot of the steppe land and yellow Gobi desert.
One of my favorite things about this part of the journey was to see how the train curved through the Gobi desert.
Food
Prior to boarding the train our tour leader said we were going to have a great treat on this train because the Chinese dining cars are known to serve cheaper and tastier food. And he said the 'Chinese ladies' would go from car to car with their pushcarts filled with hot food.
We asked and waited and none of these 'Chinese ladies' came. Finally we walked to an empty dining car and realized it was a Mongolian train with Mongolian dining car and attendants. Breakfast per person was $14.88 (in US Dollars).
Thankfully, we had a few cup noodles purchased in Ulaan Bataar. We didn't check if they changed the dining car after crossing the border late in the evening.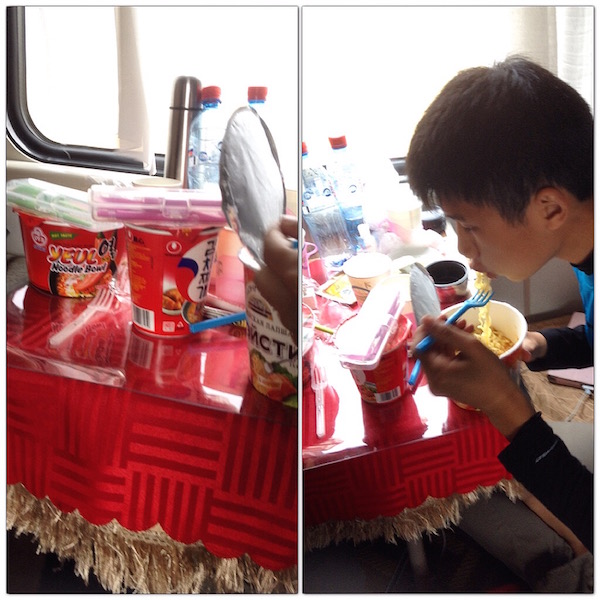 Border crossing
By sunset we arrived at Erlian, the point of entry to China. Border crossing was relatively easy without the need to get out from the train. The uniformed officers came to the cabin and were not intimidating. Then the "ordeal" began as the train rolled into gauge-changing station – where we waited inside our cabin for almost five hours. And with the toilets locked. The wait was long but necessary and inconvenient for passengers who remained in the train and needed to use the toilet.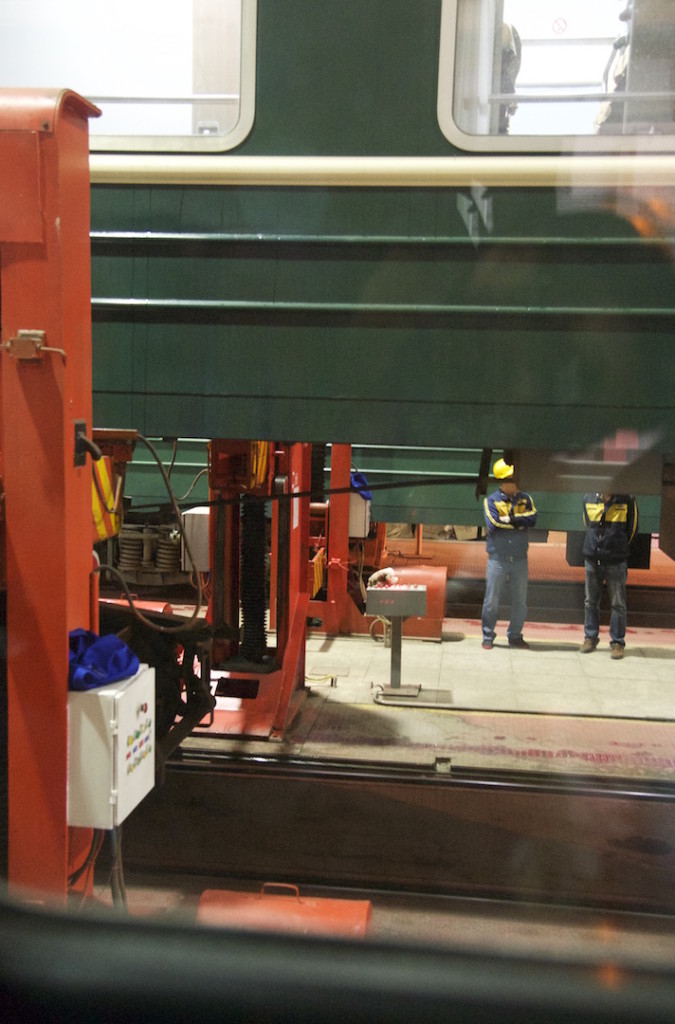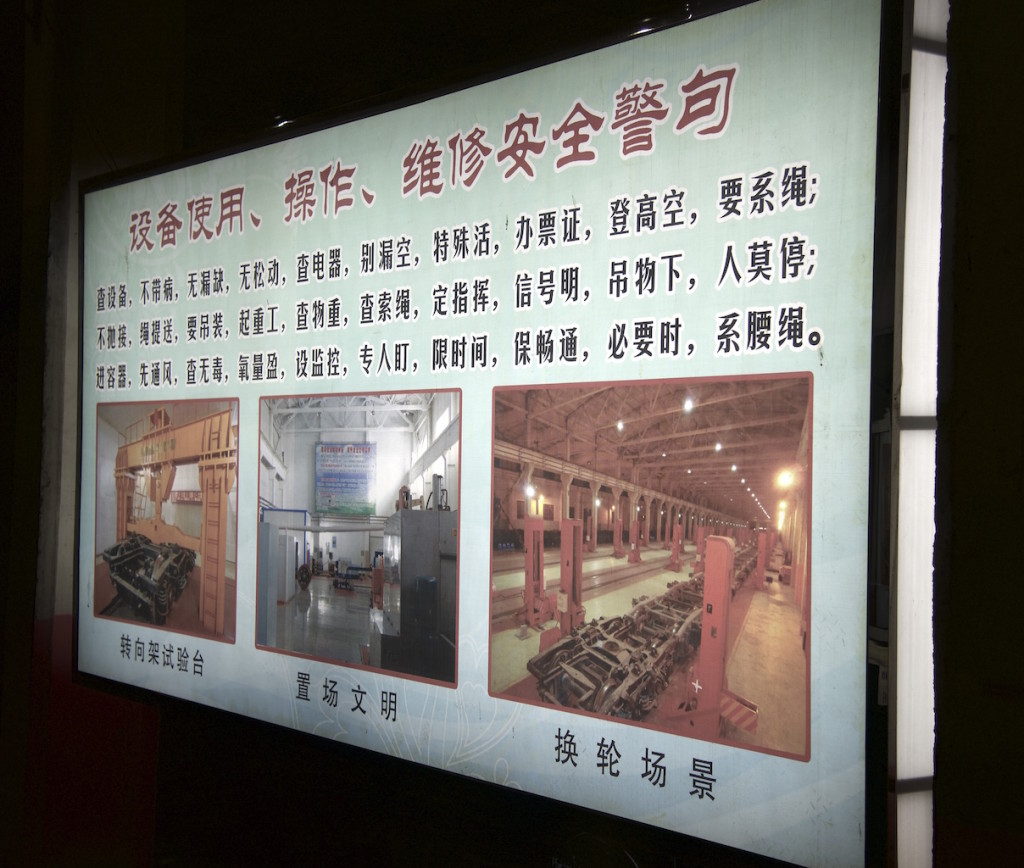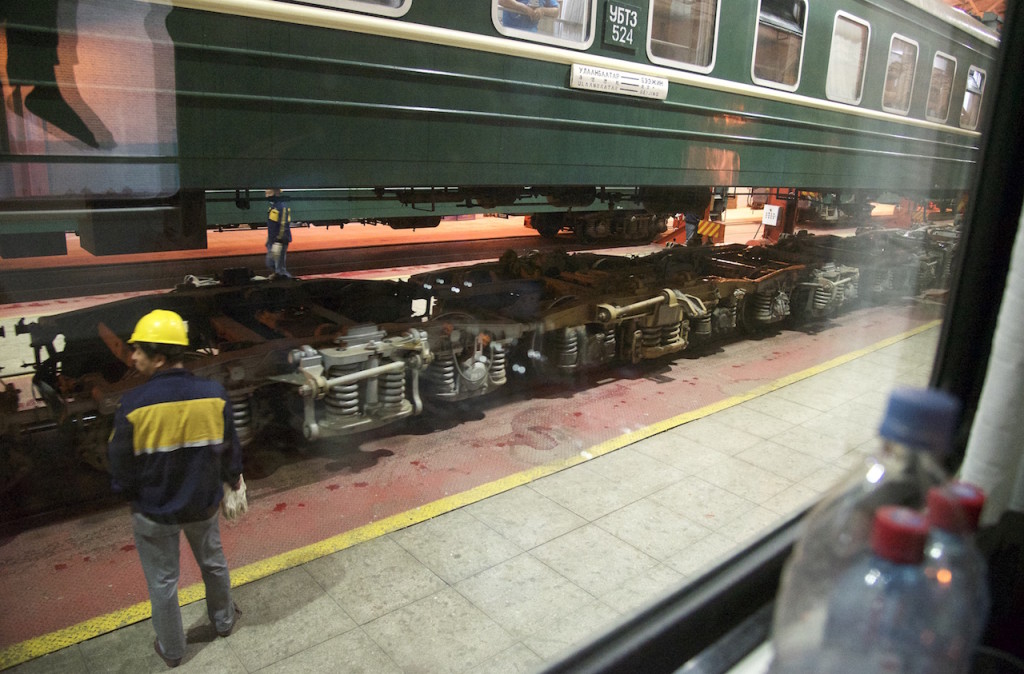 I watched as Chinese workers separated and raised each car. They removed each of the bogies and changed them to the Chinese bogies. Apparently the Russian bogies are bigger than those used in China. The only way for trains to travel between China, Mongolia and Russia is to go through this banging, shuffling and changing processes.
Welcome to China
Northern China's scenery was different from Mongolia. There were more greens, mountains, and fields with crops and trees.
Thoughts on the Trans Mongolian journey
Our 29 hour journey from Ulaan Bataar to Beijing came to an end at Beijing Railway Station at 11:40 am. The total journey on the Trans Mongolian was over 100 hours. Despite the long wait at the Russia/Mongolia and Mongolia/China borders, our Trans Mongolian journey was truly a successful trip and one that our family would laugh and share for many years. It's a story that would pass on to the next generation – somewhat a legacy my husband and I are leaving to our children.
Taking this trip was not easy. It required us to rearrange our initial around the world tour itinerary. Instead of spending more time in Europe we opted for a journey that took us through Europe and Asia.
We had to apply for Russian and Chinese tourist visas and coordinate the Russian visa application dates with the Chinese visa application because the Chinese visa expiration date starts on the day it is issued (I think this has recently changed). Our intention was to stay in China for two months. If the visa was valid for 90 days it would expire 90 days after application was approved.
Applying for Russian and Chinese visas were not simple. Both visas cost almost $1,500 for a family of four.
Would I recommend?
There is a reason why the Trans Mongolian and Trans Siberian journeys are known as one of the most "memorable journeys on earth" and one of the "last great travel adventures in the world!"
Personally, I had worked with a gentleman in Auckland New Zealand who was the authority of China and the Soviet Union travels in the late 1980s and right before the fall of communism and USSR. He told many stories of his journeys across the "closed" China and USSR. He also led two Trans Mongolian train journeys per year from Beijing to Moscow for adventure travelers from Australia and New Zealand.
After hearing all those stories from him and my clients, I made it my personal mission to take that journey. I had the privilege to drag my husband and kids along. Truly a great experience despite days of eating instant noodles and not showering.
I recommend this journey if it is at the top of your travel bucket list and you don't mind going through the process of getting the Russian and Chinese visas. Americans don't need to apply for a Mongolian visa. You may have to if you are not an American. Check with the Mongolian embassy. This trip is not for you if you like comfort and conveniences. Because you may not get that on the second-class Trans Siberian and Trans Mongolian trains. There is always an option to travel luxuriously and it usually costs around $15,000 per person not including airfare, pre and post travel arrangements.