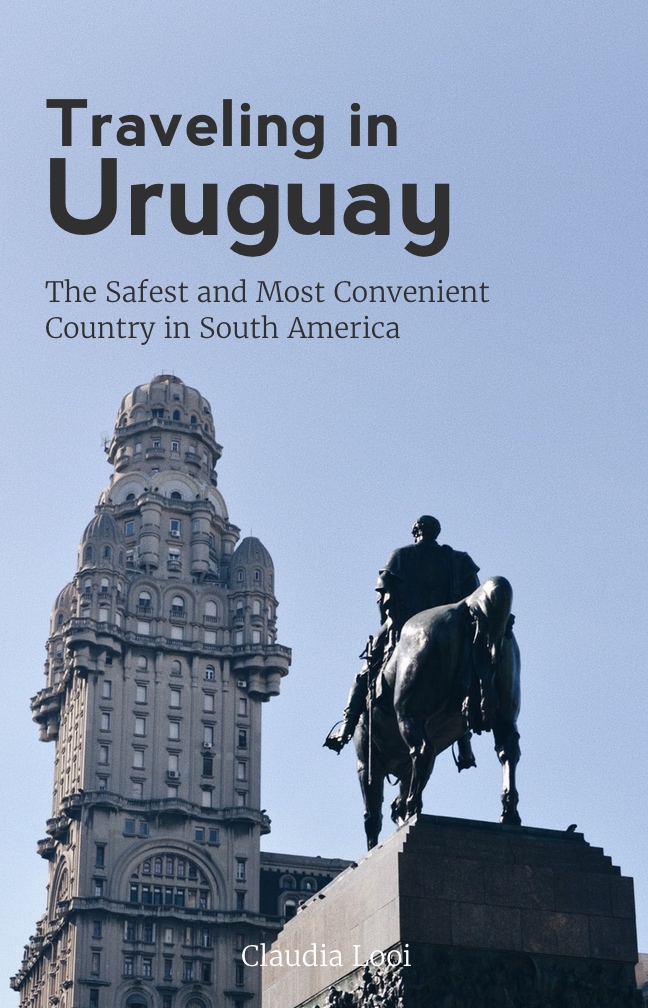 Here is an excerpt of the first few chapters of my newly updated eBook - Traveling in Uruguay: The Safest and Most Convenient  Country in South America [Second Edition].
NOTE: The eBook is available FREE for just 2 days - June 8-10
Introduction
Most people take day trips to Uruguay from Argentina or Brazil. We did the opposite. We stayed in Uruguay for two months and enjoyed short trips to Buenos Aires. We were delighted to realize that Uruguay has it all. It is a country with a rich history, amazing architecture, soulful music, Gauchos and fertile agricultural land, unspoiled beaches, and amazing city parks. From the one-of-a-kind promenades and sandy stretches known as La Rambla, to the world class orchestra and live performances, one would never be without entertainment.
Whether you are looking for delicious beef just like the Argentinian, or Italian pasta and meat filled sandwiches, Tannat wine, or tango dance clubs, Uruguay has a friendly and safe option for everyone. Since no tourist visa is required for Americans for a stay of up to 90 days, there is plenty of time to explore all that the country has to offer.
Uruguay is the second smallest country in South America with an area of 68,037 square miles (176,215 square kilometers). Since it shares its borders with Brazil in the northeast and Argentina in the west, it is easy to travel throughout the three countries. For centuries, both Brazilians and Argentines alike have held second homes in Uruguay's cities like Colonia de Sacramento and Punta del Este. It is only one hour by ferry from Colonia del Sacramento to get to Buenos Aires, and it is a 10 hours drive from Montevideo to Porto Alegre, the capital city of Rio Grande do Sul Brazil.
With mild winters and summers, even the moderate weather makes Uruguay a desirable destination. Summer is from December to March, with January being the hottest month, sometimes exceeding 30 degrees Celsius. Since their warmest weather lands during the coldest months found in the northern hemisphere, it lends itself to migrating snowbirds looking for a relaxing culture experience.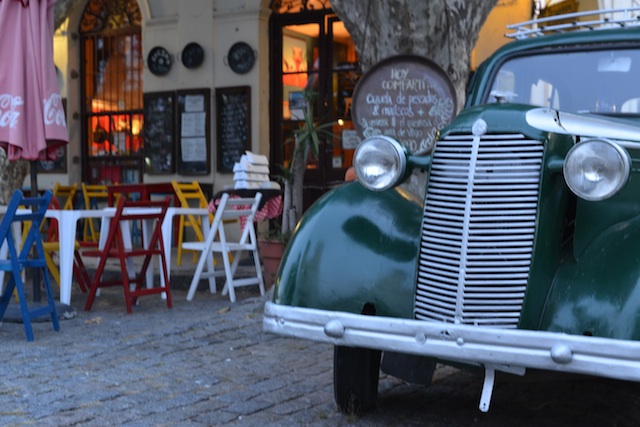 With it's cobbled streets and old-world style of grand and faded buildings that resemble parts of Europe, Uruguay's capital Montevideo is home to 1.3 million of the total 3.4 million people who live in Uruguay. We found the people to be laid-back, considerate, helpful, and friendly. It was the only country in South America where we felt comfortable to allow our 18 and 15 year old to travel about freely using public transport.
The Mate Culture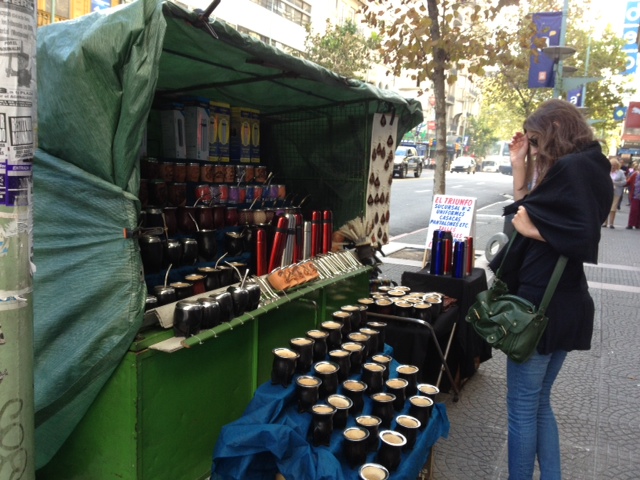 Before you visit Uruguay, you must know about "mate" and the "mate culture."
"Tomar mate" literally means, "to take mate". When you hear that, it means, "to drink mate." Mate is a type of hot tea, found throughout Uruguay and Argentina.
I didn't know the extent of the mate obsession in Uruguay until I walked the streets of Montevideo. Young and old alike walk with a thermos clutched in their left arm, and the right hand with a gourd-looking cup (mate cup) with green leaves floating on top, and a metal straw called bombilla sticking out from the cup.
The traditional mate cups are made of gourds. These days you can find a variety of mate cups. Mate is the drink and yerba is the tea leaf.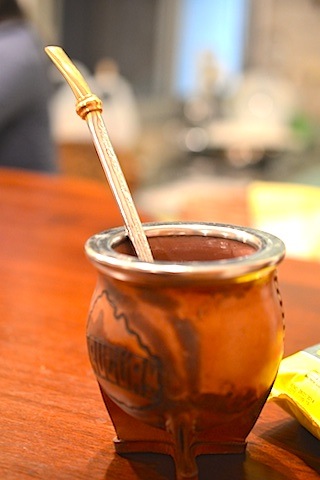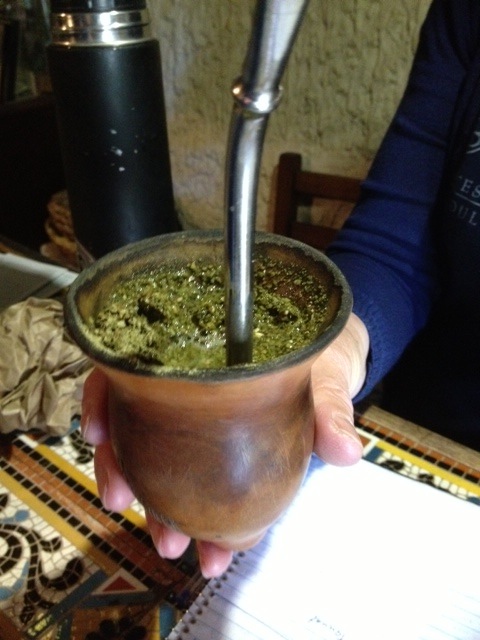 Emeric Essex Vidal on 1820 said:
Mate is in use in every house all day long, and the complement of the country is to hand the mate-cup to every visitor; the same cup and tube serving for all, and an attendant being kept in waiting to replenish for each person.
Throughout the provinces, the weary traveller, let him stop at what hovel soever he may, is sure to be presented with the hospitable mate-cup, which, unless his prejudices are very strong indeed, will be found a great refreshment.
You can find Uruguayans holding mate cups and thermoses while riding the bus, sitting with friends in the park, dating by the beach or just walking down the streets. Some hold leather bags with all sorts of designs and colors to carry the thermoses.
Men and women share their drink from one mate cup. It is done at work, at home and everywhere. We saw custom officers sharing mate in the immigration and custom office, friends and couples sharing at the stores while shopping, and among tour bus drivers. I saw a child drinking his mate by a school while waiting for his ride home after school.
Mate cups and thermoses are sold in supermarkets, souvenir stores, and street markets.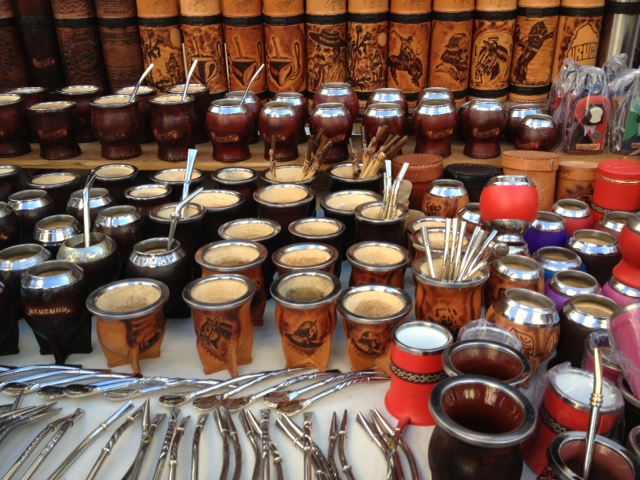 Argentinians and Uruguayans take their mate very seriously. A mate cup is passed around among friends, at home between siblings, and even through the generations from grandparents to parents. Even bus drivers may have their "mate bag" beside their driver's seat. According to Cristobal our tour guide, Spanish speakingthe person who makes the mate takes the first sip. The first cup is usually unpleasant since it is filled with sediments and is called "fool's mate." With each "round" of mate, the taste improves because the sediments have settled. All in all the "mate culture" encapsulates an essential part of the country's culture.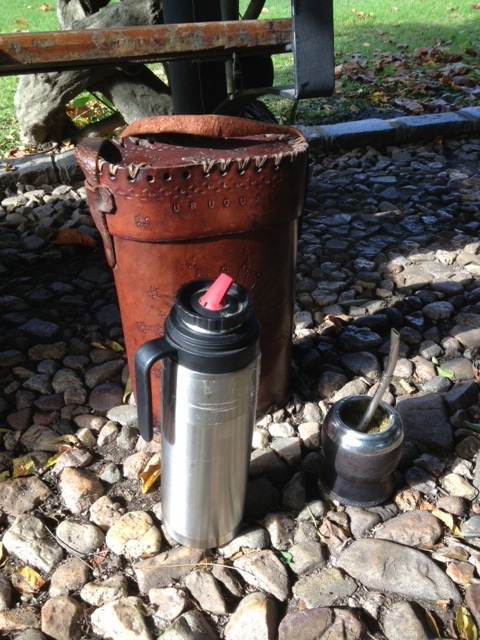 Spanish Language School
We enrolled our daughter for three months of one-on-one distance learning Spanish classes (through Skype) with Academia Uruguay a few months before we left for Uruguay. This method of learning helped her to understand the difference between Argentina/Uruguay SpSpanish-speaking countries in South America. Before we left, Bethany had established a familiar student-teacher relationship with Maria Jose, one of the teachers at Academia Uruguay.
Having built a relationship with the teacher and school administrator gave us an advantage when we arrived at the school in Montevideo. It was as if we already knew them. They offered great tips about living in Montevideo and traveling around Uruguay.
Learning Spanish is expensive in Uruguay if you were to compare the prices of Spanish courses in Ecuador, Peru, and Bolivia. We paid $27 per hour for a one-on-one distance learning lesson. It was slightly cheaper at the physical school in Montevideo's old town (Ciudad Vieja) when we enrolled our two kids.
The kids were happy. They enjoyed learning and joining the extracurricular activities organized by the school twice a week. They visited several museums, went on a walking tour, joined a historical tour in Ciudad Vieja (Old Town), watch a soccer game at the Centennial Stadium, participated and watched musical performances and visited Punta Ballena Alfajor factory.
It's a great avenue to connect with locals who know their city and to enjoy activities that you may never get to if you are not connected with the locals. The activities are conducted in Spanish, which gives students more reasons to use their newfound skills in the language.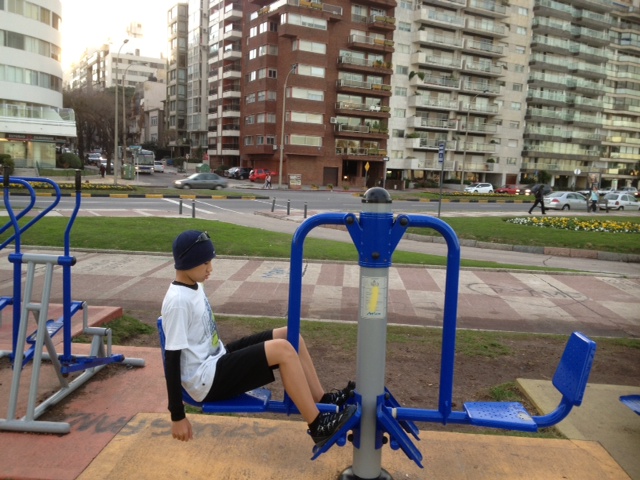 My then 15-year-old son was having a great time learning with guys from Australia, Netherlands, Belgium, and Sweden in their 20s and 30s. In the class, they were encouraged to share about things they did after Spanish class the day before. Jonathan's classmates were talking about beer, pubs and their night entertainment. To a 15-year-old it was like…whatever! He was more interested in helping himself with the snacks and getting through the four-hour Spanish class each day, five times a week. He even witnessed one of his classmates, an Australian guy proposed to his girlfriend in the Spanish class.
The Academia Uruguay teachers are qualified professionals. Students are required to take a level assessment test before class. Followed by a brief interview to evaluate their listening comprehension and oral expression levels.
Morning session starts at 9:30 a.m. and afternoon session at 2 p.m. Group lessons are four hours long, and individual lessons are three hours. Each day, students are given homework to complete.
Academia Uruguay also provides an opportunity to incorporate Spanish classes with volunteer work. The school organizes these volunteering opportunities for free for students who attend at least three weeks of Spanish classes. Volunteering programs usually last for four weeks. These volunteer work are not acts of charity, rather for the sole purpose of improving the students conversational Spanish and experience cultural immersion with the locals.
The school provides different options for accommodation for students - hostel, homestay, apartment rental, hotels or shared apartments. You must pay your rent in advance to Academia Uruguay.
One of the great advantages of learning at Academia Uruguay is their partnership with two other schools in Argentina. Academia Buenos Aires and Academia Bariloche have similar programs and materials. Students can continue at the same level at either of these schools. It is more expensive to learn Spanish in Montevideo compared to Bariloche and Buenos Aires.
I highly recommend Academia Uruguay if you plan to take Spanish lessons in Uruguay.
Note: If you are taking the bus to Academia Uruguay, you can stop at Plaza Independencia.
School location: Calle Juan Carlos Gomez 1408, Cp 11000 Montevideo.
Tel 00598 2 915 24 96, Open from 9 a.m. to 6 p.m.
Website: http://www.academiauruguay.com/
Banking and Money Exchange
Did you know that you could withdraw US Dollars at Uruguay's ATM machines? You can withdraw US$300 from any of the ATM machines each day.
Banks in Montevideo are open from 1 to 5 p.m. and most ATM machines are open 24 hours. BANRED and REDBROU are two of the networks of ATM machines in Montevideo. It depends on the type of debit card or credit card you used. Some may limit you to US$500 or US$1,000 per day. We had no problems at all with REDBROU. REDBROU belongs to Banco Republica.
ATM machines are located throughout Montevideo including the Pocitos neighborhood and in shopping malls like Punta Carretas Mall and Montevideo Shopping Mall.
If you are withdrawing in Uruguayan pesos, you will only receive 1000 pesos notes (maximum 5,000 pesos). This is quite inconvenient because your bus driver will not take the 1000 pesos (about $36). The good news is you can change your 1000 pesos with the bank teller.
Not all foreign debit cards will work in Uruguayan ATMs.
Money exchange places are called casas de cambio. You must bring your passport to exchange money because photo ID are required (not all the time we discovered).
Interestingly there was always a long line at the ATMs in Colonia del Sacramento, a town close to Buenos Aires. We were told Argentinian cross over by ferry to Colonia to get US dollars from the ATM machines. So, if you are visiting Colonia, you are better off if you get your cash in Montevideo before taking your trip. It saves you time.
TO SAVE MONEY ON OVERSEAS TRANSACTION FEES: We use Schwab Bank debit card. Schwab Bank will return all transaction fees back to your account. So it is free to use it for withdrawing money.
Buses, Taxi, and Remises in Montevideo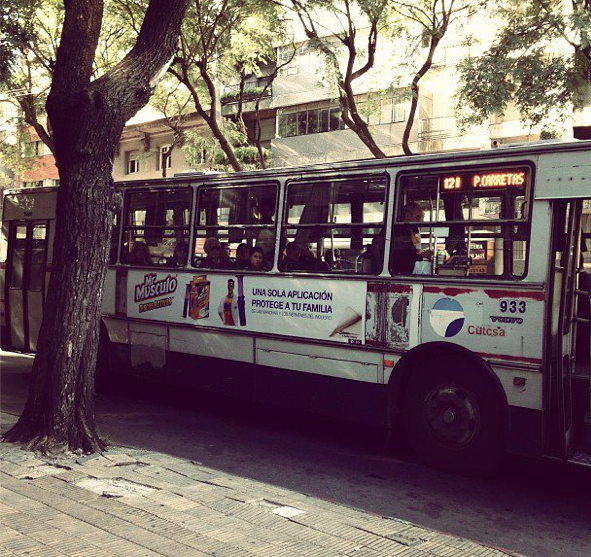 Public bus
A single trip is 20 pesos. The single bus ticket is called comun. You can purchase 1 hora (1 hour) or 2 horas (2 hours) tickets. To cut through all confusion, just pay 20 pesos when you take the public bus and you should be fine traveling anywhere in the city.
A centrico ticket costs 13 pesos and you can travel within the Magallanes area from Ciudad Vieja. The differential costs 30 pesos and it has fewer stops and of course, it is faster.
Cab
Tipping of 5-10% of the total bill is expected when you take the cab. All cabs are metered in Montevideo.
Remises
Another type of transportation is called remises. Remises are private transportation companies providing car services around the city, to the airport, bus terminal, Port of Montevideo or anywhere you want to go – long or short distances.
Our second AirBnB apartment in Montevideo was located in Punta Carretas, across the street from the Punta Carretas Mall and on the same street as Remises de las Carretas. This company has 24 hours service 365 days a year.
I prefer the remises. Montevideo's taxis are uncomfortable because there is a barrier "wall" built between passengers and driver, making it tight even for me at 5 feet 3 inches. You get more legroom with the remises.
Location of Remises de las Carretas: Dr Héctor Miranda 2406, 11300 Montevideo.
P.S. Or try getting an Uber car through the Uber app. Their Twitter account is https://twitter.com/uber_uy?lang=en