It's easy to stereotype Bali as the destination for beaches and surf. But Bali as I saw it was more than that. It is filled with temples and festivities, volcanoes and rice fields, and too many delicious foods to savor in a week.
Here are 28 photos I took (mostly with an iPhone) that showcases all the goodies you will see and experience in Bali:
1. The Tirta Empul or Holy Water Temple is where devout Hindus and tourists go for purification. They believe you can release negative energy by immersing yourself and bathing at this pool. You must wear a sarong to visit temples. Sarongs are available at the entrance.
2. The Ulundanu Beratan Temple is located in the mountains of central Bali near Lake Beratan. The temple complex is picturesque and peaceful. It is one of the few places to get away from the intense heat and humidity of Bali.
3. Girls are trained at a young age to balance baskets on their heads. The Galungan festival was in full swing during our visit. These girls were carrying food and sacrificial items to the temple.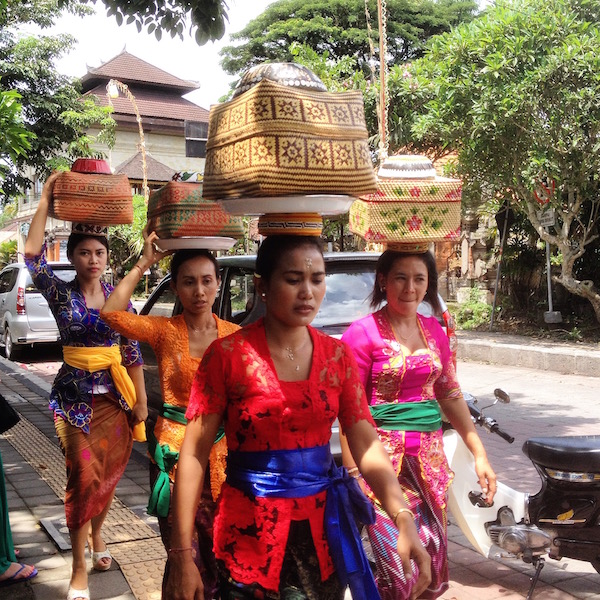 4. I arrived on the day before Penambahan Galungan. On our way from the airport to the apartment in Ubud, I saw men making and putting up penjor in front of houses and shops by the roads or walkways just in front of the buildings. Penjor are made by the man or men of each household and the technique of making penjor has been passed down from generation to generation. Penjor are curved bamboo poles with ornaments and decorations. These ornaments are made of coconut leaves, palm leaves, flowers and other natural products. Our guide, Como said these days for convenience and because of the lack of raw materials, synthetic materials are becoming popular.
5. Penambahan Galungan is a 10-day celebration starting on the 210th day of the year. The Balinese Hindus believe its the time when their deceased ancestors visit the earth. Animals and special offerings are sacrificed during the 10 days period. You'll see little baskets of flowers in front of shops and homes.
6. Walk along the small paths in Ubud's village and rice fields. In Bali each village has at least one temple. During the festivals the ladies in colorful sarongs walk in a row with their baskets either on their heads or on the palms of their left hands. And the men walk empty handed.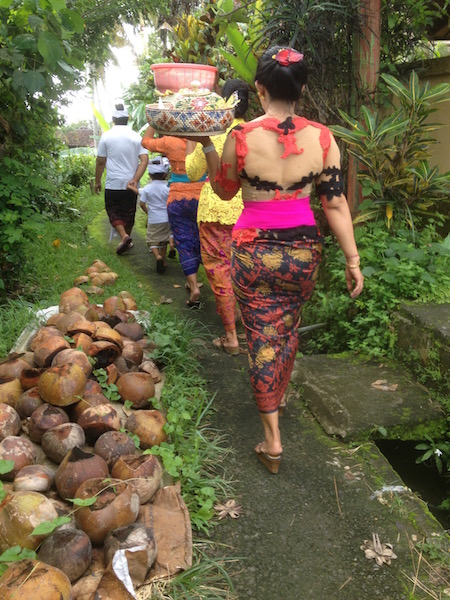 7. Watch a barong dance. The barong is a creature that looks like a lion with a red head, big hypnotic eyes and white teeth. It takes two men to dance the barong. One man holds the lion's head covered with shaggy fur and decorated with jewelry and pieces of mirrors. He is the man in the front who also represents the lion's front legs. And the other man is the body of the lion and represents the hind legs. I saw kids doing the barong dance in Ubud. Barong dance is important for temple ceremonies.
8. Visit Balinese fresh markets or fruit stalls by the road side. This fruit stall was located in front of a home on a quiet street near Lake Beratan. It was about 7 am when I took this photo after watching the sunrise over Gunung Agung.
9. Take a sunrise tour to Kintamani to view the sunrise over Mount Batur, Mount Agung and Lake Beratan. Gunung means mount and danau means lake in Bahasa Indonesian.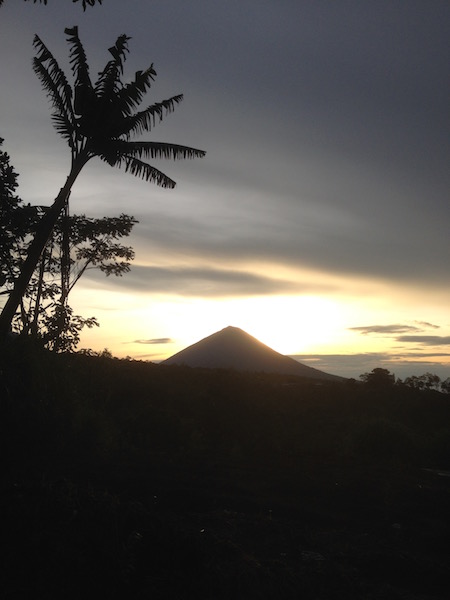 10. Join a touristy Tanah Lot sunset tour. You can read more here. Enjoy the beauty of Bali from sunrise to sunset in different venues.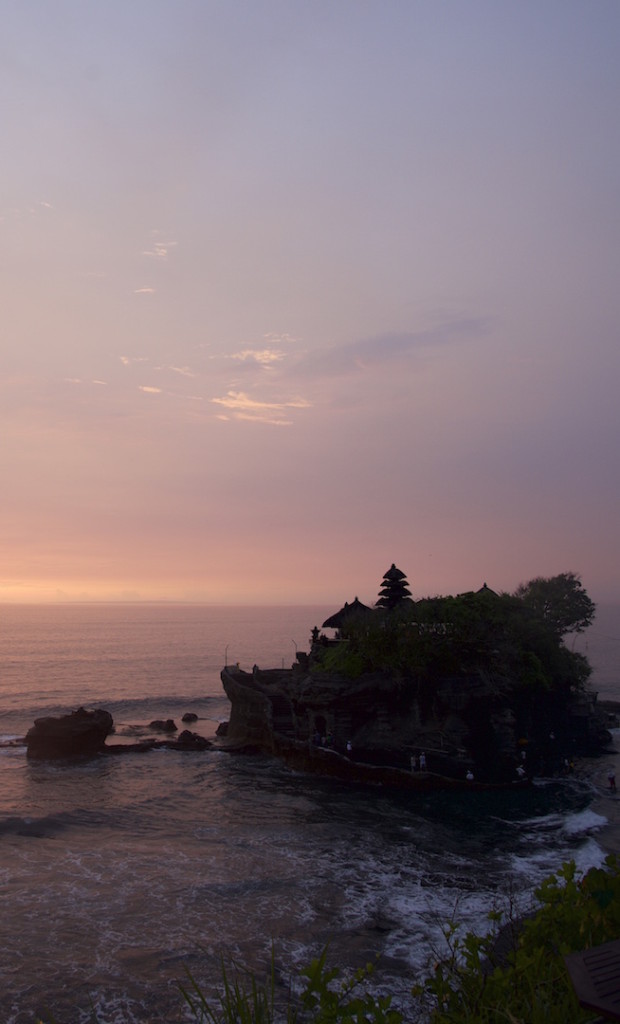 11. Hire a local guide to take you everywhere and visit places that you will never find with your tourist friends or by yourself. We hired Como the entire time we were in Bali. He is young, speaks English and is very involved in his community in Penestanan in Ubud. His email is comoubud@gmail.com. And his car is equipped with Wi-Fi.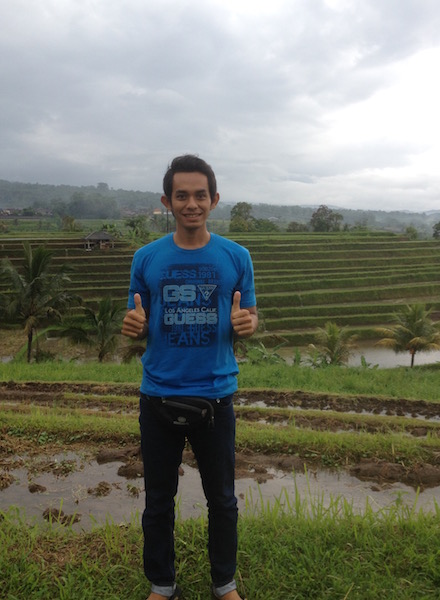 12. People watch or join a festival in Ubud village. We were invited to a family gathering in the temple on the first day of Penambahan Galungan. When visiting a temple, you must wear a sarong. Bali is filled with festivities almost year round. You will find men and women, boys and girls dressed in traditional clothing traveling on motorbikes or assembling in temples and walking on the streets in Ubud.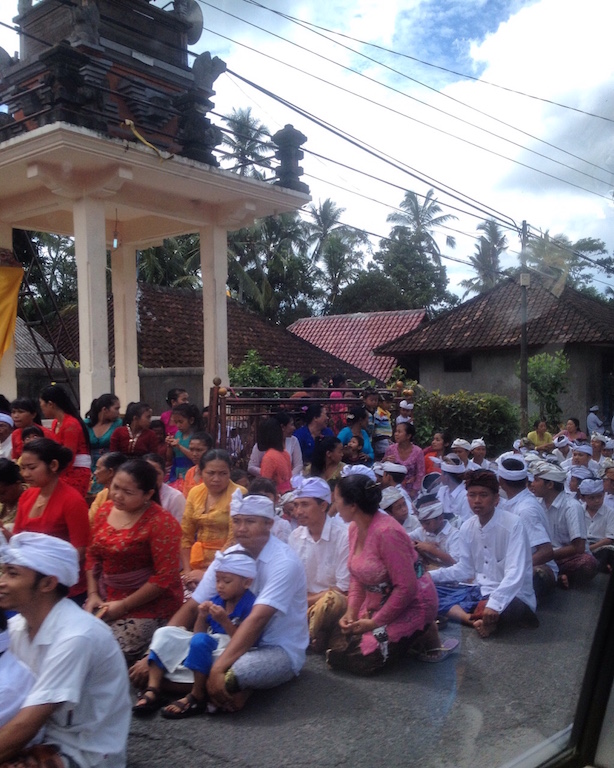 13. Stay in a villa instead of a hotel so you can experience the Balinese culture and be close to the locals. Read more about our villa experience here.
14. Visit a warung for authentic Balinese food. I was a little hesitant to try babi guling at a warung located away from touristy areas. We stopped and chatted with this lady selling babi guling (suckling pig). Flies were circling around the babi guling and cooked foods. For the sake of a conversation and photos, I bought two tiny pieces of pig skin for 50,000 Rupiah (about $4 during my visit). Como, the driver said he could have easily bought it for 20,000 Rupiah. Well, I was a tourist.
15. Eat like locals where shoes are taken off and where you sit on the floor to enjoy the babi guling. Warung is the place to learn the Balinese culture and see how locals eat and socialize.
16. Overall I enjoyed Indonesian's hospitality. Bali is no difference from Java.
17. Rice is Bali's staple food. Almost every meal consists of rice. It is also important in the Balinese culture where rice is used for sacrifice and life is centered around the planting and harvesting of rice. Visit one of the rice fields and rice terraces in Bali. Read more about rice terraces here.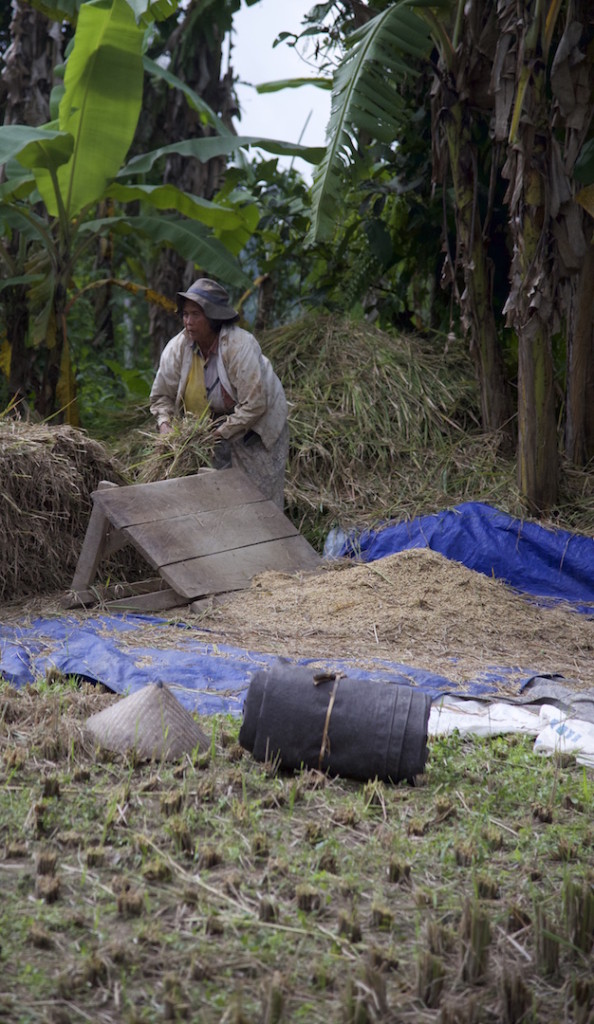 18. Eat nasi goreng. What better way to experience the richness of a rice dish than to try the nasi goreng of Bali. This nasi goreng dish with sate (skewed meat), keropok (prawn crackers) and topped with fried egg is at the Casa Luna Restaurant in Ubud. Casa Luna overlooks the Tjampuhan River and the hills.

19. Nasi campur is my favorite Balinese food. Every nasi campur is different. Nasi campur is served in warung and in high end restaurants. Nasi is rice and campur is mixed in Bahasa Indonesia. So nasi campur (mixed rice) is rice served with a variety of vegetables and meat. Here are two variations:
20. Nasi campur is served on banana leaves at  Warung Lala Lili in Penestanan Kaja. We ate at Warung Lala Lili three times, a eight to 10 minute walk from the villa. Flashlights are needed if you intend to walk in the village's narrow paths. It was fun walking in the dark with a flashlight from the restaurant to the villa.
21. Balinese sate campur are grilled skewered chicken and pork with peanut sauce and white rice. Try it at the Coco Bistro Ubud. You won't find many restaurants in Java selling pork sate because pork is a forbidden meat for Muslims. However, in Bali they eat lots of pork.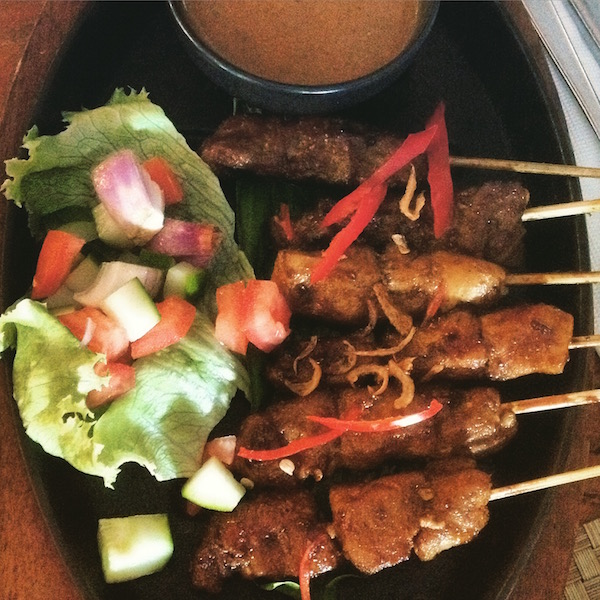 22. Babi guling is a must eat food in Bali if you aren't allergic to pork, you are not a Muslim or a vegan. Babi Guling Ubud is the most well-known restaurant for babi guling. The king of Ubud likes their babi guling so much that they became the "official babi guling" restaurant for the king. The roast suckling pig is serve with crackling roasted pig skin, sausage, vegetables and white rice.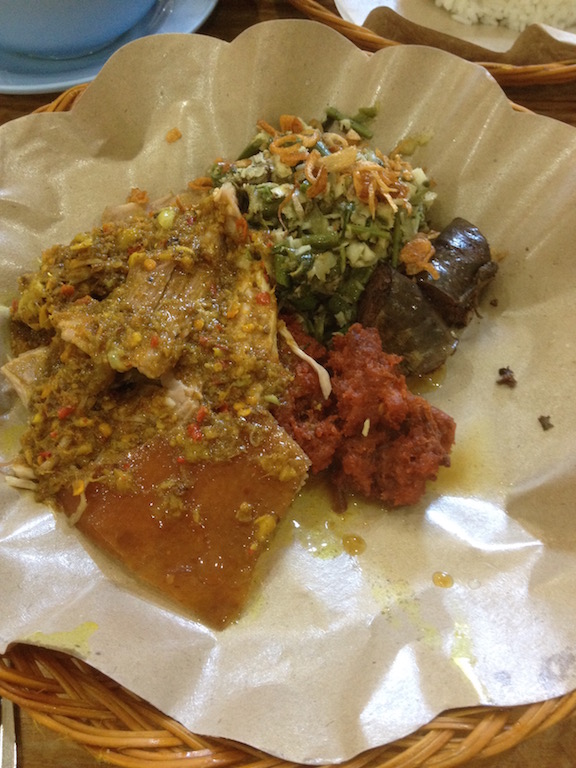 23. Mee goreng or fried noodles is another of my favorite food in Bali. Upon request, Wayan the AirBnB apartment made mee goreng for breakfast.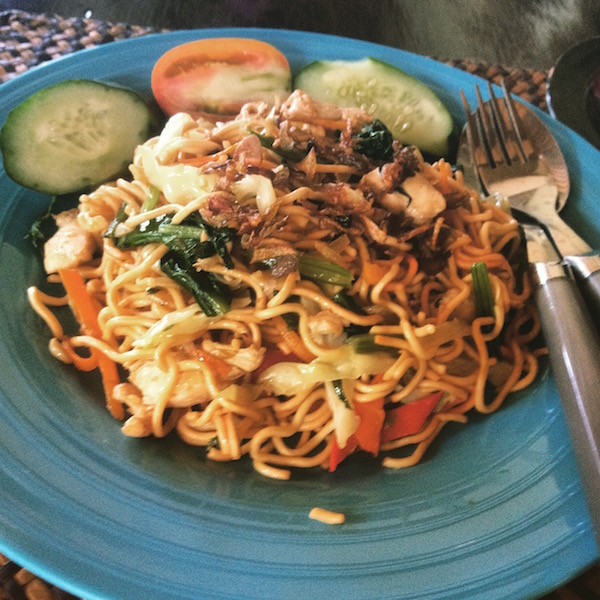 24. When in Bali, drink fresh coconut drink. Enjoy fresh coconut drink and watch the sunset in Tanah Lot or get one while you dine at Babi Guling Ubud.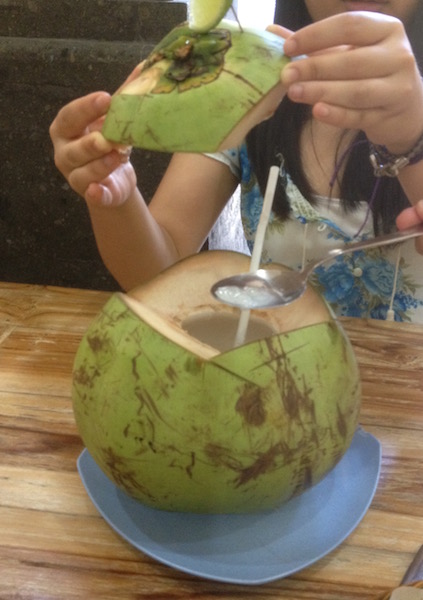 25. Drink local wine. Did you know that Bali produces wine too? I found this Cabernet Sauvignon by Plaga at the Bintang Supermarket in Ubud. It was quite earthy and almost like the tannic red from Uruguay. The winemaker is from Argentina and one of the owners is from Chile.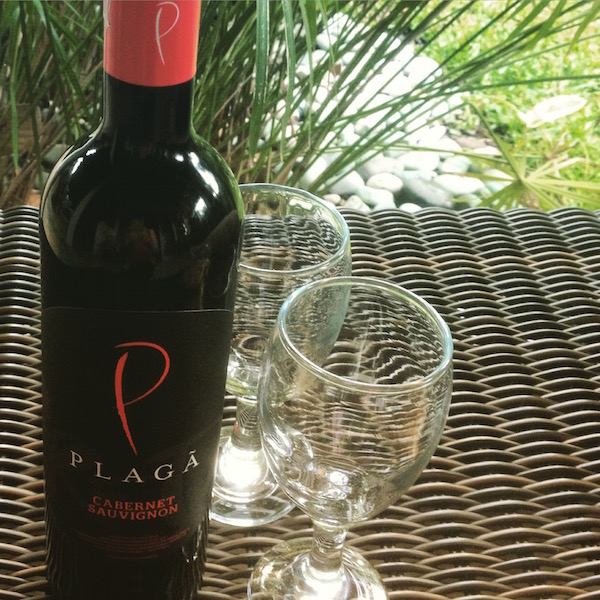 26. Meet the medicine man from Eat Pray Love. I visited Ketut Leyir from Elizabeth Gilbert's Eat Love Pray book and movie. Ketut was having lunch when I visited. Sadly, someone in his family took advantage of his fame and converted his home into a tourist attraction. I was not there for spiritual consultation or healing. You need to take a number and wait for your turn if you intend to get his consultation. Photo taking is permitted upon request.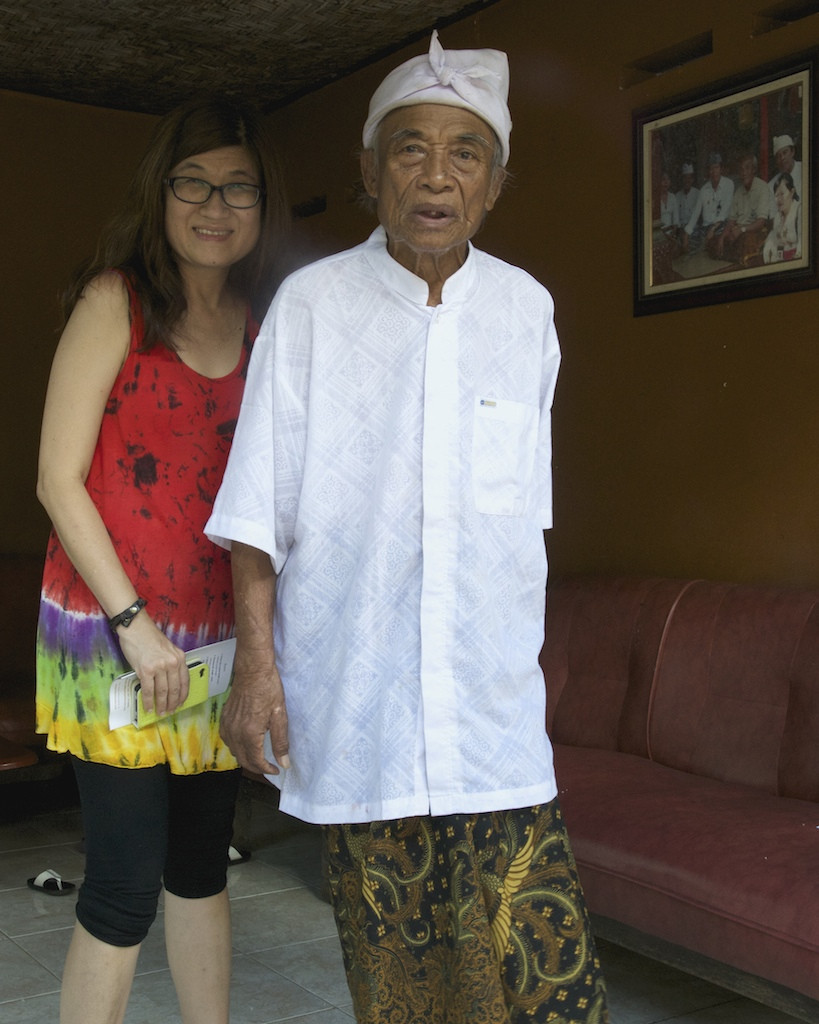 27. Visit Uluwatu Beach. To get to the beach, descend from the cliff through shops, bars and warungs, then take a few steep steps down to the beach area. Because of wetness, taking these steep steps down can be intimidating. There are many surfers getting ready with their surf boards inside the coves at the beach. You can hang out at the beach or the coves. If you prefer a bird's eye view of the area, buy a drink at the bars or warung and enjoy the view from the top.
28. Pandawa Beach is where you will find white sandy beaches. And Como, the guide said it is the locals' beach. It was crowded when I visited. The beach has plenty of food stalls and beach chairs with umbrellas. There were boats for hire as well.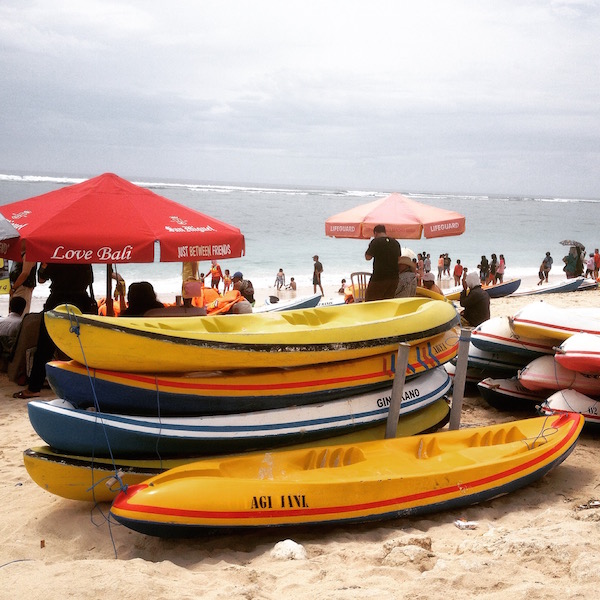 Is Bali on your travel bucket list? Here is one way to plan for your trip to Bali. Take a look at one of these tours provided by Intrepid Travel.