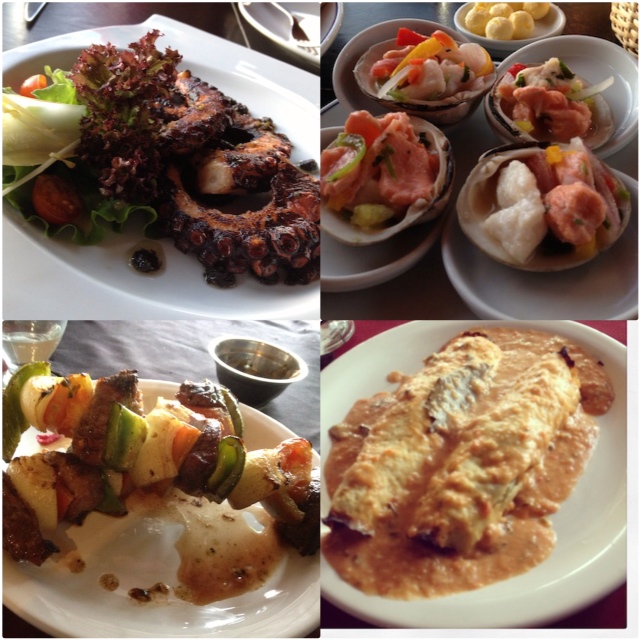 Every country in South America except Brazil has their variation of the empanada. Upon arrival in Santiago Chile, the first city of our visit, we ate empanadas every single day. Sometimes, twice a day my son would go to the same store in our temporary neighborhood. Till today, he still swears that's (Panaderia Mac-Pan in Santiago) the best place  for empanadas in the whole world.
Local food in South America goes beyond just empanadas and milanesa (breaded meat usually for sandwiches).
Our eight months adventure included thousands of meals. Most of them were prepared in apartments but while on the road we have tried the weirdest to the world-renowned Francis Mallman 1884. We ate at local joints, street markets, local markets, home-cooked food during our homestay, five-star restaurants and food in campsites over 14,000 feet above sea level prepared by a private chef.
Food is synonymous to travel. It plays a big part for experiencing local culture and seeing what the locals are passionate about.  For us, most of the time the best food was the ones that were recommended by the locals. So asking the locals have been our best resource for local food experiences in South America.
Chile
1. Seafood stew in Mercado Central Santiago Chile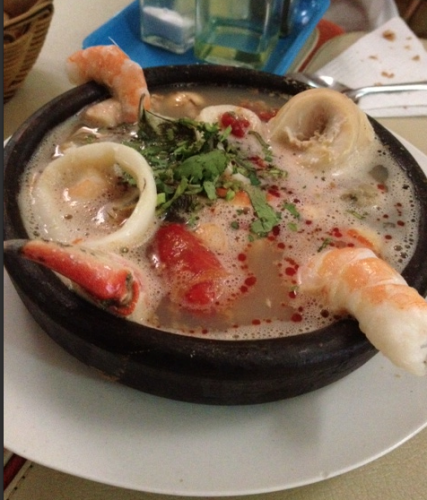 As I write this I remember the steamy hot seafood stew with big squid rings and shrimps served in a black bowl. There is nothing I didn't like about that bowl of stew even though it cost US$14 and was consumed within half an hour.
Mostly locals patronized el Rey de la Paila Marina Restaurant, located at the peripheral of the market. The restaurants in the middle of the market usually have English-speaking waiters handing out menus and ushering tourists to take a seat.
If you are strong enough to resist and want to get out of your comfort zone and try authentic local food where the locals go, you should walk away from the 'center-stage' of the market.
2. Chilean Chorrillana
Chorrillana is Chilean comfort food. It is served in every city including Puerto Varas in the Lake District. If you think Americans eat lots of French fries, I think the Chileans eat more. Every chorrillana is filled with fries more than the beef, onion and fried eggs combine.
One of the best I've tried is at Casino Social J Cruz in Valparaiso. We were there on a Sunday afternoon and the locals where waiting and forming a long line outside waiting for a table. The only food they serve is chorrillana.
Chorrillana is usually served in a huge plate and great for two. The Galindo Restaurant in the Bellavista area of Santiago is another great restaurant for chorrillana.
Café Mamusia in Puerto Varas, Lake District has the same thing but calls it by a different name – pichanga. Pichanga is a dish filled with French fries, onions, beef and eggs. The only difference is the peppers in the pichanga.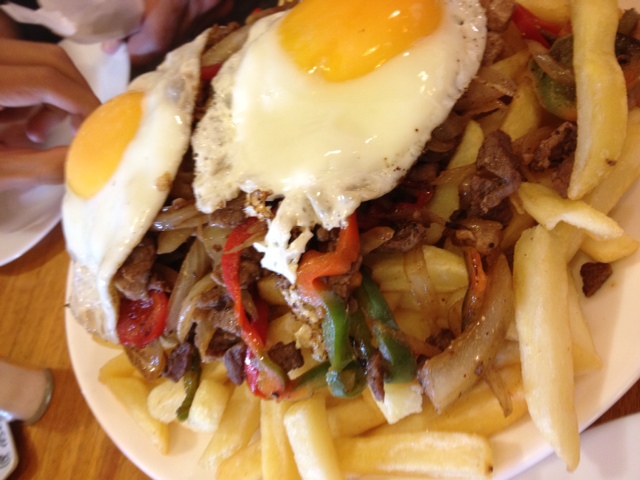 3. Chilean Salad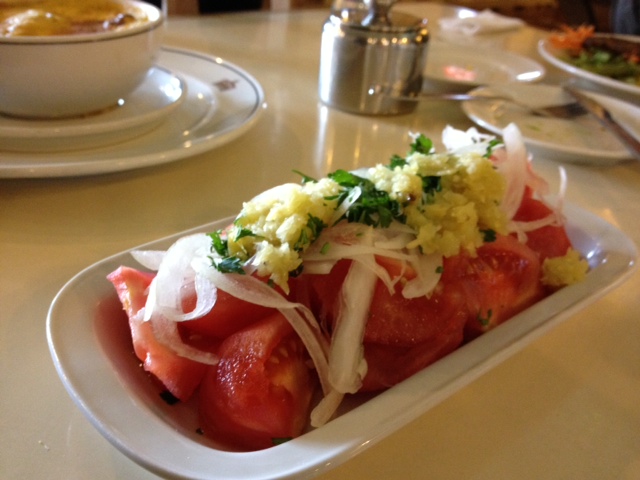 I noticed Chilean restaurants serves skinless tomatoes in all their salads. The Chilean salad is made of skinless tomatoes, onions and coriander topped with olive oil and vinegar. One thing I experienced in Chile was the lack of greens in food.
4. Pastel de choclos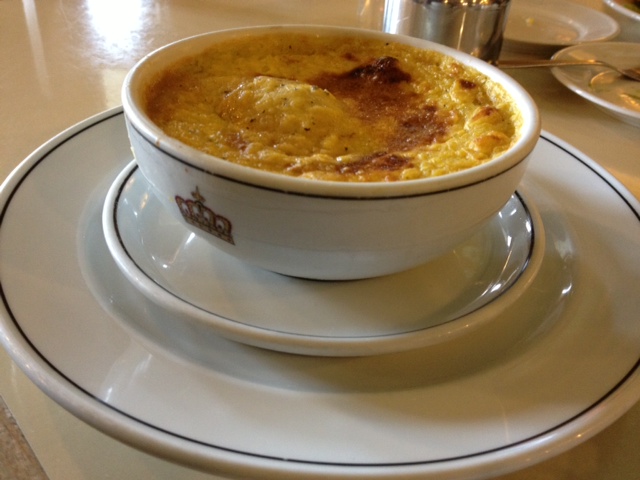 I thought it was chocolate but choclos is an indigenous Mapuche word for corn. Pastel de choclos is a traditional Chilean dish of beef topped with creamy sweet corn. It has raisins and olives inside.
We tried this dish at Café Danes in Puerto Varas.
5. Pebre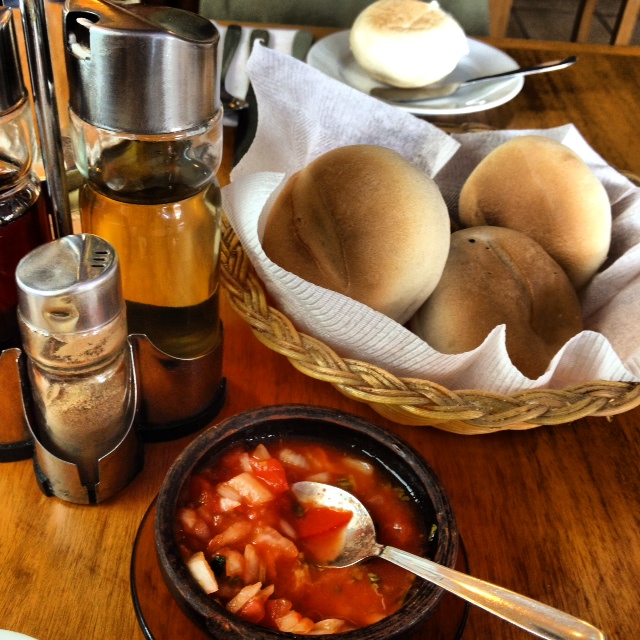 There is one constant in Chile's food scene – whether it is a five star or local joint, it is the pebre. I love pebre and could eat a spoonful without bread.
Pebre is Chilean salsa made of peppers, onions, cilantro, garlic and olive oil. For me, the spicier it is the better.
Argentina
When in Argentina you must try their grass fed beef.
6. Dry Aged beef in Buenos Aires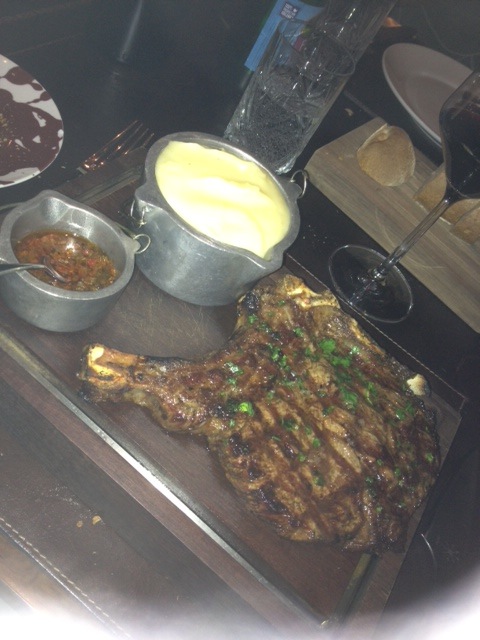 Located at the Four Seasons Buenos Aires, the Elena Restaurant is famous for their dry aged beef. Dry aged beef is beef that went into a climate-controlled dry-aging room for hundreds of hours. It's like aging wine or cheese without salt or curing agents. I thought it was like cured ham – but it was not. It is like any steak and is still juicy despite being aged. To find out more about the aging process please read an article in Bon Appetit.
Uruguay
7. Torta Frita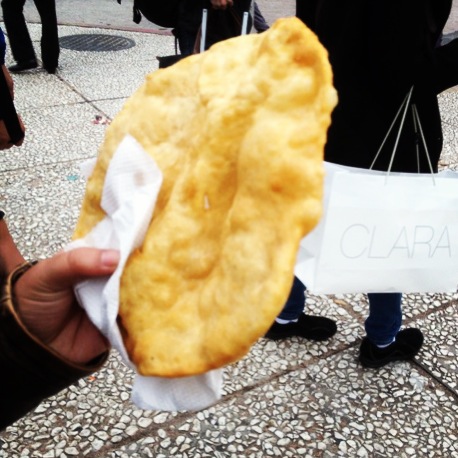 This street food is comfort food for Uruguayans on rainy days. Torta frita is fried dough in a circular shape made of flour, yeast, salt, water and oil. It is cheap and usually costs about 20 pesos (about $1) and is a great accompaniment to a cup of coffee.
You can find them near the main bus terminal, Tres Cruces and in the Old Town area during rainy days and cold days.
8. Chivito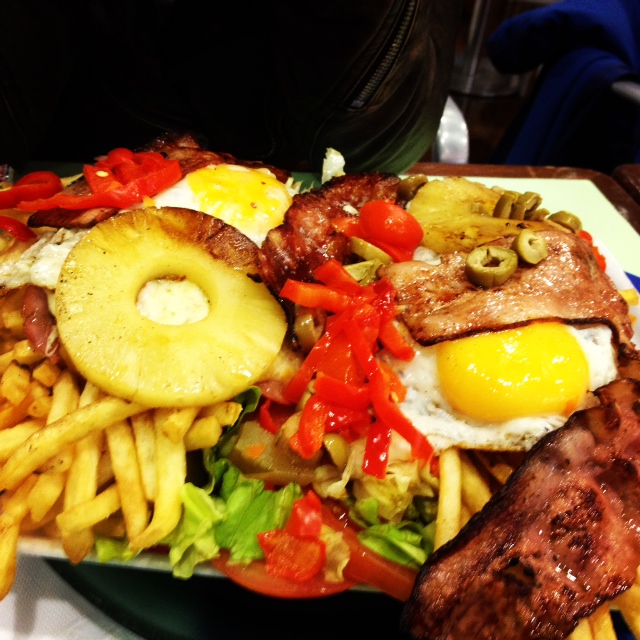 Chivito is definitely not for those who are watching what they eat. It is a huge sandwich made of tenderloin beef, fried eggs, mozzarella cheese, tomato, lettuce and mayo, usually served with French fries on the side. If you prefer one without the bun, you can ask for Chivito al plato.
Chivito is cheap compared to many other types of food in Uruguay. It is widely sold in restaurants, fast food places, food courts and by street vendors.
9. Uruguayan Parrilla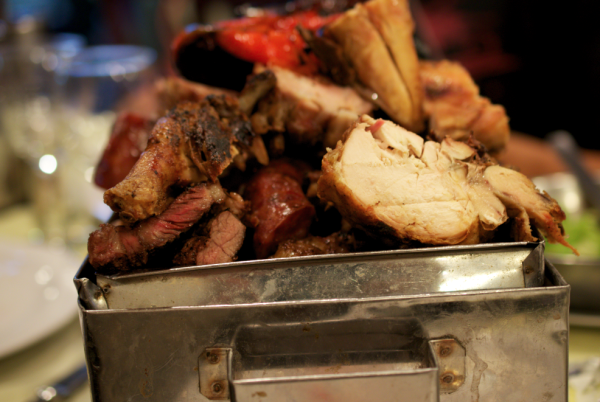 I like the Uruguayan parrilla at the Mercado del Puerto and Mercado de la Abundancia. Parrilla is usually a huge tray of barbecue beef short ribs, sweetbread (internal organs), chorizos, chicken, pork, beef and intestines.
Parrillas are traditional steakhouses in Uruguay where meat, internal organs and chorizos (sausages) are grilled in a metal grill on top of an open fire.
Brazil
10. Pirão
Florianopolis Brazil has plenty of seafood. The local dish pirão is a mushy yellow dish of fish and mandioc or yucca flour. It is usually served as a side dish with rice and other seafood dishes. Pirão is usually made from scraps from fish including fish head with pepper, annatto (from achiote tree), cilantro, parsley and coconut milk.
11. Tainha fish eggs (fish roe)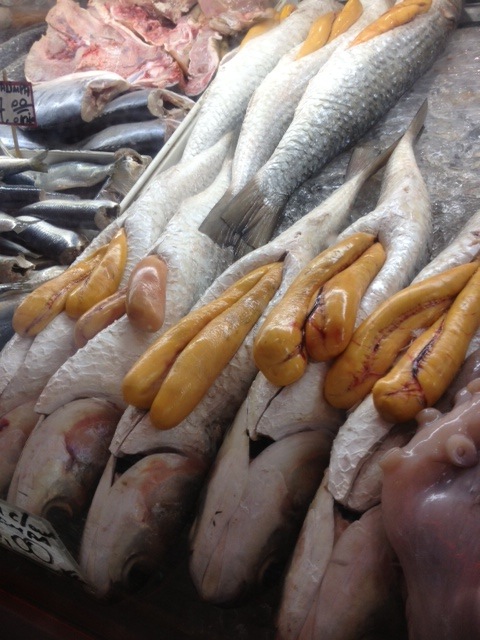 We went to our tour guide's home for dinner. Some of the ingredients he brought back from our tour with him at Florianopolis central market were tainha fish and tainha fish eggs.
He grilled both items on a simple charcoal grill he made with bricks on the ground. The fish eggs looked like sausages and tasted just like any other fish egg.
12. Acaraje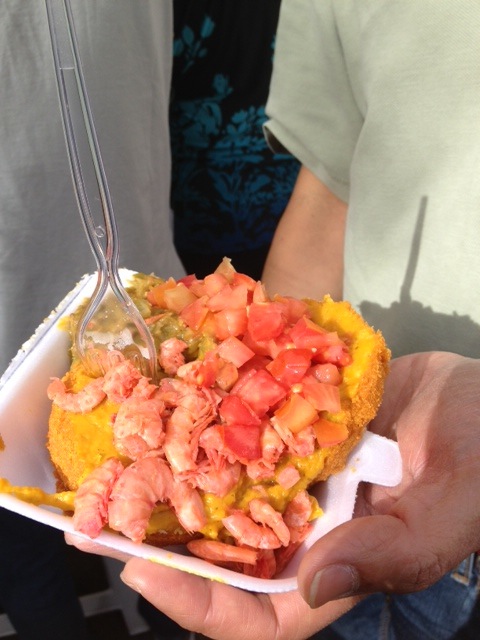 In Praca Benedito Calixto Saturday fair in Vila Madalena was a group of ladies from Bahia region of Brazil selling typical food from Bahia. Acaraje was the big seller because everyone was ordering the same thing.
We followed the crowd. It is fried bean bread with fresh tomatoes, okra, dried shrimp and onions.
13. Pastel de Bacalhau (cod fish pastel)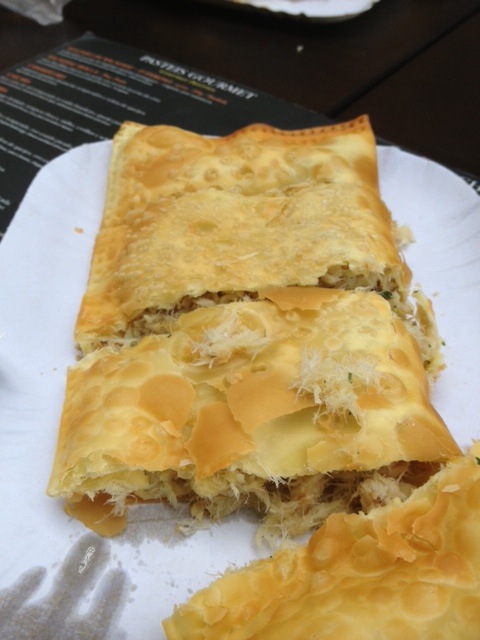 According to many, Hocca Bar in Sao Paulo's Mercado Municipal serves the best pastel de bacalhau. These rectangular pastries filled with shredded pieces of pure cod bathed in olive oil and secret sauce is very different from those at the street market.
They have more fish inside and are not so doughy like doughy pizza. Pastel is definitely a must try food if you are in Sao Paulo. You can find them at all street markets and weekend fairs like the Praca Benedito Calixto and Barraca do Ze at the street market in front of the Soccer Museum.
14. Feijoada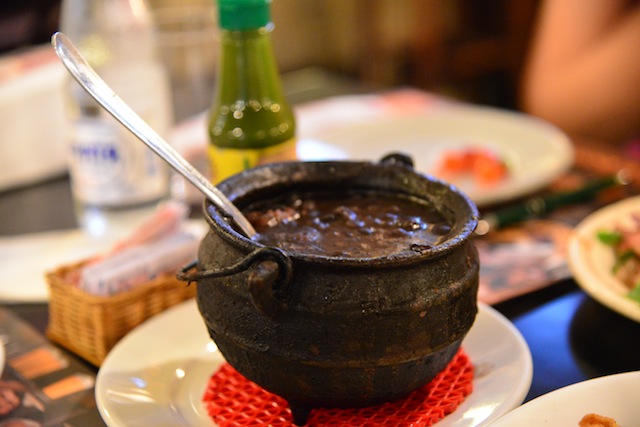 Brazilians love their feijoada, samba and beer on the weekends. During our visit, it was feijoada, beer and soccer.
You can eat feijoada everywhere in every price range. We had feijoada in Sao Paulo and Rio de Janeiro. One of the best places to eat feijoada at a great price is at the Bar do Jeova. They serve feijoada for two or three people.
Or try feijoada at any of the Salve Jorge Restaurants.
15. Arroz de bacalhau
If you have visited Mercado Municipal in Sao Paulo, you would have seen blocks of bacalhau or cod fish. Cod fish is used in many ways. It's probably the Portuguese influence in Brazil that makes this fish so popular.
I had arroz de bacalhau at Tasca do Porto in the old town of Santos.
16. Pão de Queijo (Cheese bun)
These small buns made with tapioca flour and cheese is Sao Paulo's specialty bread. In fact Sao Paulo has the best variety of pastries, breads and buns.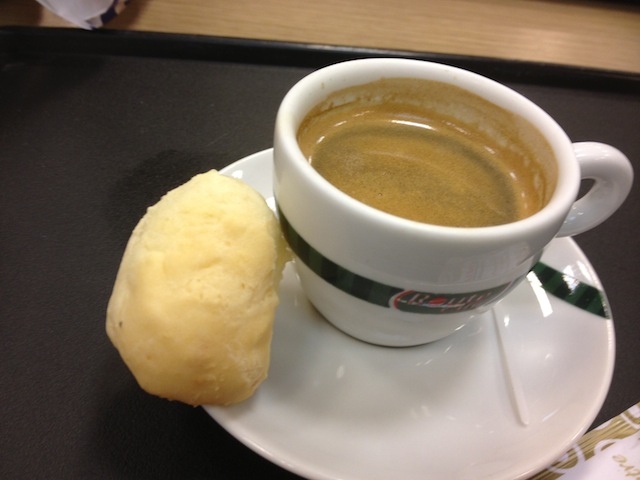 I think I put on some pounds in Sao Paulo because of the coffee and buns.
17. Churrascaria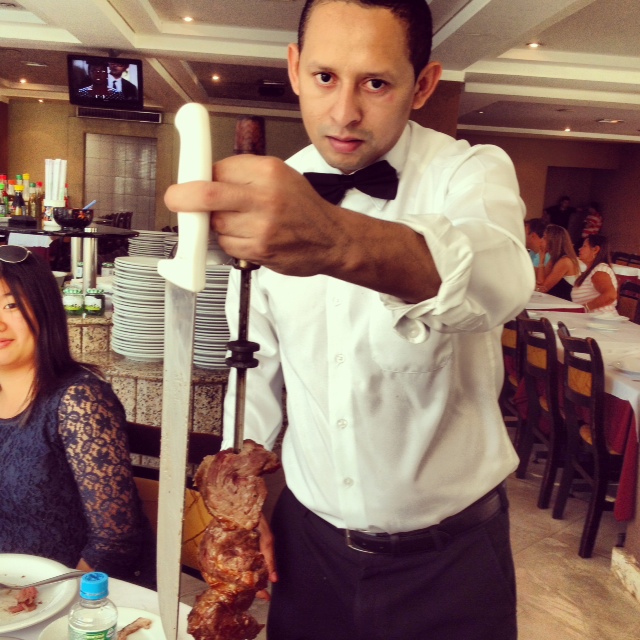 A local suggested Rodizio Cruzeiro do Sul for churrascaria for two reasons. It was cheaper and the meat was the same without the price tag. This is definitely not a touristy restaurant.
Churrascarias are restaurants that serve all you can eat meat and usually have a salad bar with sushi, pasta and a variety of salads. The server will come to your table with a huge chunk of meat in a long skewer. If you like what they have, they will cut a piece for you.
The best cut to try is picanha, the top sirloin steak. Our local guide and my friend Sharon O Day who grew up in Rio recommended the picanha cut. Rio de Janeiro is the best city for churrascaria.
Paraguay
18. Chipa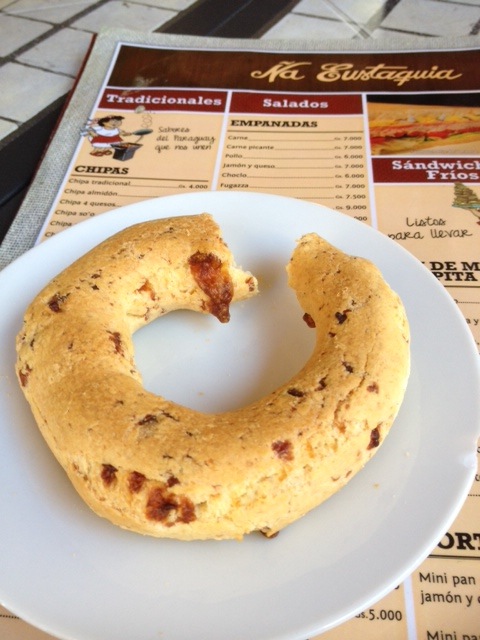 Paraguayan chipa is similar to Brazilian Pão de Queijo but it is shaped like a bagel with a hole in the middle. Chipa is found on the streets of Asuncion and the border town of Ciudad del Este near Iguazu Falls Brazil and Argentina.
Chipa is chewy and is made of cassava flour or yucca flour.
19. Sopa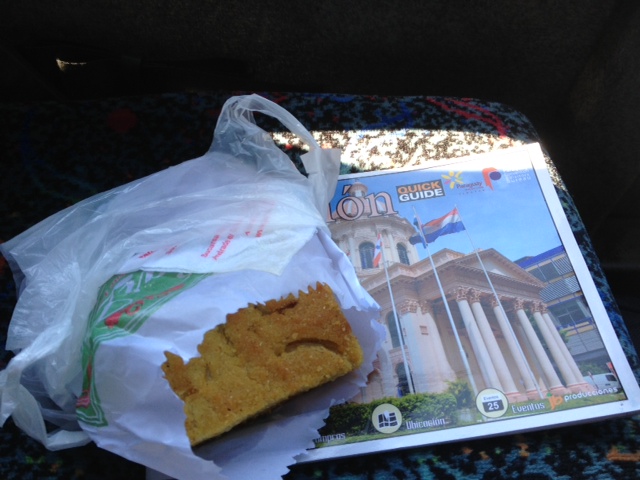 Paraguayan sopa or corn bread is very popular in Asuncion. I bought mine across the street from the Asuncion Hotel Palace. I prefer sopa over chipa. There were pieces of corn still visible on the piece of sopa I had.
20. Bife Koygua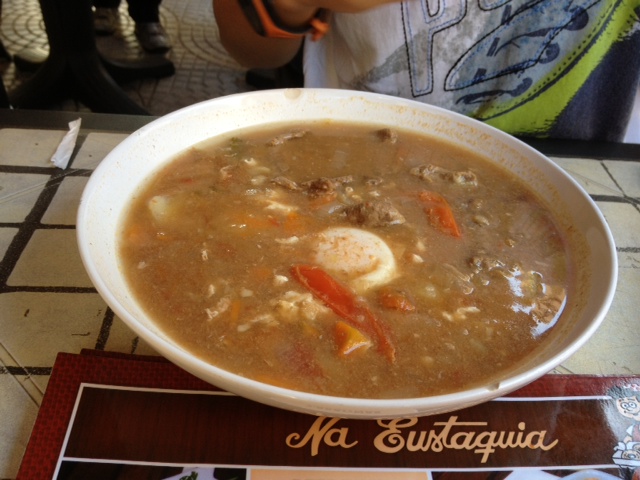 Traditional Paraguayan Bife Koygua is a type of beef stew with pieces of onion, tomatoes and potatoes and topped with an egg.
Bolivia
21. Lllama meat pizza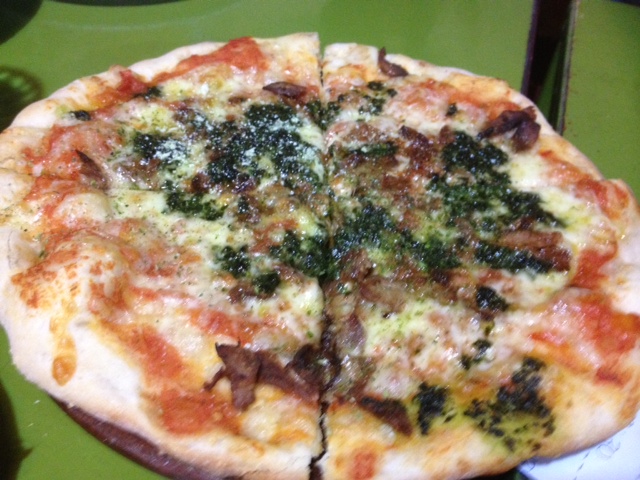 Bolivian llama meat pizza in Uyuni is worth trying. Minuteman Restaurant at Tonito Hotel is known as the best pizza place in Uyuni Bolivia. I like the thin crusted pizza and the right amount of llama meat with cheese. The llama meat was not gamey like those I had in La Paz.
22. Salteñas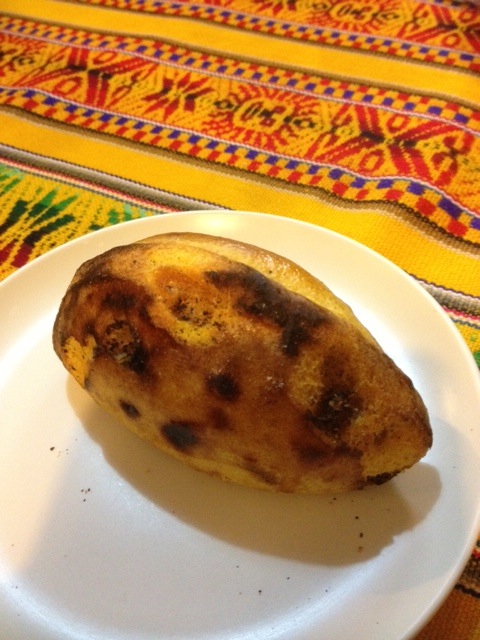 Salteñas are a Bolivian version of empanadas. I added it here because these smaller empanadas are filled with a variety of ingredients inside making it tastier and spicier. My son could eat Chilean empanadas all day while I could eat Bolivian salteñas all day.
23. Llama meat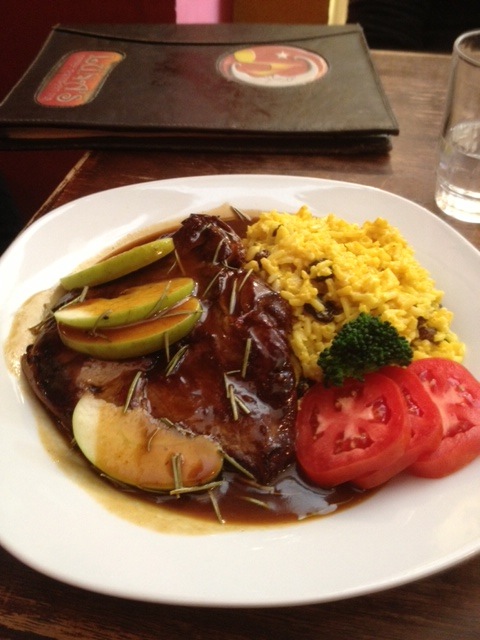 Llama meat is available in many Bolivian restaurants. I think if you are in Bolivia you must try llama and alpaca meat.
Peru
24. Caldo de Gallina (Peruvian chicken soup)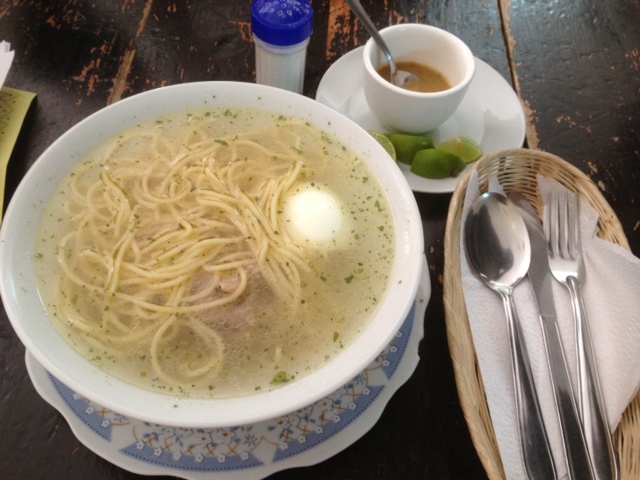 The San Pedro Market in Cusco has a section at the end of the market filled with ladies selling caldo de gallina for breakfast. Caldo de gallina is a chicken noodle soup usually served for breakfast. It is also widely served throughout the day.
The piece of meat that looks like chicken is usually hen and is hard and you may not be able to chew it. Caldo de Gallino is a soup with noodles, a piece of meat and a hard-boiled egg.
25. Pan chuta
Pan chuta is a humongous round bread found in San Pedro Market in Cusco. It is sweet and has cinnamon and anise spices. This traditional bread is baked in wood burning stove and comes in two sizes in San Pedro Market.
26. Lomo Saltado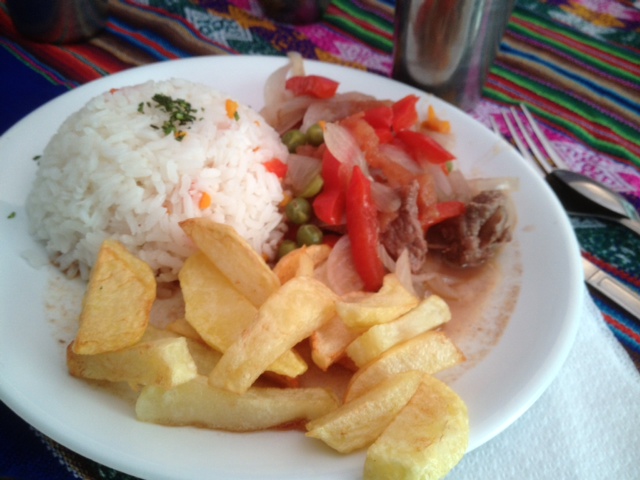 You will find lomo saltado everywhere in Peru. It was our staple food even at 14,000 feet above sea level. Our cook Tomas made it while we were camping and hiking in the highlands of Peru.
He served lomo saltado with fries and rice. It is usually served with white rice. Lomo saltado became popular in Peru when Asians came to Peru. It is a type of stir-fry beef with onions and peppers.
27. Rocoto relleno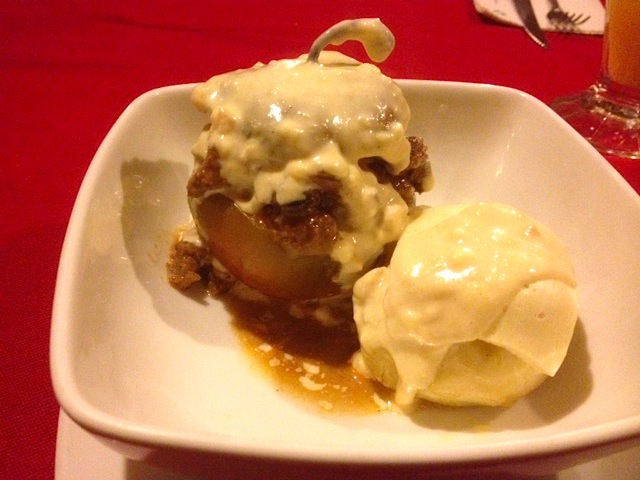 Rocoto relleno is Arequipa Peru's popular dish. It is peppers stuffed with meat, raisins and peanuts and topped with cheese. It is one of my favorite Peruvian dishes.
28. Quinoa soup
The locals in the highlands of Peru and Bolivia eat a lot of quinoa. A variety of dry quinoa is served for breakfast. I tried them at Hotel Mamayachi in Coporaque Colca Canyon. It is high in fiber and I know for a fact that we were going to the bathroom very often.
Quinoa is also used in soup in Bolivia and Peru. Our cook at the Lares Trek cooked quinoa soup during our hiking trip in a gas stove in his kitchen tent.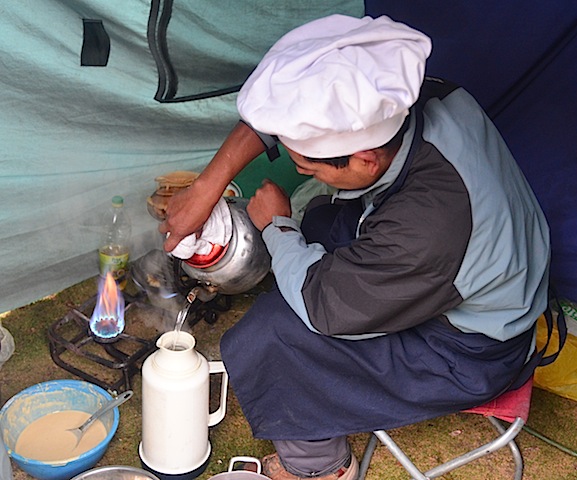 29. Sopa Rachi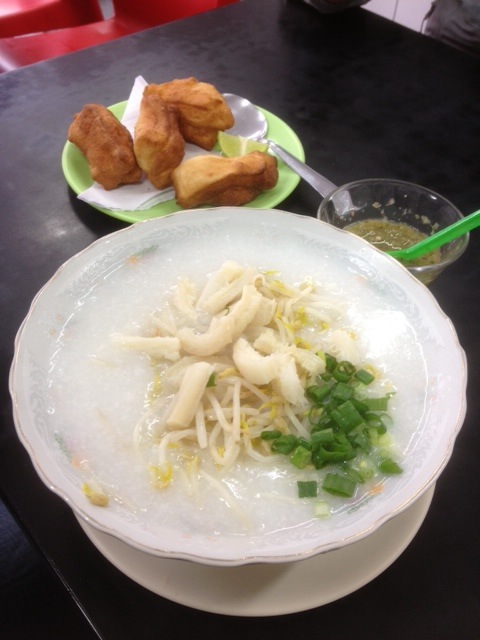 Sopa rachi is a type of rice porridge served with yuquitas fritas, a type of fried dough. Inside the sopa rachi is scallion, mung bean sprouts and some type of beef intestine. It was tasty and heart warming on a cold morning. Men and women were having it in the morning just outside Lima's Chinatown.
30. Peruvian ceviche
I had a tri-color ceviche platter of thinly sliced fish in three different colored sauces at Peruvian celebrity chef Gaston Acurio's Tanta Restaurant in Lima.
It was spicy and went well with the pisco sour.
Ecuador
31. Fried dried rice and dried plantain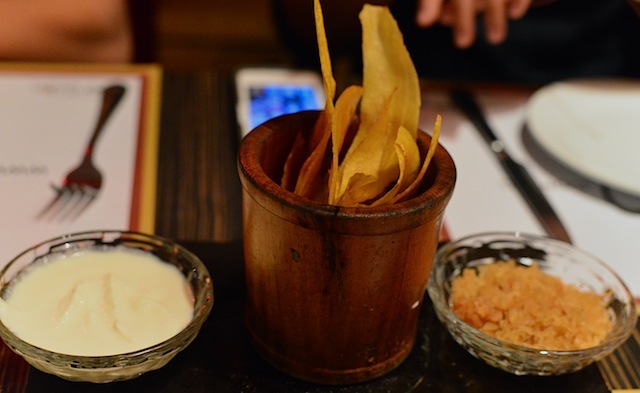 Cocolon Restaurant in Guayaquil is one of the best restaurants in Ecuador. I like their complimentary dried plantains and fried dried rice with sauces. Yes fried dried rice – you can never find that anywhere else.
The crunchy fried dried rice is unique to Cocolon. The waiter said the name Cocolon means burnt rice found at the bottom of the pot.
Guayaquil is very close to the biggest banana plantations in Ecuador. A variety of special dishes were made of plantains.
32. Cuy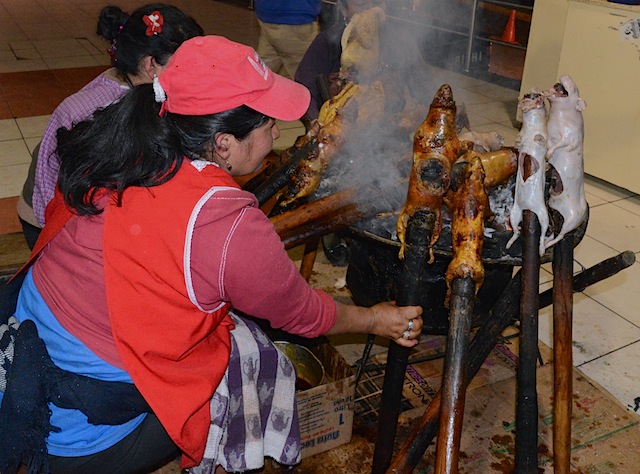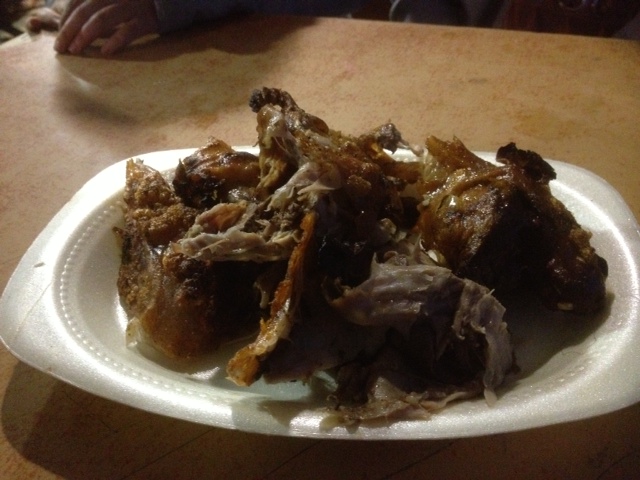 I had a fear of eating cuy but I ate it. Since we were in the highlands of Ecuador for two months and living like the locals, that was one thing I had to do to "fit in"…not really. I chose to eat a little cuy.
A local friend from Cuenca took us to Gualaceo local market for our Ecuadorian cuy. Cuy is sold in Cuenca's markets and also in Banos de Cuenca Sunday market. Cuy tastes like chicken if you don't think about it!
33. Mote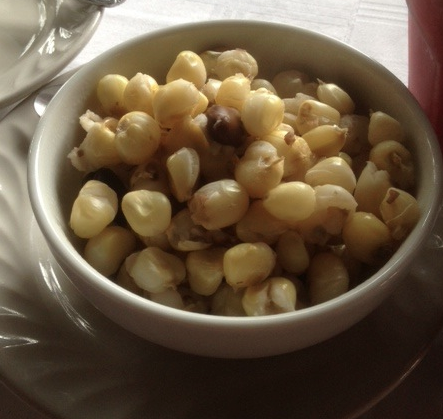 Mote, also known as hominy, is a cooked white corn. This corn grows in the highlands of Ecuador. It is white in color and larger than the usual kernels of corn we get in American supermarkets.
Mote is usually served in restaurants with a main dish in place of complimentary bread.
34. Motepillo
Motepillo is a little different from mote. It is hominy stir fried with eggs, onion and garlic. It is usually not free like mote and served as a side dish. The highland people of Ecuador love their motepillo.
35. Seco de pollo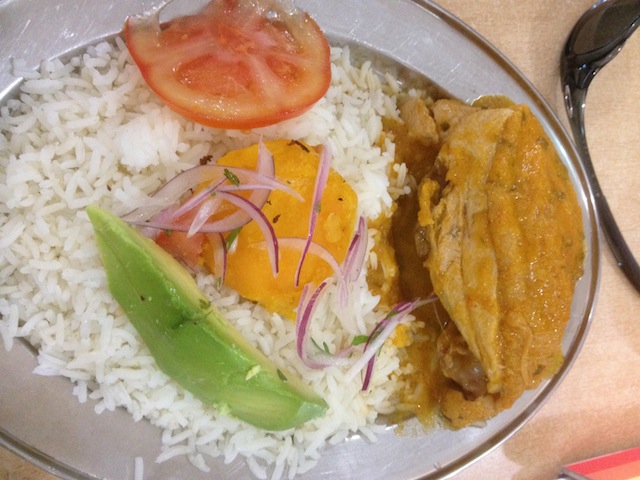 Almost every local restaurant in Cuenca serves seco de pollo. We stayed in Banos de Cuenca for 28 days and my son ate seco de pollo whenever we were at our favorite local joint, El Rincon del Sabor.
Seco de pollo is chicken stew served with white rice and pieces of green salad and one slice of avocado.
36. Menu del dia
Cuenca Ecuador is a great city for menu del dia. The price ranges from $1.75 to $3.50. I like menu del dia because of the variety, the menu changes everyday and the portion is smaller. The best part is the dessert. Not all menu del dias have dessert.
37. Langostinos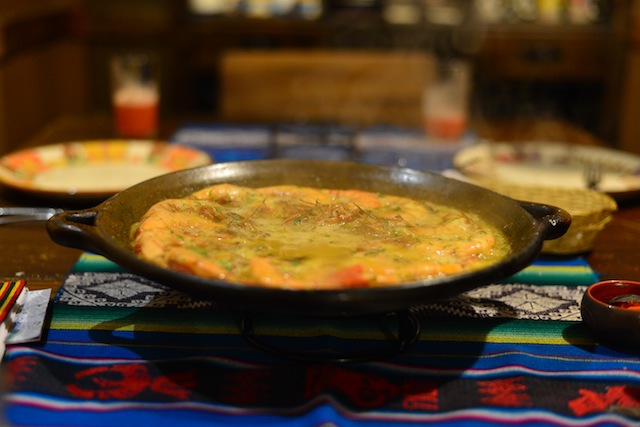 If you like shrimp, you must try langostinos al Tiesto's at Tiestos Restaurant in Cuenca. These are gigantic wild shrimps cooked in special butter sauce by the talented Chef and Owner Juan Carlos Solano.
I've compiled 37 local food experiences as recommendations for you. Try them if you are going to Chile, Argentina, Uruguay, Brazil, Paraguay, Bolivia, Peru and Ecuador.