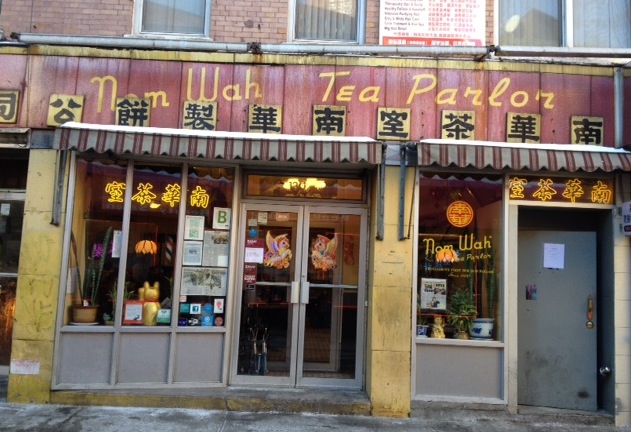 I have to agree dim sum can "touch the heart" if accompanied with a hot fragrant tea like chrysanthemum or oolong tea. Dim sum means "touch the heart" in Cantonese. It includes food like dumplings, buns, egg rolls, fried foods, chicken feet and tofu served in small plates or small steamer baskets for breakfast and Sunday brunch.
These days dim sum is served all day in certain Chinese American restaurants. Some restaurants serve their dim sum in carts with the servers pushing these carts around every table in the restaurants. You point at whatever you want and the server will place a check on the list you have on your table. Another way is the checklist-style menu. You match the numbers on the checklist with the numbers on the pictures in the menu.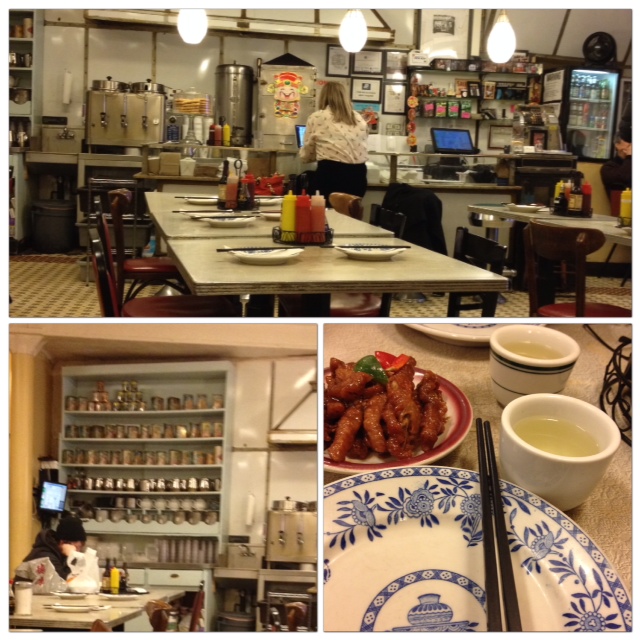 Nom Wah Tea Parlor on Doyers Street Chinatown is the first dim sum tea parlor in New York City's Chinatown. It was started in 1920 as a bakery and tea parlor. The current owner, Mr. Wally Tang has worked at Nom Wah since he was 16 in 1950. He has owned the tea parlor since 1974. What I like about this place is the vintage look, the ceramic plates and black chopsticks. These are rare in dim sum places today because the ceramic plates are being replaced by melamine plates and the chopsticks are cheap disposables.
Here are six must-haves in Nom Wah if you are there for dim sum:
The Original Egg Roll
Some say egg rolls originated in Nom Wah Tea Parlor. This original egg roll of mixed vegetables and chicken has an extra layer of egg crepe rolled inside the special egg roll batter. This must have been the best egg roll I've ever tasted and it is bigger than usual and crisp on the outside.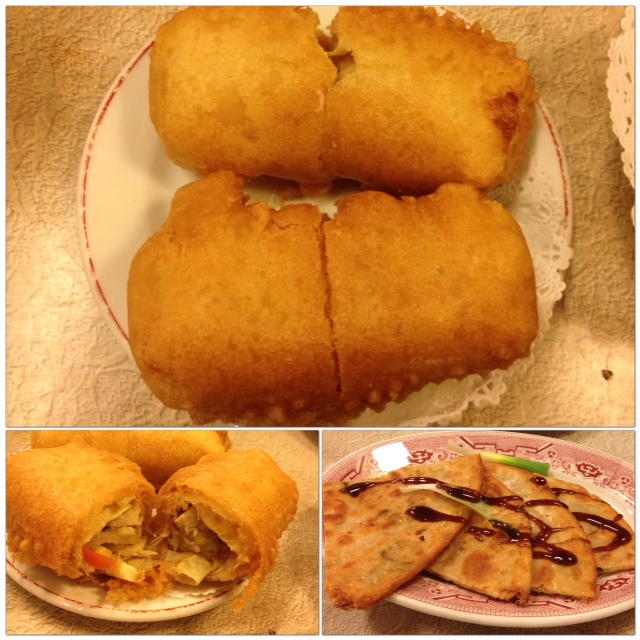 Turnip Cake
This is a combination of grated turnip, dried shrimp, Chinese sausage and flour steamed and then pan fried serve with Hoisin sauce.
Steamed shrimp rice roll
This is a thin steamed rice flour noodle with shrimp inside drizzled with sweet soy sauce.
Scallion pancake
Made of wheat flour and chopped scallions deep fried and served with oyster sauce.
Chicken feet
My teens wouldn't eat this but I love it. These are 'very clean' chicken feet boiled until tender with vinegar and sugar. They are deep fried and then simmered with soy sauce, black bean sauce and other secret sauces.
Fried Sesame Balls with Lotus Paste
This is sweet and usually serves as a dessert. Made of rice flour dough, rolled in sesame seeds and filled with lotus paste.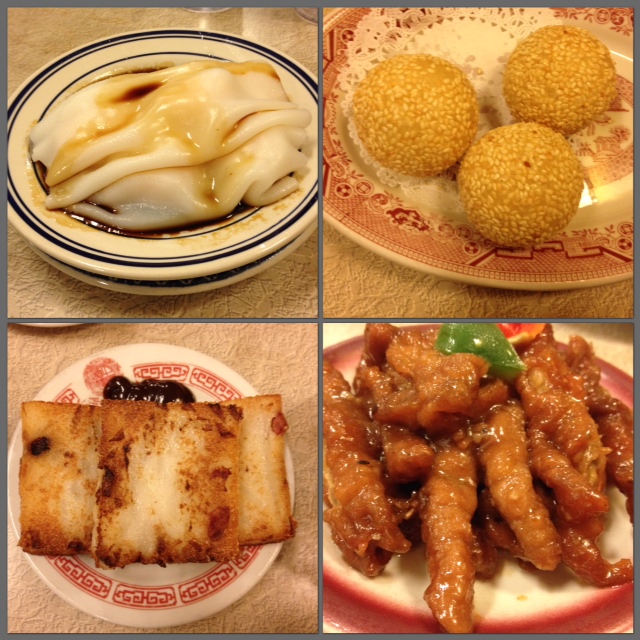 Dim sum dishes are served in sets of three. For example you will get three fried sesame balls with lotus paste, three turnip cake, three steamed shrimp rice roll with the exception of chicken feet, scallion pancakes and original egg rolls.
For our family of four, six plates of dim sum dishes were enough for a light meal served with a pot of chrysanthemum tea. The total price for four was $33.70 including tax. Our pot of hot tea was $6 and the dim sum dishes range from $3.50 to $5.95.
I enjoyed my meal in Nom Wah Tea Parlor. I highly recommend Nom Wah Tea Parlor if you are looking for a place to try authentic dim sum.
Information: Nom Wah Tea Parlor