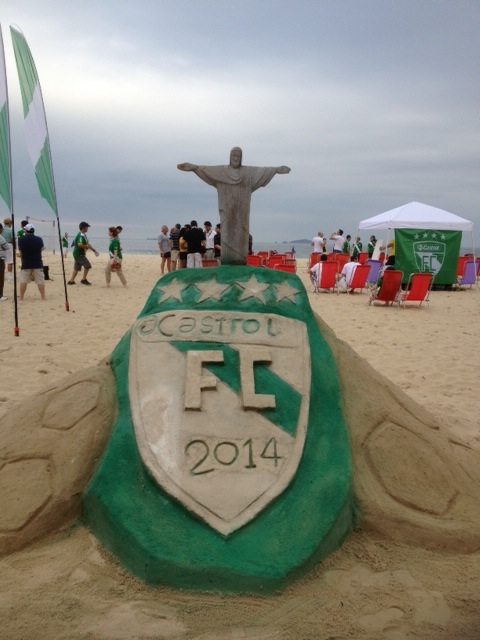 It is winter and the rain is here in Rio de Janeiro. The name Rio de Janeiro means the river of January in Portuguese given by the Portuguese on the 1st of January 1502 when the explorers arrived at Guanabara Bay. They thought they had just arrived at a big river mouth.
Everybody wanted a piece of the golden land. The Portuguese reacted by sending an army under the command of Captain Estacio de Sa and founded Rio de Janeiro on March 1st 1565.
Rio de Janeiro played a major role in the history of Brazil. It is the country's cultural, historical and heritage center. Temperature here is constant throughout the year. Brazilian writer Millor Fernandes wrote "I woke up, during the carioca fall, and the sea, the sky, the sun and the mountain were fighting to see who was the most beautiful.". Two of the biggest events in the world hosted by Rio are The Carnival and New Year's Eve in Copacabana.
Here are 10 Things I like about Rio:
Ten: GUIA CCBB historical building Banco do Brasil
An important cultural center in Rio de Janeiro with video booths, three theatres, a movie theatre, two auditoriums, exhibition rooms, tea room and restaurants. The fourth floor museum maintains two permanent exhibitions. One of which is the Banco do Brasil e Sue Historia (Banco do Brazil and its history) that tells Banco do Brasil's history banking in Brazil through banknotes and coins.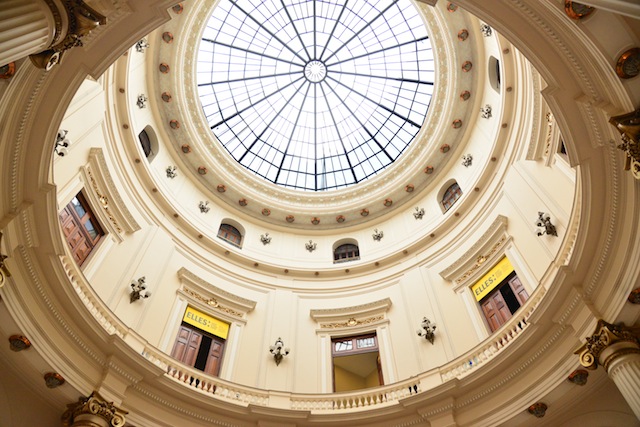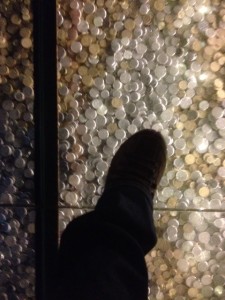 Location: Centro Cultural Banco do Brasil
Rua Primeiro de Marco, 66
Centro, Rio de Janeiro
Tuesday to Sunday 9 a.m. to 9 p.m.
bb.com.br/cultura
Nine: Per kilo Restaurant
For this experience in Rio, we went with a local to Mania do Kilo, a place filled with office workers from the area. Most seats were filled and people were either sharing seats with strangers or co-workers. Cost was R$35 per kilo.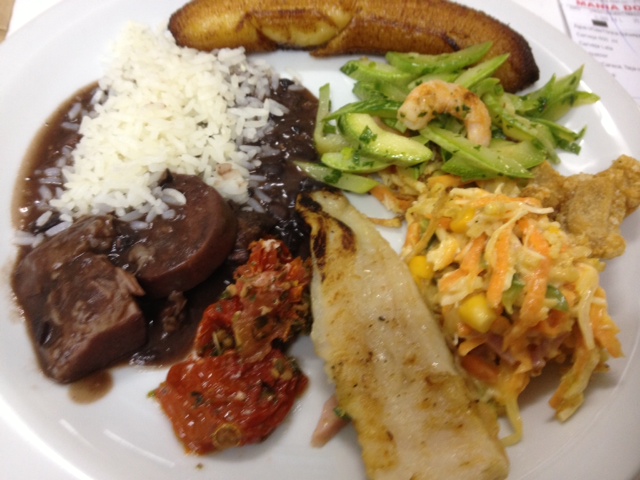 I found food in Rio a little different from Sao Paulo's. It was less salty and they have more variation for salads.
Rua Mayrink Veiga, 32, Centro, Rio de Janeiro
2223-3327
Eight: Churrascaria experience
A local suggested Rodizio Cruzeiro do Sul because of two reasons. It was cheaper and the meat was the same as the ones that we would pay double. This is definitely not a touristy restaurant. Filled with locals and none of the servers spoke any English. You would be lost if you don't speak Portuguese or did not go with a Portuguese speaking guide. In the center of this huge restaurant is a salad bar including sushi. The servers came with a variety of appetizers like fried bananas, fried onions, farofa and more.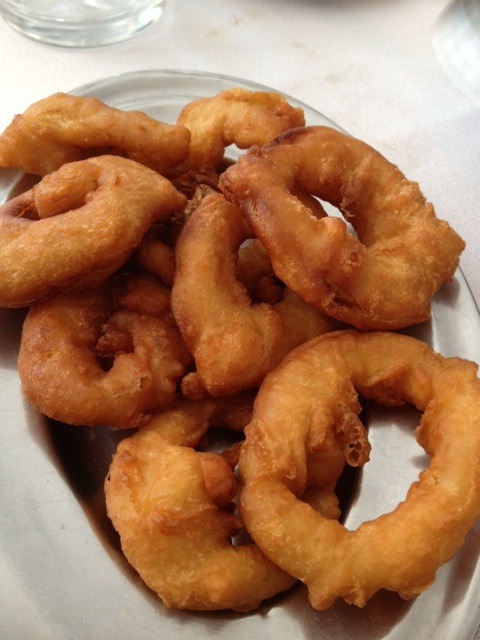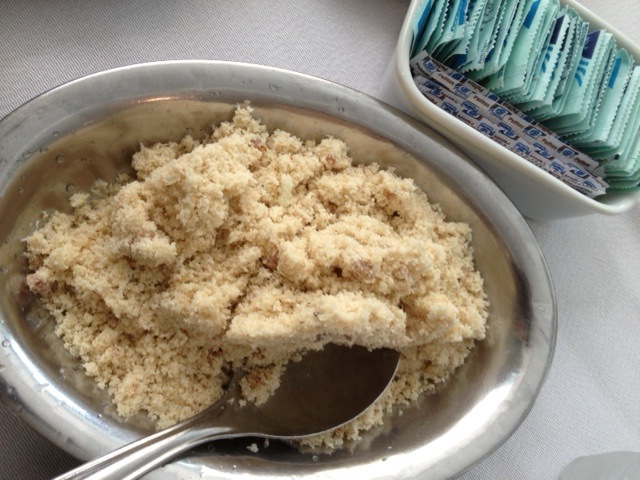 The best cut was picanha, top sirloin steak. It's the best cut according to our Brazilian guide and my friend Sharon O Day, an American who grew up in Rio de Janeiro.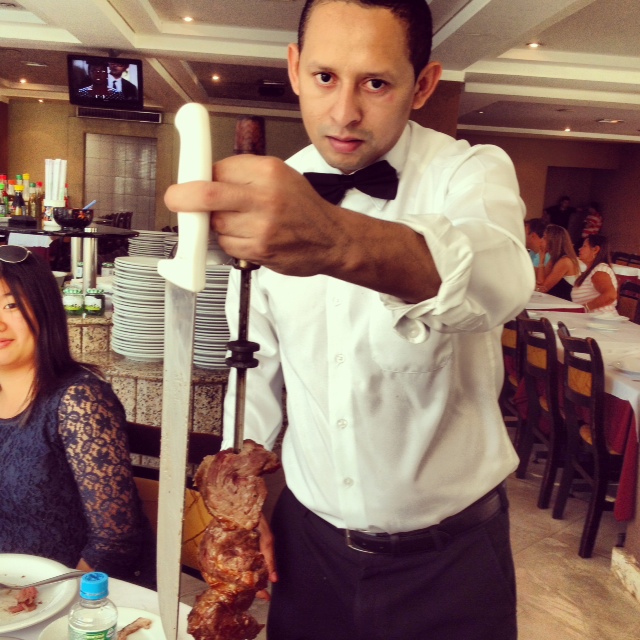 Cruzeiro do Sul Steakhouse
Av Reporter Nestor Moreira 42
Botafogo - Rio de Janeiro - Brazil
Seven: Candelaria Church
We walked right into a graduation ceremony at Candelaria Church. Students from the Federal University of Rio de Janeiro Medicine School were having a graduation ceremony with singing and mass on July 5 at 10 a.m.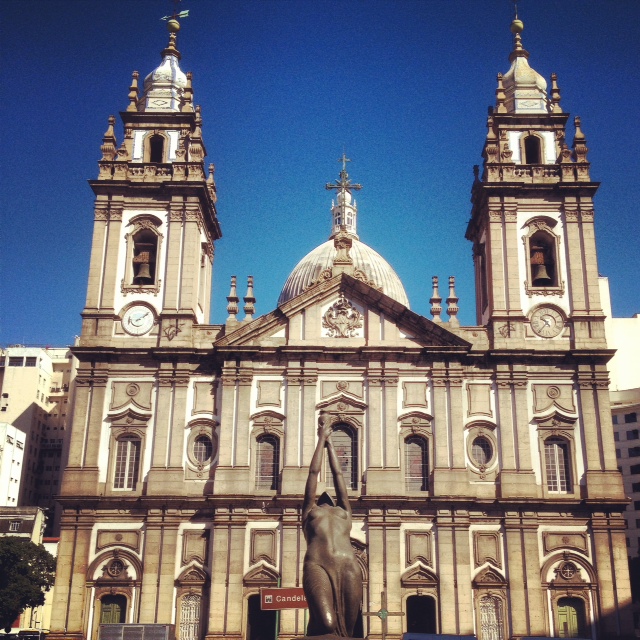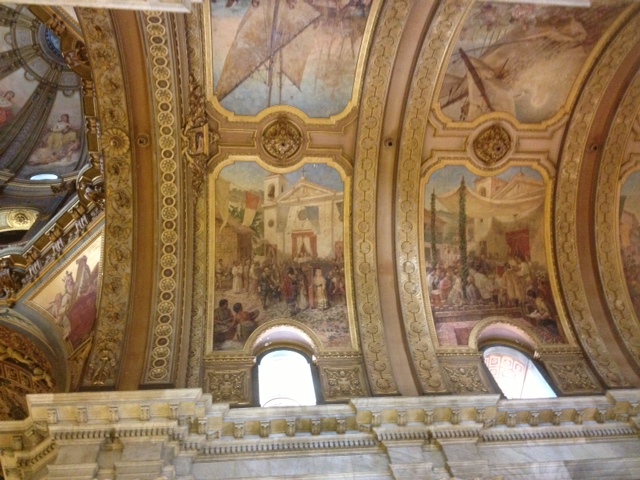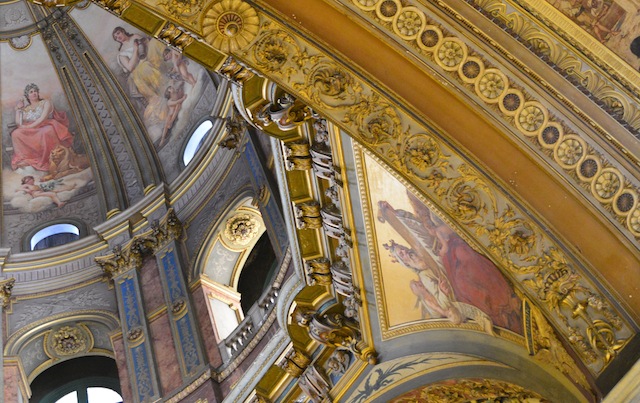 The dome built entirely from limestone shipped over from Lisbon. Neoclassical style built from 1865 to 1877. The interior is entirely decorated in marble when most Portuguese churches are made of wood.
Praca Pio X – downtown
Six: The vendors at Ipanema
After a long day visiting Christ the Redeemer and Sugar Loaf, it was dark as we drove through Copacabana and Ipanema. Men were carrying containers, bags of peanuts and snacks at all traffic lights at the road parallel to Ipanema beach.
Our guide pointed out to the various types of snacks sold and bought two varieties of snacks from two vendors. One was warmed peanuts from a vendor who carried a lighted rectangular container filled with warm peanuts.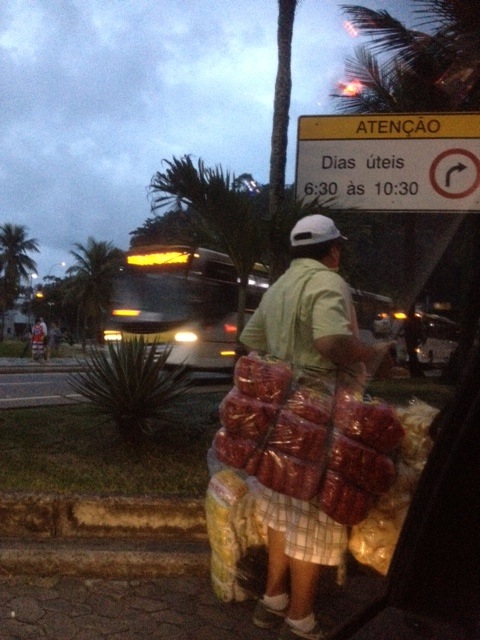 Six: Copacabana, Arpoador and Ipanema, Leblon
Copacabana is the busiest beach in Rio and the most important celebration is the New Year's Eve party. Ipanema is made famous from a song called 'the girl from Ipanema'. Leblon beach is the last of these three famous beaches and it is where the cliffs of Avenida Neimeyer Mirante do Leblon are to the right. It is Rio's south beach.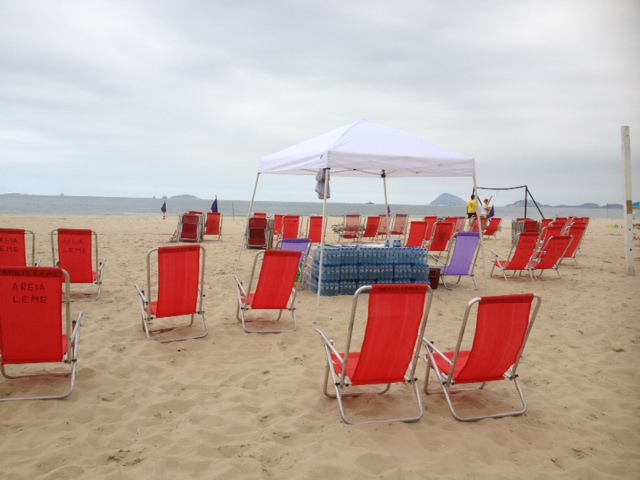 Copacabana became an important summer resort in Rio in 1900. By 1920s and 30s after the building of Copacabana Palace and many other amenities this beach became the prime place for the rich and famous. By the 60s and 70s a wide sidewalk was created with Portuguese stones. It is a wavy, black and Lucio Costa and Landscape Gardener Burie Marx designed white pattern. Thus started the famous Calcadoes sidewalk as seen throughout Copacabana, Ipanema and Leblon.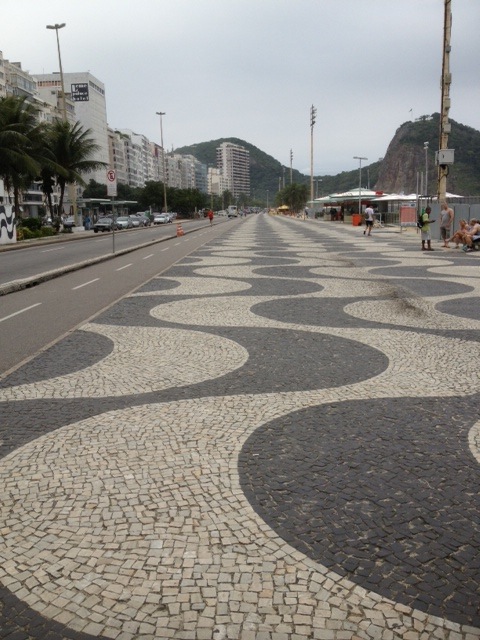 Note: The longest beach in Rio is Barra da Tijuca 14.4 km to Recreio. Recreio dos Bandeirantes 2.8 km long inlet at the end of Avenida Sernambetiba. We stayed for 10 nights at Recreio.
Five: Caipirinha cocktail and coffee at Copabacana Palace
One of the main attractions of Copacabana beach for many years was the Copabacana Palace Hotel. This eclectic style hotel of the 1920s designed by a French architect Joseph Gire is a Brazilian Historical and Artistic Heritage building.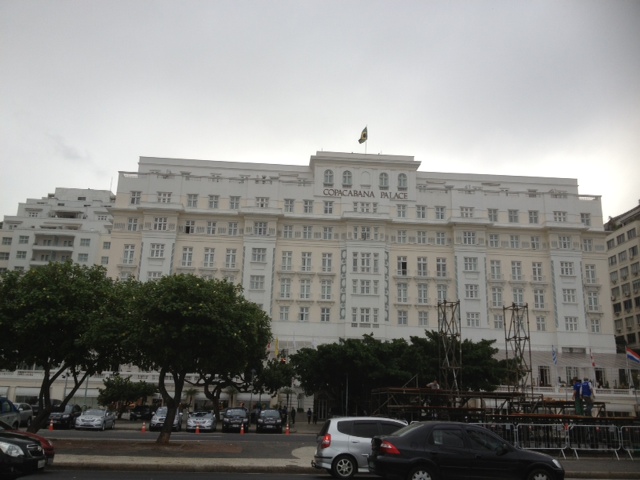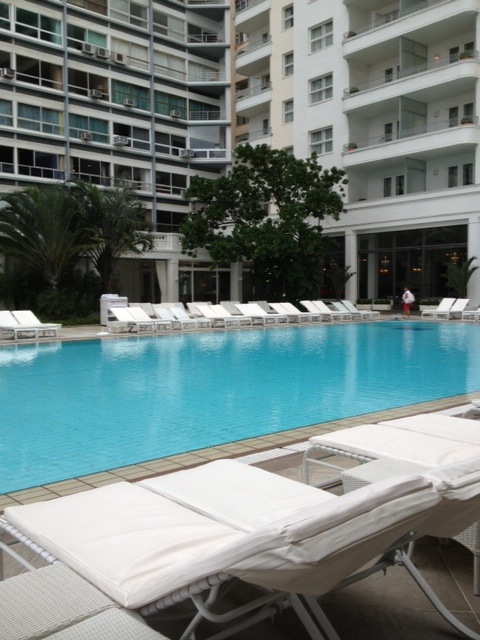 To feel the atmosphere we went for coffee, dessert and caipirinha in Copacabana Palace's La Pergula Restaurant.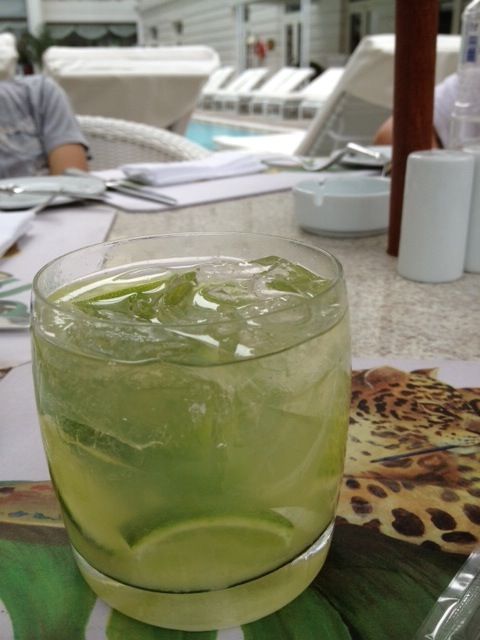 This is a caipirinha cocktail recipe from my friend Sharon O Day:
Put some lime sections (Brazilian lemons are a cross between lemons and limes) in a glass, add some sugar, use a blunt instrument to crush them together, add the rum-based strong alcohol called cachaça, top off with ice ... and yum!
Four: Escadaria Selarón or Lapa Steps
One man's work had transformed ordinary steps in a Lapa neighborhood into a work of art. Jorge Selarón a Chilean artist started adding colorful tiles to the 215 steps in the 90s. Step by step he had transformed them into unique steps recognized throughout the world.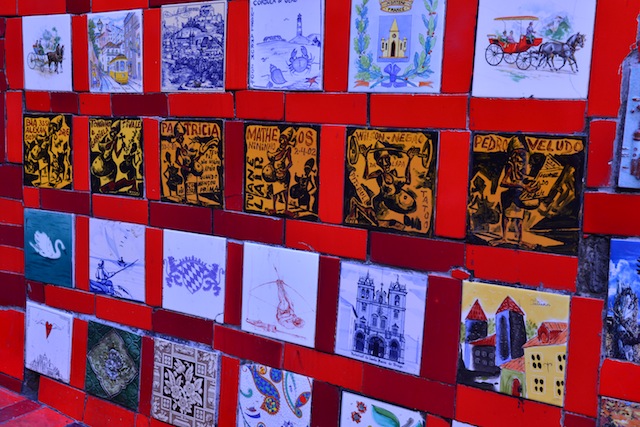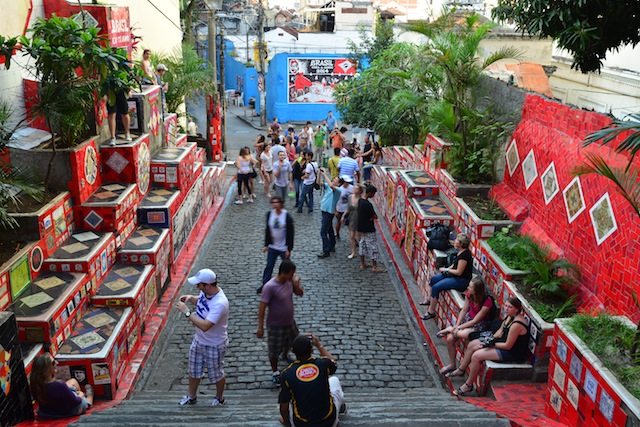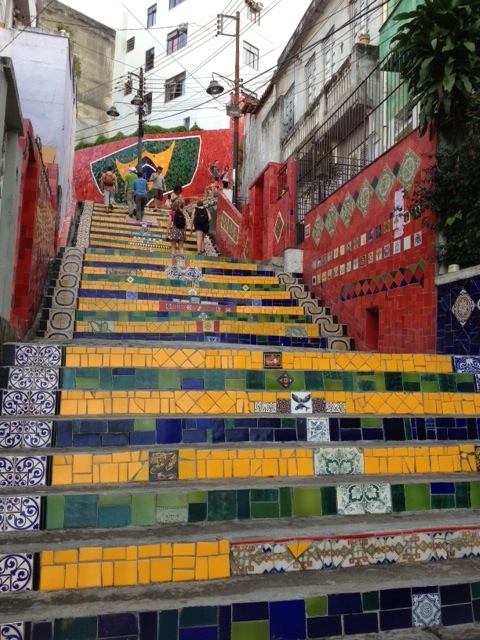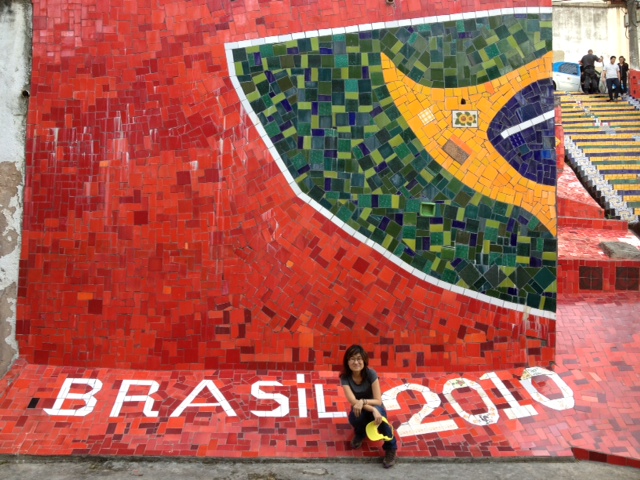 Escadaria Selarón consisted of tiles from around the world that the artist had collected and placed. Unfortunately he was found dead at the steps in January of 2013. During our visit, the steps had police at the top of the stairs and at the bottom too, making it safer for tourists.
According to a local, don't walk in the area in the dark or walk on the deserted road at the top of the steps.
Three: Favela visit
Taking a tour of the favela opens a whole new world to the other side of Rio. It was such an irony to walk around the favela in the morning and have coffee at Copacabana a few hours later.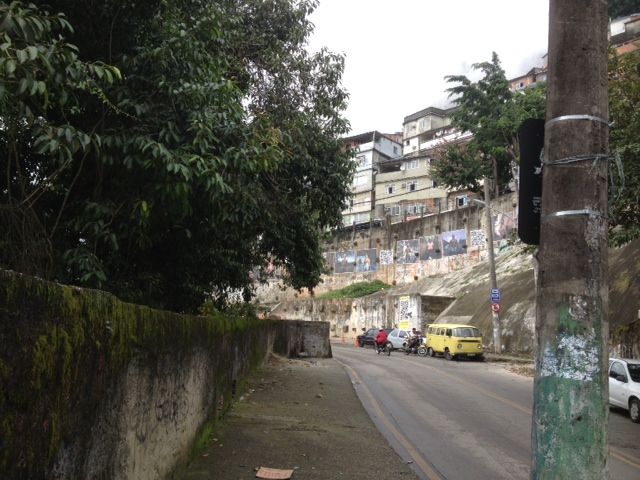 It made me think about the mindset and environment of the people. You can read all about it here.
Two: Sugar Loaf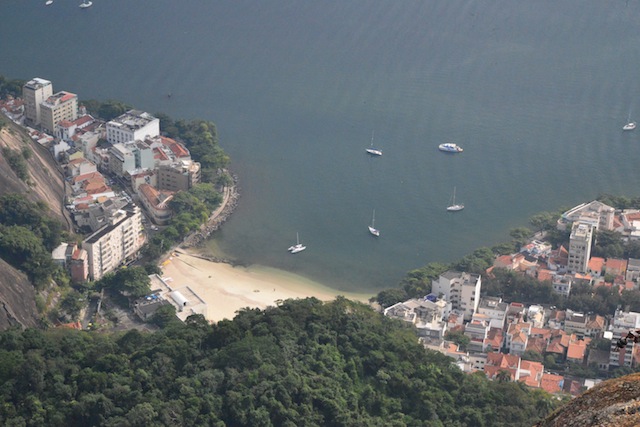 Sugar Loaf is one of my favorite sights in Rio. I actually came to Rio for Sugar Loaf and Christ the Redeemer. Please read my article on Sugar Loaf.
One: Christ the Redeemer
I was so excited when I finally stepped into the funicular leading to Christ the Redeemer. It was like opening a present that has been on my wish list for a long time. Here is an article I wrote about Christ the Redeemer.
Have you been to Rio de Janeiro? What were your favorites? Please leave a comment below.