I've been lied to! I think you too. You and I have bought into the lie when we ordered Mongolian barbecue in an Asian restaurant.
What if I told you that Mongolian barbecue you and I crave for is not the real deal! They are stir-fried meat with vegetables- not the least associated with the real Mongolian barbecue called khorkhog.
Real Mongolian food consists of a few ingredients like salt, carrots, cabbage, onions and potatoes. But there are two constants in the majority of Mongolians' every day food – mutton and flour.
For example four of their most popular every day foods are made of flour, mutton, salt and onions. They are buuz, tsuivan, shul and khuushuur. The only differences is the method of preparing and cooking.
To banish the lie about Mongolian food and to prepare you for the authentic Mongolian food in Mongolia, here are 11 real Mongolian food not served outside of Mongolia.
One: Mongolian barbecue (khorkhog)
Authentic Mongolian barbecue or khorkhog is actually more like stewed mutton with potatoes, carrots and seasonal vegetables. I saw our tour guide make the khorkhog while we chatted in the ger.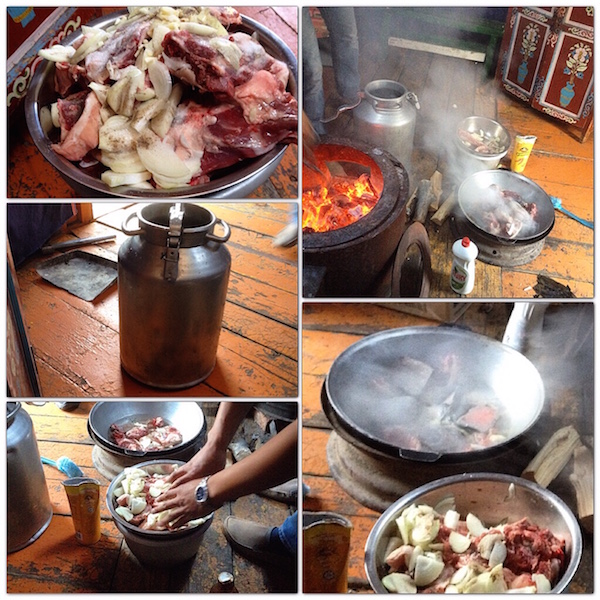 Here is a step by step method:
The cut up mutton (with fatty parts included) is marinated in salt and pepper and placed in a metal container.
Start the fire in a wood burning stove. When the fire is flaming hot, place smooth rocks from the river on to the burning stove.
Add the red hot stones one at a time to the container of cut meat.
Place about six to eight rocks (depending on the quantity of meat), add the vegetables and a little water.
Cover the metal container with a lid and place it on the stove.
It takes about an hour to cook the meat and vegetables.
The fat from the mutton produces lots of liquid and grease.
Two: Mongolian fried meat pie (khuushuur)
Khuushuur is very popular in Mongolia. This fried dough filled with minced mutton, salt and onions is cheap and easy to eat. Sometimes it is served with salad (cabbage) on the side.
Three: Mongolian dumpling (buuz)
The first time I ate buuz was in Listyanka Siberia. It is the same as Mongolian dumpling. Buuz is like Chinese dumplings but the dough is a little thicker. Just Like khuushuur, buuz is made of the same ingredients – flour, minced meat, salt and onions.
It is shaped like a flower and steamed.
Four: Tsuivan noodles
Tsuivan noodles are tasty compared to the many other dishes made with flour, salt, onions and mutton. The noodles are made of flour and stir fried with bited-sized mutton, onions and salt. Most tsuivan noodles have carrots and cabbage. I had one on the way to the ger camp that added potatoes (French fries).
Five: Meat and vegetables soup (shul)
Shul is exactly the same as tsuivan except it is cooked in soup instead of stir fried. I had a shul without meat too, suitable for vegans.
Six: Dumpling soup (bansh)
This is the same as buuz but in a smaller version. It is usually served in a soup.
Seven: Fried dough (boortsog)
I had boortsog served as an appetizer and also during breakfast. They are deep fried thin dough pieces cut in triangular and rectangular shapes.
Eight: Hard cheese (aaruul) and other homemade cheeses
Since aaruul is hard, most people suck on it. I had a little piece at a nomadic family's ger. The lady offered a generous serving of aaruul, urum (clotted cream) and eezgii (some type of cheese). These homemade cheeses and creams were delicious.
Nine: Mongolian milk tea (suutei tsai)
Mongolian milk tea has a hint of black tea. It didn't taste like tea at all. Suutei tsai is salted milk served in a bowl.
Ten: Boodog
I didn't try boodog. Boodog is another type Mongolian barbecue where instead of cutting up the meat they barbecue the whole animal including the limbs and head. It has the same ingredients as khorkhog.
The closest I got to try the boodog is at Modern Nomad restaurant. Here we had the popular "Head of Herd" where the snout, tongue, lamb cheek, eyes and other animal parts are served in a lamb's skull.
Eleven: Fermented horse milk (airag)
This was the drink I looked forward to trying before arriving in Mongolia. The fact that I got to try it in a nomadic family's ger is more than I could ask for. Our tour guide Amran and tour leader Erik were warning me that by the end of September I'll be very lucky if I could find a nomadic family offering strangers airag.
Not only did I try the airag, the man of the house offered half a cup. He was generous to let us try his prized possession since summer was coming to an end and he had half a container left. It was like serving strangers with your prized wine.
To be precise, airag is a fermented mare's (female horse) milk.
Food is an important part of the Mongolian culture. To show their hospitality Mongolian families usually serve a bowl of homemade cheeses with homemade dough or store bought bread to guests.
There you have the list of 11 foods in Mongolia. What you and I were served outside of Mongolia is not Mongolian food. What do you think?